Worldpackers VS Workaway: Which is Better?
If you're considering participating in a volunteering program, you may have heard of Worldpackers and Workaway. Both sites allow you to find volunteer positions in exchange for accommodation and food. In this post, I'm comparing both websites to help you decide.
Worldpackers
Worldpackers is an online site and community that lets travelers around the world search for suitable volunteer opportunities where they can offer their skills and help out in a local community in exchange for a place to stay, free of charge. Worldpackers matches volunteers and hostels around the world, acting as a sort of intermediary between the two
The volunteering opportunities on Worldpackers are vast, and include teaching, working in hostels, helping out local NGOs, eco projects and even health and wellness centres. Worldpackers is one of the only sites that offer genuine placements with internationally recognized NGOs and nonprofits.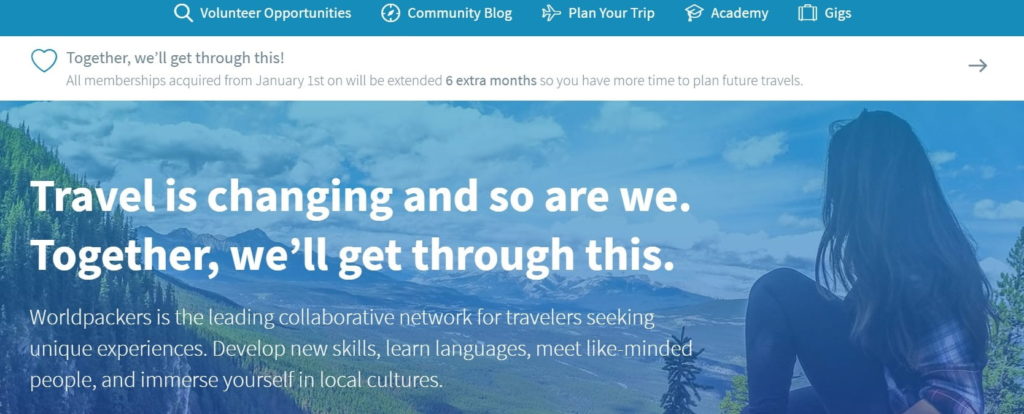 What Worldpackers offers volunteers
Worldpackers is unique to other work exchange sites as it offers something called "Experience Insurance". This means if for some reason your work exchange turns bad, or your project gets canceled, they will help you to find a new host as soon as possible and will also pay for you to stay in a nearby hostel for a few days.
They also provide very honest reviews on the site, written by past volunteers. You can tell that the reviews are genuine and honest, as they're not all positive! One host in Brazil I clicked on had many one-star reviews and very long feedback comments, so it's an easy way to figure out which projects are good and worth applying for.
Worldpackers also has a very active online community of past and present volunteers and world travelers. You can communicate with past volunteers on the site to get more information on what it's like to live in certain countries, how easy or difficult certain types of work are, or just to make new online friends.
The website is free to join/make an account on initially (you can sign in with Facebook) but once you find a host you're interested in messaging, the fee is $49 for the year. Although, when signing up through this link, you get a $20 discount.
Worldpackers also boasts a very high percentage of female volunteers, with 62% of volunteers on the site being solo female travelers. This is pretty reassuring.
Worldpackers was started in South America so has a lot of listings in that part of the world, but also has many listings in Central America, Asia and Europe.
Worldpackers is also known for its dedicated support team for volunteers.
The Worldpackers site focuses on social and eco projects, plus volunteer teaching, where some other volunteer and work exchange sites have a stronger focus on farm work, or volunteering in hostels.
Workaway
Workaway is a similar site to Worldpackers that lets travelers volunteer on farms, hostels or social projects around the world in return for free accommodation. It's the largest work exchange website in the world, with over 1 million hosts available.

What Workaway offers volunteers
---
Want to connect with fellow long-term travelers? Join our Facebook group and the conversation.
---
PSSST. SafetyWing finally covers COVID. I've been using their Nomad Insurance since 2019. It's the perfect solution for nomads like me. Don't leave without your travel insurance.
---
Workaway provides online support to volunteers when they're overseas in the form of a contact form on their site, however, they don't provide the same "experience insurance" that Worldpackers do should anything go wrong.
Once travelers have finished their volunteer placement, they can leave a review on the Workaway website for future volunteers to read. There do seem to be issues, however, whereby Workaway only shows the text of the positive reviews rather than both the positive and negative.
Many of the negative reviews simply show the 1 out of 5-star rating and instead of the volunteers review it simply says, "Please see our feedback policy for more info about why this review is not displayed".
Workaway definitely has the largest selection of hosts and volunteer projects out of all work exchange websites.
However, there have been issues with hosts not replying to volunteer messages, either because of the sheer number of daily requests or because some listings are quite old and have either never been updated or never removed.
Similar to Worldpackers, you can initially browse the website for free and check out some of the volunteer options, but to see a full list of host reviews and to contact a project host, you must sign up for a one-year membership which currently costs $42 per year.
Projects listed on Workaway are primarily based in Europe, where almost half of volunteer listings are located. This means that if your aim is to land a volunteering opportunity in Europe, then this might be the best website to start with.
They do also have listings around the world, with projects to be found in almost every country on earth.
Once you have finished your volunteer placement and return home, Workaway has an interesting feature where you can generate a letter of reference to use for future employment opportunities, or to explain any large gaps in your resume!
Certain volunteer placements that require more than the standard 20 to 25 hours work per week, will offer meals and sometimes even a small sum of pocket money in addition to free accommodation.
For example, you might be working in a hostel in exchange for a free place to stay, but the hostel may offer commissions if you sell any of their tours.
---
READ MORE
‣ Working in hostels for free accommodation
‣ Worldpackers promo code
‣ Packing list for hostel life
BEFORE YOU GO
☑ Book your flight: If your flight isn't booked yet – check out the flights on Skyscanner or via Google Flights. My top saving tip is flexibility. If you're flexible, you should be able to find a cheaper flight.
☑ Book your accommodation: I always use Airbnb and Booking.com. If you'd rather stay in a hostel, you should take a look at the options on Hostelworld. If you click on the Airbnb link and you don't have an account yet – you'll get a $30 discount on your first booking.
☑ Protect your cute face: Oh, you may want to protect your cute face with a travel medical insurance. I would suggest SafetyWing as they offer the best rates, especially for long-term travelers. Otherwise, you can also take a look at World Nomads.
☑ Pack the essentials: You can consult this list when it's time to pack your bag! Do not leave without a universal charger, a power bank and your passport!
☑ Do you need a visa? If you aren't sure if you need a visa, it would be a smart idea to take a quick look before you go. You can use iVisa – it's super useful and easy to use.
Disclaimer: This post may include affiliate links. If you click one of them, we may receive a cute commission at no extra cost to you. Thank you.