What To Wear In Paris In Winter
Many European cities are magical in wintertime, but Paris has an extra unique appeal.
There is an incredibly festive atmosphere with beautiful lights and decorations on the streets and buildings.
Ready to travel again? Don't go without travel insurance.
I recommend SafetyWing Nomad Insurance. I've been using it since 2019 and I can assure you it's the perfect solution for nomads like you and me.
Moreover, the crisp air and thin layer of snow magnetize the city's romantic charm.
Still, the downside to visiting Paris during winter is that it can be freezing.
However, the city's incredible attractions and sights are still as enjoyable as long as you dress warmly.
To help make your upcoming vacation as pleasant as possible, we've put together this guide on what to wear in Paris in winter.
Read on to discover the best Paris winter clothes and some stylish yet cozy outfit ideas.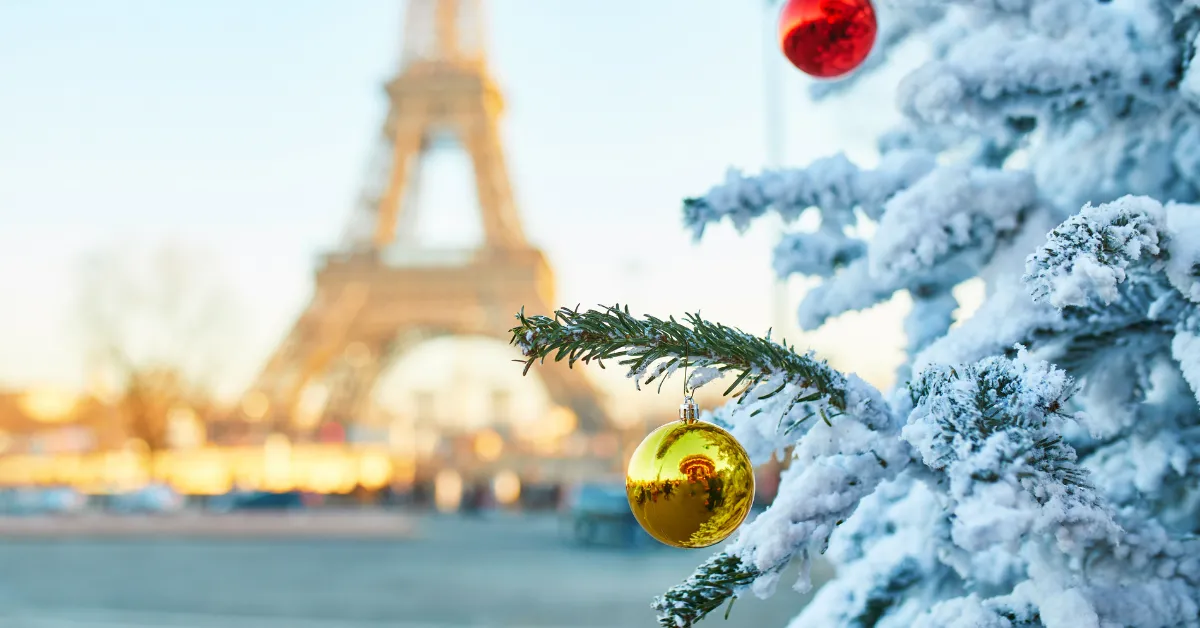 What To Pack For Paris During Winter
Paris in winter is cold, with average temperatures of 2 C° to 7° C (35°F to 45°F). It's also not uncommon to drop below zero, especially at night.
Therefore, you'll need plenty of layers and warm materials like wool and fleece.
Here is our suggested packing list for Paris winter clothes.
Winter Coat (Outer Layer)
The most essential part of a Paris winter outfit is a warm coat.
You'll likely be spending a significant amount of time out and about, so you'll need to be dressed for the frigid outdoor temperatures.
Parisians typically wear black or camel-colored long coats, so if you want to fit in, opt for this color and style.
This wool blend coat from Chouyatou is a perfect option for women, while the Spingrain Single Breasted Long Pea Coat is ideal for men.
Jumpers & Cardigans (Mid Layer)
When it comes to mid-layers, opt for soft and warm fabrics like merino wool or cashmere.
For women, there are many stylish yet cozy options for your mid-layer, such as turtleneck sweaters, wool shawls, or oversized knit cardigans.
This MEROKEETY Chunky Knit Cardigan is mid-thigh length, thus is ideal for wearing under a long coat.
For men, opt for Sherpa-lined sweatshirts like this one from FASKUNOIE, a cable stitch sweater, or a classic merino wool pullover.
T-shirts & Tops (Baselayers)
Your pretty short-sleeve or vest tops will be wasted on a winter trip in Paris as you'll rarely feel warm enough to show them off.
However, t-shirts make a great base layer, adding additional warmth under your jumper or sweater.
We recommend choosing long sleeves for extra coverage.
MERIWOOL's Long Sleeve Thermal Shirts are ideal; they are made from super soft 100% Merino Wool that traps body heat.
Long Pants
Sweatpants are one of the warmest and coziest pants, yet they might not seem stylish and elegant enough for Paris.
Thus, women can opt for fleece-lined leggings like these ones that come in all popular winter shades. They are highly versatile and can be worn with all types of clothing and for all occasions.
For men, you can get fleece-lined pants or jeans like these ones from Weatherproof.
You can dress them up or down, but if you need something more formal, you can always wear long johns under your favorite dress pants.
Boots
Winter boots with insulation or fleece lining are the warmest choice of footwear. Moreover, as Paris is a very walkable city, you'll likely be walking around lots during your trip. Therefore, balance comfort with warmth, as sore feet are just as bad as cold feet!
Dr. Martens 2976 Leonore Chelsea Boots are a fab choice for women as they feature a timeless style, air-cushioned sole, and faux fur lining.
For men, we recommend the Timberland 6-Inch Premium Boot with a padded collar for comfort and seam-sealed waterproof construction to keep your toes warm and dry.
Scarves
Winter accessories are a must for walking around Parisian streets in the winter. A long, thick scarf will add a great deal of warmth, and there are many stylish options.
Plaid is a timeless style for both men and women, so if you want to play it safe, go for a Cashmere Plaid scarf like this one from American Trends.
On the other hand, women may like to choose an oversized shawl that is a fashion statement in itself, like this one from Wander Agio, with 25 color choices available.
Hats
Hats are another essential winter accessory. Beanies are popular, but choose one that covers your ears, like the Kmoly Knitted Beanie Hat With Ear Flaps. Moreover, choose dark or neutral shades like black, gray, or camel.
The Berat is a more typical Parisian headgear, but it may not be quite as warm as a beanie. However, this French Wool Beret by Lvaiz also has a slouchy beanie style, making it an excellent hybrid.
Gloves
Our modern-day tech era has resulted in a vast range of winter gloves that allow you to use your smartphone without taking them off each time. This is super handy when traveling and navigating your way around using Google Maps.
The Timberland Magic Glove With Touchscreen Technology for men has a simple style, yet it does the job.
There are many stylish options for women, such as the Alepo Touchscreen Texting Fleece Lined Gloves with an elegant three-button wrist design.
Travel Outfit Ideas For Paris In Winter
Now that you know what winter clothes for Paris to pack, get inspired with these stylish yet cozy outfits.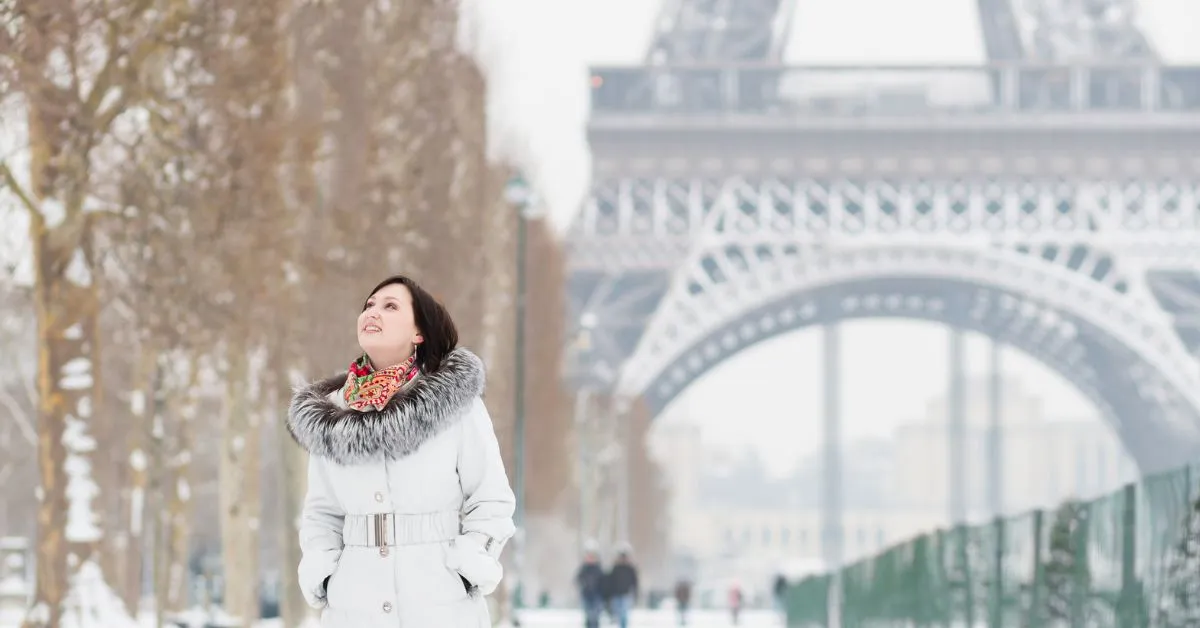 Outfits For Men
Here are three Paris winter travel outfit ideas for men.
Classic Parisian
If you want to blend in with the locals, wear this Mordenmiss Men's French Woolen Coat in black over a Goodthreads Merino Wool/Acrylic Turtleneck Sweater and the FULLRON Winter Cashmere Scarf.
Pair with the GINGTTO Slim Fit Gray Plaid Chinos with long johns underneath.
Finally, add the Rockport Storm Surge Toe Boots in black with waterproof leather and a slip-resistant outsole.
Street Style
Stand out from the crowd with this trendy yet winter-ready outfit. Start with the Springrain Notched Lapel Single Breasted Long Pea Coat in Camel, paired with the Russell Athletic Dri-Power Fleece Sweatshirt in black.
Then, add the American Trends Cashmere Scarf in navy, beige and red, and the Lee Fleece and Flannel Lined Relaxed-Fit Straight-Leg Jeans.
Finally, finish the look with the Thursday Boot Company Captain Lace-up Boots in Arizona Abode.
Cozy & Contemporary
Try this winter Paris outfit if you prefer modern over classic or want to feel super cozy. Start with the Calvin Klein Sherpa Lined Quilted Coat and the Hanes EcoSmart Fleece Hoodie in smoke gray.
Then stay warm with the GUNLIRE Thermal Fleece Lined Slim Fit Jeans in gray and enjoy all-day comfort with the Reebok Nanoflex Cross Trainer in pure gray/black.
Finally, avoid cold ears with the Home Prefer Faux Fur Lined Winter Hat with Brim Earflap in black.
Outfits For Women
Here are three Paris winter travel outfit ideas for women.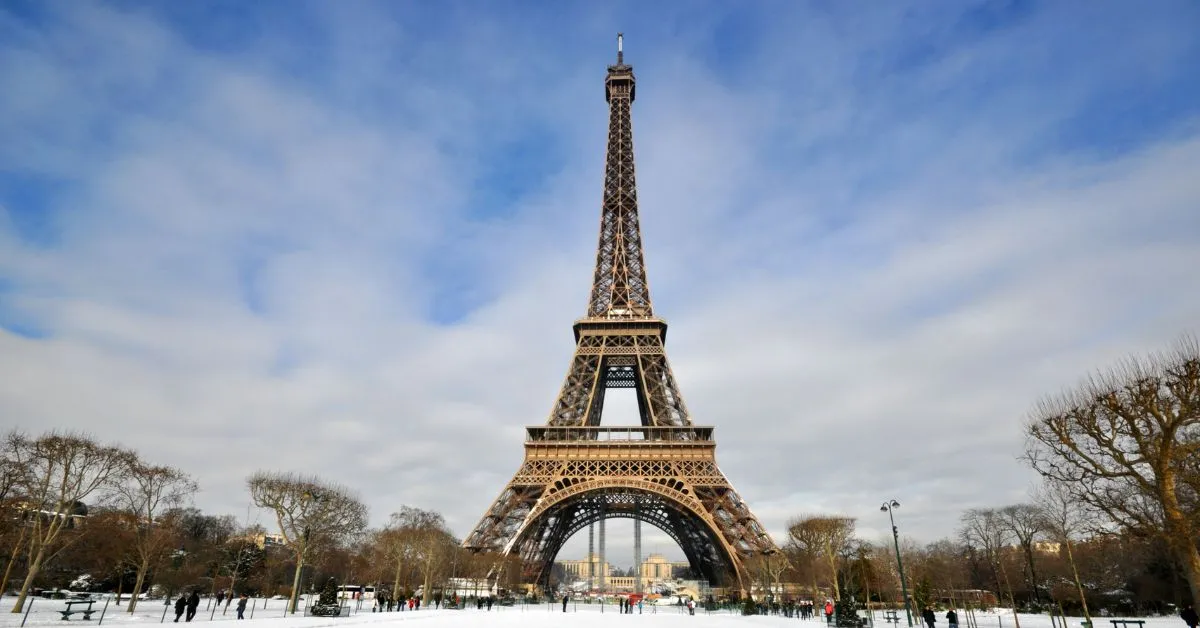 Classic Parisian
Embrace French fashion with the Escalier Women's Double Breasted Belted Pea Coat in camel. Its knee length gives maximum coverage, and is made from high-quality natural and recyclable wool. Underneath wear this classic Cowl Neck Sweater by Woolen Bloom in wine.
Keep your legs warm with the Heipeiwa Fleece Lined Slim Stretch Jeggings, paired with the Timberland Ankle Lace-up Boots in wheat nubuck shade. Lastly, add additional style and warmth with the Plum Feathers Cashmere Feel Scarf in camel plaid.
Street Style
Build this ultra-trendy look with the Columbia Panorama Long Jacket in chalk, made from cozy Sherpa fleece. Underneath, rock the Inorin Plaid Asymmetrical Drape Cardigan Vest in wine red and a long-sleeved black top, matching these NORMOV Fleece Lined Leggings in wine.
Stand out even more with these Over The Knee Flat Heel Slouchy Boots in camel by RF ROOM OF FASHION, and rock a cute pom beanie like this one from Livingston.
Cozy & Contemporary
Look cute and feel toasty with the French Connection Teddy Coat in Cognac, made from soft and snug Faux Shearling. Pair with the WIHOLL Round Neck Cable Knit Sweater in white/cream and the FURTALK Fleece Lined Slouchy Beanie in beige.
Next up, the Conceited Premium Fleece Lined Leggings in navy will keep your legs warm and give total mobility. They look super stylish with the BEARPAW Krista Classic Suede Boots in hickory.
They boast a cozy sheepskin and wool blend lining, waterproof technology for protection against rain and snow, and a durable rubber outsole with superior cushioning.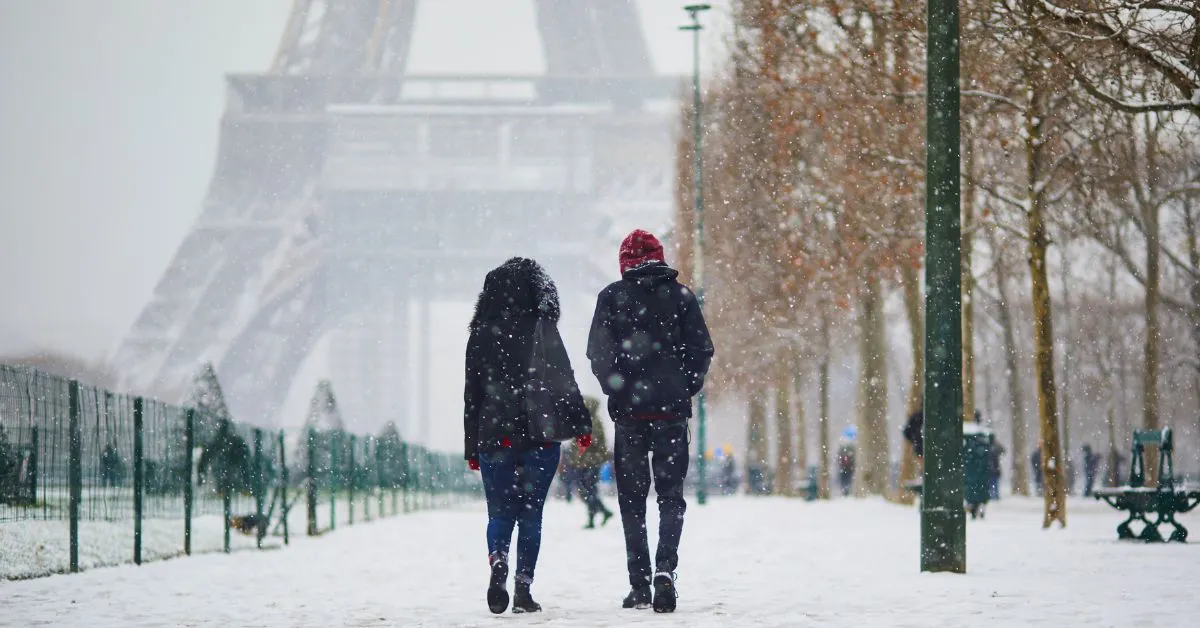 Final Thoughts On What To Wear In Paris During Winter
Although it can be very chilly with diminishing daylight hours, visiting Paris during the winter is a unique experience you should not miss.
Don't fret too much about the weather, as with the right winter clothes for Paris, you'll stay warm and dry no matter how low the temperature drops.
Visiting Paris soon? You may also like: