What To Wear Hiking In Summer
The summer is a beautiful time to get out into nature and start hiking. However, hiking in the summer can mean being outside in intense heat, so it's crucial to think about what to wear hiking in summer.
Of course, you want to stay cool and avoid overheating. Still, it's also vital to protect yourself from sunburn and those pesky summer bugs.
So how do you make sure that you have appropriate clothes for trekking in the heat? We've put together this helpful hiking clothing guide to break down exactly what to wear on a hike this summer.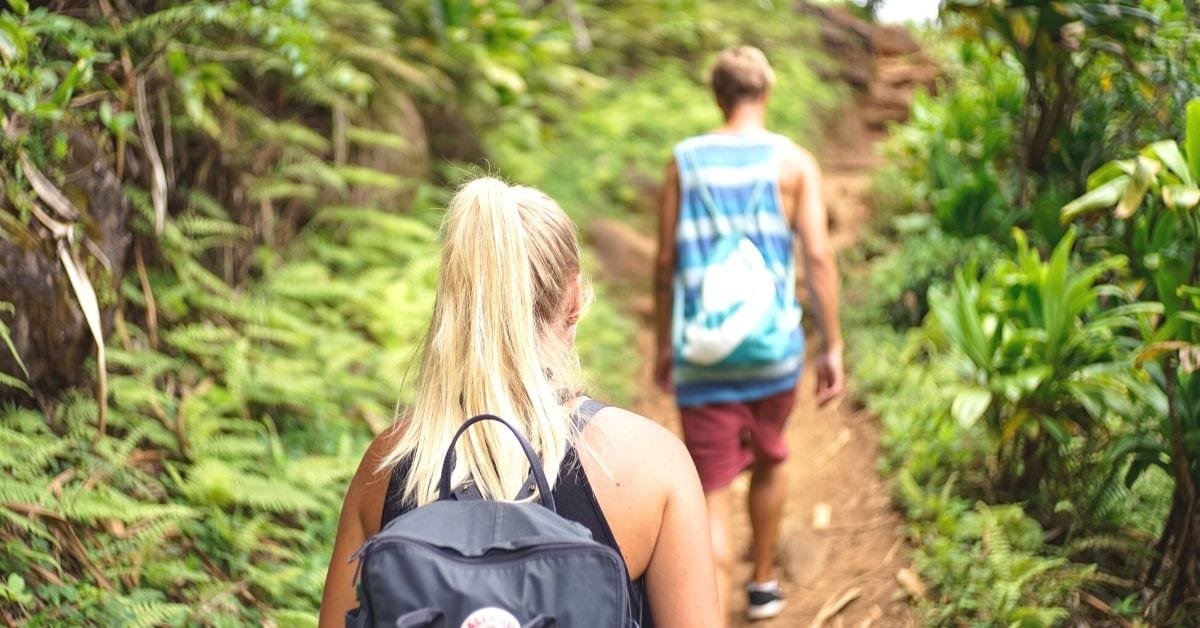 What To Consider When Deciding What To Wear Hiking In Summer
When shopping for clothing for trekking, there are a few key things to look for.
Loose, Breathable Fabric
Many hiking clothing specifically designed for hot climates will have ventilation to release excess heat and regulate your body temperature.
They will also be light and loose to reduce sweating and overheating. Certain fabrics are more breathable than others, such as nylon and polyester.
These are two good material choices as they are relatively quick-drying, so they control sweat and moisture well.
Light Colors
Dark colors absorb the sun's rays and make you feel even hotter. However, light colors reflect the sun's rays; thus, they help to keep you cool.
The lighter colors you wear, the better, so opt for white, beige, or light tan.
UPF-Rated Clothing
Just like sunglasses, some summer clothes for trekking will have UPF ratings. This means it is guaranteed to protect against the sun's harmful rays.
There are different levels of UPF rating, such as UPF 15, UPF 30, and UPF 50+.
Hiking Socks
If it's hot out, you may be tempted to wear the thinnest pair of trainer socks you have. However, even in the summer, it's best to wear socks specifically designed for hiking.
This will prevent rubbing and blistering. Also, avoid cotton socks and choose wool or synthetic fabrics instead.
Head Protection
When you're deciding what to wear hiking in summer, a hat is an essential item.
Regardless of whether you're a hat person or not, a hat will give your head, face, and neck much-needed protection from the sun. Hats do a great job at preventing both overheating and sunburn.
A UPF-rated sun hat will give you the best protection as the rim goes all the way around to create shade for both your face and the back of your neck.
Shorts Or Pants?
Although shorts are generally a go-to item of clothing for hiking in the summer, many hikers prefer to wear long pants.
This is because shorts may keep you cool, but they don't protect you against all the bugs that summer brings, like mosquitos and ticks.
If you want to protect your legs, look for a lightweight, loose pair of hiking pants with vents.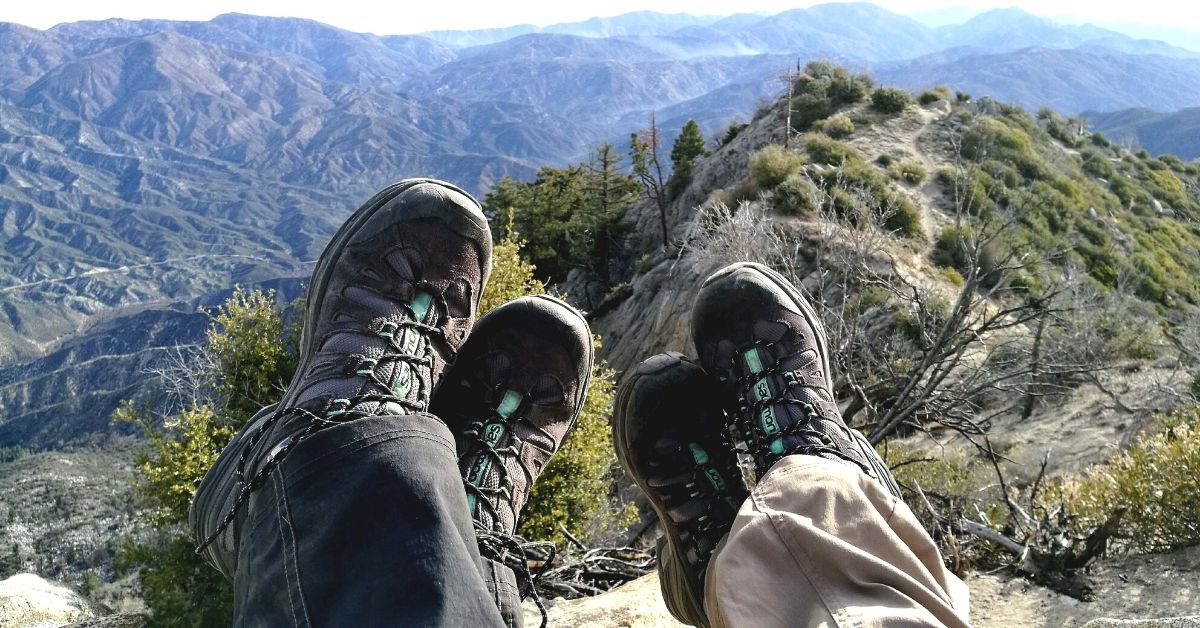 The Best Women's Clothing For Trekking In The Summer
If you're wondering what to wear to go hiking, here are a few wardrobe staples for women that are useful in most environments and situations!
A Quick-Dry, Breathable Top
I like to wear short-sleeved quick-drying workout tops on my hikes as the moisture-wicking fabric dries up sweat rapidly.
Your hiking top should feel light, breezy, and breathable, and it should have plenty of ventilation holes.
The Jack Smith women's short sleeve dry-fit shirt is made from a mesh style fabric and has small vents along the shoulders (front and back) and micro air holes on the upper back.
The dry-fit technology helps to regulate your temperature, prevent overheating, and release excess air.
The fabric is soft, lightweight, and stretchy, so rather than sticking to you, it moves around to let your skin breathe without causing friction or irritation.
Lightweight, Stretchy Shorts
When it comes to bottoms, shorts with UPF protection will shield you from the sun's harmful rays and prevent your thighs from burning.
Your hiking shorts should also be breathable and stretchy enough for comfortable movement.
Another thing I always look for in my hiking shorts is zip pockets. It's easy to overlook this feature, but zip pockets come in handy when hiking up a steep mountain.
You can keep your phone, keys, and any other valuables safe without the worry of them falling out.
The Baleaf women's UPF 50+ quick-drying hiking shorts are one of the best items of clothing for hiking for many reasons. They are specifically designed for trekking and are lightweight, durable, and quick-drying.
The four-way stretch fabric they are made from lets your skin breathe and quickly wicks up your sweat.
To make them extra moisture-wicking, they also have a durable water repellent finish that keeps the interior dry. What's more, they have multiple zip pockets!
Breathable Pants With UPF Protection
Whenever I hike in the late afternoon around sunset, I wear pants instead of shorts.
At this time, mosquitoes are most prevalent, so long pants protect my legs from getting attacked. But, with hiking pants, a lightweight and breathable fabric is a must.
I adore these Xtansuo women's lightweight hiking pants because the polyester fabric is thin and breathable with a four-way stretch. They're also quick-drying, so I can stay cool and not worry about sweat marks.
In fact, they are one of the best sweat-resistant pants I've found, thanks to their moisture-wicking fabric and durable water repellent finish.
These pants also have UPF 50+ protection to stop harmful ultraviolet rays from damaging your skin.
---
Want to connect with fellow long-term travelers? Join our exclusive Facebook group and take part in the conversation.
---
PSSST. Your travel medical insurance can now cover COVID-19! If you grab SafetyWing's Nomad Insurance, it'll be covered just like other illnesses. I've been using it since 2019 and I can assure you it's the perfect solution for nomads like you and me.
If that's not enough, they also have deep zip-closure pockets for convenient and safe storage. There are so many colors to choose from, including plenty of light tones.
Supportive Hiking Boots With Ventilation
Shoes are an essential thing to think about when choosing what to wear hiking in summer. Although you want shoes that are breathable and heat-releasing, they also need to be durable and slip-resistant.
Luckily, the BomKinta women's anti-slip breathable trekking shoes do all this. They have a wear-resistant and anti-slip polyurethane sole, so they will continue to provide you the grip you need for a long time.
However, they feel supportive without being heavy. They are lightweight and are made with a breathable air mesh with ventilation to release excess heat.
Another cool feature of these trekking shoes is the one-piece tongue. This design prevents wind, sand, water, and gravel from entering the boots.
They also have soft and breathable backup support. This helps you feel lighter on your feet and, therefore, reduces the energy you expel on your hike.
The Best Men's Clothing For Trekking In The Summer
To start your summer trekking on the right foot, make sure to have these men's essentials before your hiking adventures.
A Thin, Quick-Dry Top
A sleeveless, polyester workout tee is ideal for hiking as it's lightweight, quick-drying, and very breathable.
Opt for one with cool-dry fabric to rapidly remove sweat from your skin. This fast evaporation will help you stay dry and comfortable on a hot trail.
The MIER men's lightweight UPF 50+ muscle tank top is made from cool-dry polyester fabric.
It is a regular fit, so it gives you plenty of room to move and won't stick to your skin, yet it won't feel too loose either. The wide armholes and sleeveless design aid further in breathability and free movement.
Because it regulates your body temperature in both ways, you can also wear it as a base layer when trekking in other seasons.
Therefore, it's a staple piece of clothing for hiking all year round. This MIER tank top also has UPF 50+ sun protection treatment, protecting you from UVA and UVB rays.
Breathable Shorts With Flexible Movement
Your hiking shorts should feel comfy, give flexible movement, dry quickly, and be very breathable. Look for UPF protection and light color tones to help reflect the sun's harsh rays.
These Little Donkey Andy men's quick-dry cargo shorts are made from a high-performance fabric that is both lightweight and stretchy.
They feature a water repellent finish, too, keeping you feeling fresh and dry on the trail. In addition, they have UPF 50+ protection, and there are many light color tones available.
Another thing I love about these shorts is that they have six pockets! There are two hand zipper pockets, two front cargo pockets, and two rear zipper ones.
So, if you're wondering what to wear on a hike that is long-distance, these shorts will give you plenty of space to store snacks, electrolytes, and anything else you need to keep going.
Comfy Pants With Zip-Off Legs
If you're unsure whether to wear shorts or pants on your summer hike, choose convertible hiking pants with zip-off legs. Therefore, if you get too hot on your trail, you can easily convert them to shorts.
The Wespornow men's convertible hiking pants are a perfect example. Along with their 2-in-1 design, these pants are lightweight and breathable yet wear-resistant.
In addition, the pants have a 4-way stretch and a gusseted crotch that doesn't restrict movement. The knee area features an exceptionally ergonomic design, too, giving a wide range of mobility.
This allows you to climb even the steepest mountain with ease and flexibility.
The pants also feature five large zipper pockets that will fit a large smartphone, wallet, keys, and some snacks!
Another handy feature is the ability to adjust the width of the bottom of the legs. So, if you're in an area with masses of mosquitoes, you can tighten the leg cuffs to keep them out.
High Stability Mesh-Lined Hiking Boots
Look for hiking boots that are suitable for all terrains and seasons. The bottom of the shoes should be all about stability. In contrast, the design on the top should focus on breathability.
Merrell men's Moab 2 hiking boots give unbeatable durability, stability, and slip resistance thanks to their IBRAM high-performance rubber soles.
The soft heel cushioning also improves comfort and protects your feet further.
These boots give a very breathable feel as there are multiple mesh sections all over. They also feature GORE-TEX waterproof protection to keep your feet completely dry should you get caught in a summer shower.
Lastly, the closed-cell foam tongue not only assists in keeping moisture out but also any debris from the trail. If you need specialized hiking boots, check out these hiking boots for flat feet.
Other Summer Hiking Essentials
Now, there are a few other hiking essentials you should bring along with you.
An Insulated Water Bottle
When you're thinking about what to wear hiking in summer, don't forget about what accessories you will need.
A large, insulated water bottle is a must-have item for hiking, especially in hot climates.
This Swig Savvy insulated sports water bottle holds half a gallon (64oz), so you won't run out of water before finding a refill point.
It will also keep your water cold for up to 24 hours and is made from food-grade stainless steel, so it is rust-free and shatter-proof.
It also has a helpful carrying sleeve that you can sling over your shoulder or hook onto your backpack.
A Comfortable Day Backpack
If you're going on a full-day hike, you will need more than a water bottle. In this case, you should invest in a day backpack that also doubles up as a hydration pack.
The RUPUMPACK 18L insulated hydration backpack features an insulated 2.5L bladder with a sip tube for a continuous flow of cold and refreshing water on the go.
The hydration insulation layer is composed of high-quality aluminum foil to keep your water chilled for up to 4 hours.
The unisex day backpack is lightweight, breathable, and comfortable thanks to its ventilated mesh padding in the shoulder straps, waist straps, and back area.
Therefore, it won't weigh you down, make you sweat, or drain your energy. What's more, with 18 liters of storage available, you will have enough space for everything you need for a day of summer hiking.
Final Thoughts
I hope this hiking clothing guide has given you an insight into what to wear trekking and hiking this summer.
Always remember to take extra precautions when trekking in hot weather. Start your hike early, take plenty of water, and have regular breaks in shaded areas.
Interested in more hiking inspirations? Check out these amazing hiking songs and quotes about hiking.