What To Wear Camping In Any Season
There are many things to take into account when planning a camping trip. One vital consideration is what to wear camping.
If it's your first time sleeping outdoors, you may not realize the importance of choosing proper camping attire.
You need clothing that will protect your skin from hungry mosquitoes and bugs and prevent you from getting sunburnt during the day.
To help you understand what to pack for camping this summer, we've put together this valuable guide to camping clothing.
We will break down how to choose camping clothes that will keep you warm, comfortable, and bite-free, and share our favorite camping attire too!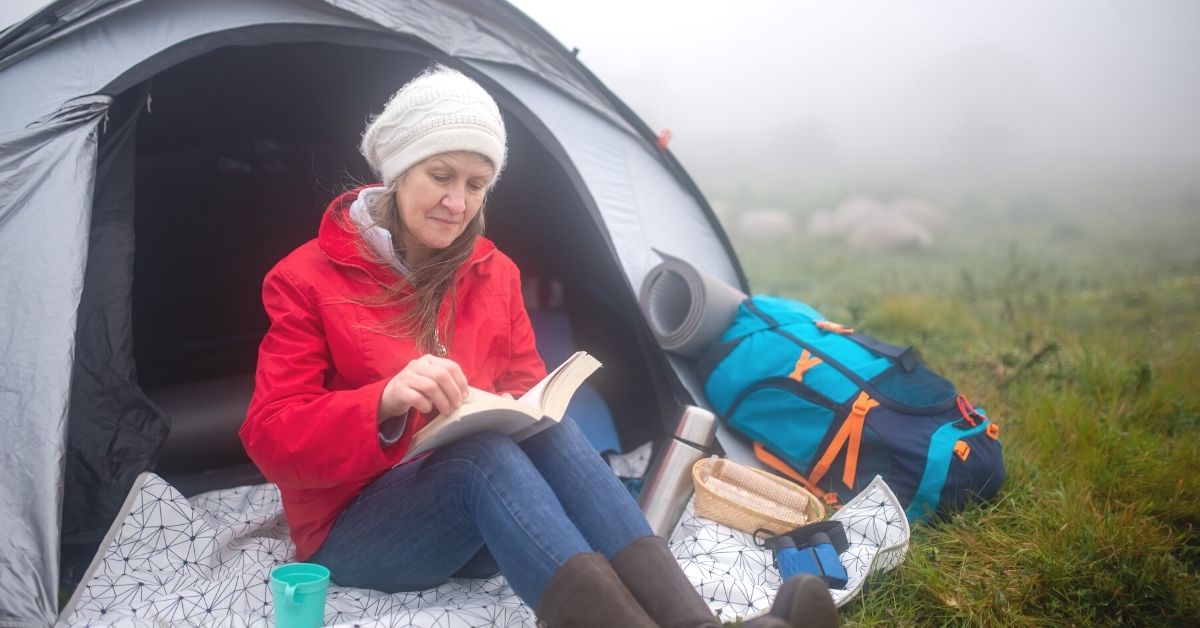 What To Consider When Deciding What To Wear Camping

Deciding on what to wear camping doesn't have to be stressful or overwhelming! Use these three tips to make your packing go easily and smoothly.
1. Pack Separate Outfits For The Daytime And Evenings
When packing clothes for camping trips, you should pack specific outfits for the daytime and the evening. The reason for this is, in some places, the temperature can drastically drop in the evening.
Plus, you don't want to wear the same clothes to bed that you wore during the day as they will most likely be muddy, wet, and sweaty!
2. Wear A Practical Arrival Outfit
Plan your arrival outfit based on what you will be doing that first day – driving, setting up camp, and looking for firewood.
Therefore, you'll want to wear something comfortable but also something you don't mind getting dirty.
3. Pack Both Seasonal Clothing And All-Year-Round Essentials
Your camping clothing will also depend on the season. For example, you will need thicker clothing with fleece lining if you're camping in the winter.
However, regardless of the time of year, some camping clothes are essential to any camping trip.
What's more, wearing layers is a good choice in all seasons because both your body temperature and the outside temperature can fluctuate during the day.
For example, you'll probably get warm hiking even if it's winter. Wearing multiple layers will make it easier to adjust to the temperature changes. We'll cover what to wear for each layer below.
Essential Clothes For Camping
Getting essential camping clothes will not only help you on your upcoming trip but on many more after that. These items will be the clothing staples that you can build from, no matter where you camp, or in any season.
1. A Quick-Drying Base Layer – Vest Or T-shirt
Your base layer is the clothing item that will come into contact with your skin. Therefore, you should look for soft materials with quick-drying and moisture-wicking qualities.
For example, workout t-shirts can serve as good base layers for camping and hiking as they are great at drawing away moisture to keep your skin dry.
A moisture-wicking base layer is vital for all seasons. Wet clothes in cold temperatures can make you feel cold and damp.
Plus, if you sweat while hiking and your clothes don't effectively evaporate the moisture, this can put you at risk of catching an illness.
Alternatively, suppose you're camping in a hot climate. In that case, your base layer will likely be the only layer you wear during the day.
Therefore, you will need a top that regulates your temperature to prevent overheating and wick-up sweat.
Furthermore, look for a top with UPF protection to avoid the harmful sun rays from damaging your skin.
Synthetic materials make the best base layers. You should avoid cotton or other plant-based materials as they tend to absorb moisture.
The fit of the clothing plays a role, too. Opt for a snug fit as this will keep heat in if it's cold, but it is not too tight that the material sticks to your skin.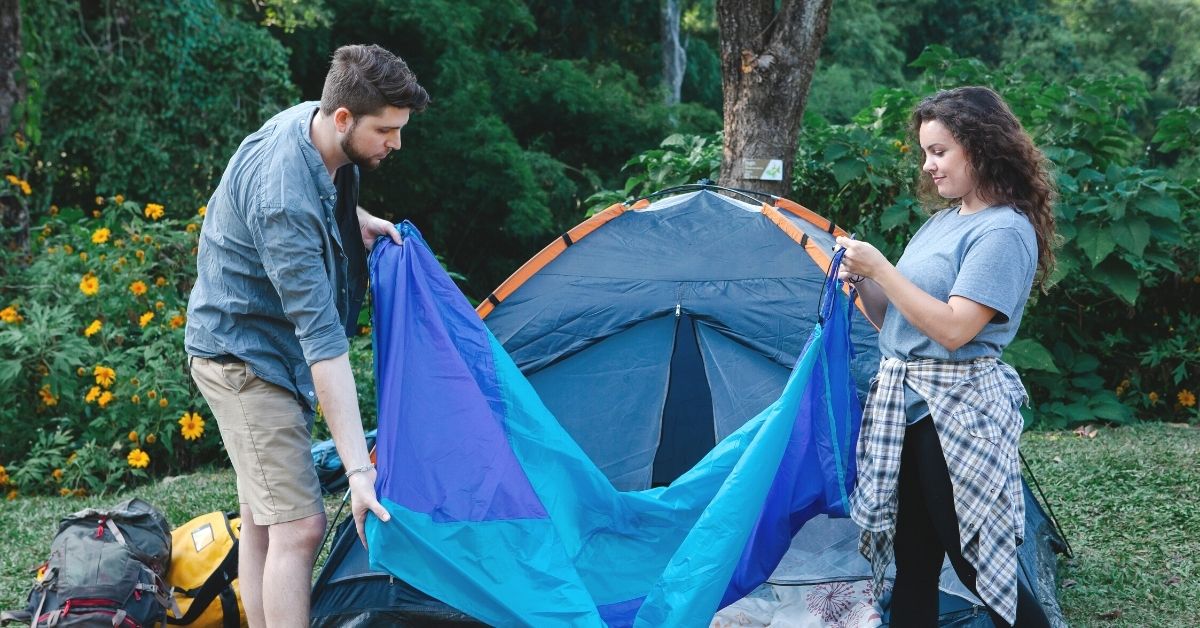 Best Base Layer For Women
The MOERDENG Women's Short Sleeve UPF 50+ T-shirt is designed for running and workouts, so it quickly absorbs sweat and releases it into the air.
The fabric feels soft and comfortable against the skin. It has flatlock seams and printed tags to minimize any chafing.
It has a snug fit but is also stretchy and flexible, so you can move around freely without feeling restricted. Lastly, it has UP 50+ protection, so you can wear it in the summer or use it as a base layer during colder months.
Best Base Layer For Men
The MIER Men's Quick Dry Short Sleeve T-Shirt is fantastic for all outdoor activities that you will do during your camping trip.
It has UPF 50+ sun protection and is made from a high-performance polyester fabric that is lightweight, stretchy, and breathable.
What's more, its quick-drying technology wicks moisture away from your skin to keep you cool in the summer and warm in the winter.
2. A Lightweight Middle Layer – Jumper Or Hoodie
A good jumper or hoodie will give you the warmth and insulation you need on your camping trip. When choosing a middle layer, look for synthetic or wool clothes.
These materials will work with your base layer to further allow moisture evaporation.
Moreover, the sleeves will likely be in contact with your skin, so it's best to avoid cotton and other fabrics that absorb moisture rather than dispel it.
You may want to choose different middle layers for each season. When buying clothes for camping trips in the winter, thick hoodies with fleece lining will be more suitable as they provide the most insulation.
In contrast, you will prefer thin and breathable sweaters that have good airflow for your summer camping trips.
Best Middle Layer For Women
I love the THUNDERGROUND Lightweight Women's Hoodie because it is made from innovative thermal tech fabric that keeps you warm despite being thin and lightweight.
This long sleeve hooded pullover is super compact and folds up into a pouch to save you space when packing.
It also has a clasp hook so you can attach it to your day pack and use it as an extra layer should the temperature drop while you are out of camp.
Best Middle Layer For Men
Some fleece jackets feel heavy and bulky, but the MEETWEE Lightweight Full Zip Thermal Hoodie is an exception.
The fleece lining is thin to keep it lightweight, and it is perfect for camping in spring and autumn or even chilly summer evenings.
---
Want to connect with fellow long-term travelers? Join our exclusive Facebook group and take part in the conversation.
---
PSSST. Your travel medical insurance can now cover COVID-19! If you grab SafetyWing's Nomad Insurance, it'll be covered just like other illnesses. I've been using it since 2019 and I can assure you it's the perfect solution for nomads like you and me.
In addition, its quick-dry fabric rapidly dispels sweat if you get too warm. Another great feature is the reflective strips on the back and next to the zip.
These strips enhance visibility to keep you safe if you're out in low-light conditions.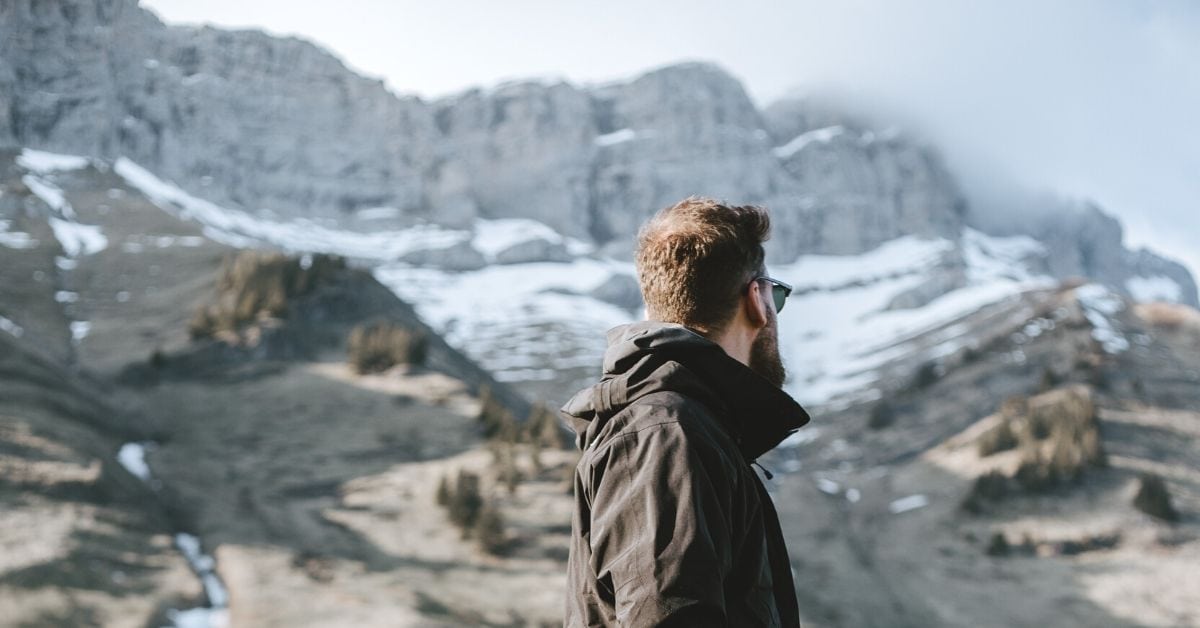 3. A Waterproof Outer Layer – Jacket Or Parka
When deciding what to wear camping, ensure you have a high-quality outer layer that will protect you from rain, wind, and other elements.
As well as being waterproof, your jacket or parka should have a hood with drawstrings so you can tighten it to keep your neck warm and dry.
If you're camping in the winter months, your outer layer will need to be relatively heavy and bulky. However, if camping in hot weather, look for a thin rain jacket instead.
Many of these fold up to be very compact, so you can keep it in your day pack or have it tied around your waist when it's not needed.
Best Outer Layer For Women
For cold weather camping, I wear this CAMEL CROWN Women's Fleece Lined Softshell Jacket.
The insulated brushed fleece lining keeps you warm and comfy by trapping heat but allowing perspiration.
Meanwhile, the wear-resistant softshell exterior repeals even the strongest wind and rainfall.
There are also adjustable drawcords on the hood and hem and elastic fastener cuffs that provide further protection against harsh elements.
Best Outer Layer For Men
The Little Donkey Andy Men's Waterproof Rain Jacket is ideal for summer and in-between seasons, Spring and Autumn, as it's lightweight and breathable.
The outside of this jacket is made from waterproof and windproof shell fabric. In addition, there is a thin mesh lining inside to allow your skin to breathe and wick away any sweat.
This men's camping jacket features a stowable hood, adjustable hook-and-loop cuffs, zippable pockets, and a chin guard.
It also packs away into a compact bag so you can keep it with you at all times.
4. Flexible Slacks With Sun Protection – Tactical Or Cargo Pants
Your lower body camping attire should be waterproof, durable, and offer a full range of movement.
Your pants should also protect your legs from the sun and bugs, so look for UPF protection and adjustable cord locks on the ankle to keep insects out.
Tactical or cargo pants are best as they are lightweight, flexible, and quick-drying. Avoid jeans and tracksuit bottoms as they absorb moisture and thus, can become heavy and uncomfortable.
Best Pants For Women
These Xtansuo Women's Hiking Pants are lightweight, breathable, and water-resistant.
They are made with moisture-wicking fabric to keep you dry and are treated with a durable water repellent (DWR) to bounce back light rain.
With their four-way stretch material, you can climb steep mountains with ease, and the built-in UPF 50+ protection will prevent sunburn.
They have lockable drawstring cuffs and multiple zip pockets. The thin polyester material keeps you cool when camping in the summer.
Still, you can also wear them in colder climates with a pair of fleece-lined leggings underneath. Because they have a roomy fit, you won't feel restricted movement with an underlayer.
Best Pants For Men
The Jessie Kidden Men's Convertible Hiking Pants are suitable for all seasons. They are made from Omni-Shade UPF 50 fabric and have zip-off legs so that you can convert them into shorts in hot climates.
Furthermore, the Omni-Wick technology expels sweat to keep you cool and dry. They also have a loose straight-leg design so you can wear long johns underneath when it's colder, without compensating range of movement.
These comfortable pants are waterproof, durable, and wear-resistant, and you can take big strides without the worry of them tearing.
There are plenty of pockets, and you can adjust the ankle hem with the drawstring lock too.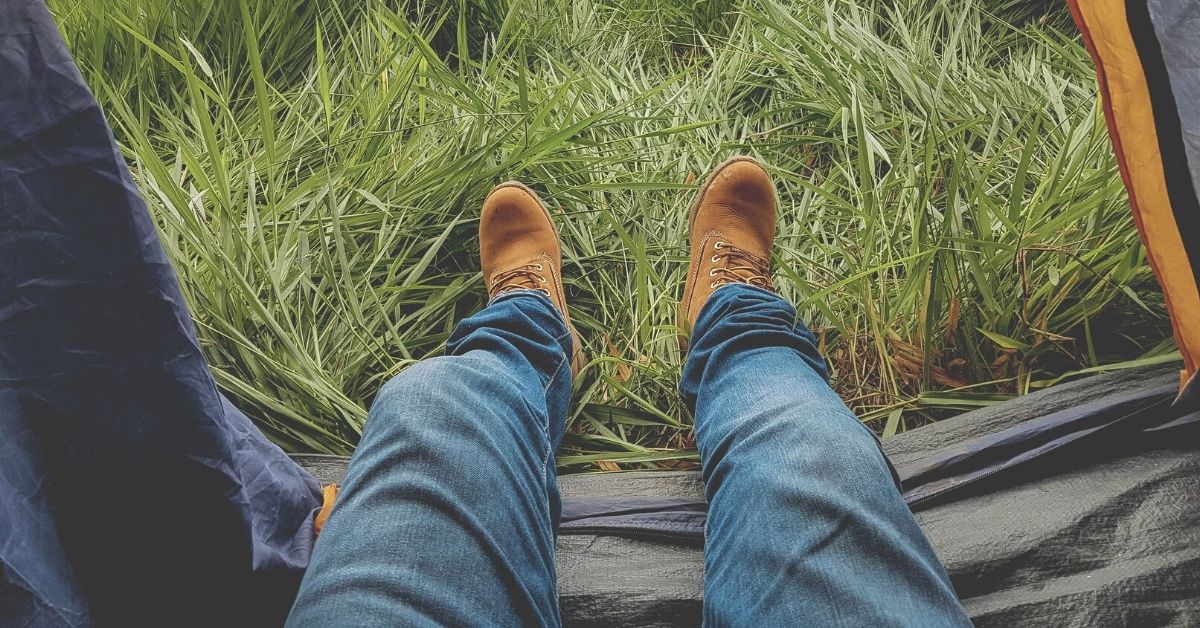 5. Robust Boots With Good Underfoot Grip
When we think about what to wear camping, we can often forget about footwear.
However, shoes are one of the most important considerations when it comes to clothes for camping as you will be trekking through different terrains.
Therefore, running shoes or trainers will not suffice. Instead, look for waterproof hiking boots with a hard, protective exterior, breathable but supportive ankle cushioning, and durable, advanced traction soles.
Best Camping Boots For Women
Whether you are camping in summer or winter, the JABASIC Women's Mid Hiking Boots will take care of your feet.
They are made from waterproof synthetic leather and feature breathable mesh around the ankle, sides, and top of feet.
They feel comfy and protective thanks to the thick and stable EVA sole. Plus, the toe has hardened rubber protection with a TPR coating to protect your toes from any hard surface collisions.
The soles feature lugged TPR for reliable protection and anti-slip support in all terrains and weather conditions. Lastly, the mid-top design will protect your ankles from any injury when trekking up steep and rocky inclines.
Best Camping Boots For Men
These Wantdo Men's Waterproof Hiking Boots are lightweight, extremely breathable, and have superb traction on wet and dry surfaces. Their 6mm deep Vibram outsole will prevent slipping, even on snow, ice, mud, or wet grass.
Moreover, the thick EVA midsole gives lots of support and comfort for the arch, and the mid-rise style protects your ankles too.
These camping boots feature advanced seam-sealing technology to prevent any rain from reaching your feet and allows you to walk through snow without your feet getting cold or damp.
Therefore, they are perfect for winter camping as well as all other seasons. They also have a rubber top cap for further protection and a closed-cell foam tongue to keep strong winds out.
Final Thoughts
Whatever time of year you go camping, you should ensure your clothing is suitable for outdoor use to protect you from the elements and extreme temperatures.
Luckily, clothes explicitly designed for camping and hiking, like the recommendations above, have these necessary features.
Choosing camping clothes like the ones in this guide will keep you dry, comfortable, and safe, and therefore, elevate your camping experience.
Needing more camping gear guides? Check out these awesome popup camping tents and camping tents for trucks!