What To Do In Prague In Winter
Prague is already amazing but winter in Prague is magical! The air is crisp, the atmosphere is relaxed and the views are sensational.
It is romantic, steeped in history, and incredibly beautiful. Indeed, with its many steeples, towers, and turrets, you will quickly see how it earned its nickname of the City of a Hundred Spires.
Whether you're backpacking in Prague or looking for a little luxury, this guide is designed to answer all your questions about what to do in Prague in winter.
You'll discover the kind of weather you should expect each month, plus my suggestions for the very best things to see and do during your visit.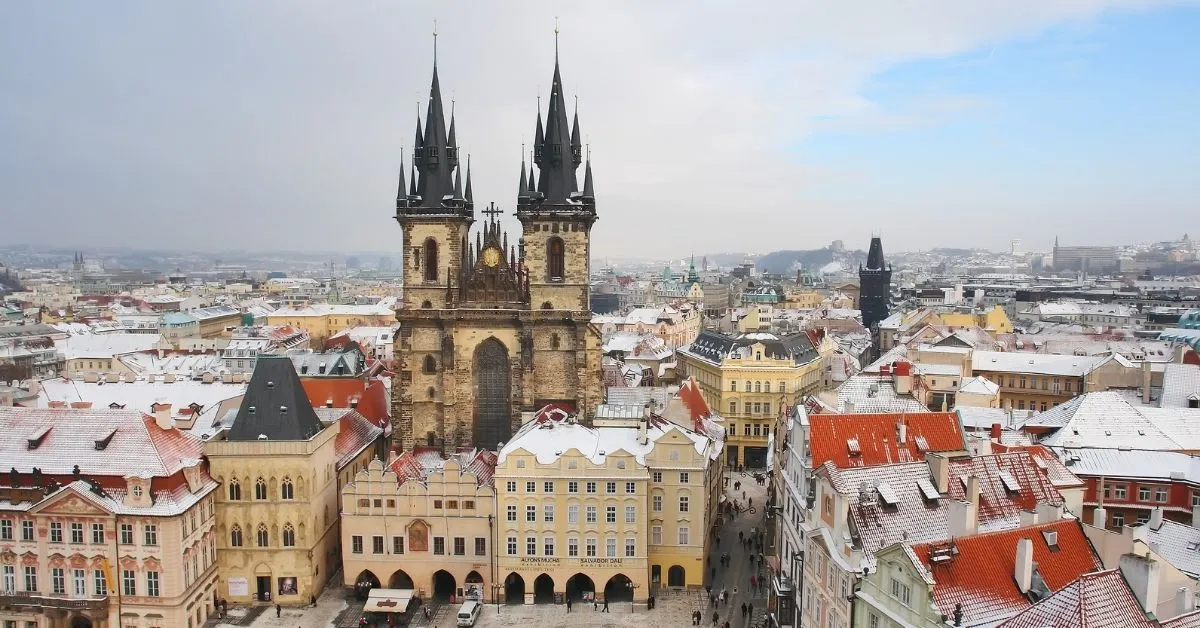 Visiting Prague In Winter
Visiting the Czech Republic's capital in the winter is a great idea, but there are some things you need to be prepared for. Here are tips for visiting in December, January, and February.
Prague In December
With an average daily temperature of 0°C, Prague is the perfect winter wonderland in which to spend the festive season!
The weather is ideal, as it is very likely to be snowy, with a couple of hours of sunshine each day to make everything sparkle!
You'll need to wrap up warmly – ideally in layers – and warm, waterproof walking boots are a must!
Extensive Christmas celebrations – along with the city's excellent Christmas markets – mean that December is one of Prague's busiest months.
That being said, things don't really pick up until mid-month, so early December might be a better time to go if you'd prefer to avoid the crowds.
Prague In January
January is Prague's coldest month, with an average daily temperature of -1°C.
Whilst snow is possible – especially in the second half of the month – rain is more likely, so make sure you pack your waterproofs or a sturdy umbrella.
It can also be pretty windy, which tends to make it feel colder, so be prepared to dress very warmly when you go out exploring.
The crowds tend to be lighter in January than in December, but the Prague Christmas Market in Wenceslas Square remains open until January 6th, giving you the best of both worlds!
The cost of flights and accommodation tends to be lower too.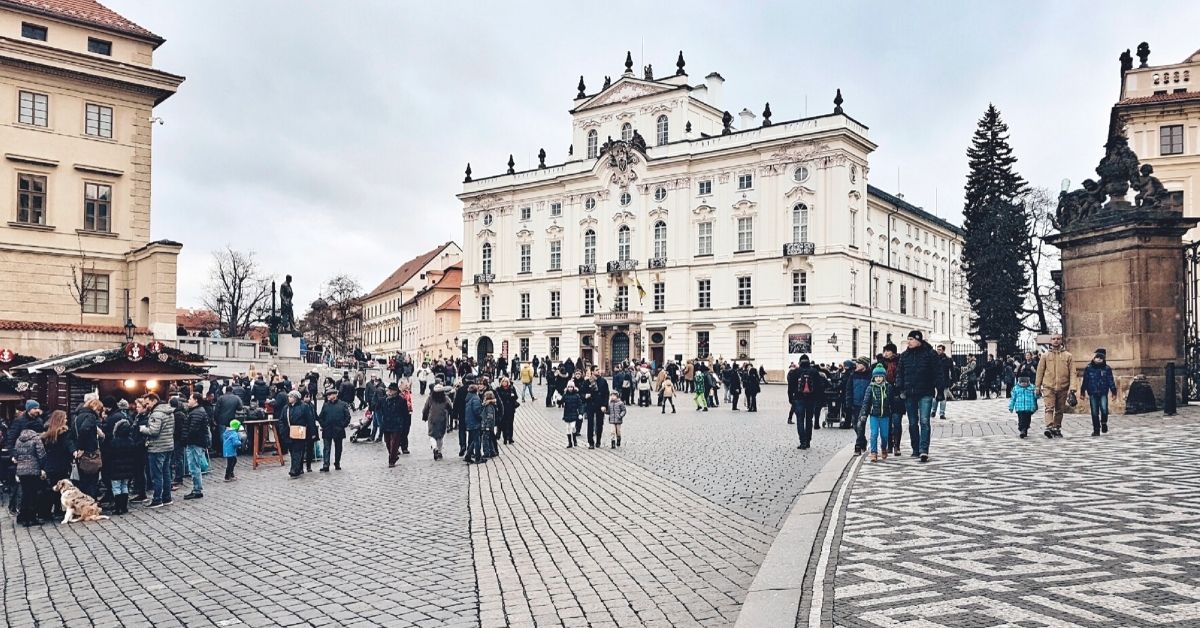 Prague In February
Things start warming up – just a little – in February, when the average daily temperature reaches 2°C, although it can reach as high as 11°C by the end of the month.
You'll still need to wrap up though, like January, February can be very windy and rain is possible every day.
Yet this is a great time to visit the city, with lower prices for airfares, accommodation, and attractions.
And there is no lack of things to do, with parades, carnivals and theatre festivals throughout the month.
Things To Do In Prague In Winter
Whether you're only staying 2 days in Prague or even a week, there won't be a shortage of fun stuff to do.
Winter in Prague offers activities for everyone – there's everything from Christmas markets to ice skating.
Enjoy The Christmas Markets & New Year Celebrations
There are two main Christmas markets in Prague – one on the Old Town Square and one at Wenceslas Square.
You can also find smaller markets at Havel's Market, on Kampa Island, at Republic Square, and at Prague Castle, on the square in front of St. George's Basilica.
---
Want to get FREE accommodation in exchange for work? If you're traveling on a budget or want to save and extend your trip, this could be exactly what you're looking for. Worldpackers is a platform that connects travelers like you with hosts. It's just like volunteer work –exchange your skills for free accommodation. SAVE $10 using my discount code. Learn more about how it works here.
---
These are some of the best markets in Europe, so book your accommodation early as things get VERY busy.
It's also a good idea to book tickets for any New Year's Eve events or parties, as they sell out quickly.
Alternatively, you can simply enjoy the annual New Year fireworks display, which is best viewed from the Old Town Square or Charles Bridge.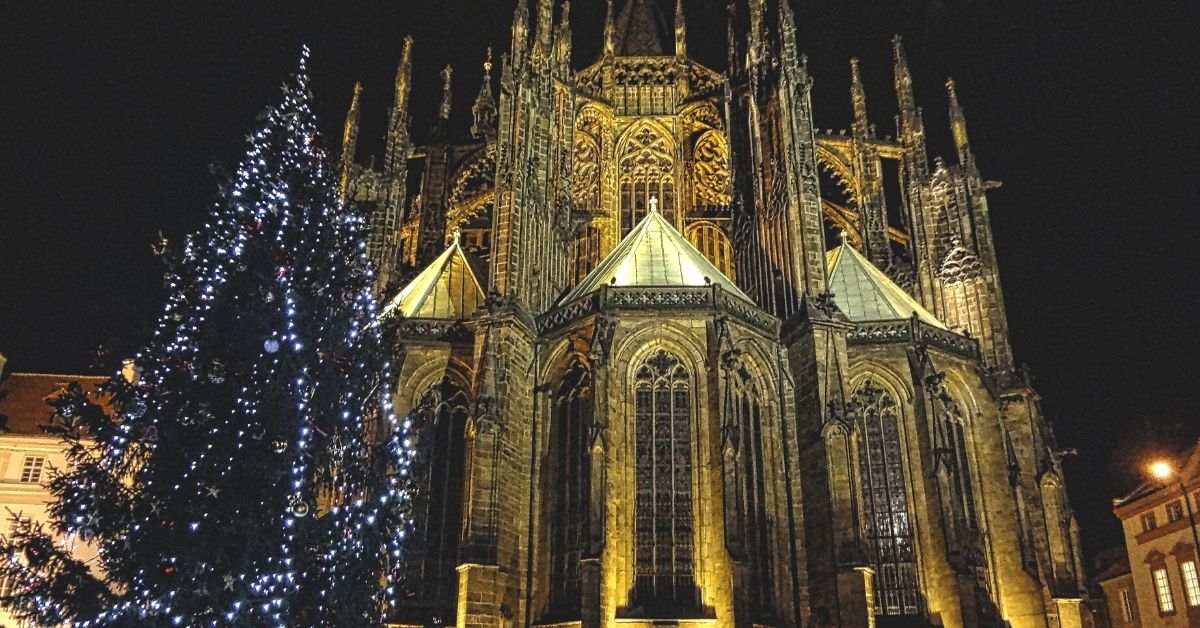 Take A Twirl On The Ice
There is something incredibly romantic about ice-skating in Prague and there are several locations in which to do it!
Open-air ice-skating is available at the rink in front of the Cerny Most Shopping Centre and there are special events in December, including a celebration of St. Nicholas and free skating.
PSSST. Your travel medical insurance can now cover COVID-19!
If you grab SafetyWing Nomad Insurance, it'll be covered just like other illnesses. I've been using it since 2019 and I can assure you it's the perfect solution for nomads like you and me.
Open-air ice skating is also available below the Zizkov TV Tower, which is wonderful at night when the tower is illuminated.
But the best place of all is the free skating rink Ovocny Trh, by the Prague City Hall in the Historic Old Town.
Don't be deterred if you don't have any ice skates, there are plenty of places in Prague to rent them.
Explore Prague Castle
Dating back to the ninth century and covering 45 hectares, this is the largest castle complex in the world.
It is made up of a variety of palaces, churches, and gardens, although the highlight of the complex is the magnificent St. Vitus Cathedral.
This Gothic masterpiece took 600 years to build and is incredibly beautiful both inside and out.
It has a fascinating history making it one of Prague's most important places of worship, and several archbishops, noblemen, patron saints, and sovereigns were buried here.
It was where many Czech kings and queens were crowned and house the Czech Crown Jewels.
There are various tickets at different price points available to visit the castle, depending on how much of the complex you want to see.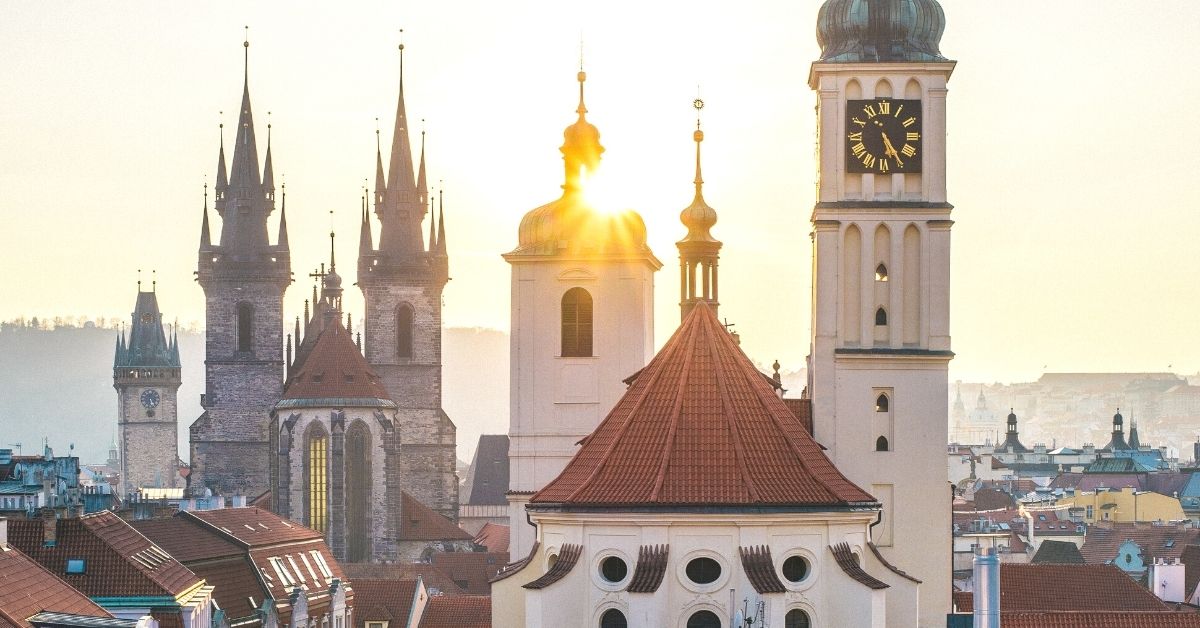 Visit Prague's Museums
Although it is predominantly known for its art collections, the city has a wide variety of museums to enjoy with something for everyone!
One of the most fascinating is The Town Belfry by St. Nicholas Church, with interactive exhibits celebrating various aspects of Czech life. The main attraction, though, is the tower itself.
There are fantastic views of Prague to be enjoyed from the gallery level, or you can climb to the top and use the walkways outside for a bird's eye view of the city.
The Museum of Communism gives you an interesting insight into how life was for the Czechs when the country was under communist rule from 1948 to 1989.
The Jewish Museum allows you to reflect on history as you observe the cobbled streets and synagogues of the Jewish Quarter.
Lovers of art and literature will enjoy the Mucha Museum, the Franz Kafka Museum, and the wonderful Museum of Decorative Arts.
But if your interests are more practical, why not visit the National Museum of Agriculture, where you can learn about food, farming, fishing, forestry, and outdoor pursuits.
Enjoy The Local Cuisine
Winter in Prague will give you a healthy appetite, so you'll be glad to know that its traditional cuisine consists of the kinds of comfort foods that will fill you up and warm you from the inside out!
Local dishes include everything from rustic bread and dumplings to wholesome soups and roasted meats.
A food tour makes a wonderful way to learn more about Czech cuisine and try a little of everything!
Whilst there are lots of cafes throughout the city to keep you going as you explore, there are stronger forms of fortification on offer too!
Prague has lots of breweries that date right back to the Middle Ages and the local beer is a light and refreshing Pilsner.
Winter in Prague is also the time when you will see Svarak stalls, which sell Czech mulled wine in warmed teacups.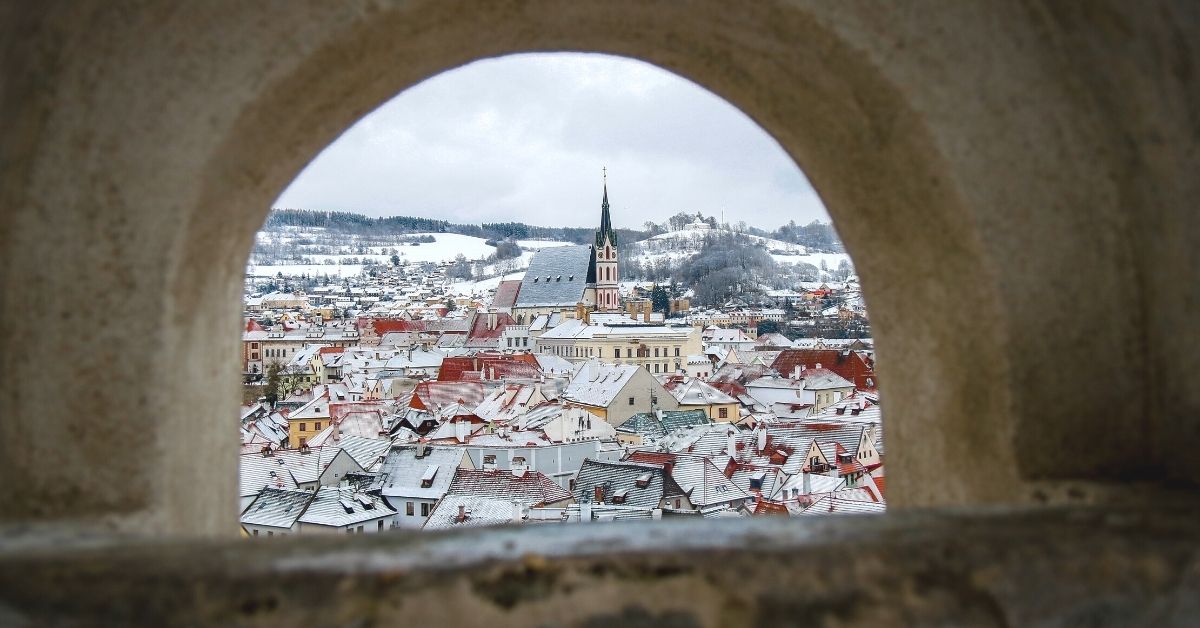 Visit The Ancient Cesky Krumlov
If you are looking for views fit for a Christmas card, this is where you'll find them! Cesky Krumlov is not in Prague, but if you rent a car, you can easily head there. Alternatively, you can go there by public transportation. Count at least two days to visit Cesky Krumlov.
With houses dating back to the 14th century, this town is incredibly pretty. It's a little off the beaten track but so worth the time it takes to visit.
A UNESCO World Heritage Site, Cesky Krumlov is compact enough to get around on foot, with charming views at every turn.
The cobbled streets are narrow and the buildings brightly colored, with cozy, rustic restaurants and bars throughout.
For the best views of the city, take a walk up to the castle, where you can also see the bears that are kept in the moat to guard it.
Final Thoughts
Winter in Prague is as close as you'll get to a real-life fairytale, and it's one you can enjoy without the crowds and high prices of summer.
The perfect place to spend Christmas, see in the New Year, or celebrate Valentine's Day, Prague is a city you will fall in love with and want to return to again and again.
For some more inspiration, check out these amazing reasons to visit the Czech Republic!