What To Do In Banff In Winter
Is your idea of a winter break snow-capped mountains and frozen lakes rather than palm trees and tropical beaches? If so, the famous Alberta resort town of Banff is for you!
Banff National Park offers a truly majestic setting in the winter and is one of the top places to visit in Canada this time of year. The beauty is so breathtaking that you may even forget about the cold when admiring the serene landscapes.
Winter in Banff may not be warm, but it is still incredibly welcoming, with tons of incredible sights and adventures. So read on to discover what to do in Banff in winter and what to expect.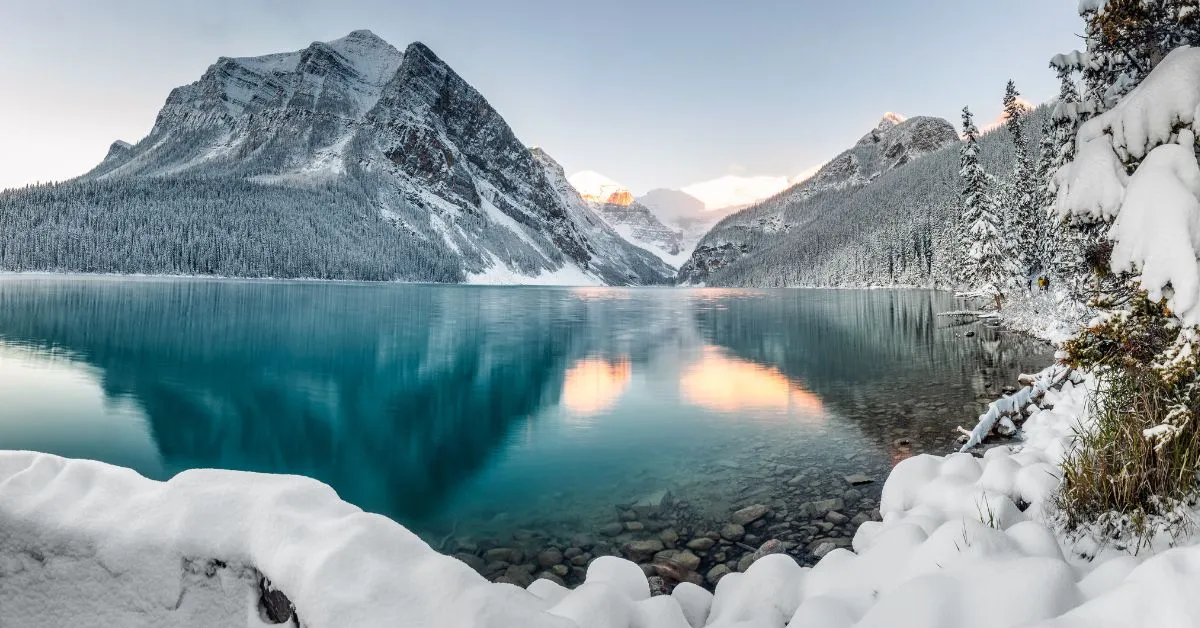 Visiting Banff In Winter
All winter months in Banff share one thing in common – they are cold. However, each month does differ in other aspects.
Banff In November
By November 1st, Fall already feels like a distant memory, and winter is in full force. It starts to get frosty, with average temperatures around 1 to 2°C during the day and dropping as low as -8°C at night.
As the first snowfall usually arrives in September, Banff will already have a significant covering of the white stuff in November.
However, the ski season officially starts in mid-November, so if you're visiting to try some winter sports, come at the end of the month.
Banff In December
By December, Banff's weather has dropped to below freezing both at night and during the day. The average temperature during the day is -5° and -14° at night.
It's the coldest month of the year, so there is no denying that you will feel the chill in the air around you and under your feet with the thick layering of snow.
However, the cold doesn't stop tourists from visiting Banff. December sees many visitors looking for a winter wonderland Christmas escape. All the resorts are bustling, and there are plenty of festivities to enjoy.
Banff In January
Banff's weather in January is the same as in December; freezing cold with lots of snow. However, with Christmas and New Year over, it's a quieter month as the flock of holiday tourists has gone.
As a result, from mid-January onwards, prices for the resorts come down, making it an excellent time to visit if you're seeing a skiing or snowboarding vacation.
Banff In February
Banff in February is still extremely cold, with just a few degrees increase in temperature. At night it remains around -12°, but during the day, it will typically be about 0°, crawling to low single figures at the end of the month.
Interestingly, Banff can be busier in February than in January. There is one week in particular that can get especially busy, which is known as Family Week.
Still, the resorts won't be too crowded, so you'll still get plenty of time on the slopes.
Things To Do In Banff In Winter
Banff offers every type of winter activity you can imagine, making it a snow lover's paradise. Here are some of the top things to do in Banff in winter.
Get Your Skiing & Snowboarding Fix
Banff has three world-class ski resorts; Mt. Norquay, Sunshine Village, and the Lake Louise Ski Area. Mt. Norquay is just 5 minutes from town, so it is naturally a popular choice.
The resort has a great layout with separate beginner, intermediate, and advanced runs; thus, it is excellent for all levels.
Sunshine Village is 25 km from town and comprises three mountains: Goat's Eye, Lookout, and Standish, each for different levels. The central hub of Sunshine Village is also very high up and requires a 20-minute gondola ride to reach it.
Thus, the entire resort gives mesmerizing views.
The Lake Louise Ski Area is the furthest resort from Banff town, but it is well worth the journey. Regardless of your level, you'll enjoy long and fun runs and a super cozy lodge to warm up with a hot meal at the end of the day.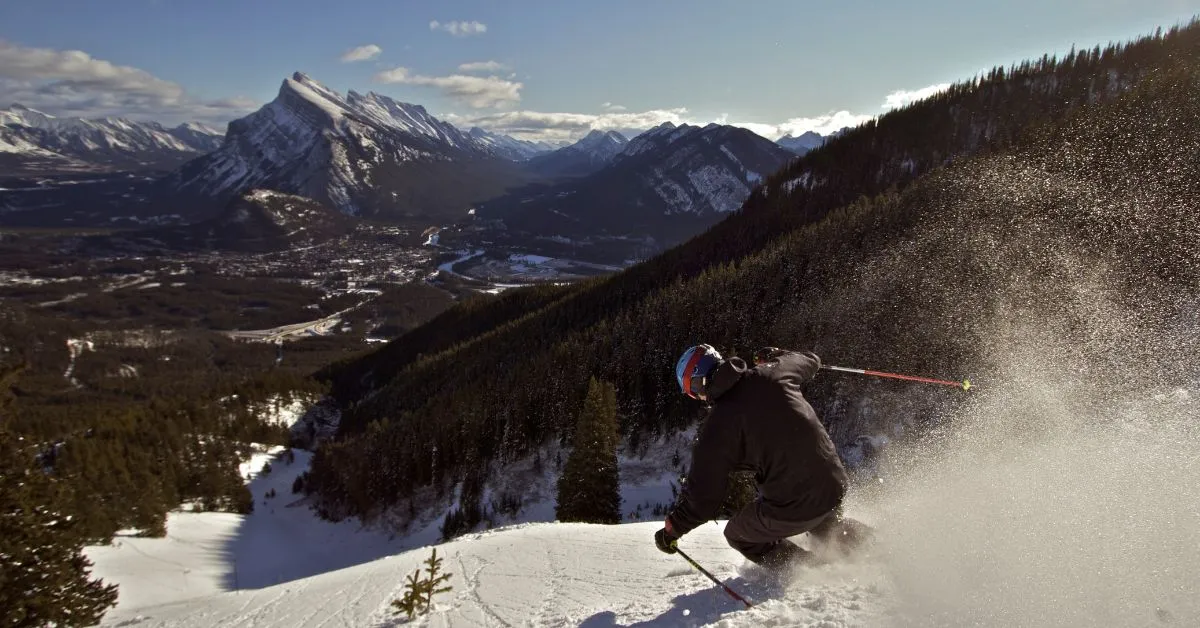 ---
---
See The Northern Lights
In Banff, you can experience the famous Northern Lights (Aurora Borealis) any time of the year. However, the best sightings occur between October and mid-April when the night sky is at its darkest. Thus, winter is undoubtedly the best time to witness this natural wonder.
The most accessible spot from Banff town to view the northern lights is Vermillion Lakes, just a 5-minute drive.
Lake Minnewanka also gives excellent sightings. However, although you can spot the Northern Lights in Banff, they can be pretty elusive, so you may not catch them.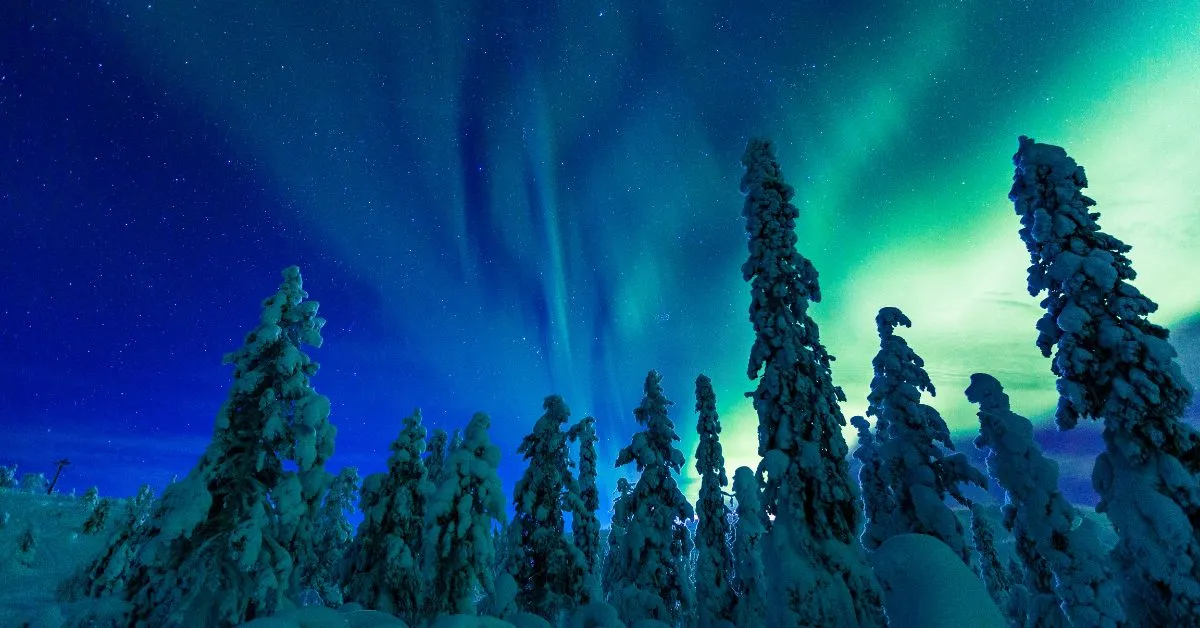 Do A Guided Ice Walk
A super fun (and quite scary) activity in Banff is exploring a frozen canyon. Banff National Park has many stunning glacial rivers and waterfalls that freeze in winter, creating magnificent ice formations.
Johnston Canyon is one of the most popular places to take an ice walk, but note that you will need crampons and other safety equipment.
Thus, if it's your first time walking in a frozen canyon, book a guided tour so you can go with a professional guide and get all the necessary equipment.
Another fantastic ice walk can be found at Grotton Canyon. Consisting of steep rock formations, frozen waterfalls, and indigenous wall art, you'll surely be left mesmerized by a visit here.
Again, I recommend booking a guided tour, as you will get a safety briefing and learn about the canyon's geology and history.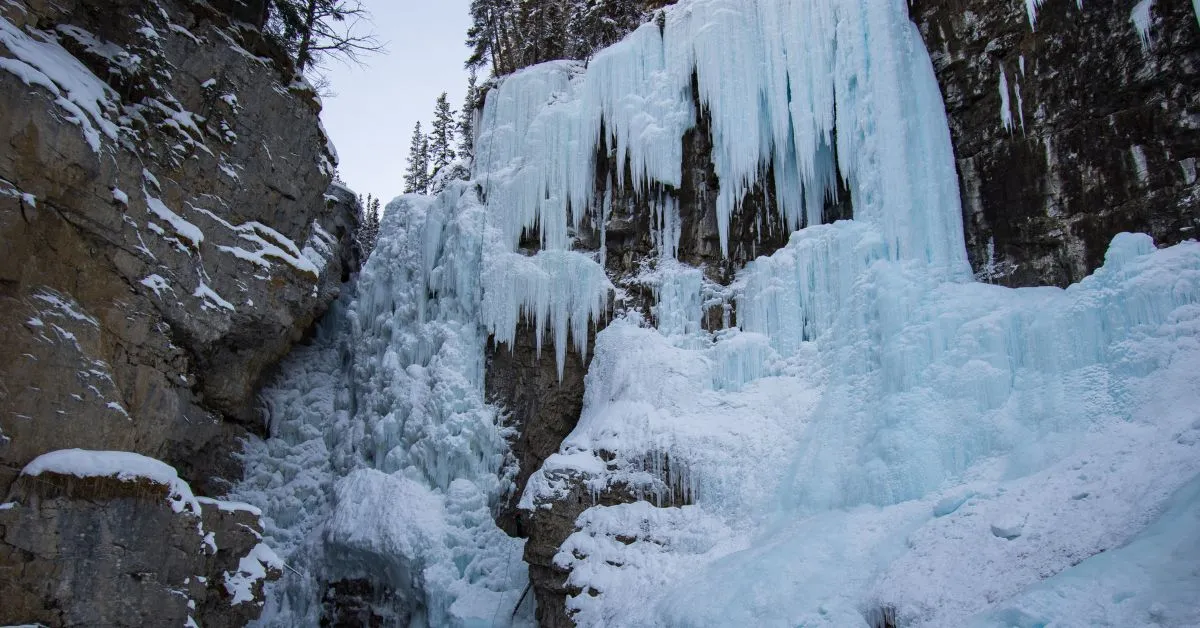 Ice Skate On Lake Louise
Lake Louise is one of Banff's most visited nature spots during the summer, adored for its turquoise waters, mountain backdrop, and canoeing opportunities. However, in the winter, the lake offers an alternative but an equally wonderful experience – ice skating.
Depending on the conditions, you can skate on the frozen Lake Louise from mid-December to mid-April. Skating is free; you can rent skates at various places in Banff and Lake Louise, including the Fairmont.
However, as it is a natural ice rink, there are no handrails or other facilities like heated tents like you may find at an artificial ice rink.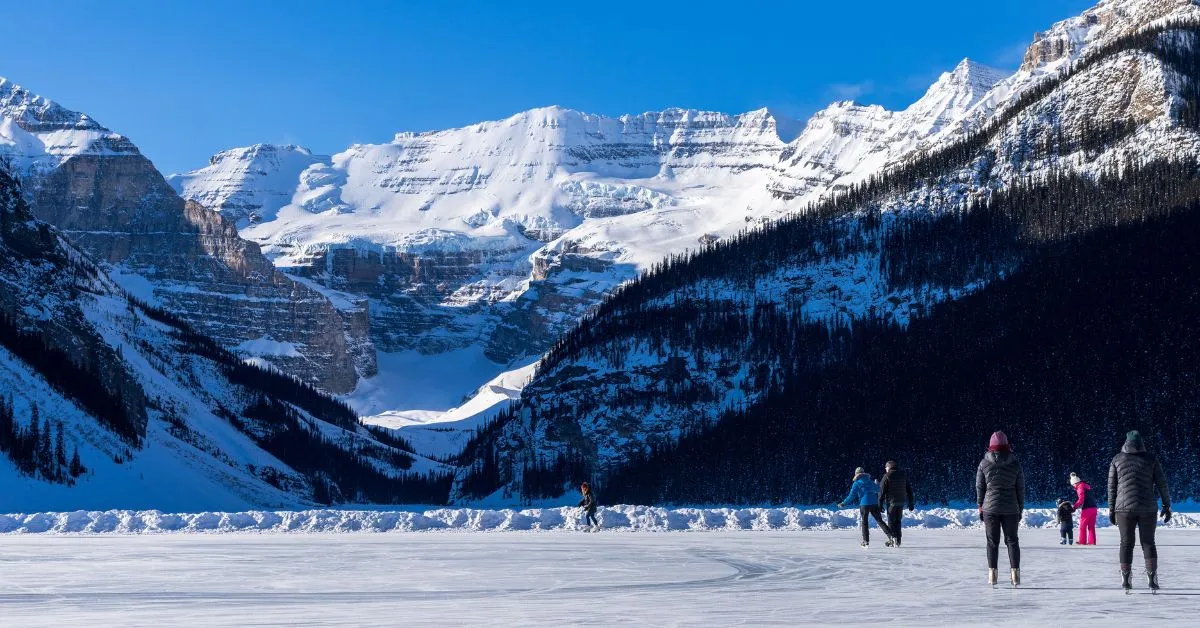 Go Dog Sledding
Dog Sledding is another unique and memorable experience you can try in Banff in the winter. While you may associate dog sledding with Lapland, the activity is firmly rooted in Canada's history.
The indigenous Canadian Inuits were the pioneers of dog sledding, using this transportation method well into the early Banff settlements.
Several companies in and around Banff offer guided dog sledding tours, ranging from a quick 30-minute ride to a full-day tour. Kingmik is the most popular tour operator, located 50 minutes from Banff town.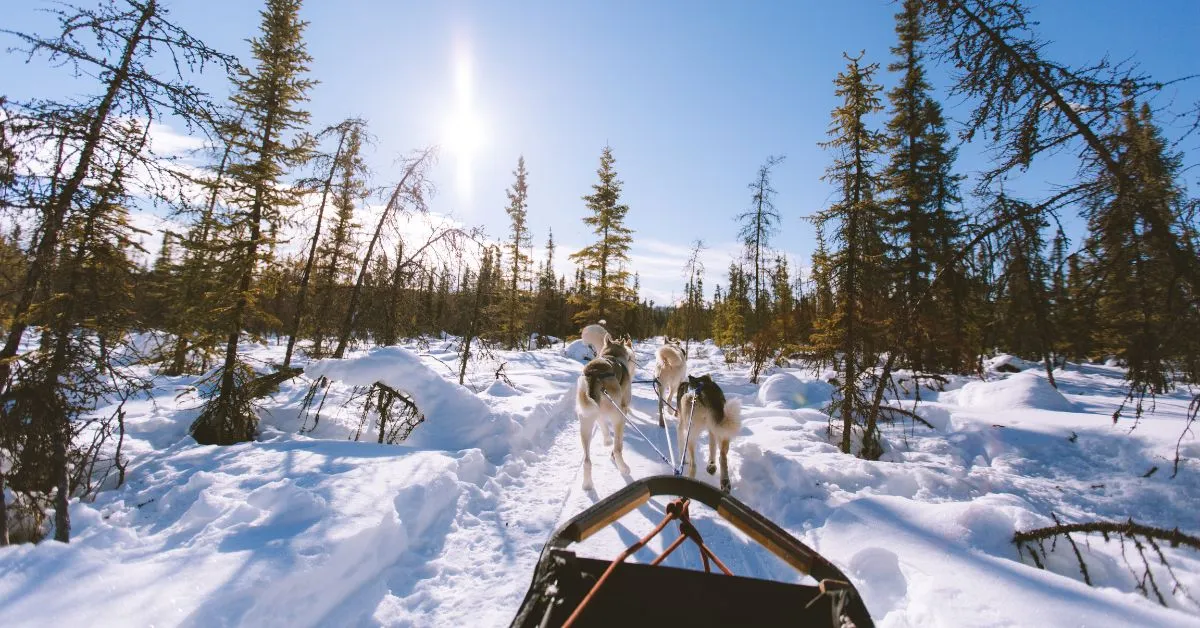 Trek A SnowShoe Trail
You may not be able to walk some of Banff's summer hiking trails, but you can still explore the magnificent national park. With snowshoes, you can access numerous walking tracks in the winter, such as Saddleback Pass, Fairview Mountain, and the Lake Agnes Trail.
If you don't have snowshoes, don't worry, as you can rent them from various places around Banff. However, while the trails may be open, weather conditions like heavy wind or snow can sometimes make them impassable.
Therefore, always check with the Lake Louise Visitor Center beforehand.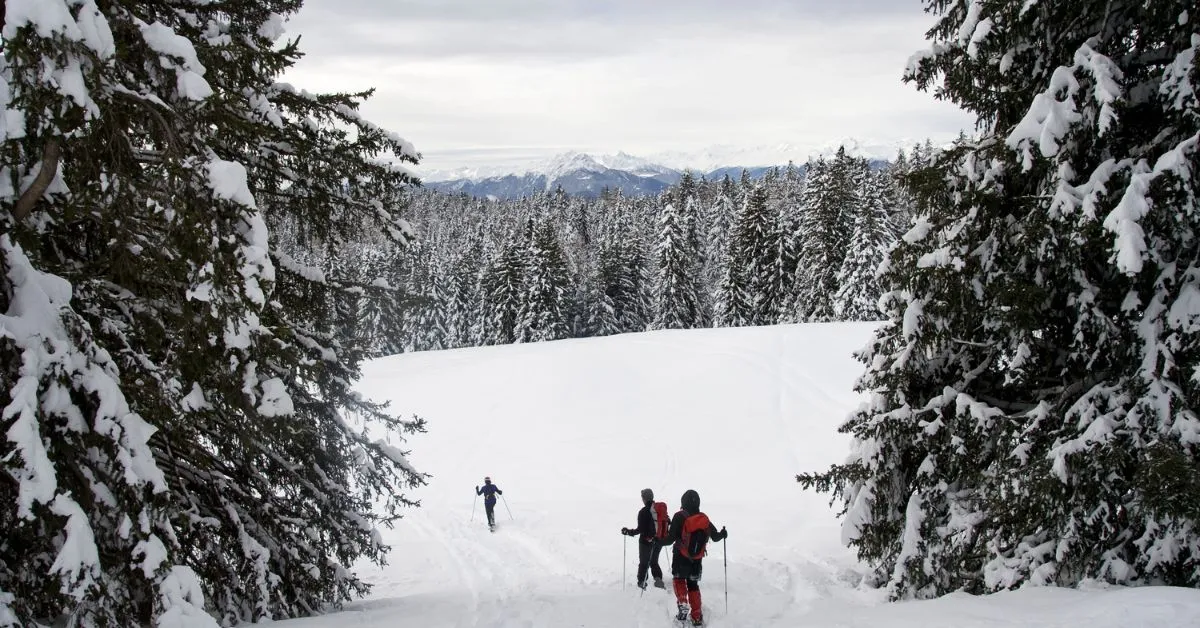 Catch Some Epic Views
Most Banff winter activities come with incredible views of the white landscapes. Still, if you want to see expansive vistas of Banff and the surrounding areas, we recommend seeking out a couple of Banff's top viewpoints – on a clear day.
If you're tired after a day on the slopes but want to catch a magical sunset, take the leisurely 8-minute Banff Gondola ride to the top of Sulphur Mountain.
On top of the mountain is a large observation deck where you can admire the vista and a couple of restaurants with panorama views.
However, you'll find the best views walking along the Parks Canada Vista Trail (also called the Banff Skywalk). This easy trail follows a boardwalk along the summit ridge to Sanson's Peak.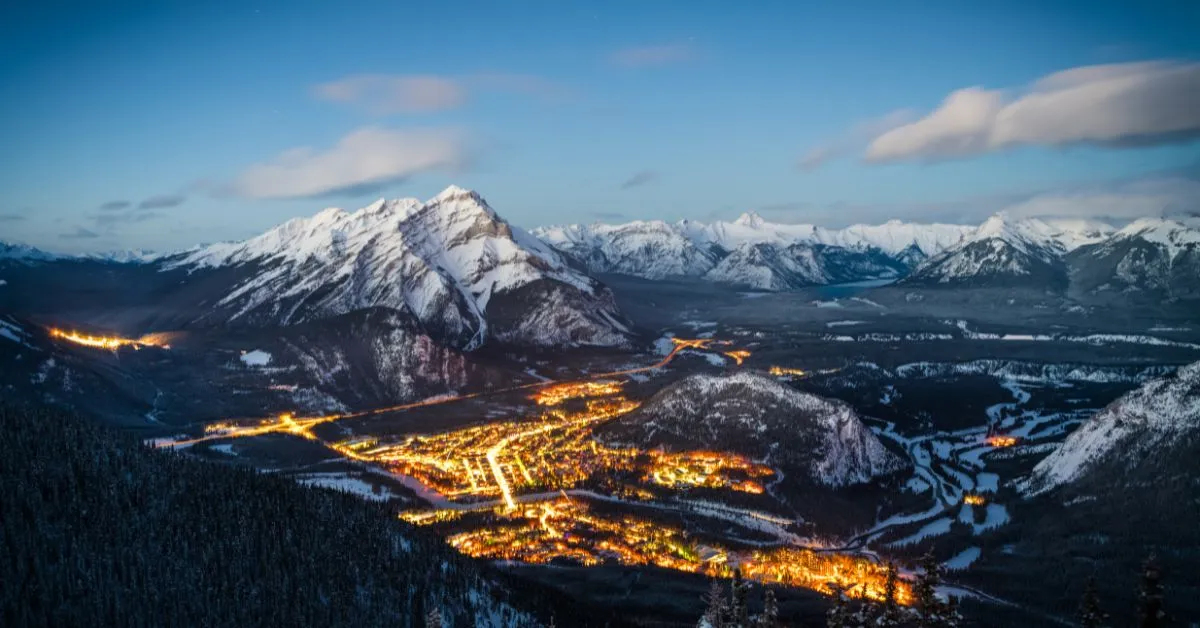 Warm Up In Banff Hot Springs
After all these outdoor activities, you'll indeed be feeling the chill. Banff's Upper Hot Springs is what you need, warming your bones and easing your sore muscles.
The mountain-top natural hot springs are open every day from 10am to 10pm and give beautiful sunsets on clear days.
There are indoor and outdoor areas (we recommend starting indoors, so you don't have to expose your body to the cold air). There is also a large shallow area for relaxing and a deep end for immersion.
The water is usually a comfortable 37°C, which feels absolutely blissful after dealing with below-zero temperatures.
Aside from the Upper Hot Springs, there are many other thermal pools in Banff, but most are located in hotels and resorts. Thus, the Upper Hot Springs is the most popular and the oldest, discovered in 1883.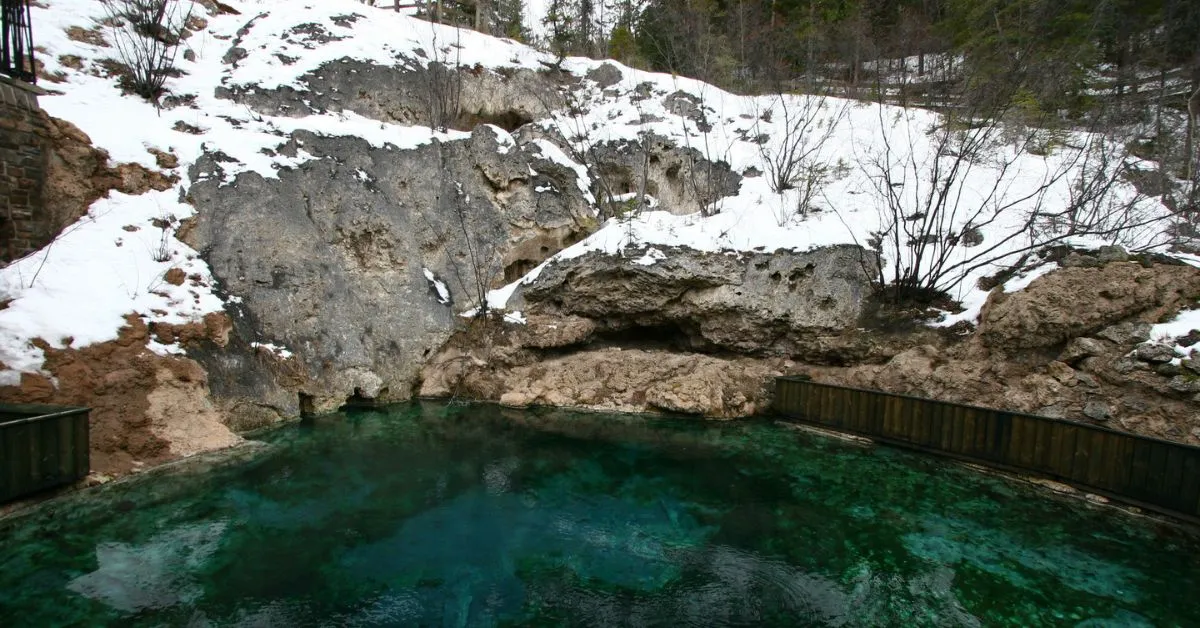 Final Thoughts On What To Do In Banff In Winter
If you're seeking a winter sports adventure or a snowy Christmas retreat, a trip to Banff will delight you.
Still, as most of what to do in Banff in winter is outdoors, be sure to wrap up warm with plenty of thermal layers, a warm ski jacket, and good snow boots.
Before traveling to Banff, be sure to check out our guide to the best hikes in Banff.
Visiting Canada soon? Read one of the following guides: