What Is The Cost Of A Hot Air Balloon Ride?
Imagine soaring through the air in a hot air balloon ride. Once the basket lifts off the ground, you will instantly feel like you're floating.
There is no resistance or swaying back and forth, instead, the balloon moves with the wind making the ride perfectly still and quiet.
As you float up and down, the earth opens up. The landscapes are picturesque and a sense of utter calm and relaxation quickly washes over you.
A hot air balloon ride is an experience of a lifetime, but unfortunately, it does come with a cost. So what is the cost of hot air balloon ride?
Well, in reality, the price of your hot air balloon experience largely depends on a couple of key factors, which are:
Number of people

Location of the ride

Day of the week

Time of the year

Length of the ride
A typical hot air balloon ride can last anywhere from one to three hours, and most companies fly only at sunrise and sunset since wind conditions during these times are the calmest.
A four-hour ride during peak season is going to be much more expensive than a one-hour ride during a weekday in the low season.
The cost to ride a hot air balloon on average is about $300 to $400 per person for a longer session, but can also be as low as $150 per person if you book during a weekday or low season.
This price also depends on whether you are taking a ride in Europe, Africa, or the United States.
It is incredibly hard to come up with a one-size-fits-all price, so instead, let's look at a couple of epic experiences across the globe and also the cost of the hot air balloon rides.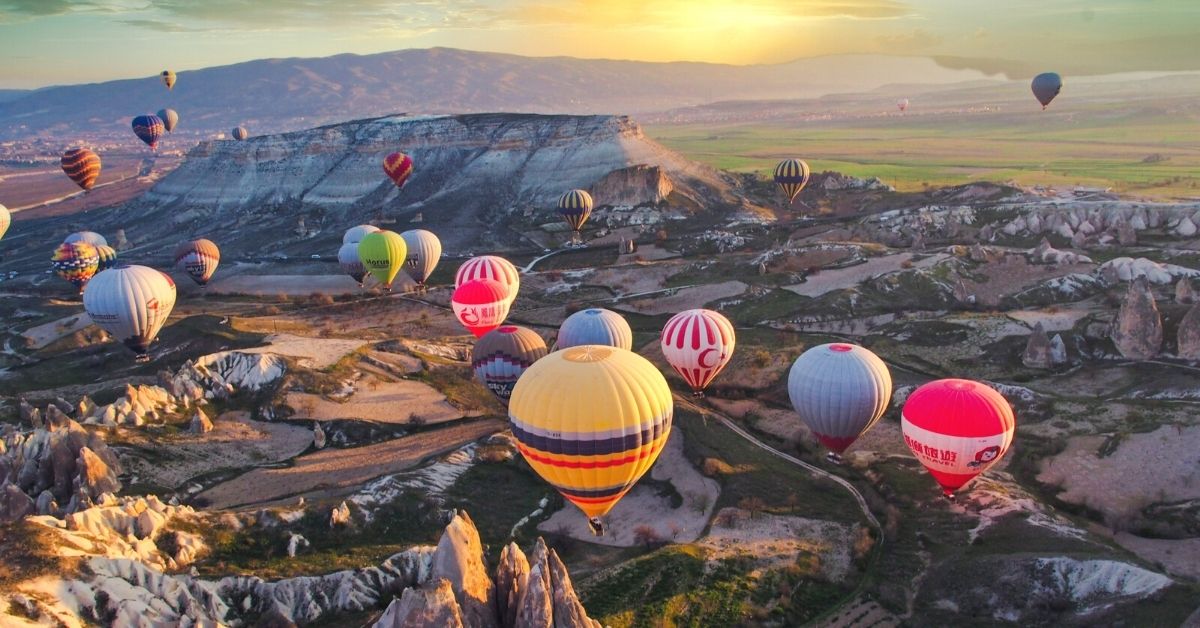 Cappadocia, Turkey
If you have an Instagram account, then you've probably already seen the beautiful photos of hot air balloons dotting the sky over the gorgeous and unique landforms of Cappadocia.
Located just outside the town of Goreme in the south center of Turkey, these rock formations are famous for their otherworldly cone-like shapes, also often called fairy chimneys.
These rock formations are especially awe-inspiring when viewed from above in a hot air balloon during sunrise.
The best time to go on a Cappadocia hot air balloon tour is during the spring and autumn months when the weather is mild.
However, remember that the period between March and November is considered high-season.
The cost of the hot air balloon ride over the fairy chimneys of Cappadocia varies between 100 to 150 dollars per person for a one-hour ride. Browse your options here.
Although the ride itself is only 1 hour, the whole experience takes about 3 hours and usually includes the pick-up, drop-off, a pre-flight breakfast, and a champagne toast once the balloon lands.
These particular experiences start incredibly early, so rest up the night before.
A Cappadocia hot air balloon tour begins at sunrise, usually taking off at 5h00 – 5h30 am in the morning.
Serengeti, Tanzania
Step into your own version of The Lion King by taking a hot air balloon ride over the Serengeti.
Enjoy a birds-eye view and watch lions, zebras, elephants, and more run wild and free without a care in the world.
Ballooning in the Serengeti is a year-round experience, depending on the area you would like to visit.
For example, July-November is the best time to visit the Northern Serengeti while December to March is the best time to visit the Ndutu Area, Ngorongoro Conservation- Serengeti.
It is also important to note that safari wildlife viewing varies depending on the time of year and location.
A sunrise hot air balloon safari in the Serengeti costs around $500 – $600 per person for a one-hour flight.
The price usually includes hotel pick-up and drop-off, a champagne toast upon landing, and breakfast under a tree before returning to your hotel.
The price also does not include park entry fees.
Make sure to check out these amazing wildlife experiences around the world too!
---
Want to connect with fellow long-term travelers? Join our exclusive Facebook group and take part in the conversation.
---
PSSST. Your travel medical insurance can now cover COVID-19! If you grab SafetyWing's Nomad Insurance, it'll be covered just like other illnesses. I've been using it since 2019 and I can assure you it's the perfect solution for nomads like you and me.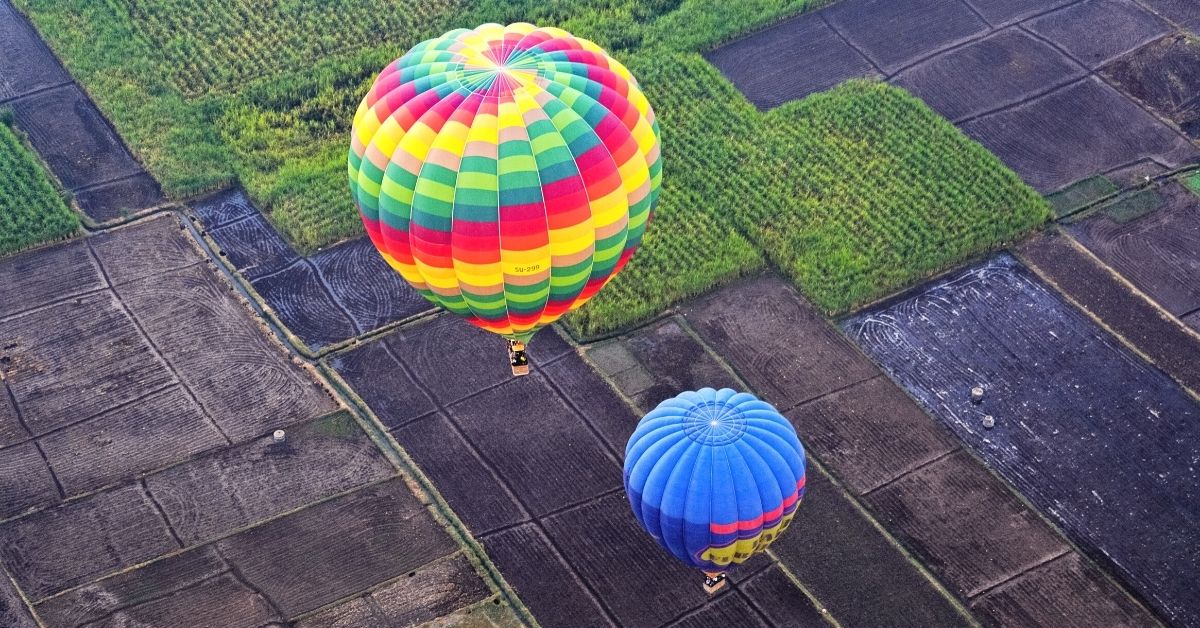 Luxor, Egypt
What can be cooler than floating over the Valley of the Kings in Luxor at sunrise while admiring the juxtaposition between the arid desert and the lush greenery that surrounds the famous Nile river?
Luxor has several different travel companies that have daily sunrise flights.
The cost of a hot air balloon ride in Luxor is around $80 to $100 and includes a 1-hour flight over the ancient temples and tombs of the city. Browse your options here.
The best time to go on a ride is between October and March.
Make sure to avoid coming in the summer, as temperatures in Egypt can go up to 122 F (50 C), — whew that's hot.
Bagan, Myanmar
Myanmar's UNESCO World Heritage sites are world-renowned.
Bagan, Myanmar is an ancient city known for its ancient temples, monasteries, and pagodas built between the 9th and 13th centuries.
With over 2,000 temples and pagodas in Bagan, there is no better way to experience the history of the city than with a hot air balloon ride.
Two main companies offer balloon rides in Baga, Oriental Balloon, and Balloons over Bagan, which offer both 8 to 16 person passenger flights.
The price depends on the number of people on the flight. With Balloons over Bagan for example, the 16 person flight costs approximately $350 and lasts 45 minutes.
It also includes inflight photos. The premium balloon flight, an 8 person flight, costs $450 and includes a full continental breakfast — it also lasts around 45 minutes.
Flights often take off between October and March, however, they can easily be canceled through the season if there is too much rain or wind.
The price also tends to be higher between mid-December and mid-January as it is the high season.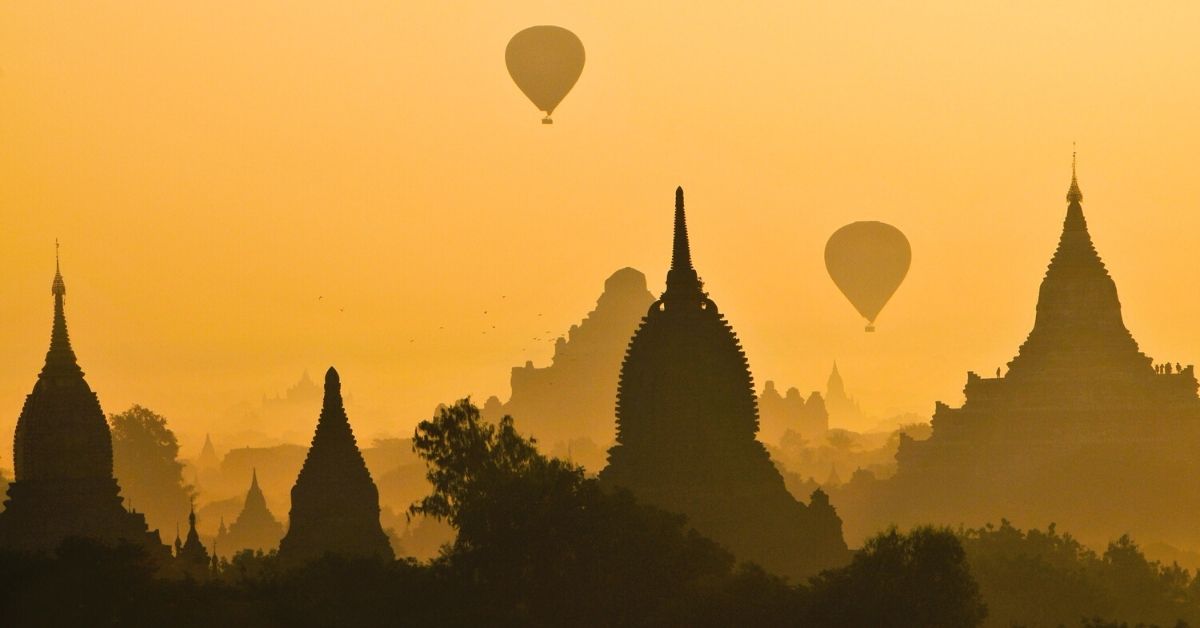 Sedona, Arizona
You've probably already heard of the famous red rocks of Sedona. There is nothing quite like drifting over these majestic red rocks that are illuminated by the sunrise.
Only two companies are allowed to take off in the Sedona area, Northern Light Balloon Expeditions, and Red Rock Balloons.
The price is about $200 – $250 per person for a 1-1.5 hour flight and includes pick-up and drop-off plus a light picnic champagne breakfast.
The high season for this particular experience is during the spring and fall, so make sure that you book ahead of time.
Final Thoughts
In the end, you are probably still asking the question, why is it so expensive to fly in a hot air balloon?
Although there are several reasons why the cost of a hot air balloon ride is so expensive, the most simple answer is safety.
Balloons themselves can cost over $100,000 and many companies retire their balloons after a specific amount of time to ensure that they are in top condition.
Flights also consume a large amount of fuel and the amount of manpower it takes to successfully take-off can also be significant.
All of this combined means that the hot air balloon ride price can get a little up there.
But is it worth it? Absolutely. It definitely is something that everyone should do at least once in their lifetime.