Waterproofing A Backpack – Everything You Need To Know
If you spend a lot of time going to and fro, your backpack is your best friend. Using a backpack every day means that you need to know about waterproofing a backpack to keep your belongings safe!
Whether you're an outdoor enthusiast, on your commute to work, or on a backpacking trip, a backpack is the most reliable way to carry everything you need with you across any distance.
But while a backpack is great for weight distribution, the weather can be a burden. Some backpacks have water-resistant features but with limited results. If you're carrying perishable items or technology, you shouldn't risk a walk in the rain without waterproof packing.
There are plenty of choices for backpack waterproofing, including liners, dry bags, and covers. With so many options, the question of how to waterproof a backpack becomes what's the best way.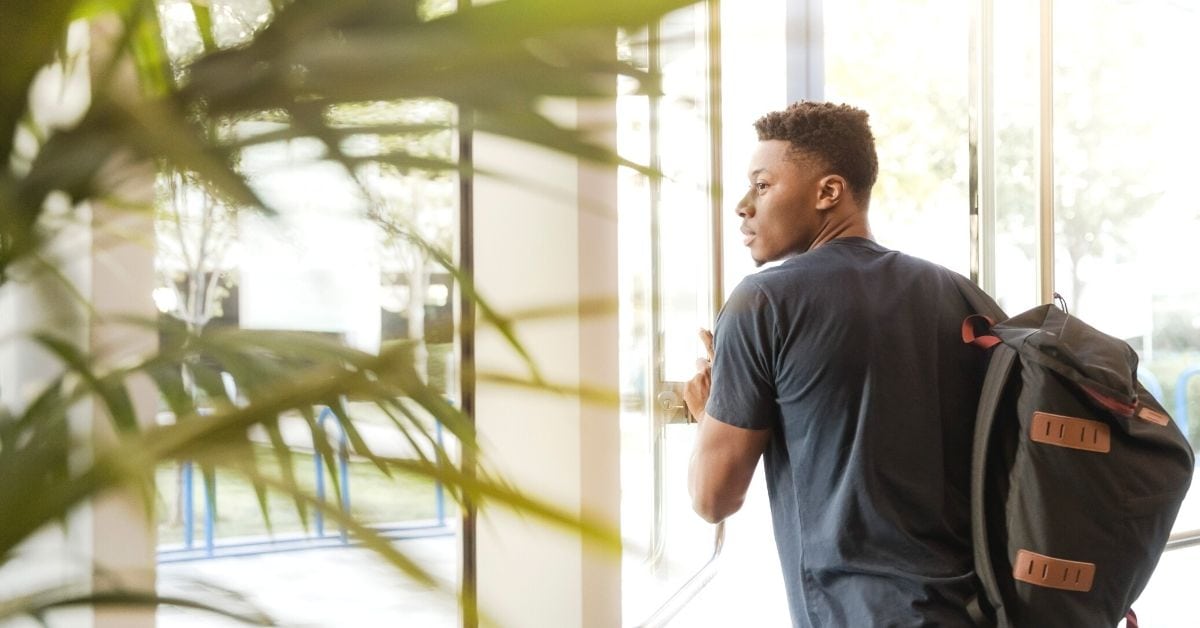 Best Ways Of Waterproofing A Backpack
What's the best way of waterproofing a backpack? It depends on what you're trying to waterproof. If you're concerned about the contents of your bag, you need backpack waterproofing inside.
If you want to save yourself from a soggy back, you need a waterproof backpack cover. Your best option will change will the needs of your backpack. But there are a few key things you can check to figure that out.
Weight And Durability
If you're traveling far or carrying a lot, you don't want waterproofing that adds weight. However, sometimes lightweight comes at the cost of durability. Sprays, wax, and liners are the best for low weight, but covers and dry bags tend to have more durability.
Depending on your needs, it can be best to look for a compromise—another option to double up. If you're expecting a heavy downpour or a trek involving river crossings, you might want a dry bag and a rain cover.
If you live somewhere with consistently rainy weather, maybe using a spray or wax can prevent weather damage on the outside while a liner stops moisture leaks.
It's beneficial to double up if you frequently experience heavy-duty weather and extreme conditions. Investing in something with more resistance means more longevity for your backpack and your dry stuff.
Dimensions And Capacity
The Goldilocks principle applies here. The best solution isn't too big or too small. The right fit will prevent moisture leaks and make it easier to use your backpack.
It's usually better to err on the bigger side, especially with trimmable liner or tuckable dry bags. But if a cover is too baggy, wind can easily blow moisture and dirt inside.
With sprays and waxes, you don't need to worry about capacity, but you should keep in mind how much you need. While having enough initial coverage is necessary, you might also want extra when you need to reapply.
Longevity
If you're wondering how to waterproof a backpack for a one-time trip, you probably don't care about longevity. But if you expect regular backpacking trips, you likely want something that lasts.
Liners are thin and are made for coverage but can't take a beating when it comes to weight and pointy objects. They can tear after repeated use.
Dry bags are made of sturdier material and will last longer. Covers, if adequately cared for, can be used multiple times.
Sprays and waxes are for one-time use until you need to reapply. Some might require a new coat after a season or less. Still, most waxes or spray sealants you will need to reapply after repeated, intense exposure to the elements.
When considering reusability, you also have to consider the flaws. When there's a hole in your liner or cover, you know it needs replacing.
If there's a wet spot after using a spray or wax, you might have a rough idea of the area, but how can you be sure? It might be wiser to reapply entirely, but that means using more.
Coverage
Which is worse: stuff soaked or back soaked?
If you care most about keeping your stuff safe, any of these options offer some protection. However, liners and dry bags are all about waterproofing the inside, leaving the outside of your bag vulnerable.
The dripping from the top of your backpack might leak over your jacket collar. Your bag might form a puddle on your floor even though the inside is dry as a desert.
But, if you have a resilient waterproof jacket or a mat to plop your backpack on, you only need coverage for the stuff you're carrying.
Now that you have those key features in mind, let's go over the best ways of waterproofing a backpack. We'll also discuss a few suggestions with the pros and cons.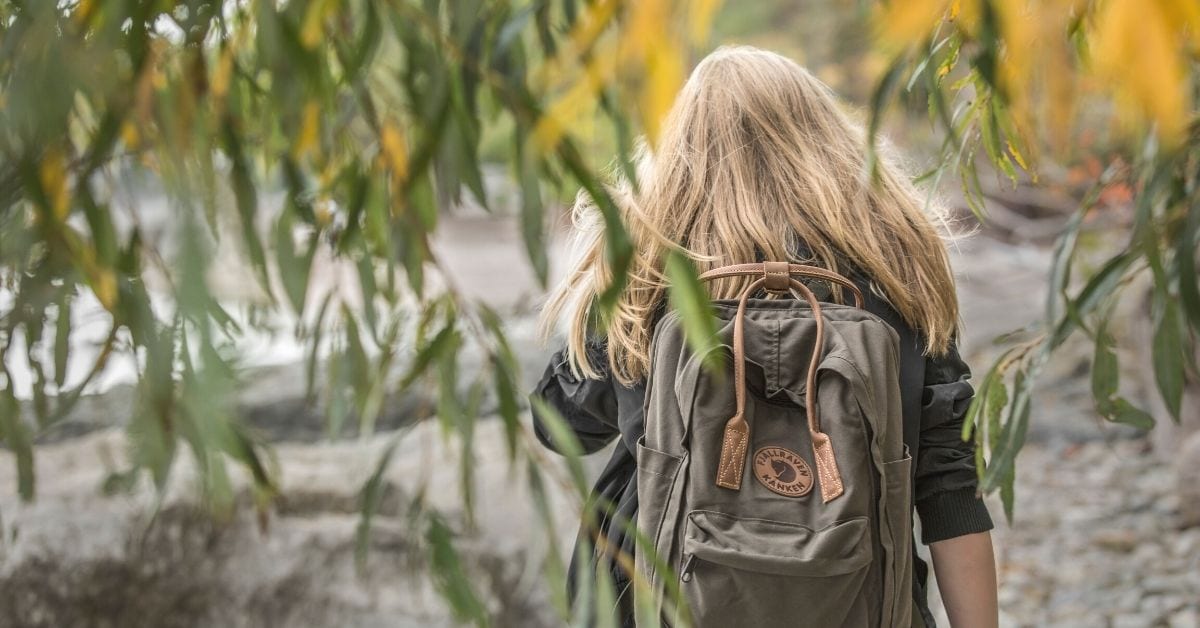 Waterproof Pack Liner
A lot of backpack waterproofing falls under the category of pack liner. Brands take advantage of the grey area between liners and dry bags, confusing consumers. For our purposes, we're using two features to define a pack liner.
It must line your bag, not a separate bag.

The closure uses the roll and tuck.
Pack liners are practical solutions for short trips or daily commutes. They've also been a staple of hikers and outdoor enthusiasts in search of budget options.
The original backpack waterproof liner, the most popular, is also the simplest and cheapest: the trash compactor bag. Readily available at multiple retailers, from convenience stores to online retailers, there's a varied assortment of sizes and scents.
While it can do in a pinch, trash compactor bags are vulnerable to wear and tear. Also, you might want to avoid scented trash bags or risk that a strange chemical freshness will linger on your stuff.
Gossamer Gear Clear Waterproof Pack Liner
Suppose you want an upgrade from trash bags, but you're on a budget. In that case, you might consider the more durable Gossamer Gear backpack waterproof liner.
It can take more use than most plastic bags, making it an excellent pairing for short hiking trips or daily use. It fits the traditional definition of a pack liner because it has a wide opening with no closure method. Rolling and tucking is the only way.
The Gossamer Gear polyethylene material is ultralight. You can find the liner in packs of two. The capacity fits smaller backpacks best, holding between 35-50 liters.
The material is transparent, which makes it easier to find things in your backpack. You can search without unfolding the top.
Pros
Affordable

Clear

Lightweight
Cons
Vulnerable to wear and tear

Weak closure
Sea to Summit Ultra-SIL Pack Liner
The Sea to Summit pack liner is in that grey area between liner and dry bag, as it's a bag made to line the inside of your backpack. But it deserves mentioning because this backpack waterproof liner was featured in popular travel magazines in the past.
The nylon material is woven with a ripstop pattern, making it the most durable liner we've mentioned. The slippery fabric finish helps with packing, making it easy to slide the liner in and out of your bag.
Like the classic trash compactor bag, most pack liners have wide openings with no method of closure, except for the usual roll and tuck.
The Sea to Summit pack liner does need a fold or two, but the closure is more secure with velcro and buckles. Your stuff won't slip out, and moisture won't fall in.
The Sea to Summit is available in three sizes: small (19 x 6 x 21 inches, 50 liter), medium (21 in x 8 in x 35 in, 70 liter), and large (22 x 10 x 48 in, 90 liter).
Pros
Inexpensive

Lightweight

Secure closure

Ripstop material
---
Want to connect with fellow long-term travelers? Join our exclusive Facebook group and take part in the conversation.
---
PSSST. Your travel medical insurance can now cover COVID-19! If you grab SafetyWing's Nomad Insurance, it'll be covered just like other illnesses. I've been using it since 2019 and I can assure you it's the perfect solution for nomads like you and me.
Cons
The backpack exterior will get wet

No internal organizers or pockets
Waterproof Bag Cover
The waterproof backpack cover shields the exterior of your backpack and stops moisture from leaking inside. When your bag gets wet, that moisture can spread and might soak your back or drip onto your legs. With a cover over your backpack, you save yourself from runoff water.
The best benefit of a cover is that it lets you use your backpack the way you want. Many packs have useful organization tools and pockets. If you need to place your stuff in a dry bag or liner, you lose access to that organization.
When you get home or wherever you intended to rest for a time, you can set the cover aside to dry. Since a bag cover has saved your backpack from the elements, you can take it indoors without worrying it might spread dirt or moisture.
One downside to covers is that severe weather can limit the coverage. Wind can blow in moisture and dirt at exposed gaps.
Joy Walker Backpack Rain Cover
The Joy Walker offers durability without being overpriced. The 300D rip-resistant nylon will keep your pack dry under heavy rain.
The bag has coated double layers, placing more protection between your stuff and the rain, dirt, fog, and other moisture. The Joy Walker cover is available in a rainbow of colors, plus camouflage.
The reinforced elastic rim folds for form-fitting protection. Crossing straps with buckles secure the cover to help prevent slipping. However, one flaw is that the top backpack handle can sometimes cause the cover to fall. There's no clip or carabiner for slip prevention.
Rain covers are lightweight and easily foldable. You can tuck the Joy Walker into a backpack pouch when you don't need it.
There are five size options, small (15-25 L) to XXL (70-90 L). Buyers also receive a bonus velvet pouch, useful for storing smaller items.
Pros
Rip-resistant nylon

Double layers

Reinforced elastic rim

Five size options

Bonus velvet pouch
Cons
The cover top may slip

If fully submerged, the backpack will get wet
Dry Bag
Dry bags are best for when waterproofing a backpack interior. Dry bags are typically more expensive than liners, waxes, or spray sealants but are more durable. They're also the least likely to have a gap or vulnerable area.
If you find your backpack fully submerged, a dry bag stands the best chance of keeping your stuff safe. You can even expect a dry bag to float if enough air is trapped inside.
Dry bags are like liners in that they fit inside a backpack but generally aren't suitable for standalone use. Without organizers or pockets, you get a bit of a jumbled mess.
Earth Pak Waterproof Dry Bag
The Earth Pak has a few extras when compared to other dry bags. You can easily slide the dry bag into a backpack or use it as a separate bag. The front has a splash-proof zippered pocket for small items, like sunglasses or keys.
If you want access to your phone while keeping your backpack closed, why not use the bonus waterproof phone case? You can use the strap to wear it around your neck or tuck it in an outer backpack pocket. The phone case will fit screen sizes up to 6.5 inches.
Earth Pak uses a thick 500D PVC material, which is a popular synthetic plastic polymer. The dry bag is durable, with welded seams for a watertight seal. There are four sizes, from 10 liters to 40 liters. The 10-liter and 20-liter bags come with a single shoulder strap. Double padded shoulder straps are available for the 30 and 40-liter sizes.
You can choose from eight colors. Aside from black and grey, the other colors are vibrant and an excellent choice for improving visibility. You won't lose sight of your dry bag inside your backpack.
To close, you toss in your items, fold a few times, and then buckle.
Pros
Lightweight

Durable material

Welded airtight seal

Carrying strap (or padded straps)

Bonus waterproof phone case
Cons
Wax or Spray Sealant
Like the simple liner, waxes and spray sealants are inexpensive solutions for backpack waterproofing. As a bonus, waxes, and sprays can be used on various fabric materials, making it a handy tool for waterproof packing. You can wax or spray bags, tents, or jackets.
But why choose wax or spray sealant when waterproofing a backpack? Firstly, you control the coverage area. Unlike covers that fit a specific shape, you can aim spray sealants or place wax on curves and gaps.
Secondly, it can act as a boost or renewal for waterproofing liners. We mentioned doubling up, and sprays and wax are perfect for adding extra protection.
Suppose you notice your waterproof backpack cover lifts in one spot. In that case, you can boost the water-repelling action with spot protection.
If you have a liner or cover that has started to wear out, you can renew the waterproofing by adding a spray sealant or wax layer.
However, if you're planning to take your backpack on a boating trip, wax and spray sealant can't prevent moisture when fully submerged.
Scotchgard Heavy Duty Water Shield
Scotchgard is a household name, and it remains a relevant brand with reliable products like the Water Shield.
Other than backpacks, Scotchgard is also safe for any outdoor gear made of polyester, nylon, polypropylene, cotton, leather, or suede. The spray creates a barrier against rain, snow, and moisture with a single application.
It would be best if you reapplied the spray sealant seasonally or every few months, depending on how regularly you expose your backpack to heavy rain. With one can, nylon materials gain 60 sq. ft. of water resistance or 20 sq. ft. on heavier fabrics.
Scotchgard dries odorless and transparent. But, before going full out, remember to test a small area of your backpack. The spray may cause colors to darken.
Pros
Long-lasting (reapply seasonally)

Barrier against rain, snow, and other moisture

Clear and odorless

Applicable to many material types
Cons
Can't waterproof backpack openings, such as zippers
Otter Wax Fabric & Canvas Wax
Otter Wax is an all-natural fabric wax. The company, based in Portland, Oregon, aims to offer environmentally friendly, long-lasting waterproof protection. There's no silicone or petroleum.
You can use Otter Wax on denim, canvas, tin cloth, and more. You can wax your backpack or other fabric materials, including rucksacks, shoes, and hats. The 5 oz beeswax bar is best for more oversized items, but if you need a touch-up, there's also a 2.25 oz bar.
Otter Wax can cause a distressed or slight color darkening and should be patch-tested first. It needs to cure in a dry place for twenty-four hours. Reapplying is left up to your discretion. The more weather your backpack endures, the more often you should reapply.
Pros
Environmentally-friendly

Easy to use

Creates a smooth, durable waterproof barrier
Cons
Must reapply often

Causes material distress or color darkening

Can't waterproof backpack openings, such as zippers
Final Thoughts
Our guide on how to waterproof a backpack has outlined the most popular solutions. You know the basic pros and cons of a backpack waterproof liner, dry bag, backpack cover, wax, and spray sealant.
Whether it's light rain, heavy rain, or an accidental dunk in a body of water, there's a solution for that.
For everyday commutes, an inexpensive liner will do the trick. For intensive outdoor adventurers, investing in a dry bag alongside another waterproofing method will give you peace of mind.
With suitable waterproof packing, you and your backpack have no limits on where you can go. Now that you know the best ways for waterproofing a backpack, we hope you're ready to get out there and brave the weather.