UNESCO World Heritage Sites in Myanmar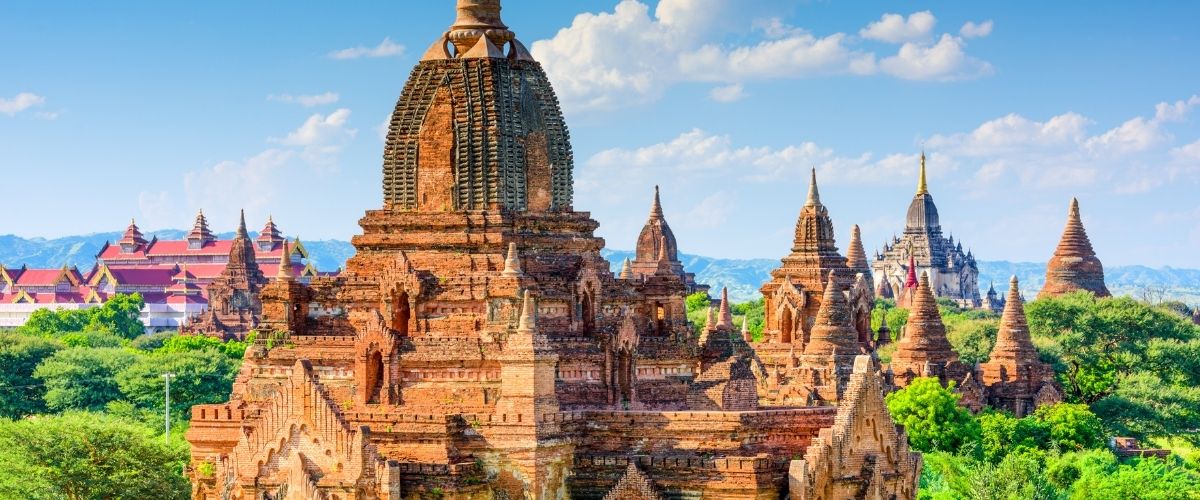 Boasting sublime temples and stunning natural landscapes, it'll come as no surprise that some of Myanmar's popular sights and attractions have made it onto the UNESCO World Heritage list.
But, just how many World Heritage Sites in Myanmar are there, and why are they worth visiting? Continue reading to find out and get top travel tips for the country's most culturally and historically significant locations.
What Exactly Is a World Heritage Site?
You've doubtless heard of UNESCO and their list of World Heritage Sites, but do you know what is required to make the list?
A World Heritage Site is a landmark or area which has been chosen for international legal protection due to its cultural, historical, or other significance. To be eligible for World Heritage status, sites must be considered to be important to humanity: it's a prestigious and coveted title.
The list of sites is administered by the United Nations Educational, Scientific, and Cultural Organization (UNESCO) which is constantly reviewing candidates and updating the list.
There are 2 properties in Myanmar inscribed on the UNESCO World Heritage list plus 15 on the tentative list meaning that they are being considered for nomination. Here we'll take a look at both World Heritage Sites and why you should consider visiting them as you travel in Myanmar.
Pyu Ancient Cities
---
Planning your upcoming adventures? Travel by bus! (It's cheap!)
---
The first property to be granted World Heritage status in Myanmar was Pyu Ancient Cities, inscribed on the list in 2014. The Pyu Ancient Cities deserve a space right at the top of your Myanmar travel itinerary and it's worth seeing at least once if you're at all interested in finding out more about Myanmar's ancient history.
Pyu Ancient Cities are the remains of 3 Burmese cities: Halin, Beikthano, and Sri Ksetra. These cities existed around 200 BC to 900 AD during which time the Pyu Kingdom flourished.
Once surrounded by walls and protected by moats, the 3 sites have been partially excavated to reveal burial grounds, Buddhist stupas, and water management features that reveal much about the people who occupied the areas.
Why are Pyu Ancient Cities a World Heritage Site?
The Pyu Ancient Cities are considered worthy of their place on the UNESCO World Heritage list given that they provide the earliest evidence of the introduction of Buddhism to Southeast Asia close to 2,000 years ago.
These Buddhist city-states had a key role in the spreading of Pali-based Buddist traditions to other societies within the regions, many of which continue to be observed today.
Not only are the sites an indication of religious transformation, but they also show the development of urban planning and building. At the sites, you'll see evidence of resource management and manufacturing constructions, as well as road and canal networks which would have been considered innovative at the time.
How to get to the Pyu Ancient Cities
Pyu Ancient Cities are spread out, separated by several hundred kilometers. You might want to visit all 3 or just visit the one which is of most interest to you.
Halin
---
Want to connect with fellow long-term travelers? Join our Facebook group and the conversation.
---
PSSST. SafetyWing finally covers COVID. I've been using their Nomad Insurance since 2019. It's the perfect solution for nomads like me. Don't leave without your travel insurance.
---
Halin is 70 miles from Mandalay. The easiest way to get there is by road, you may opt for a private tour guide and driver, or join a group excursion. Both are great options and you'll benefit from your guide's expert knowledge of the site.
Alternatively, if you're planning to hire a car in Myanmar, you can drive there yourself, the journey takes just over 2 and a half hours.
Beikthano
Beikthano is 168 miles south of Halin (230 mi by road). Beikthano can be reached by car or bus from either Mandalay or Yangon. Alternatively, you can take a train to Taungdwingyi which is just over 7 miles away before completing the journey by taxi.
Sri Kshetra
Sri Kshetra is the southernmost of the 3 ancient cities, located 80 mi south of Beikthano. Sri Ksetra can be easily reached from Pyay, which is just over 1.8 mi away. There are daily train and bus services from Yangon to Pyay.
Bagan Unesco World Heritage Site
The other World Heritage Site in Myanmar is Bagan. Bagan, situated on the banks of the Irrawaddy River, is one of the most popular and famous sites in Myanmar, and for good reason. With over 2,000 Buddhist temples, stupas, and monasteries, Bangan boasts the densest collection of structures to be found anywhere on earth.
Many of the temples and pagodas are still in use, offering a unique insight into Myanmar's religious and cultural traditions. Some of the best temples to visit in Bagan include:
Shwezigon Temple

Manuha Temple

Gawdawpalin Temple

Thitsar Wadi Temple
Why is Bangan a UNESCO World Heritage Site?
Aside from Bangan's breathtaking landscapes, the site is also of great cultural and religious significance. Bangan provides evidence of Buddhist cultural tradition, in particular merit-making, and to Buddhist monumental architecture.
These and other reasons meant that Bangan was inscribed on the UNESCO World Heritage List in 2019.
How to travel around Bangan
With an area of 26 square miles, you'll need to use some sort of transport to get around Bangan and see as much as possible during your visit. One option is to hire a car and driver who will act as your personal guide. You can also rent a bike or electric bike if you're feeling active, just be sure to take plenty of water with you and stay hydrated.
To see Bagan from above, why not take a hot-air balloon ride. Several companies offer hot air balloon tours, a magical and unforgettable experience in Myanmar.
Tentative UNESCO World Heritage Sites in Myanmar
Although there are currently just 2 UNESCO World Heritage Sites in Myanmar, there are now 15 potential candidates:
Ancient cities of Upper Myanmar: Innwa, Amarapura, Sagaing, Mingun & Mandalay

Ayeyawady River Corridor

Badah-lin and its caves

Hkakabo Razi landscape

Hukaung Valley wildlife sanctuary

Indawgyi Lake wildlife sanctuary

Inle Lake

Mon cities: Bago & Hanthawaddy

Mrauk-U

Myeik Archipelago

Natma Taung National Park

Pondaung anthropoid primates palaeontological sites

Shwedagon Pagoda on Singuttara Hill

Taninthayi forest corridor

Wooden monasteries of the Konbaung period: Ohn Don, Sala, Pakhangyi, Pakhannge, Legaing, Sagu & Shwe-Kyaung
Some of these sites will undoubtedly make it into your Myanmar itinerary, and potentially onto the UNESCO World Heritage List in the future.