Top Couple Camping Ideas For A Romantic Camping Trip
Romantic getaways are not limited to hotel stays and private pool villas. If you love nature and prefer simplicity over luxury, you will surely enjoy romantic camping with your other half.
While you may not think of a campsite as a romantic vacation destination, tents and campfires can create an ideal environment to get cozy with your lover.
What's more, there are plenty of romantic camping activities that you can enjoy together and many ways to make your couple camping trip extra special.
Here are five of the most fun camping activities for couples and four awesome ideas for creating an intimate and romantic camping atmosphere.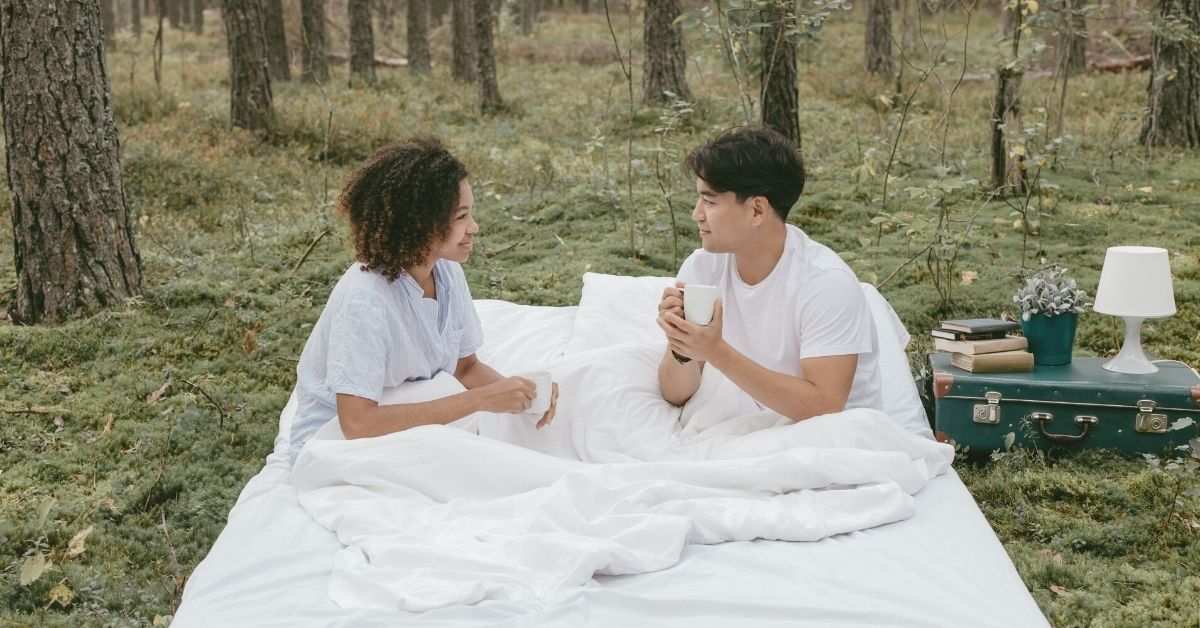 5 Fun And Romantic Camping Activities For Couples
Romantic camping can bring you and your partner together in a way that you just can't do at home. These romantic camping activities give you the chance to connect with nature and your partner at the same time!
1. Enjoy A Picnic With A View
Picnics have always been one of the most romantic dates. But, when you combine it with a breathtaking view, it can become one of the most memorable experiences of your relationship.
Wherever you are camping, there are bound to be some fantastic hiking trails around. Before you head off on your couple camping trip, do some research to find an easy or moderate hiking trail that leads to a summit.
Then you can pack up a picnic and a blanket and take them with you on the hike. Once you reach the viewpoint, you can sit down and admire the vista while tucking into your lunch.
As you will have to carry your picnic basket to the summit, it's best not to choose a trail that is too long or steep. You can also lighten your load by taking paper plates and cutlery.
Moreover, if you're taking a bottle of wine, you might want to consider pouring it into a flask to reduce the weight.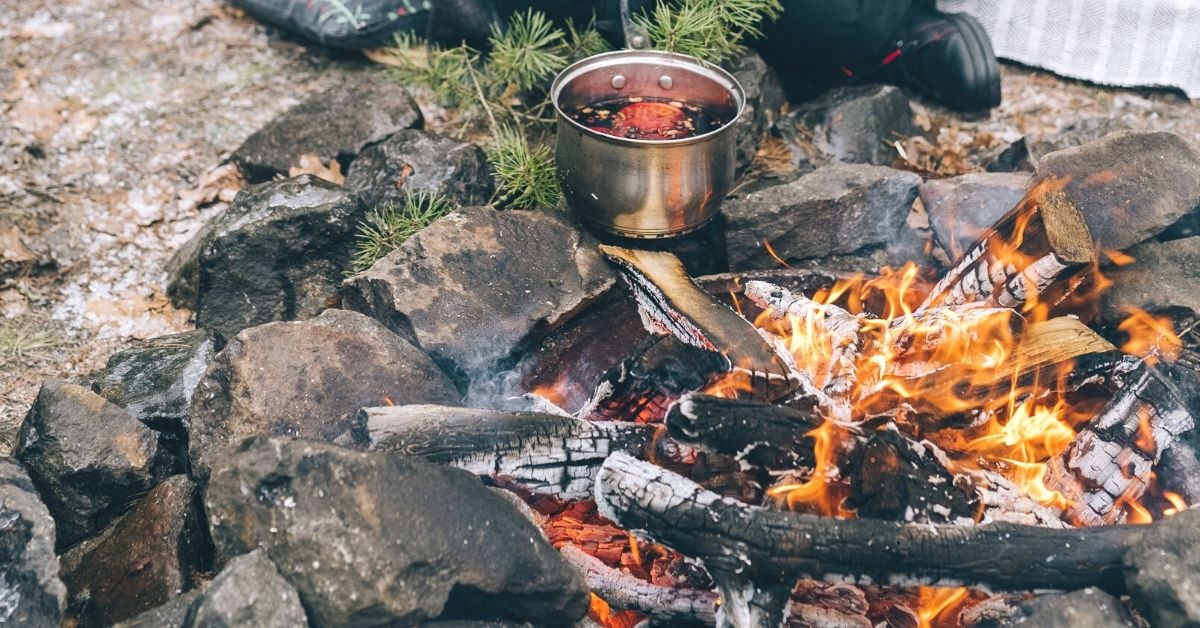 2. Play Games Around The Campfire
Romantic tent camping offers many opportunities to get to know your partner on a deeper level. As there is no one else around, you only have each other for company.
If you're worried the conversation might run dry in the evenings, prepare some campfire games that you can play together in the evenings.
One excellent couple game you can play is the Couple Questions Game. This game lets you ask your lover the things you've most wanted to know.
You can also play some classic board games to strengthen your bond and have fun at the same time.
3. Bathe Naked In A Creek Together
When you and your partner are in the middle of nature, isolated from society, you'll find many intimate activities to do that you couldn't do at home.
If there's a freshwater creek close by, take advantage of your secluded environment by taking a dip in the nude together.
Bathing naked out in the open is one of the most romantic camping ideas. It will feel liberating and exhilarating and make your camping trip one to remember.
4. Snuggle In A Hammock Under The Stars
One reason camping can be such a good bonding experience is that you are both free from distractions.
At home, you most likely spend the evenings watching a movie or scrolling through social media. However, on a couple camping trip, it's just the two of you and nature.
Therefore, camping allows you to connect deeper with each other and also the environment around you.
It's no secret that the night sky is incredible in remote camping spots. Make sure to bring a good portable hammock so you can snuggle up and watch the stars together.
Although this is such a simple activity to do, it will stick in your mind for years to come. Immersing ourselves in nature through activities like stargazing awakens our souls.
Therefore, don't be surprised if you find yourself in one of the most profound conversations you've ever had with your partner.
You might even stay in the hammock all night long, talking until the early hours! Make sure to bring a sleeping bag that fits in your hammock if you do this.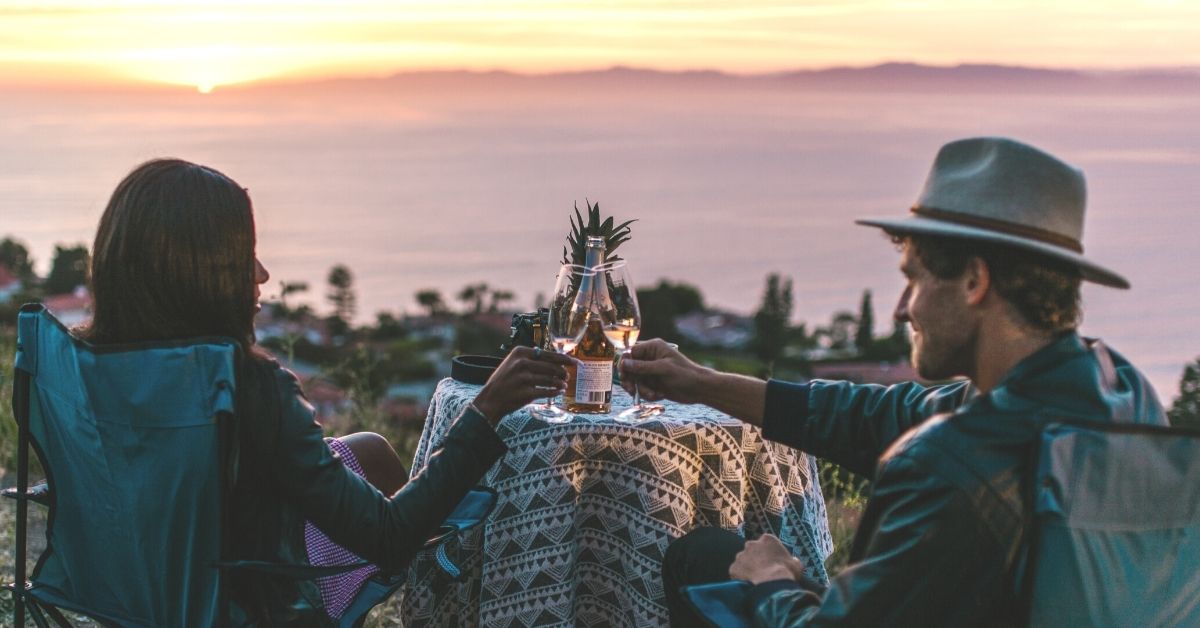 5. Toast To Your Relationship While Watching The Sunset
Enjoying a sunset is one of the greatest simple pleasures of life and is even better with some company.
Therefore, look up the best sunset spot near your campsite. Head there with your partner and a bottle of champagne just before sunset.
As you watch another day end, use this as an opportunity to celebrate your relationship. Make a toast to both the past and the future.
---
Want to connect with fellow long-term travelers? Join our exclusive Facebook group and take part in the conversation.
---
PSSST. Your travel medical insurance can now cover COVID-19! If you grab SafetyWing's Nomad Insurance, it'll be covered just like other illnesses. I've been using it since 2019 and I can assure you it's the perfect solution for nomads like you and me.
As the sky darkens, reflect on how far you have come and discuss what you want to create together moving forward.
5 Ways To Create A Romantic Camping Atmosphere
Camping doesn't have to be gritty or uncomfortable. There are plenty of small changes you can do to make a wonderful and romantic camping atmosphere.
1. Decorate With Fairy Lights
Fairy lights look pretty and create a warm lighting tone. They are battery-operated and compact, so they are easy to pack in your camping bag. You can string them around your tent or campsite using duct tape to secure them.
These low-cost decorations will create a warm, twinkly glow and a romantic camping mood. However, if you're planning to hang them outside your tent, be sure to get waterproof ones.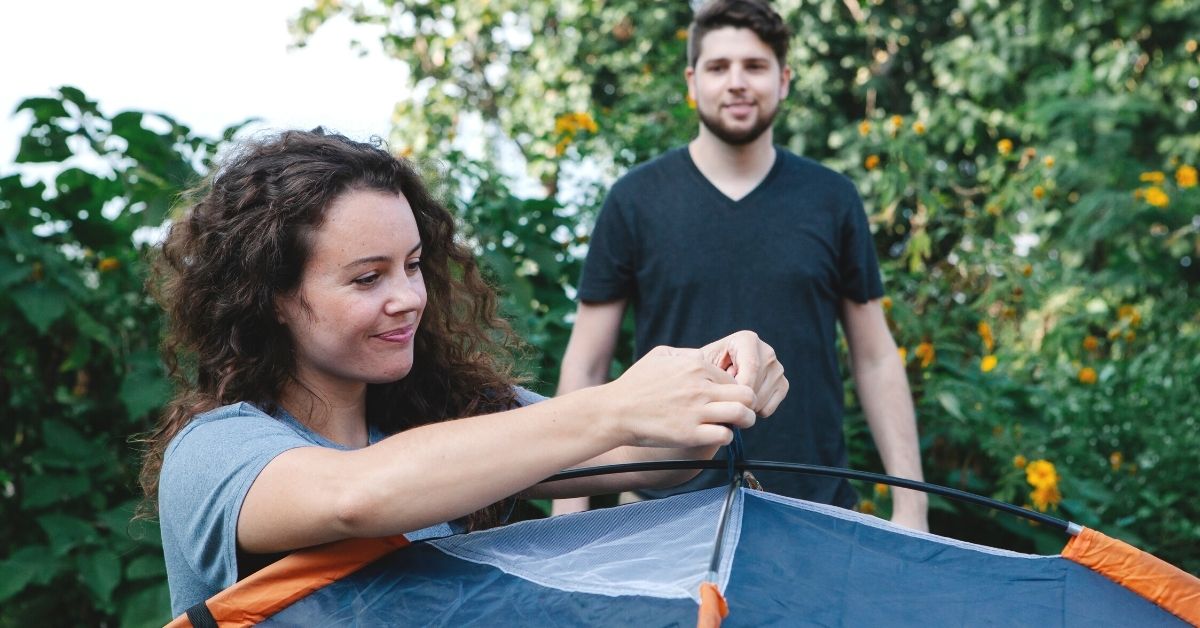 2. Create A Cozy Sleeping Space
For many people, sleeping in a tent can feel cold and uncomfortable, and it can be challenging to get a good night's sleep. Therefore, one of the best couple camping ideas is to create a cozy sleeping space.
Buy a double-size sleeping bag and bring enough pillows. You might also consider finding camping air mattresses for couples to enhance your comfort further and make your camp bed feel like a real bed.
What's more, bring some high-quality blankets. Blankets are not just great at keeping you warm, but they also help to set a comfortable and romantic space.
If it's a bit chilly, you'll need a thick, warm blanket to wrap around you both while sitting by the fire and also to snuggle up under in the tent.
Plus, blankets are scientifically proven to promote relaxation. Their gentle pressure activates the nervous system to release serotonin – a feel-good chemical.
Therefore, they can help you to feel safe and at ease when camping outdoors.
3. Take A Speaker And Create A Romantic Playlist
Music is one of the best ways to set the mood and can create a romantic camping environment.
Before your trip, put together a playlist for each night on your phone. Include some mellow love songs as well as both of your favorite tunes.
Take a Bluetooth-enabled speaker with you so you can connect your phone and play your romantic playlists in the evening as you relax by the campfire.
Many Bluetooth speakers are compact and don't take up much space in your bag. Plus, despite being small, the quality is good enough to play music in an open outdoor space.
Alternatively, suppose you have musical talent (or just a lot of guts). In that case, you could go the extra mile and pack a guitar to serenade your lover!
Even if it comes across as funny instead of romantic, it will still melt your partner's heart.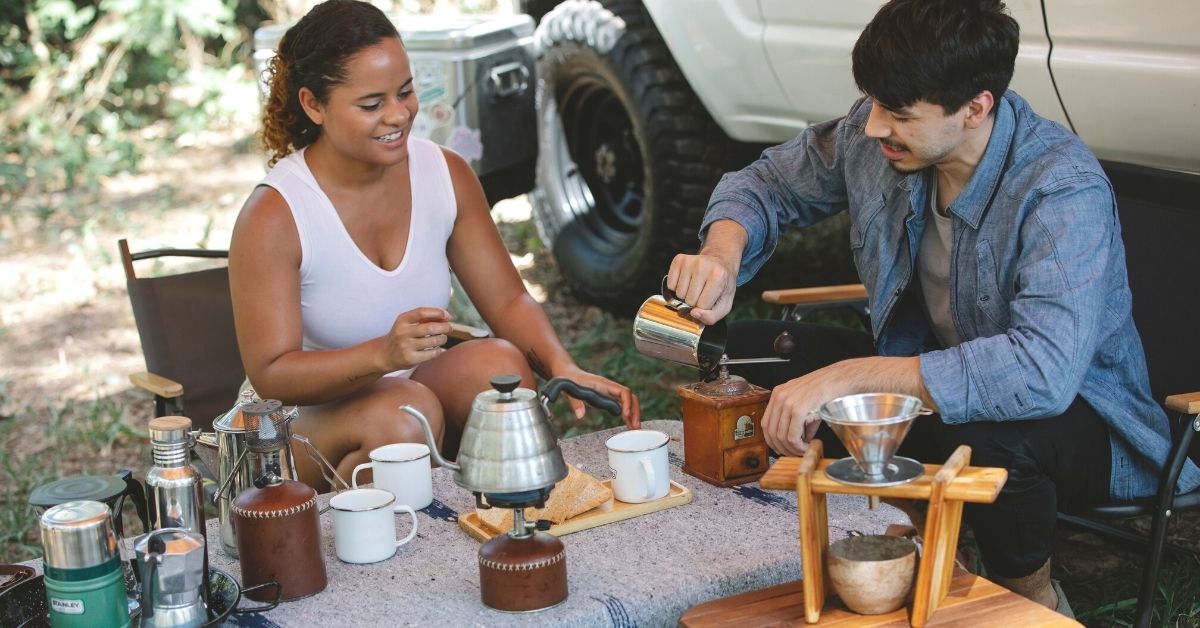 4. Cook Your Partner A Campfire Meal
Another way to impress your other half and make your trip memorable is to make amazing camping meals. There are surprisingly many tasty dishes you can whip up over a campfire, and many are pretty quick and easy too.
You could cook a heartwarming stew, romantic spaghetti dinner, or surprise your partner with pancakes for breakfast.
If your cooking skills are lacking or you're unsure of how to cook over a campfire, don't worry! You can always make the traditional campfire snack by roasting marshmallows and making s'mores.
5. Get A Hammock Or A Loveseat Camping Chair
As well as creating a comfortable sleeping space, think about the campsite area too. When you're sitting by the fire, you probably don't want to sit on the floor, inviting the bugs to climb all over you.
A cheap and easy solution is to bring a large hammock big enough for both of you. Tie it to two trees and create your campfire close by. This way, you can lay in each other's arms while you listen to the sounds of nature.
If you would rather have proper chairs, you can buy a loveseat camping chair. This is a traditional camping chair, but for couples to sit together, like a camping version of a sofa.
These double chairs are easy to set up and collapse, and some have cool features like insulated drink holders to keep your beer chilled.
Final Thoughts
As you can see, with a bit of planning and preparation, you can create a wonderful romantic camping experience for you and your partner.
A couple camping trip is ideal for when you need to reconnect with your other half or to celebrate your anniversary.
So, if you're looking for a different type of vacation, why not consider going on a romantic tent camping trip?