Tips for Renting a Scooter in Bali
Renting a scooter in Bali is easy! In fact, if you're feeling confident about driving around the island, it's the best way to explore what Bali has to offer.
Imagine driving across Bali, stopping on the way to appreciate the exotic vibes, a beach, or the rice fields.
There are things to consider before you hire a scooter. In this post, I'm sharing all my tips for renting and driving a scooter in Bali.
What It's Like to Drive a Scooter Around Bali
Driving a scooter around Bali can be a scary thing, especially if you don't have a lot of experience driving a scooter.
The first thing to keep in mind is to drive on the left.
Then, forget about rules, because if you've been to Southeast Asia before, you probably know that the roads can be a bit chaotic. When you're driving a scooter in Bali, you can take over cars, and other scooters. There aren't lots of rules.
For example, when I lived in Bali, I often drove on the "sidewalks" to avoid traffic jams.
As you drive around Bali, you'll notice some roads are great, but in some remote areas, the road conditions are not that great. For example, on Nusa Penida (a small island next to Bali), the road conditions are really bad in some areas.
Have an International Driving License
In Indonesia, the police can stop you at any time to check your driving license. They will ask for your international driving permit, so you should get one before you head to Bali. If you don't have one, you'll have to "bribe" the police officer.
Bribes can be up to IDR 2,000,000 (if not more).
Many people have two wallets or hide money in their wallets. Usually, the police officer will ask for all the money they can see in your wallet. That said, never carry all your money on you unless it's properly hidden.
Wear a Helmet
In Bali, several holidaymakers lose their lives every year because they refuse to wear a helmet. That said, you should wear a mask at all times. In some areas, the police tolerate people without helmets, but it's no excuse. You shouldn't put your life in danger just to be more fashionable.
If you refuse to put your helmet on, you'll have to bribe the police if you get stopped.
Take Driving Lessons if Needed
Driving in Bali can be intimidating. I had to practice driving in quiet streets just so I can feel comfortable enough to drive around Canggu and, eventually, around Bali.
Thankfully, you can take driving lessons with a local. Some of my friends decided to do that until they felt more confident driving around. It's a great way to feel safer and better for the other drivers out there.
You can check Bali Scooter Lessons and Kadek Local Bali – which were recommended by several female expats in Bali.
Costs for a Scooter Rental
So, how much does it cost to rent a scooter in Bali? The price can change depending on the number of days you need. Usually, the daily rate is around IDR 50,000. The monthly rate should be between IDR 500,000 and 700,000 depending on the type of scooter chosen and the length of stay. For example, when you stay for several months, you could get extra discounts if you pay it all in advance.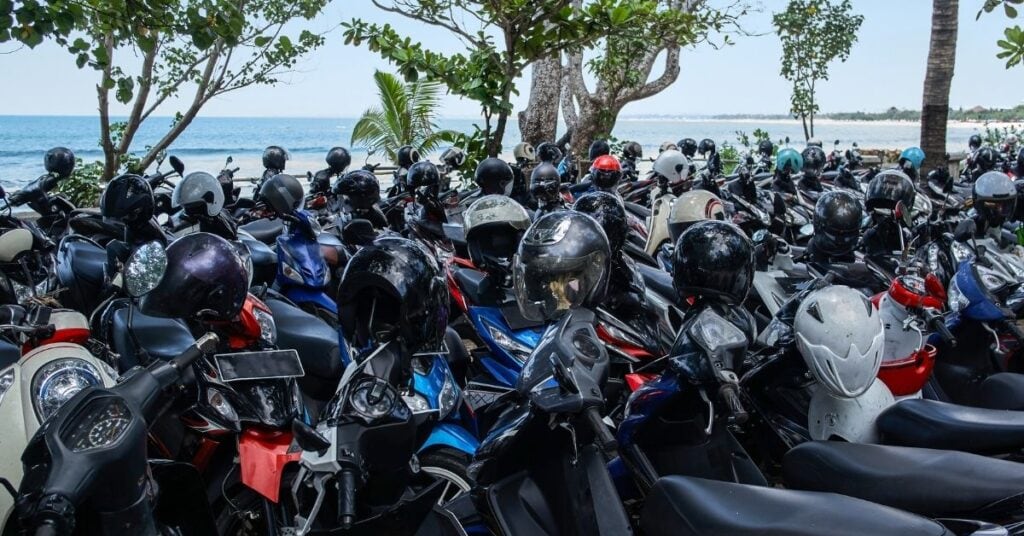 ---
Want to connect with fellow long-term travelers? Join our Facebook group and the conversation.
---
PSSST. SafetyWing finally covers COVID. I've been using their Nomad Insurance since 2019. It's the perfect solution for nomads like me. Don't leave without your travel insurance.
---
What You Need to Rent a Scooter
It's easy to rent a scooter in Bali. Depending on the rental place, they may ask you to fill a form including your name, your passport number, and your driving license number. Although, I also had other rental companies who just took my money for the month and came back every month to get paid.
I never had to leave my passport or a deposit.
The renter will need your phone number (Whatsapp is fine), and the name of your hotel/villa in Bali, in case they need to reach out to you.
Where to Rent Your Scooter in Bali
I rented from a few rental places when I lived in Bali. I always had good experiences, but in the end, I always go back with Kadek Local Bali. They can deliver the scooter to your place in Canggu which makes the whole process easier.
You'll find rental shops all around Bali, so you can take a look at the reviews before you rent a scooter. I had friends who were scammed before, so I always take a place recommended by friends or expats.
Dealing with the Police in Bali
As I mentioned above, the police can stop you at any time even if you haven't done anything wrong.
Most days, the police will set up a check-up point in the busy areas and they usually only stop the foreigners to check if they have their international driving license.
Here's what to expect:
The police will place some cone on one side of the road and will stop all the foreigners or drivers without helmets. So, try to see them in advance so you can either stop, make a turn, or head to the furthest lane. Unless you have done something wrong, you can just try to look away. It always worked for me, I was never stopped as I'd drive like the locals as far as I can from the checkpoint.

If the police manage to stop you, they will ask for your international driving license. If you have it, they will likely let you go. If you don't have it, they will tell you you need to go to court the next day to get your driving license back. At that moment, they will just ask for money as a bribe. As soon as your wallet is out, they will ask for all the money you got in there.

That said, don't put all your money in your wallet, stay respectful and try not to get caught.
Travel Insurance
Many people think their travel insurances cover them when they drive a scooter abroad. Some insurances require you to have a motorcycle license in order to be covered. Make sure to read your insurance policy before renting a scooter in Bali.
---
READ MORE ABOUT BALI
‣ Bali packing list
‣ Bali travel tips
‣ How to move to Bali
BEFORE YOU GO TO BALI
☑ Book your flight: If your flight isn't booked yet – check out the flights on Skyscanner or via Google Flights. My top saving tip is flexibility. If you're flexible, you should be able to find a cheaper flight.
☑ Book your accommodation: I always use Airbnb and Booking.com. If you'd rather stay in a hostel, you should take a look at the options on Hostelworld. If you click on the Airbnb link and you don't have an account yet – you'll get a $30 discount on your first booking.
☑ Protect your cute face: Oh, you may want to protect your cute face with travel medical insurance. I would suggest SafetyWing as they offer the best rates, especially for long-term travelers. Otherwise, you can also take a look at World Nomads.
☑ Pack the essentials: You can consult this list when it's time to pack your bag! Do not leave without a universal charger, a power bank and your passport!
☑ Do you need a visa? If you aren't sure if you need a visa, it would be a smart idea to take a quick look before you go. You can use iVisa – it's super useful and easy to use.
Disclaimer: This post may include affiliate links. If you click one of them, we may receive a cute commission at no extra cost to you. Thank you.