Tips for Dating a Foreigner
Over the years, I lived in several countries and I met people from all around the world. I've dated foreigners and it wasn't always easy. Think of the clash of cultures, the language differences, and more.
My boyfriend (or should I say husband) is originally from Slovakia/Czech Republic/Austria. Long story short – he was born in Slovakia but grew up in the Czech Republic and Austria.
That said, being Canadian, our cultures are quite different.
After two years of being together, here are my tips for dating a foreigner. I'll include some examples for your entertainment.
Make Efforts
Whether it's with the language, family, or food, you got to make efforts. But, that's nothing new. It's important in any relationship.
We usually communicate in English, although, my mother tongue is French, and he grew up in Czech, Slovak, and German. While my family speaks English, his family speaks a bunch of different languages, ha! A few family members speak English, for the most part, I'm pretty much just sitting in silence, waiting for the translation.
I had decided to take Czech lessons on iTalki for a few months just so I can be polite and have very basic conversations, but I'll be honest, a Slavik language is very different from a Latin one, and it's been a real challenge. I can tell everyone appreciated the efforts though.
When it comes to the families, I noticed a lot of cultural differences between his family and mine. It was a bit challenging at first and still is a bit, but I'm always up for a challenge! European families and North American ones are definitely different – it's just the way it is!
Finally, one of our challenges was with food. Again, the North American style is very different from the food found in Austria or the Czech Republic. I learned to love it, but I remember us fighting over meals, cooking our own meals for a month. (Ridiculous, I know.)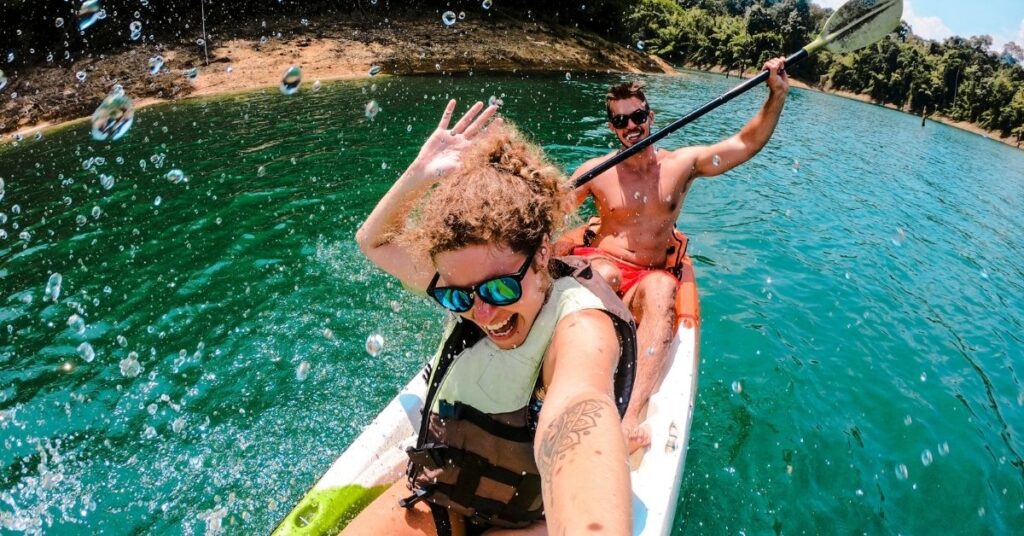 Be Patient
Patience is obviously required in any relationship, but it's even more true when you're dating a foreigner. In his culture, he is extra direct – and thankfully, as a French Canadian, I'm pretty direct too. Two direct people together could clash, but it's been great so far.
The hardest part for me is probably the lack of facial expression. In Eastern Europe, it's quite rare to see people smiling just out of the blue – they need a good reason for it. That said, people can appear cold – even if they aren't really.
As a result, I have to ask if he's okay more often, but I guess it's not a big deal.
Dating someone from another country also means you'll have to handle language differences/barriers. As we both communicate in English and we're both non-native speakers, we had to learn not to take things personally if we don't express ourselves 100% perfectly.
Be Open to the Differences
---
Want to connect with fellow long-term travelers? Join our Facebook group and the conversation.
---
PSSST. SafetyWing finally covers COVID. I've been using their Nomad Insurance since 2019. It's the perfect solution for nomads like me. Don't leave without your travel insurance.
---
Overall, we learned to embrace our differences and make fun of them (in a loving way). He gladly laughs at my Canadian side, and I gladly laugh at his Eastern European side. At the end of the day, no culture is better than another – we just grew up with different mentalities and we can simply adjust.
It could be the case in any relationship. After all, we all grow up with different families that have different values.
What matters the most is probably how we support each other and we can help one another to grow – and this is regardless of your culture. It's okay to be different.
Be Ready to Deal with Travel and Restrictions
Dealing with travel restrictions is the worst part of loving a foreigner. Many couples have to handle long-term relationships at some point and we had to do it too. Thankfully it wasn't too long, but let's just say it's not ideal.
When we are in Europe, we have a maximum of 90 days in the Schengen zone, and this can be complicated. Also, as he is European, he doesn't have any restrictions, but I do.
The pandemic had put a lot of pressure on a relationship and I can't even imagine how many couples had to deal with this in the last year. After several mishaps with travel restrictions, we decided to buy a home in Bulgaria. We even eloped here so we can stay together.
Final Thoughts
Falling in love with a foreigner is a beautiful adventure that comes with its challenges. It's not always easy to deal with travel restrictions and differences.
Keeping in mind that any relationship requires effort, patience, and commitment, it's definitely not impossible.
---
BEFORE YOU GO
☑ Book your flight: If your flight isn't booked yet – check out the flights on Skyscanner or via Google Flights. My top saving tip is flexibility. If you're flexible, you should be able to find a cheaper flight.
☑ Book your accommodation: I always use Airbnb and Booking.com. If you'd rather stay in a hostel, you should take a look at the options on Hostelworld. If you click on the Airbnb link and you don't have an account yet – you'll get a $30 discount on your first booking.
☑ Protect your cute face: Oh, you may want to protect your cute face with travel medical insurance. I would suggest SafetyWing as they offer the best rates, especially for long-term travelers. Otherwise, you can also take a look at World Nomads.
☑ Pack the essentials: You can consult this list when it's time to pack your bag! Do not leave without a universal charger, a power bank and your passport!
☑ Do you need a visa? If you aren't sure if you need a visa, it would be a smart idea to take a quick look before you go. You can use iVisa – it's super useful and easy to use.
Disclaimer: This post may include affiliate links. If you click one of them, we may receive a cute commission at no extra cost to you. Thank you.