The 8 Most Romantic Things To Do In Las Vegas
Although Las Vegas is most well-known for stag and hen weekends, there is more to the city of sin than gambling and drinking. There are many wonderful couple things to do in Vegas.
From unique activities for two, romantic attractions, and intimate, quiet hotels, Las Vegas makes a brilliant vacation for couples, both new and established.
Perhaps you're looking for inspiration for your next romantic getaway or already planning a trip to Nevada's liveliest city. Either way, read on to discover the eight most romantic things to do in Las Vegas with your partner.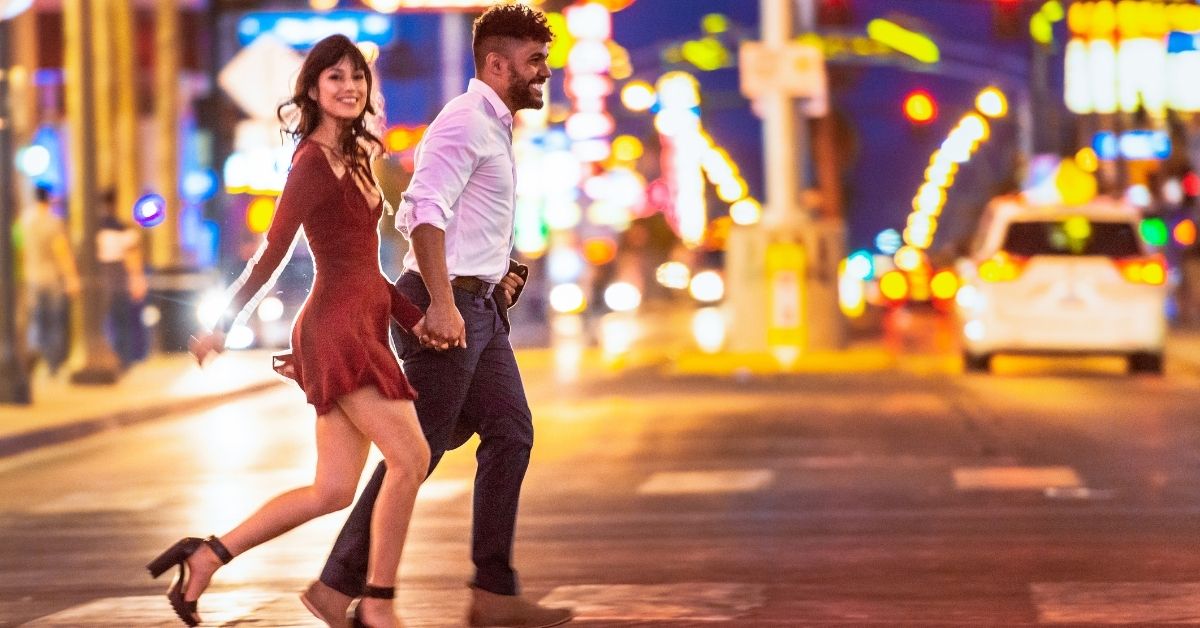 1. Ride a Gondola at The Venetian
Venice is known to be one of the most romantic cities in the world. However, you don't need to travel to Italy to experience its magic as The Venetian has brought gondolas to Vegas!
You can cuddle up with your loved one in an authentic Venetian gondola as you cruise through the waterway taking in the sights of the Venetian-style streets.
Kick back in your private gondola and enjoy a glass of wine as your gondolier steers the way (and maybe sings to you too!). This unique experience is undoubtedly one of the best things to do in Vegas for couples.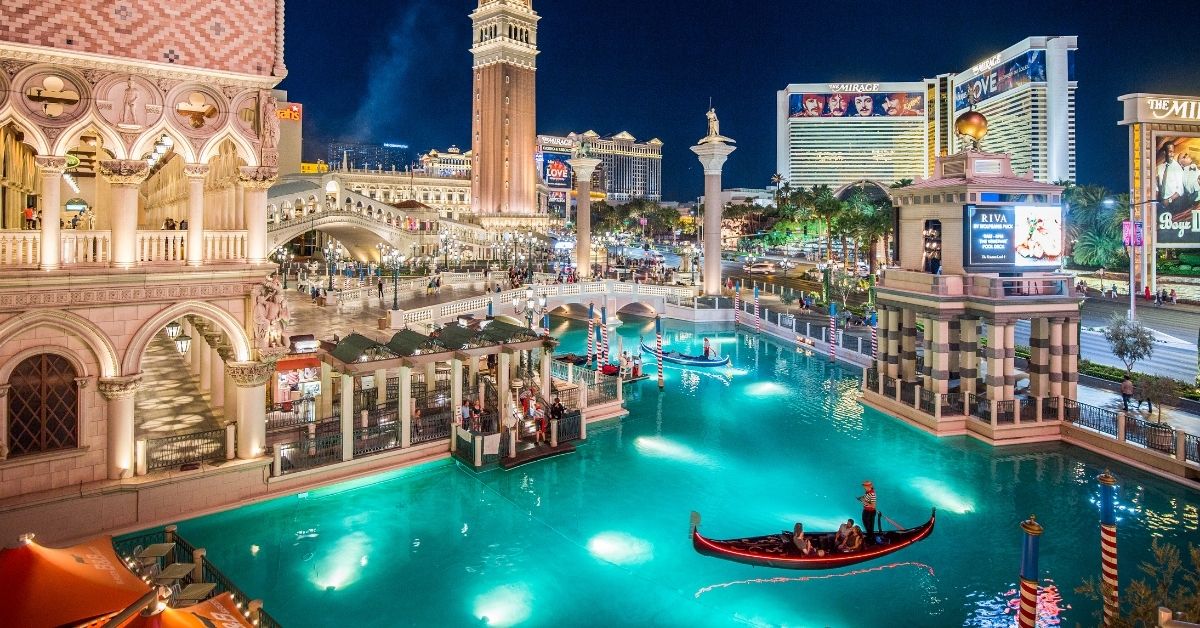 2. Go Up the Paris Las Vegas Eiffel Tower
Vegas seems to have brought the romance of Europe to this lively US city in more ways than one. As well as visiting Italy, you can experience Paris by going up Vegas's very own half-scale Eiffel Tower. You'll find this quirky must-see attraction at the Paris Hotel and Casino.
Take the elevator up 46 floors to the observation deck, where you'll find an incredible 360-degree view of the city and beyond. As well as getting some cute couple photos, you can enjoy a glass of champagne or taste the restaurant's exquisite cuisine to really feel like you are in France.
The Eiffel Tower's idealistic setting makes visiting here one of the most romantic things to do in Vegas. Unsurprisingly, it is also a popular spot for lovers to pop the question!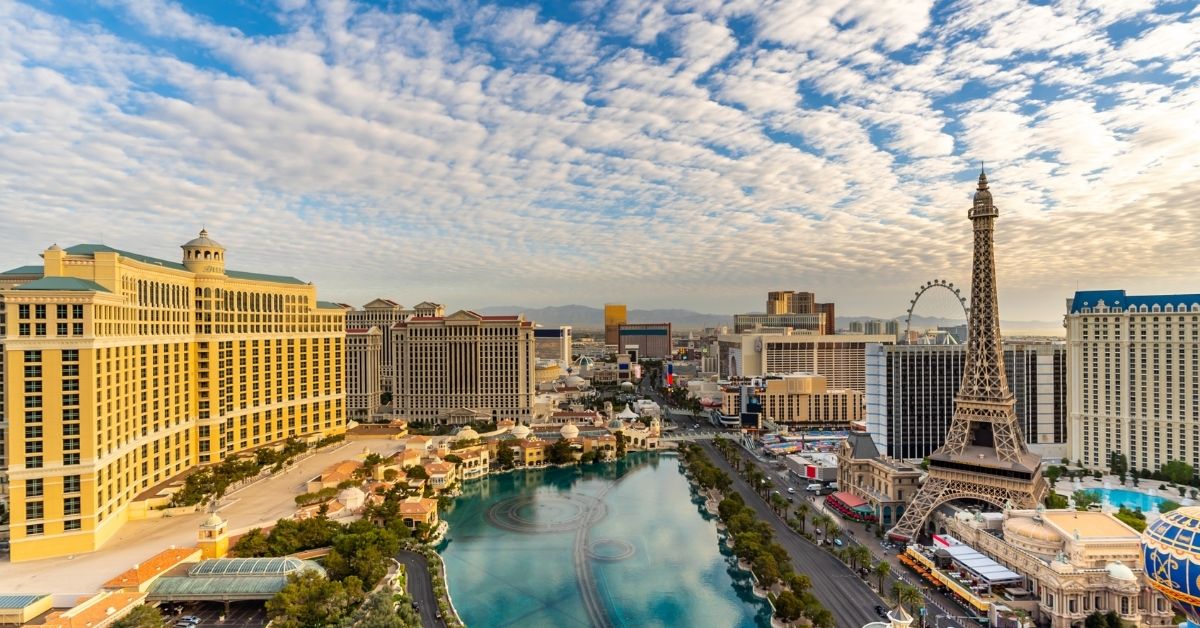 3. Ride a Hot Air Balloon Over the Desert
If you want to escape the crowds, what better way to do so than by taking to the air. While you can also take helicopter tours here, we find that hot air balloon rides are one of the most romantic things to do in Las Vegas.
Vegas balloon rides will take you and your boo up hundreds of feet in the air for an incredible birds-eye view of the strip waking up. They will then take you further afield, where you'll see the incredible views of Death Valley.
While out in the desert, you'll likely spot the wildlife here going about their daily life.
The baskets hold between eight to 12 people, so you'll most likely share this memorable experience with a few other couples in Las Vegas.
The flight lasts one hour, and then there is a champagne toast once you land. Riding a hot air balloon in Vegas is an ideal activity to mark a special occasion such as your anniversary.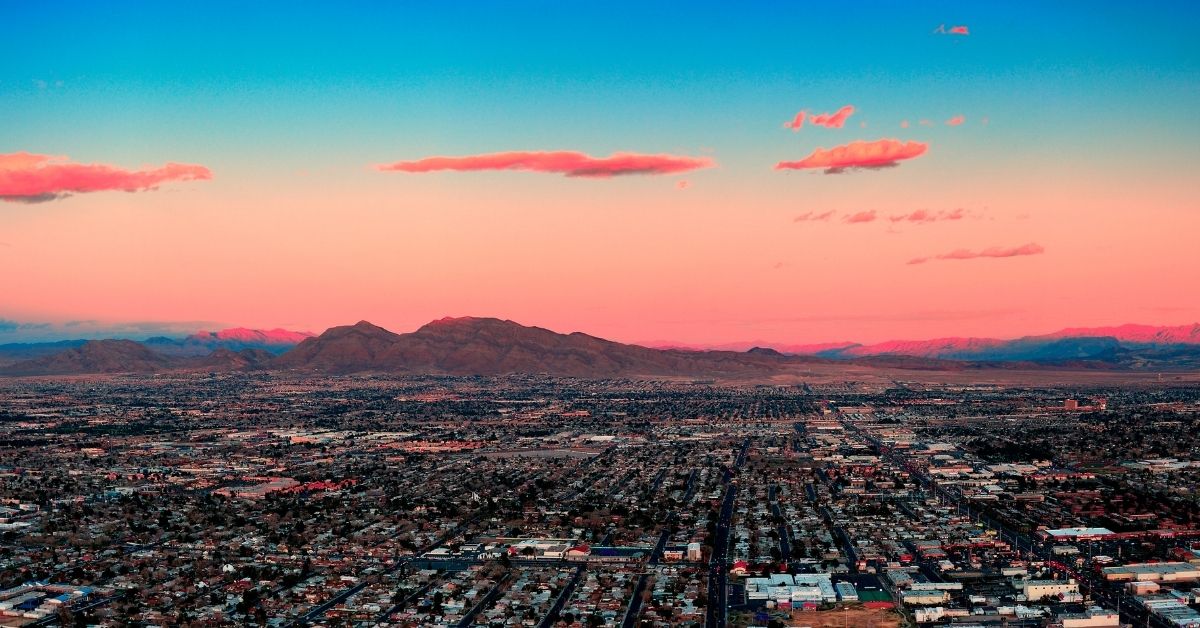 4. Marvel at the 360-Degree Views from the High Roller
Another of the most romantic things to do in Vegas is taking a ride on the High Roller observation wheel. The High Roller is the world's tallest observation wheel, bringing you 550 feet above ground to deliver breathtaking views of the city.
The wheel takes 30 minutes to complete a cycle, moving at a slow enough pace that you'll feel like you're floating above the ground. You will have plenty of time to gaze out to the views while cuddling up with your partner.
The cabins are large and can hold up to 28 people. Therefore, if you want a more intimate experience with your loved one, we recommend going as close to the opening time as possible before the attraction gets busy.
Alternatively, if you don't mind sharing your cabin with rowdy vacation goers, riding the wheel at night could be one of the best couple things to do in Vegas.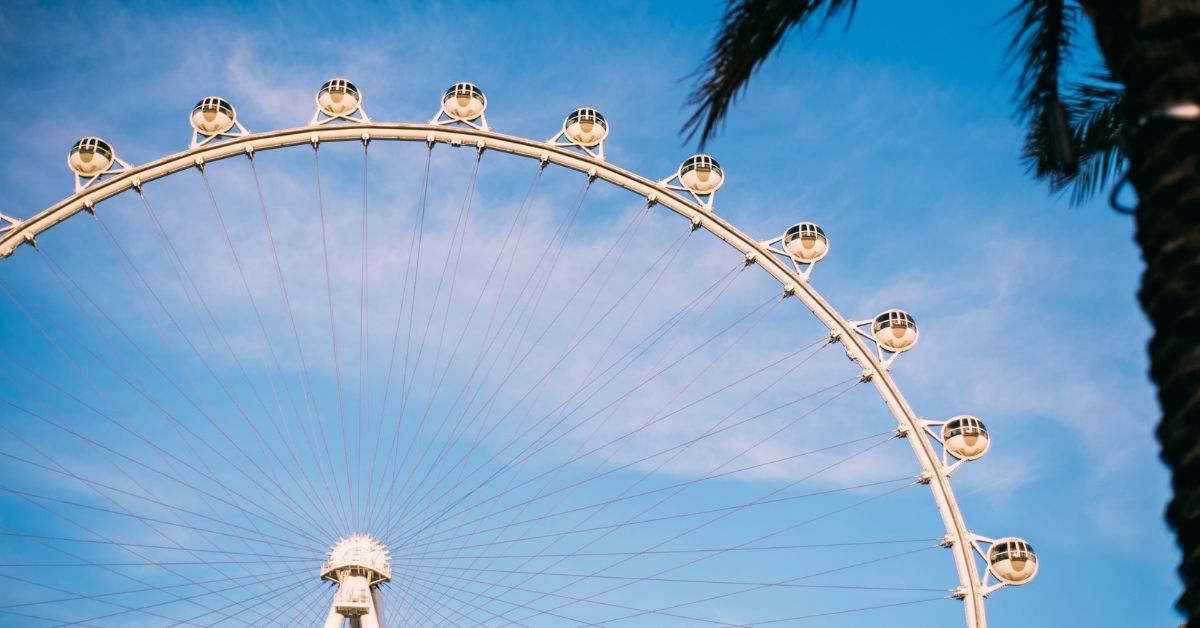 5. Taste the Delights of Ethel M Chocolate Factory.
If your partner is a chocoholic, you will make their vacation by taking them to the Ethel M Chocolate Factory. Here, you can book onto an adults-only wine and chocolate tasting experience, which is one of the most romantic things to do in Las Vegas for chocolate lovers.
You can try the factory's signature truffles, cremes, and pecan brittle, as well as their renowned liqueur collections.
---
Want to connect with fellow long-term travelers? Join our exclusive Facebook group and take part in the conversation.
---
PSSST. Your travel medical insurance can now cover COVID-19! If you grab SafetyWing's Nomad Insurance, it'll be covered just like other illnesses. I've been using it since 2019 and I can assure you it's the perfect solution for nomads like you and me.
If you don't want to join a tasting experience, you can explore the factory independently for free. You may even nab some free tastings! The factory is also home to a three-acre botanical Cactus garden that is also free to enter.
6. Have a Spa Day at Canyon Ranch Spa
One of the most romantic things to do on vacation is to take a pamper day with your significant other. In Vegas, it's no exception. Canyon Ranch Spa at the Venetian offers special couple packages.
Here, you and your partner can be pampered side by side, so you can even hold hands while you receive your treatment. The spa offers six different types of massages to choose from, along with a wide choice of facials and other treatments.
The couples package includes a glass of bubbly and food credit to make your experience extra special.
Suppose you've had a stressful journey or a busy week before your vacation. In that case, a couples spa day could be a great way to start your vacation feeling destressed and refreshed. Alternatively, it can be a blissful way to end your romantic getaway.
7. Dine 800 Feet Above Ground at The STRAT.
Of course, one of the best things to do in Vegas for couples is to enjoy a romantic dinner. And where better to do this than in a skypod with a 360° revolving view of Las Vegas?
At 800 feet above the ground, The Top Of The World restaurant at The STRAT hotel will make you feel like you are dining in the clouds.
Along with a view that revolves every 80 minutes, the fine-dining restaurant features an award-winning menu of steaks, seafood, and high-quality wine.
It may be pricey, but dining here will be a romantic experience you or your partner will never forget. It's also another popular spot for proposals!
8. Escape to the Red Rock Canyon
The hustle and bustle of Las Vegas can get a bit much. So if you are here for longer than a weekend, you may find yourself wanting to get out of the city. Luckily, Vegas is close to many natural wonders.
The Red Rock Canyon is less famous than the Grand Canyon and, therefore, less busy. Moreover, it is only 30 minutes away from the strip.
Visiting the Red Rock Canyon will give you a much-needed nature respite and some quality time together. You can admire the distinctive red rock formations, explore one of the many hiking trails, and enjoy a romantic picnic lunch.
Another way to enjoy some one-on-one time with your lover here is to drive the 13-mile scenic route and see some of the Southwest's most impressive geology and desert wildlife.
Red Rock Mountain also offers one of the romantic things to do in Las Vegas, horse riding in the desert. If you love horses or have always dreamed of riding a horse, this is an experience not to miss.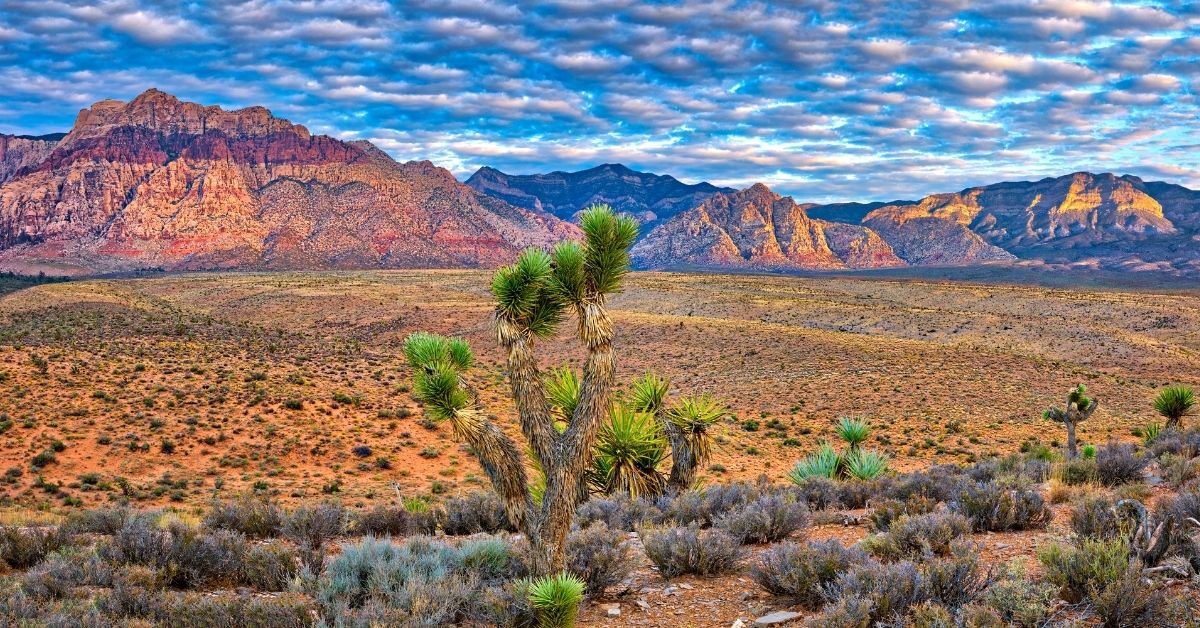 Best Hotels for Couples in Las Vegas
Make your holidays even more romantic by picking one of the best hotels for couples in Las Vegas
Wynn Las Vegas – Best luxury hotel for couples
If you're looking to splash out on your Las Vegas vacation, Wynn hotel is a superb option. Although it is located right on the Las Vegas Strip, the hotel grounds ooze tranquility.
This is thanks to the oasis-style pools, on-site spa, and luxury boutique shops. The spacious Tower Suite Salon is a top room choice, featuring a spa bath, mini bar, and a dining room with immense views.
The Venetian Resort – Best mid-range hotel for couples
Also located on the main boulevard, The Venetian Resort is ideal for those looking for a balance between luxury and value. The Venetian Resort has a beautiful interior design, spacious suites, and in-suite dining, offering you and your boo breakfast in bed.
The resort also has a staggering ten outdoor pools, so you can always find your own slice of paradise. What's more, if you stay here, you will have free access to Canyon Ranch Spa.
NoMad – Best budget hotel for couples
If you're on a budget, you'll be pleased to hear that you don't have to sacrifice quality at Nomad Las Vegas. This centrally-located peaceful hotel has three swimming pools, a restaurant, and a casino.
All rooms have an extra-large double bed, ensuite bathroom, and seating area.
Final Thoughts
Las Vegas may not be an obvious location choice for couples, but it should certainly not be overlooked. With so many romantic things to do in Las Vegas, you are bound to have an awesome time here with your loved one.
Whether you decide to check out the attractions on the strip or venture out to the canyons and parks close by, a romantic trip to Las Vegas will be an unforgettable one.