The 6 Best Places To Live In Switzerland
There are endless reasons why Switzerland is often rated one of the best countries to live in Europe. Inside this guide, you will learn about all the best places to live in Switzerland.
Living and working here, you'll enjoy a high quality of life thanks to the high wages, low taxes, top-quality healthcare, and safe and clean environment.
PSSST. Your travel medical insurance can now cover COVID-19!
If you grab SafetyWing Nomad Insurance, it'll be covered just like other illnesses. I've been using it since 2019 and I can assure you it's the perfect solution for nomads like you and me.
Switzerland is one of the safest countries to live and visit, with low crime rates. Thus, it's a popular choice among solo expats and those looking to relocate as a family.
There is also, of course, the beautiful scenery that surrounds the towns and cities. So if you dream of waking up to the view of snow-capped mountains, rolling hills, and vast lakes, Switzerland is for you.
But where are the best places to live in Switzerland? Naturally, the biggest cities attract the highest number of foreigners.
Still, several smaller cities are just as pleasant for living and working. So here are the six best Swiss cities for expats.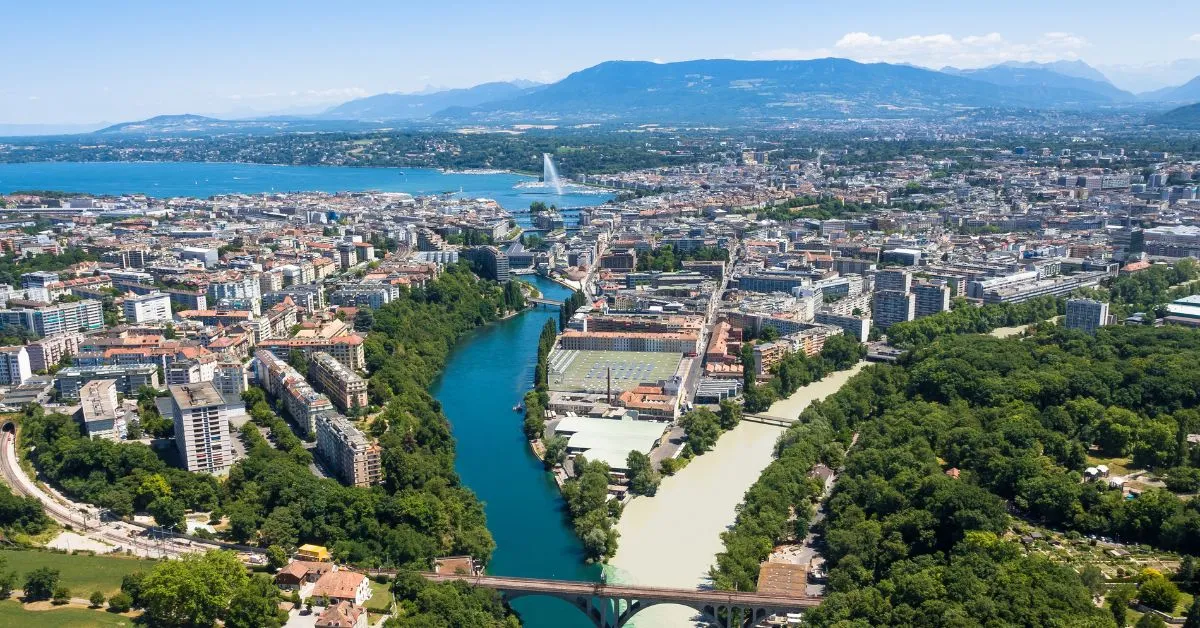 Geneva
Surprisingly, Switzerland's largest city (Zurich) is not the most international. Instead, the country's second-largest city, Geneva, takes the top spot for being the most multicultural hub.
There are around 203,856 residents in Geneva, of which 42.1% do not hold a Swiss passport. It is a French-speaking country, but thanks to the high number of expats, English is widely spoken here.
Geneva is home to some of the world's most prominent organizations, such as the United Nations (UN) and the World Health Organization (WHO). Because of this, you'll come across many foreign diplomats and officials here.
Still, there is a relaxed side to Geneva, with plenty of places to soak up the summer sun and enjoy a post-work drink by the lake. The lakeside location also means that there are many water activities on offer, such as boating and water skiing.
The downside to living in Geneva is the high cost of living. The monthly living costs for one person, excluding rent, are about 1,350 CHF.
Plus, a one-bedroom apartment in the city can cost up to 2,000 CHF; thus, house sharing is typical here.
Despite Geneva being an aesthetically beautiful city with lots to do and an expat-friendly vibe, the high living costs can put some people off. Still, if you're employed by one of the 40 international institutions in the city, you'll likely earn enough to afford it.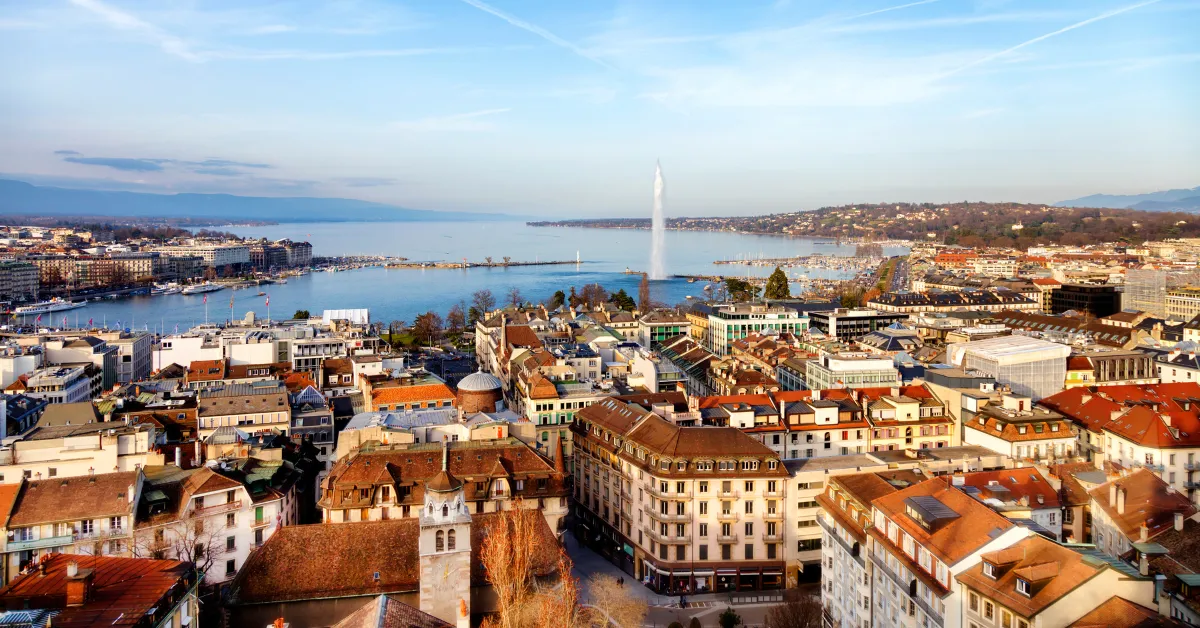 Zurich
Zurich is by far the largest city in Switzerland and the most well-known. The city has a population of over 402,000, with about 27% foreign residents.
This German-speaking city is known as the "economic capital" as you will find offices of all the central banks and many large international companies. For a city this size, the crime rate is impressively low, which is one of the reasons expats choose to base themselves in Zurich.
No matter the season, there is always plenty to do, including a charming old town, many stunning lakes and rivers, and top-rated ski resorts nearby. The schools are also outstanding, and wages are high.
However, like Geneva, Zurich has very high living costs. Expect to pay up to 2,000 CHF for a one-bedroom city apartment, with all other monthly fees setting you back around 1,550 CHF.
What's more, there are certain desirable areas in the city where it can be challenging to find available housing. Considering all this, Zurich is one of the best cities to live in Switzerland if you're earning a lot.
So for bankers and those working at multinational corporations in the city center, you'll enjoy a high quality of life here.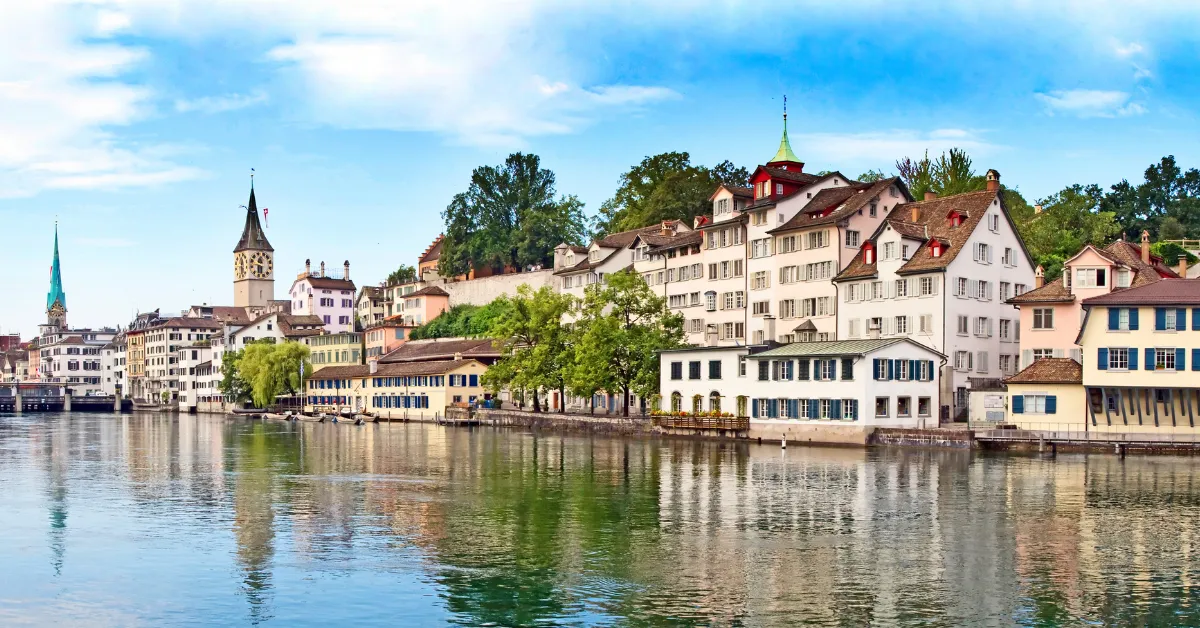 Bern
Unlike most other countries, Switzerland does not have an official capital city. Still, Bern, located in the country's west-central part, is the country's de-facto seat of government, referred to as the "federal city."
There are around 144,000 residents in Bern, which makes it seem like a small city compared to Zurich.
The city of Bern was built around a crook in the Aare River in the 12th century, and its old town has a lot of preserved medieval architecture, along with dozens of fountains. As a result, it's one of the prettiest cities you'll come across in Switzerland.
Bern is one of the top options for living and working in Switzerland if you're not a fan of crowded places. Plus, as Bern is where you will find all the embassies, there is a good mix of nationalities residing here nonetheless.
Other industries with abundant foreign job opportunities are medical technology manufacturing, telecom, energy, and technology. In addition, several international companies, such as Huawei and eBay, have headquarters in this Swiss city.
Another huge plus of choosing Bern over one of the bigger cities like Zurich is that the rent is much cheaper. On average, a one-bedroom apartment in Bern city center is 1,000 CHF, half the price of rent in Zurich!
Basel
The German-speaking city, Basel, is the third-largest city and another of the best places to live in Switzerland for foreigners. The large expat community, which consists of 150 different nationalities, makes up around a third of the city's population.
As it is close to the French and German borders, Basel is popular with residents from these two countries seeking to relocate and take advantage of higher wages. Moreover, the Erasmus programs of the city universities result in a large foreign student population, adding to the international feel.
The most thriving industry here is pharmaceuticals, with many big international pharma companies like Novartis and La Roche-Posay headquartered in Basel. However, as such a large city, there are plenty of jobs in other fields that employ expats who speak German.
Basel has an artsy and relaxed vibe, so you can spend your weekends wandering around the 30 museums, shopping in the boutique shops, or enjoying a drink by the river. The city has a thriving nightlife scene thanks to the high student population.
Still, if you prefer a chilled evening, you'll have plenty of choices with the old town's excellent restaurants.
Basel is a relatively expensive place to live, though not as much as Zurich. A one-bedroom city apartment costs up to 1,500 CHF a month, and additional monthly living costs are around the same.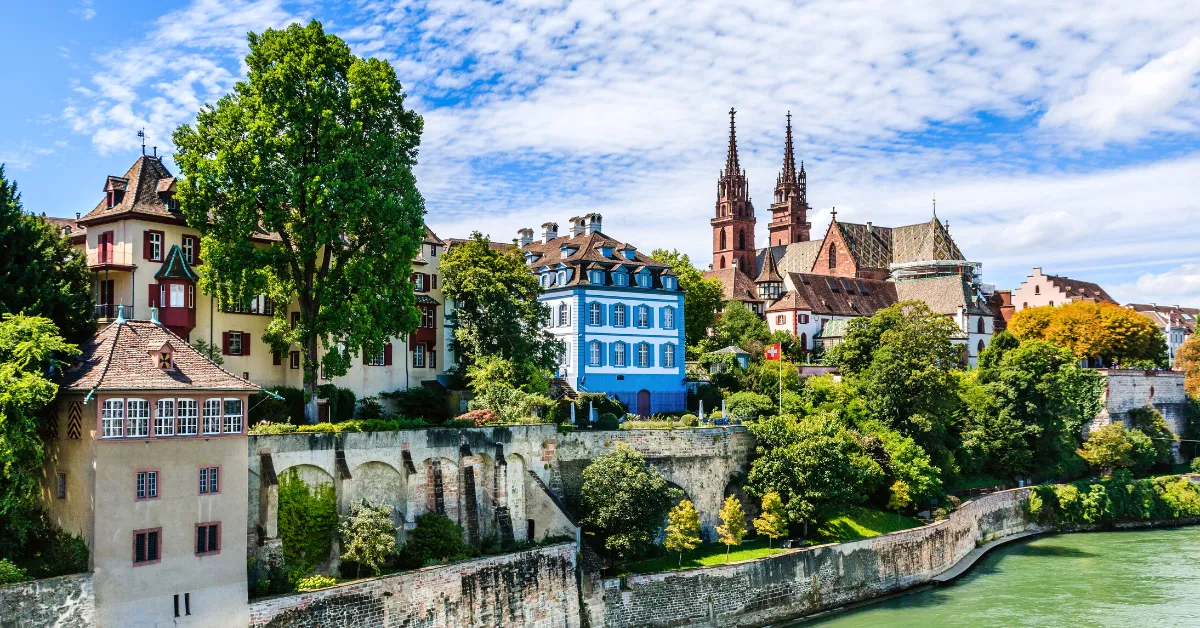 Winterthur
Winterthur is one of the best cities in Switzerland for those looking to save their hard-earned cash. It is a short 20-minute train journey from Zurich, yet housing prices are considerably lower, making it a cheaper option if you're keen on working in the big city.
With a small population of around 110,000 people pretty quiet and calm, yet because of its proximity to Zurich, there is still a relatively large expat community. The German-speaking city is also quite the cultural hub, with plenty of museums and art galleries.
Another plus is that the city center is super easy to get around on foot, so there is no dealing with traffic or public transport.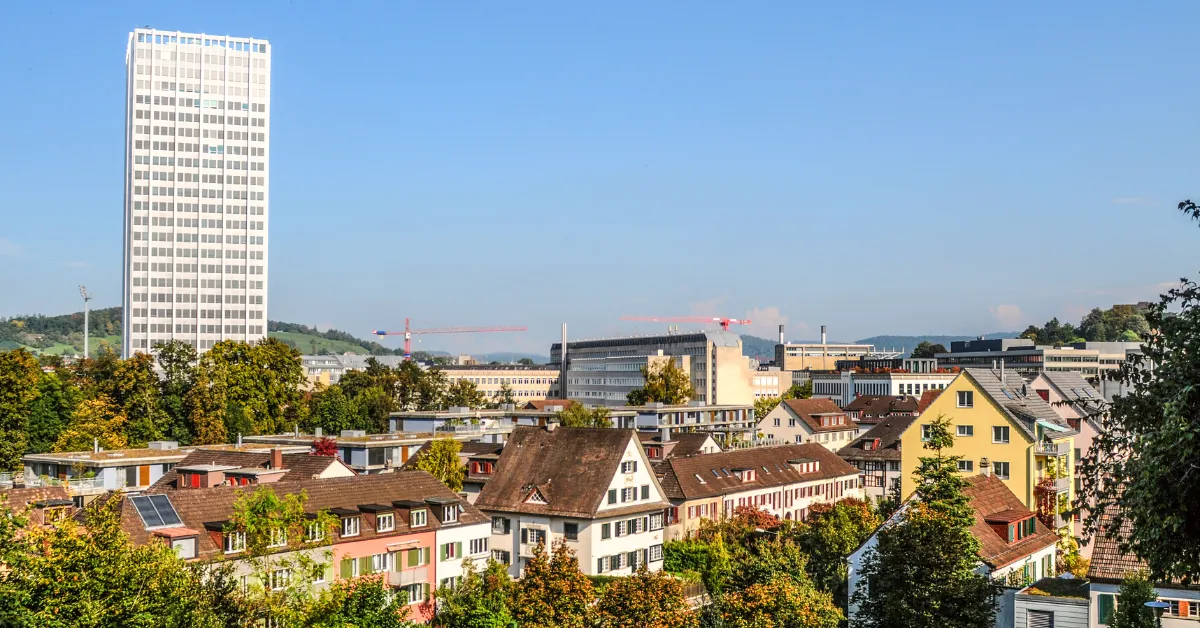 Lugano
Lugano is in the Italian-speaking part of Switzerland, just an hour from the Italian border. Because of this, it has a noticeably more "Italian Vibe" than the other five best Swiss cities and a warmer climate too!
The city is small, with just 62,315 residents, of which about 35% are expats, although predominantly Italian. It's also one of the most beautiful places in this part of Switzerland, as the city is located on the glistening ​​Lake Lugano and surrounded by the Lugano Prealps mountains.
When not admiring the view, you can spend the weekends checking out the stunning architecture dotted around the city and the vibrant cafe culture. Generally, the atmosphere is very laid-back, and there is a lovely community feel.
The downside is that there are fewer job opportunities than in the bigger cities, and the cost of living is still pretty high.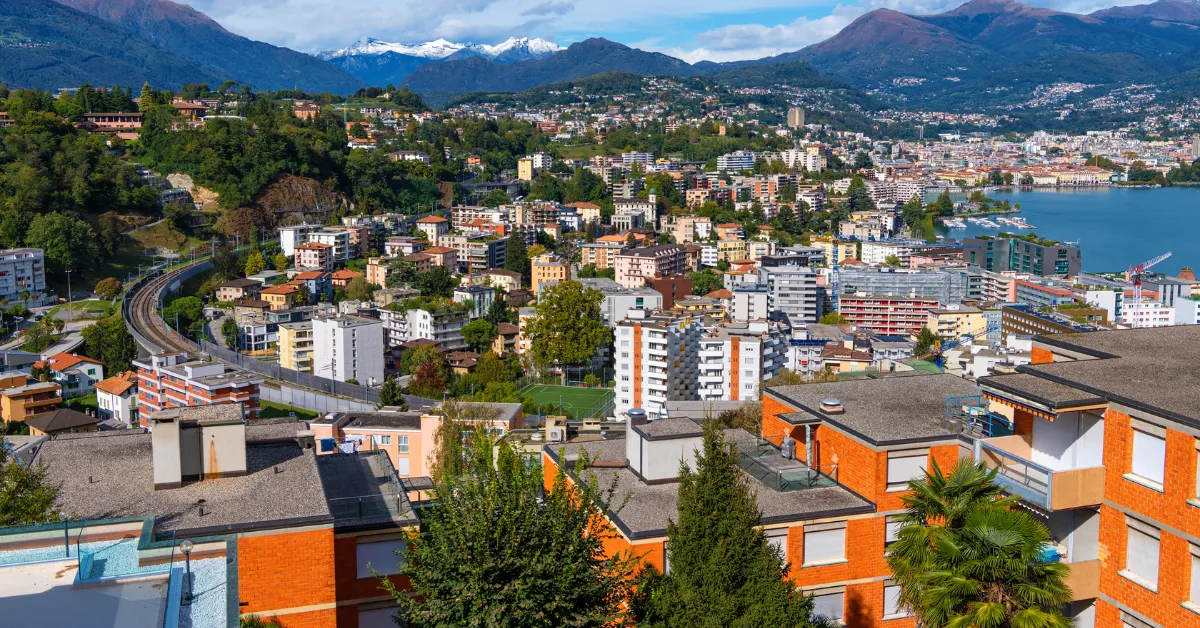 Final Thoughts On Best Places To Live In Switzerland
Being a multilingual country, each of these six best places to live in Switzerland has unique charm and character. Still, what they all have in common is stunning nature all around, a sight you will never get tired of.
Heading to Switzerland soon? Read one of the following guides: