The 5 Best Places To Live In Thailand
Thailand is often a top consideration for those looking to take up the expat lifestyle. There's no doubt that the country is an ideal holiday destination, but is Thailand a good place to live?
As I used to live in Thailand myself, I can say with certainty, yes! While living in Thailand is not the same as visiting as a tourist, the land of smiles has so much to offer expats of all kinds.
Of course, like any country, there are certain places more suited to foreigners. Here are the five best places to live in Thailand for expats, digital nomads, and retirees.
1. Chiang Mai
Chiang Mai is Thailand's second-largest city, but it couldn't be more different from Bangkok's hustle and bustle. Set against a backdrop of mountains, Chiang Mai oozes tranquility and peacefulness that you wouldn't expect to find in an Asian city. Moreover, life certainly moves at a slower pace here compared to other Thai towns.
Many believe Chiang Mai to be the best place to live in Thailand for expats. The friendly locals, the impressive selection of food and coffee, and the vibrant nightlife are just a few aspects that make Chiang Mai one of the best cities in Thailand. On top of this is the neverending nature surrounding the town, which makes for relaxing weekend trips. What's more, there is still a rich Thai culture despite the large expat community.
In recent years Nimmanhemin (or Niman for short) has become the hipster district of Chiang Mai. Long-term expats and digital nomads have settled here. This has resulted in the pop-up of many trendy coffee shops, upmarket boutiques, and quirky co-working spaces.
In general, living in Northern cities like Chiang Mai is significantly cheaper than the south's towns and islands. It is worth noting though that smog and pollution can be a big problem in Chiang Mai. Between March to May, the city experiences 'Burning season'. During this time, most digital nomads temporarily move south.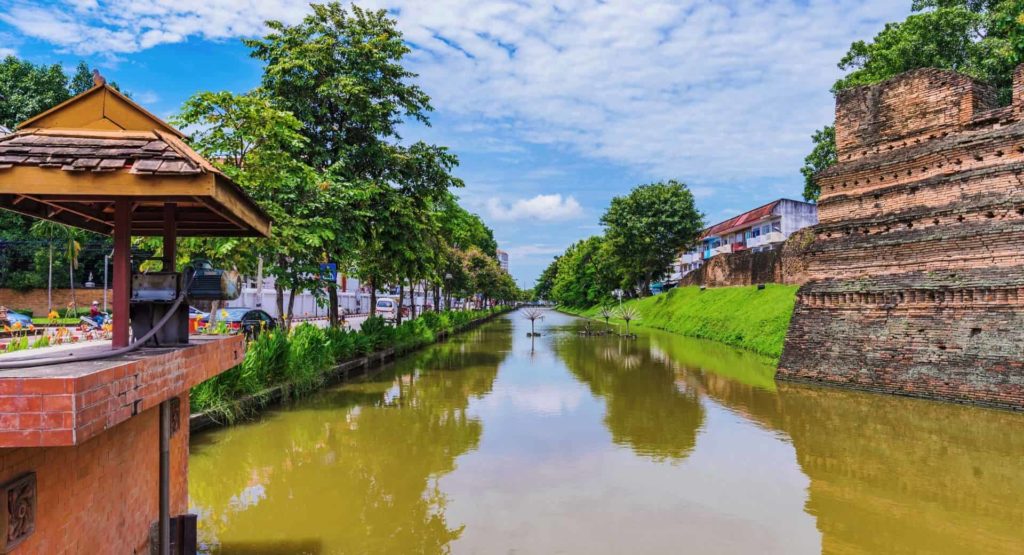 2. Koh Phangan
---
Planning your upcoming adventures? Travel by bus! (It's cheap!)
---
Located on the Gulf of Thailand, Koh Phangan is the fifth-largest island in the country. The center of the island is a vastly tropical jungle, while the majority of the coastline consists of stunning beaches.
Koh Phangan is mostly known for its famous full-moon beach parties and hippy history. However, this tropical paradise has become a hub for yoga-loving, spiritual-seeking expats and digital nomads, making it one of the best places to live in Thailand. The west coast of the island is home to various vegan restaurants, yoga schools, and beach bungalows.
Being a relatively small island far from the mainland, Koh Phangan is not the cheapest place to live in Thailand. Even so, its strong spiritual community means you'll never be short of yoga classes, meditation sessions, ecstatic dances, and much more!
There is one thing worth noting about Koh Phangan. Given the distance from the mainland, living here can sometimes feel like you're in a bubble and cut off from the world. Whether that's a good or bad thing is up to you to decide!
3. Phuket
Although technically an island, the size of Phuket makes it feel more like a Thailand beach city. But that doesn't make it any less of a blissful paradise. The southern tip of Phuket could well be the best place to live in Thailand for expats. Here you will find Rawai and Naiharn, small beach towns with a strong 'farang' (foreigner) community.
While many expats choose to base themselves here, Phuket is also perhaps the best place to retire in Thailand. This is due to the comfortable and convenient lifestyle. You'll find supermarkets stocking imported food, shopping malls with western brands, and restaurants of all cuisines. It's also a great place to keep fit. Phuket is home to some of Thailand's best Muay Thai gyms and wellness resorts, as well as a big selection of fitness centers and yoga studios.
Phuket's beaches are nothing less than breathtaking, and with over 40 of them, your beach days will be endless. Phuket is loved by water-loving expats thanks to the popular water sports scene. Whether you're a surfer, paddle-boarder, diver, or kite-surfer, you will find Phuket to be one of the best places to live in Thailand.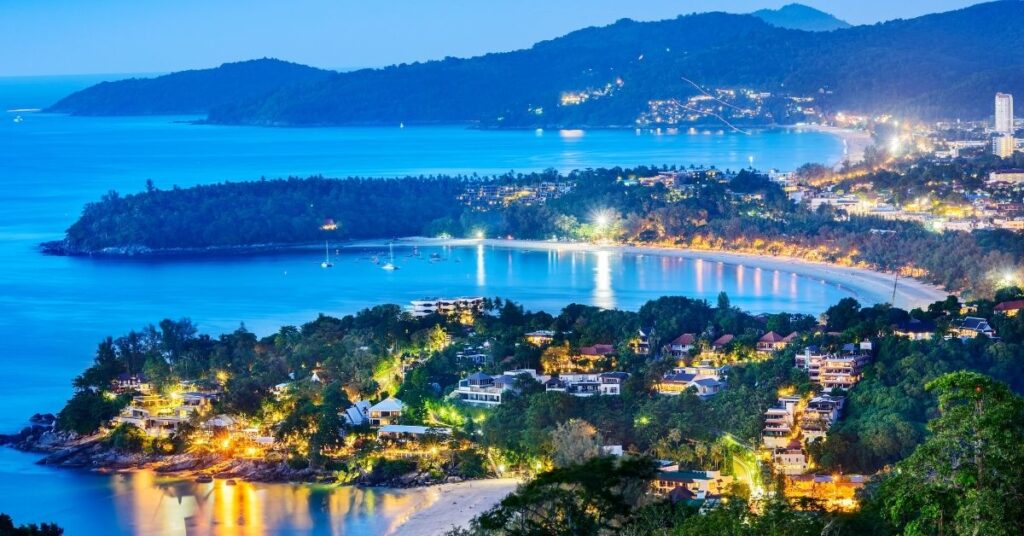 4. Bangkok
If you love the busy city life but not the high price tag it often comes with, Bangkok is for you. While it may not be the cheapest place to live in Thailand, for a big city, it's a very affordable place to root down for a while. The modern, multicultural city is often claimed as one of the best places to live in Thailand for expats because of its diversity and inclusive culture.
---
Want to connect with fellow long-term travelers? Join our Facebook group and the conversation.
---
PSSST. SafetyWing finally covers COVID. I've been using their Nomad Insurance since 2019. It's the perfect solution for nomads like me. Don't leave without your travel insurance.
---
The gleaming skyscrapers, trendy rooftop bars, and Michelin-starred restaurants may make Bangkok seem like any other capital city. However, Thai culture is still well and truly alive here. There are stunning temples to explore along with enormous local markets to wander around to remind you that you are in southeast Asia.
According to InterNations, Bangkok has the world's largest expat community, with over 3.5 million foreigners residing there. Therefore, if you're an English teacher, digital nomad, or retiree, you will find a home away from home in Bangkok. Many expats in Bangkok choose to live in the heart of the city to make the most of the world-class public transportation system.
Of course, not everyone would agree that Bangkok is the best city to live in Thailand, and living there does have its downfalls. Constant traffic, overcrowding, and poor air quality can take its toll after a while. Because of this, most expats living in Bangkok choose to take regular breaks away to nearby beach towns to recharge.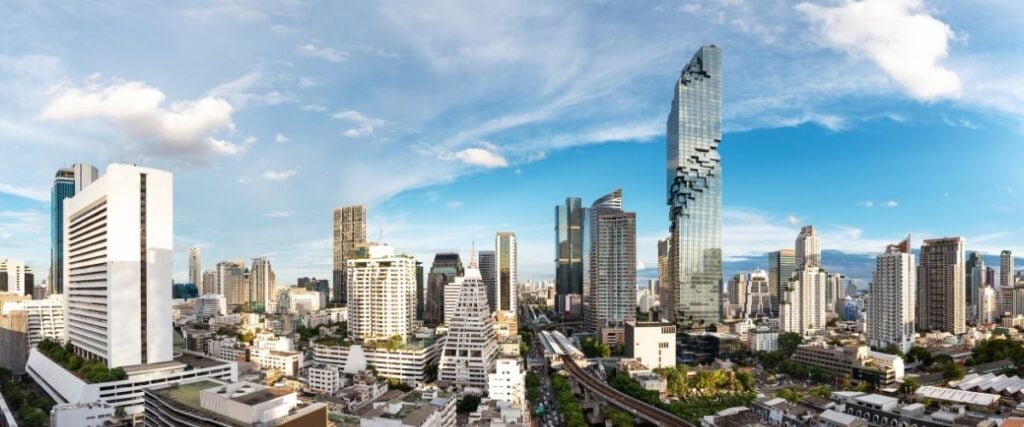 5. Koh Lanta
Located in the Krabi province, Koh Lanta is a small island on the Andaman coast. The island is actually two islands. The one in the south is popular amongst tourists and nomads, while the one in the north is more exotic and quiet.
Koh Lanta is mostly known for its boho and quiet vibes. While you can still find beach parties in Koh Lanta, it's less of a party island than Koh Phangan. Many people go to Koh Lanta because they've heard of Kohub – a social coworking space.
You'll find plenty of restaurants on the beach as well as beach bars which makes it a great spot to live in Thailand. You'll find a nice community there too, but many people are staying there temporarily – mostly between January and March.
The one thing that can make life in Koh Lanta a bit more challenging is the lack of malls and grocery stores – after all – it is an island! The closest city is Krabi, but it's still 1-2 hours away depending on the traffic and the ferry. That said, there are so many good restaurants to pick from that you won't want to cook at home.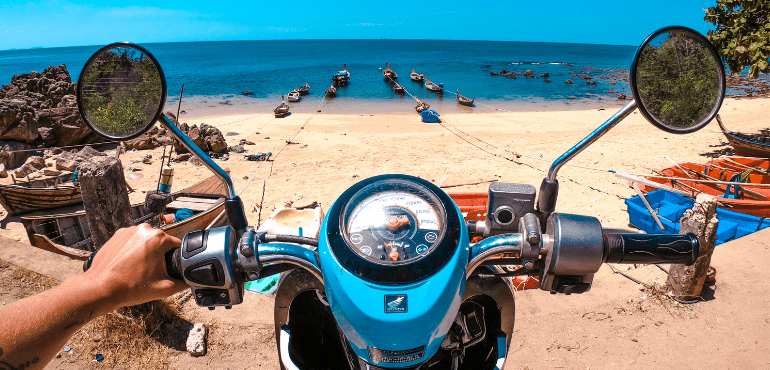 Final Thoughts
Where is the best place to live in Thailand?
Where you choose to live in Thailand is a personal preference. But regardless, if you're looking to live your best life and have some adventures, Thailand is the place to be! Moreover, the variety of the landscapes and vibes you'll find throughout Thailand makes for countless in-country holidays
---
READ MORE
‣ Transportation guide in Thailand
‣ Scubadiving in Thailand
‣ Thailand vs Bali
BEFORE YOU GO TO THAILAND
☑ Book your flight: If your flight isn't booked yet – check out the flights on Skyscanner or via Google Flights. My top saving tip is flexibility. If you're flexible, you should be able to find a cheaper flight.
☑ Book your accommodation: I always use Airbnb and Booking.com. If you'd rather stay in a hostel, you should take a look at the options on Hostelworld. If you click on the Airbnb link and you don't have an account yet – you'll get a $30 discount on your first booking.
☑ Protect your cute face: Oh, you may want to protect your cute face with travel medical insurance. I would suggest SafetyWing as they offer the best rates, especially for long-term travelers. Otherwise, you can also take a look at World Nomads.
☑ Pack the essentials: You can consult this list when it's time to pack your bag! Do not leave without a universal charger, a power bank and your passport!
☑ Do you need a visa? If you aren't sure if you need a visa, it would be a smart idea to take a quick look before you go. You can use iVisa – it's super useful and easy to use.
Disclaimer: This post may include affiliate links. If you click one of them, we may receive a cute commission at no extra cost to you. Thank you.