The 10 Coolest Coworking Spaces In The World
One of the greatest perks of being a digital nomad is not working in a dull, windowless office for 8 hours a day. When you work from your laptop, you can work from anywhere in the world, including on the beach!
Of course, some logistics are involved, like the need for stable wifi and a power supply, which isn't too easy to find on a remote tropical island. Moreover, working on your own can get lonely, no matter how stunning the view is.
Luckily nowadays, wherever you are in the world, you'll be sure to find a beautiful coworking space. Here you can network with other freelancers, enjoy good coffee, and experience optimal productivity. If you're looking for a list of coworking spaces to spark your creativity, here are our top 10.
1. Cospace @ Baan Jai Dee Resort, Koh Phangan, Thailand
If you dream of working in paradise, Baan Jai Dee in Koh Phangan will make that dream come true. In collaboration with Cospace, this resort boasts a cliff-side, open-office setup overlooking the turquoise blue ocean and surrounding islands.
With various workstations available, you can work in comfort and tranquility as you gaze out to sea. Aside from the impressive views, membership includes blazing fast internet, an onsite cafe, and a stunning pool. Cospace describes this as a holistic coworking space with yoga classes and regular events, creating a strong community spirit to thrive together.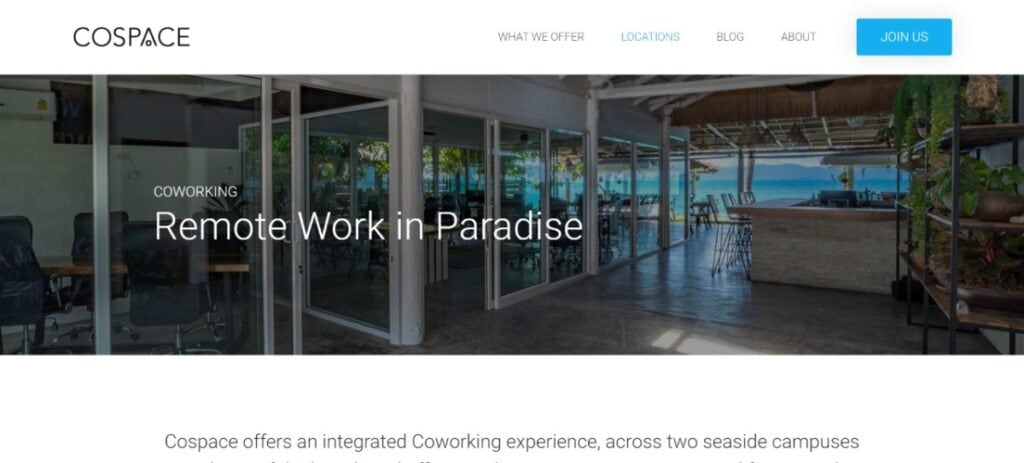 2. Dojo, Canggu, Bali
Another beautiful coworking space in the tropics is Dojo, located just a stone's throw from the gorgeous Echo beach in the expat hotspot of Canggu. Lush, tropical gardens surround this coworking wonderland with a pool as the centerpiece and a premium cafe to keep you caffeinated.
Doji aspires to create a collaborative community of conscious co-workers who know how to enjoy a healthy work-life balance. They also hold regular events, such as public speaking sessions, to help you grow and flourish.
3. The Great Room, Singapore
The Great Room is for those who want to spend their days working in style while enjoying top-notch hospitality. The flattering lighting, leather sofas, and rich color palette will remind you of a luxurious hotel lobby.
While membership here isn't cheap, you'll enjoy a whole range of benefits that will make you feel like an elite digital nomad. This includes complimentary breakfast, artisanal coffee, and a Monday breakfast club to banish those Monday blues. Plus, if you're working late, the evening turndown cart will perk you up with its offering of warm cookies and hot chocolate!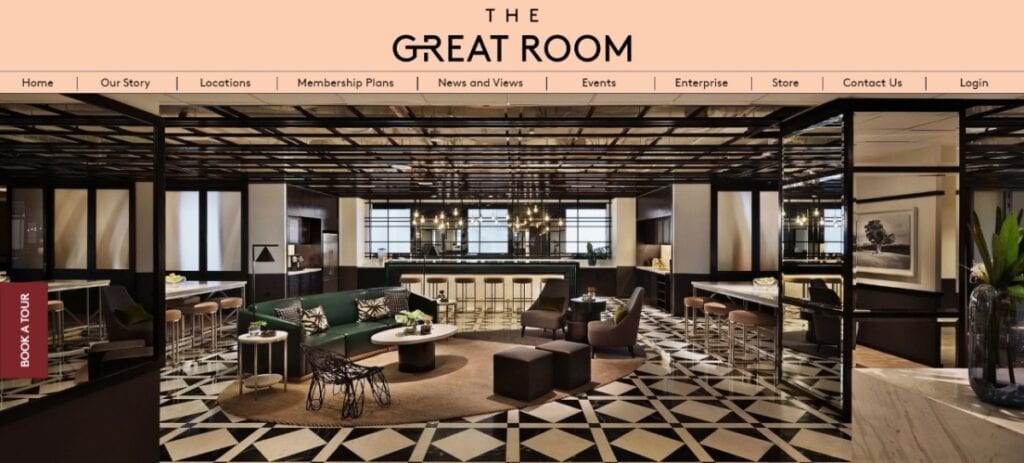 4. The Farm Soho, New York
If you're tired of working in the same old NYC-style coffee shops, The Farm will feel like a breath of fresh air. This is one of the best coworking places you will find stateside purely because of its novel design. The Farm was built by hand from a century-old barn found in Missouri. The warm, woody interior creates a friendly, relaxed working space. It draws in equally warm and friendly digital nomads and freelancers too.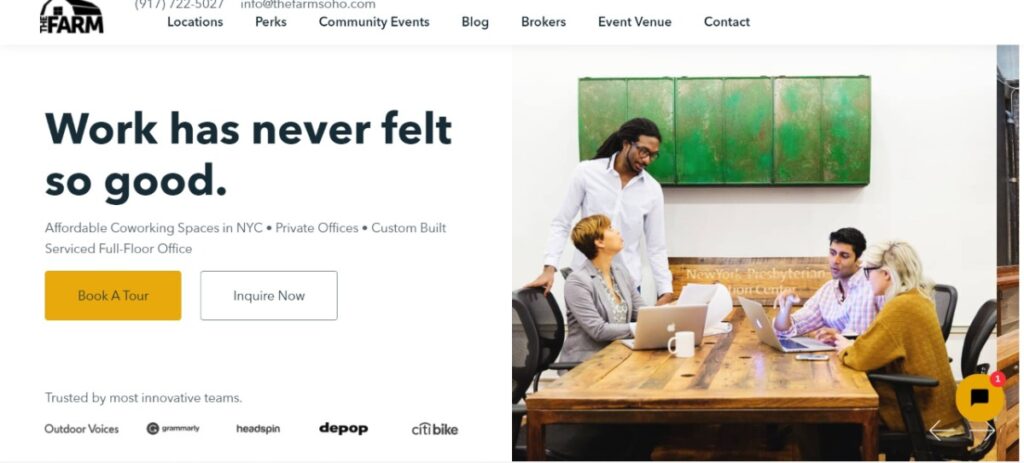 5.Fora, Shoreditch, London
Fora in Shoreditch is undoubtedly one of the best coworking spaces you'll come across in London. The design of this big, airy building will maximize your energy and productivity with its indoor greenery, landscaped courtyard, and roof terraces. Thanks to the ceiling-high windows, the beautiful coworking space is flooded with natural light – an essential feature for working in London during the cold, dark winter!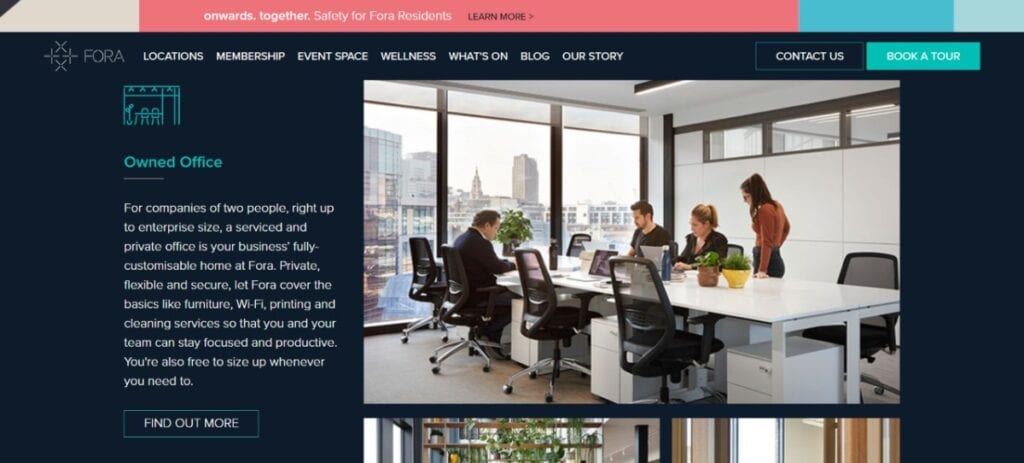 6. Betahaus, Barcelona, Spain
Many digital nomads base themselves in Barcelona to enjoy the warmth, sunshine, and happening atmosphere of this Spanish beach city. Betahaus allows you to enjoy the beautiful weather and top up your tan as you get your work done. The six-floor building has five terraces, including a rooftop one! The alfresco environment creates the perfect vibe for inspiration and networking.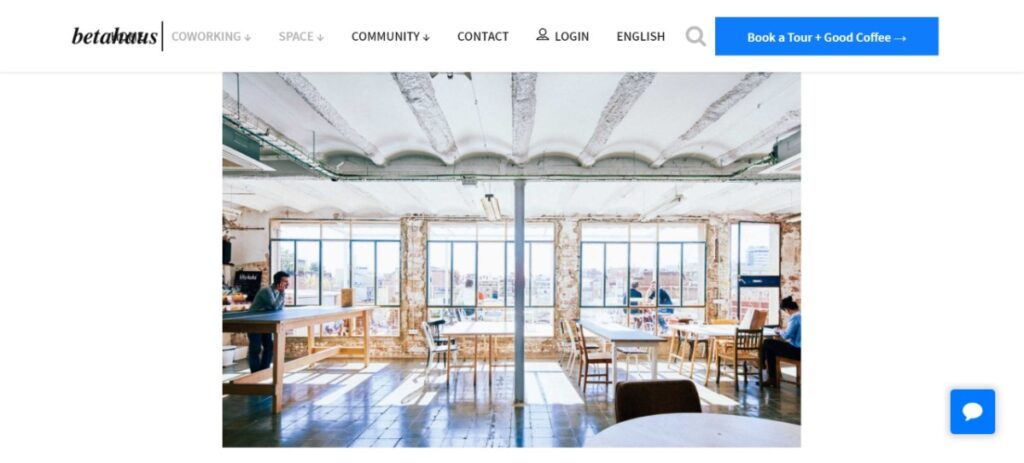 ---
Want to connect with fellow long-term travelers? Join our Facebook group and the conversation.
---
PSSST. SafetyWing finally covers COVID. I've been using their Nomad Insurance since 2019. It's the perfect solution for nomads like me. Don't leave without your travel insurance.
---
7. The Commons – Melbourne & Sydney, Australia
The Commons have the coolest coworking spaces across Melbourne and one in central Sydney too. Each of these great workspaces has a stunning open-air garden and outdoor deck.
You can enjoy the onsite spin studio, arcade machine, and ping pong table at the South Melbourne location. At the Cremore space, you'll find a wellness studio, games room, and our personal favorite – the rooftop beer garden! With amenities like this, The Commons is one of the best coworking places for finding the right balance between pleasure and business.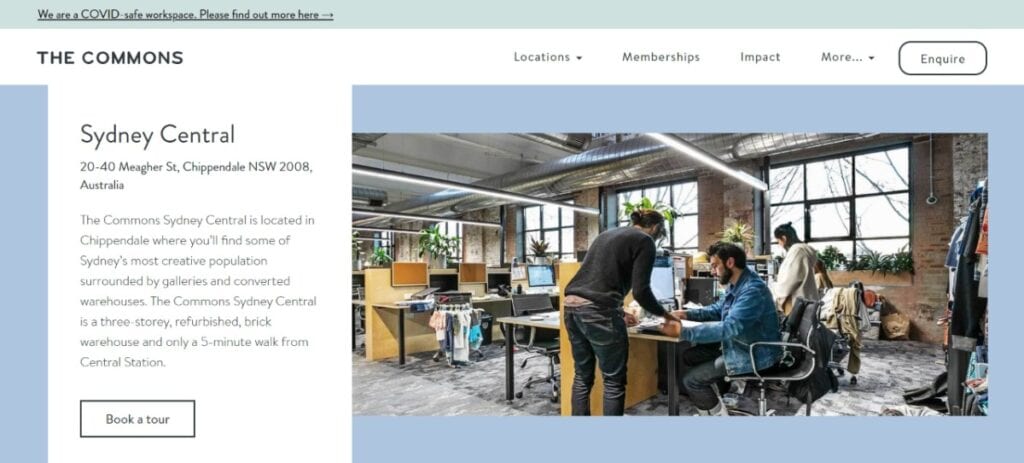 8. GreenSpace, Paris
If you're after a tranquil environment to optimize your productivity levels, GreenSpace has what you need. The decor here is true Parisian style. Moreover, this vast but cozy space has glass roofs covering their three work areas, creating a bright, outdoorsy feel. We also love the amenities here; enjoy complimentary yoga classes, walking desks, and unlimited coffee!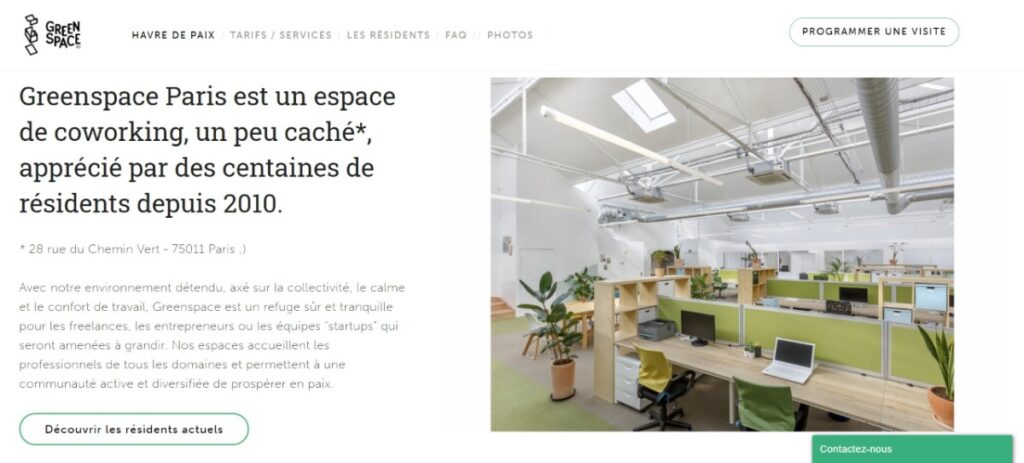 9.

Make Lemonade, Toronto
One for the ladies, Make Lemonade is a female-only Toronto-based coworking space and community. The welcoming, supportive and uplifting vibe is what makes this place one of the coolest coworking spaces. However, the unique meeting rooms, girly decor, and penthouse views compliment the community spirit perfectly. Make Lemonade is for sure one of the most amazing work spaces for women who want to empower each other and rise together.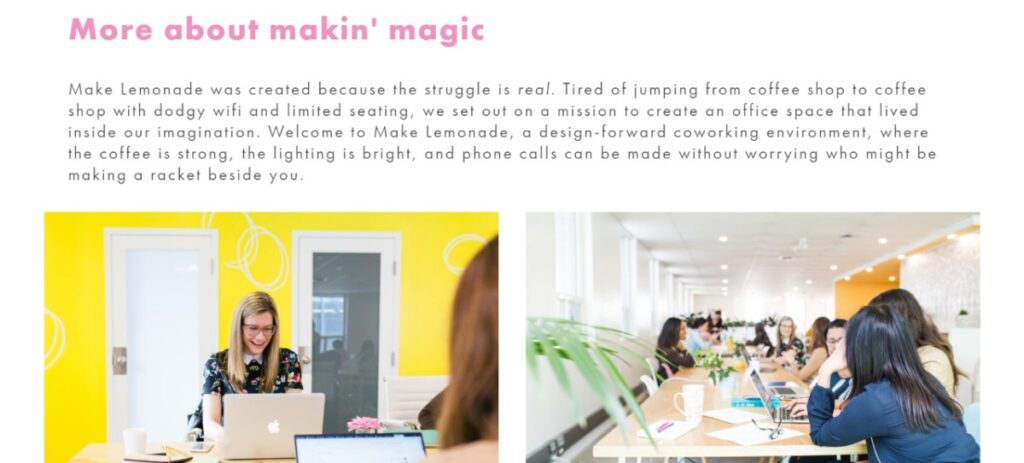 10. Village Underground, Lisbon, Portugal
This is perhaps the most unique coworking spot you'll fin. Village Underground in Lisbon consists of recycled shipping containers and double-decker buses repurposed as offices, meeting rooms, and studios. As you can imagine, artistic and inventive digital nomads adore this innovative space.
It is open 24/7, so you don't have to work from bed when you're on a late-night sprint! But it's not all work here; the village hosts music, theater, cinema, and dance events, and there is even a restaurant inside a double-decker bus!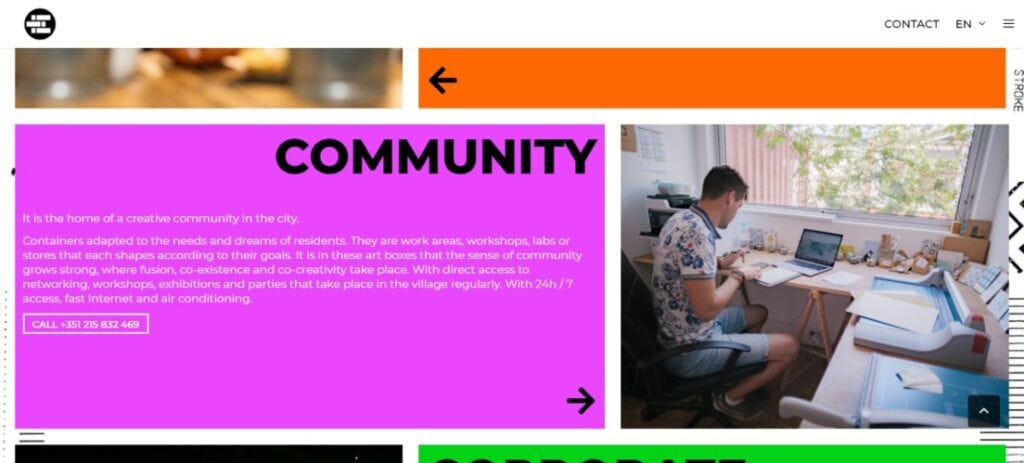 Final thoughts
With the coolest coworking spaces like these, you'll never want to work from home again. Likewise, you no longer need to slog through your workload on your own, feeling unsupported and uninspired. While coworking spaces may offer breathtaking views and fun activities to partake in, the most significant benefit is the community you become part of there.
---
READ MORE
‣ How to become a digital nomad
‣ How to start a travel blog
‣ How to become a copywriter
BEFORE YOU GO
☑ Book your flight: If your flight isn't booked yet – check out the flights on Skyscanner or via Google Flights. My top saving tip is flexibility. If you're flexible, you should be able to find a cheaper flight.
☑ Book your accommodation: I always use Airbnb and Booking.com. If you'd rather stay in a hostel, you should take a look at the options on Hostelworld. If you click on the Airbnb link and you don't have an account yet – you'll get a $30 discount on your first booking.
☑ Protect your cute face: Oh, you may want to protect your cute face with travel medical insurance. I would suggest SafetyWing as they offer the best rates, especially for long-term travelers. Otherwise, you can also take a look at World Nomads.
☑ Pack the essentials: You can consult this list when it's time to pack your bag! Do not leave without a universal charger, a power bank and your passport!
☑ Do you need a visa? If you aren't sure if you need a visa, it would be a smart idea to take a quick look before you go. You can use iVisa – it's super useful and easy to use.
Disclaimer: This post may include affiliate links. If you click one of them, we may receive a cute commission at no extra cost to you. Thank you.