The 10 Best Virtual Date Ideas To Stay Close Despite the Distance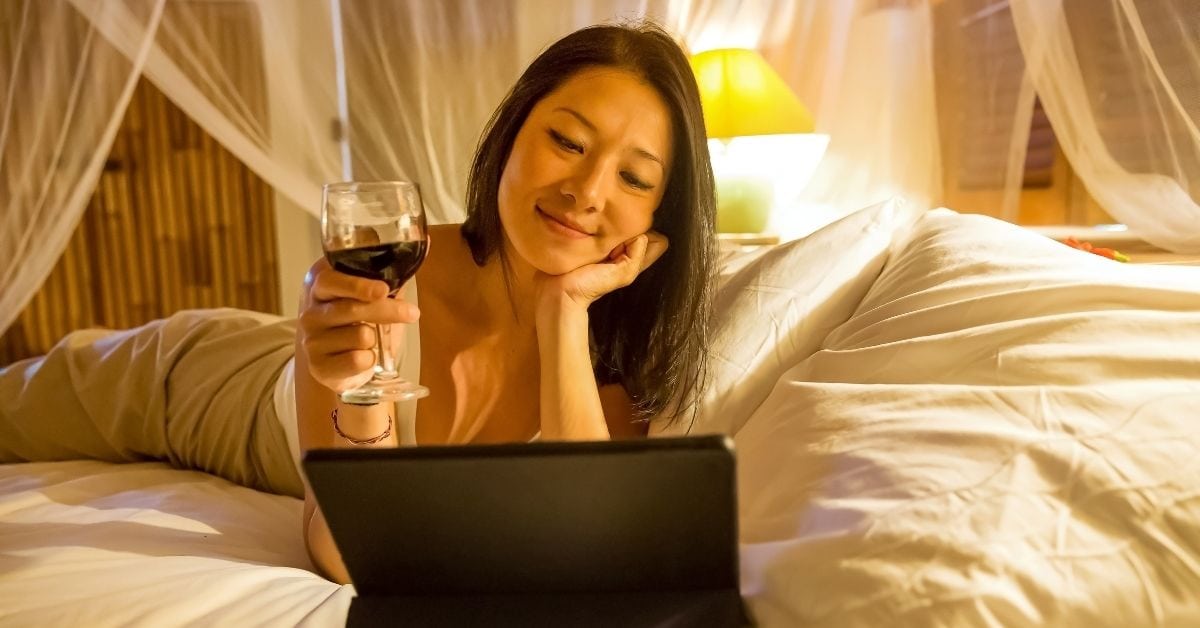 More couples than ever before have transitioned to virtual dating in the last year. Whether it's travel restrictions keeping long-distance couples apart for even longer or lockdowns preventing couples from spending regular time together, the global pandemic has had a harsh effect on many relationships.
In an era where we're feeling disconnected from our loved ones, it has become customary to look for ways to connect deeper online. If you can't be with your boo right now, but you're sick of the same old virtual date night, we've got your back! Here are 10 of the most original and creative long-distance date ideas to strengthen the bond with your partner no matter how far apart you are physical.
Eat Brunch Together
You've probably had many virtual date night dinners with your other half, but how often do you spend the first meal of the day together? Just because you aren't waking up next to your honey doesn't mean you have to miss out on brunching together on slow, Sunday mornings.
You can enjoy brunch together in various ways. Perhaps by cooking your favorite breakfast dishes simultaneously, putting your cooking skills to the test by swapping recipes, or even ordering a surprise food delivery for each other.
Take a Walk in Nature
Many couples right now are forced to be apart because of quarantine. If this is the case for you, you're probably missing the outside world as well as each other. If possible, take a walk together outside in nature. This is one of the best virtual date ideas during quarantine if you are in different states or countries surrounded by contrasting scenery.
While one of you might walk along the beach, the other may take a forest stroll. Taking a virtual walk is a super cool way to experience different environments at the same time. Describing the sights, sounds, and smells you experience on your walk is a great way to involve each other in a simple but enjoyable activity.
Work Out Together
If you struggle to find the motivation to exercise, follow a fitness or yoga class with your partner on your next virtual date night. Working out is always better when you do it with someone. And why not try a fitness activity that neither of you has done before? Doing so could make a funny and memorable experience and be one of your best Skype date ideas so far.
Enjoy a Virtual Wine Tasting
Do you love wine? If so, doing a virtual wine tasting could be one of the best virtual date ideas for you and your significant other. Virtual wine tasting parties have become hugely popular during the global lockdown. These events are a fun way to connect with your partner and release your stresses while learning something new and discovering new wines.
Have a Game Night
Nowadays, you can play many traditional-style board games online with your friends and family. Since the start of the pandemic, playing online games together has become a popular way to catch up virtually with your loved ones. It certainly makes one of the most creative long-distance date ideas too. If you're feeling something old-school, you can play Monopoly or Scrabble. Or, check out HouseParty for a range of new, exciting games to give a go.
Take the 5 Love Languages Test
---
Want to connect with fellow long-term travelers? Join our Facebook group and the conversation.
---
PSSST. SafetyWing finally covers COVID. I've been using their Nomad Insurance since 2019. It's the perfect solution for nomads like me. Don't leave without your travel insurance.
---
If you're looking for virtual date night ideas to strengthen your bond, what better way than to learn each other's love language. According to the book "The Five Love Languages" by Gary Chapman, we all express love in different ways, five ways to be exact.
Our love language shows the way we prefer to give and receive love. Taking the online five love languages test will help you and your partner understand each other better and help you show your partner love in the best way for them.
Get Creative with Arts and Crafts
If you want to ignite your creativity, why not get artsy together on your next virtual date night. You could watch a painting tutorial and attempt to paint each other. Or, perhaps there's a craft you've always wanted to learn, such as tie-dye, embroidery, or origami. You can order pre-made craft kits or hunt down bits and bobs around the house and have fun seeing what you can create.
Test Your Teamwork with a Virtual E

scape Room
How well do you and your partner work together? If you don't know, why not find out with a virtual escape room? This is one of the best Zoom date ideas for strengthening (and testing) your relationship. You are bound to learn something new about each other and will see how you perform together under pressure. If the distance between you and your love is making you feel disconnected, a web-based escape room will bring you back together.
Meditate Together
Okay, this isn't one of the most common facetime date ideas. Even so, if you're stuck in quarantine, meditating together could help you find ease and surrender to the external forces keeping you apart. 2021 is proving to be another stressful year for many, and being away from your soulmate can make things much harder. Meditation can re-ground you and shift your perspective, allowing you to focus on the positive things rather than the negative.
Schedule a gratitude meditation with your boo in the morning or before bed. After focusing silently on the positive things in life, share five things you both feel grateful for. If you're fed up with being stuck indoors, meditating together is one of the most beneficial virtual date ideas for quarantined couples.
Go on a Virtual Vacation
When a vacation is one of the few times you get to see your partner, cancellations and travel restrictions can feel seriously disheartening. While it could never replace the real thing, virtual vacations are one of the most creative long-distance date ideas we've come across.
A virtual vacation allows you to virtually tour many of the world's most popular destinations. So if Covid ruined your plans to hike Machu Picchu or ride a gondola in Venice, all hope is not lost. Taking a virtual vacation will keep your wanderlust alive and provide a small comfort until you can experience the real thing.
Final Thoughts
Just like dating in real life, virtual dating can become dull and stale if you don't make an effort to keep things fresh. One great thing that has come out of the pandemic is the increase in online activities and events that you can do with others. Work your way through this list of virtual date ideas and stay close no matter the distance.