There is nothing to compare with the freedom that RV living gives you, combining the adventure of covering miles of open road with the convenience of staying in your own comfortable home-from-home. But if there is one thing that pretty much all RV owners will agree is a challenge, it is storage and organization!
Somehow you need to bring along the many items required for everyday life, but fit them into a space far smaller than your house. Even the most generously sized vehicle needs some careful organization when it comes to packing up for an extended road trip – and even more so when you are bringing kids along for the ride!
To make life easier, I have put together this list of RV storage ideas to help you maximize your space and allow you to travel stress-free.
I've divided these camper organization hacks into a few categories, although you can use most tips in most areas of your RV with equal success.
Not only will these tips help you store more stuff on your travels, but they will also help you keep everything better organized, making it quick and easy to find just what you need!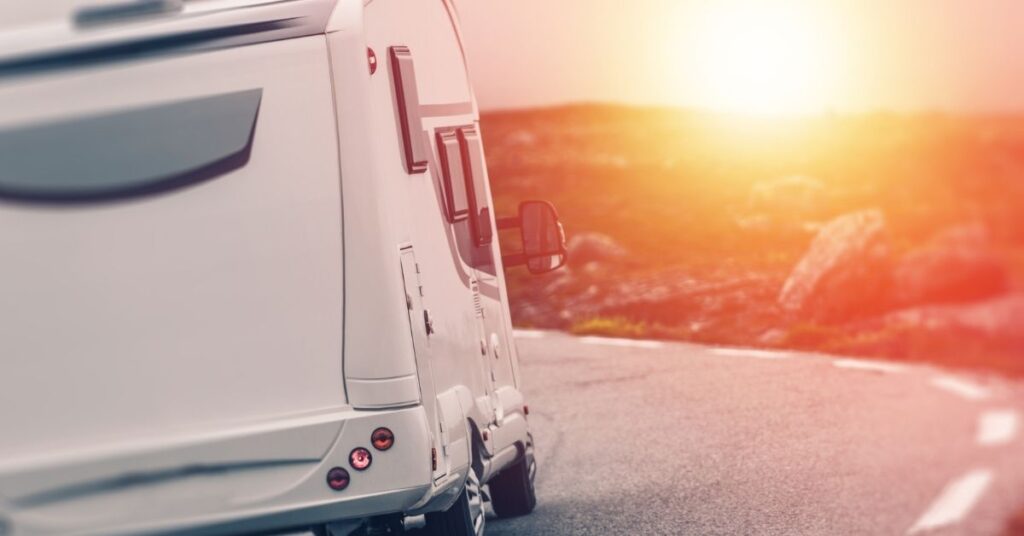 The Golden Rules with RV Storage
No matter how many RV space-saving ideas you follow or handy accessories you use, if you have too much stuff with you, things will always feel – and look – a little cluttered. Take a good, long look at everything you plan to take on your trip and ask yourself – do I really need this? The best way to answer that question is to look at when the item was last used. If it was more than a year ago, then it is probably safe to say that you can leave that item behind.
Also, think about whether or not any of the items that you have will do more than one job and could possibly replace another item that you feel you 'need'.
Next, resolve to follow the 'one in, one out' rule. This means that for every new item you bring into your RV, one old item has to go.
Finally, look for ways to make use of all those spaces that are wasted, by stacking, sticking, or hanging items wherever you can!
Need some inspiration? Read on…
RV Storage Hacks for the Kitchen
The kitchen is hands-down one of the most cluttered areas in most RVs. Since the kitchen often forms part of the main living area, keeping it tidy is important for the overall look and feel of the vehicle.
RV kitchens usually have lots of cabinets and cubby holes, but quite often these are poorly designed, with big open spaces that make it hard to get organized. Your first priority should always be to fit extra shelving wherever it is needed, which magically increases your RV storage space and instantly makes things look tidier. Alternatively, consider using Stackable Food Storage Containers, which make efficient use of space and also make it super easy to find what you're looking for without rummaging through a pile of packages.
Herbs can be difficult to store as most people have multiple jars, but there are some great products around to make it easier. Magnetic Spice Tins are incredibly useful – you can stick them on the door or the side of your fridge or any other metal surface. Gripper clips are good too – you can simply stick them to the inside of cabinet doors, or wherever you have space.
One of my favorite RV space-saving ideas is to dispense with herb jars altogether and use Mason Jar Bags instead. An entire drawer full of herb jars can be easily condensed into these small packages, which you can label with chalkboard stickers and store in plastic storage bins. They are useful for other ingredients too, either in the pantry or the fridge.
One of those essential items that tend to take up a lot of room is the trash can. You have two solutions here. One is to use an over-the-door type basket that keeps your trash neatly hidden away. If you need something bigger, try a Pop-Up Camp Trash Can which has all the space you need, but is easy to stow away when you are on the move.
Pots, pans, and other kitchenware can be bulky – so one of the best RV organization ideas for your kitchen is to look for items that can stack inside each other. The Elbee Home 8-Piece Stack 'n' Store Baking Set is ideal – it contains everything you need for all kinds of baking applications, then stacks neatly away into a brick occupying 1.5 square feet. The same principle applies to these stackable mixing bowls, which only take up the space of the largest bowl. When buying saucepans, look for the type that is safe to use both on the hob and in the oven. This means you need fewer pans – which saves on storage space – and it saves you time when cooking too!
Even if you find a set of saucepans that will stack inside each other, the lids can be a pain to store. One of the best RV storage hacks for dealing with those is to secure a pot lid rack inside your cabinet door. If you're feeling crafty, you can even make your own by attaching angled hooks to hold the lids in place. Command Hooks can be good for this, although it is a good idea to reinforce them with extra glue as some pot lids can be quite heavy!
Another option is collapsible kitchenware – and you might be surprised to find out just how many collapsible versions there are of everyday kitchen items. You can get drainers and bowls; measuring cups and spoons; and even a collapsible dish rack! Alternatively, consider a Roll Up Dish Drying Rack. You can also use it to protect your counter from hot pots when cooking, making it a great two-in-one item!
A good alternative to a roll-up dish drying rack is one that makes use of that wasted space above your sink! This Over The Sink Dish Drying Rack is ideal – made of thickened stainless steel it is strong enough to be stable and comes with suctioned feet to keep it in place. It is also adjustable and comes with multiple shelves that you can arrange in the way you prefer.
Counter space in an RV is very limited, but you can instantly give yourself more room to keep out the items you need by using a raised Kitchen Counter Shelf Organizer. This set is expandable both horizontally and vertically, so it is easy to customize it to perfectly fit the space you have available.
A Microwave Oven Rack is another great option, making use of the space on top of your microwave in the most efficient way possible and giving you somewhere to hang a few kitchen utensils too.
And whilst we are on the subject of hanging items – those Command Hooks we mentioned earlier really are worth their weight in gold when it comes to RV storage. They are easy to attach and make it possible to hang up everything from cloths and hand towels to storage bags, freeing up drawer or counter space.
You can even hang up your fruits and vegetables using the Prodyne Under Cabinet Veggie Hammock, which has the added benefit of allowing your produce to ripen naturally and with good air circulation to prevent spoilage.
---
Want to connect with fellow long-term travelers? Join our Facebook group and the conversation.
---
PSSST. SafetyWing finally covers COVID. I've been using their Nomad Insurance since 2019. It's the perfect solution for nomads like me. Don't leave without your travel insurance.
---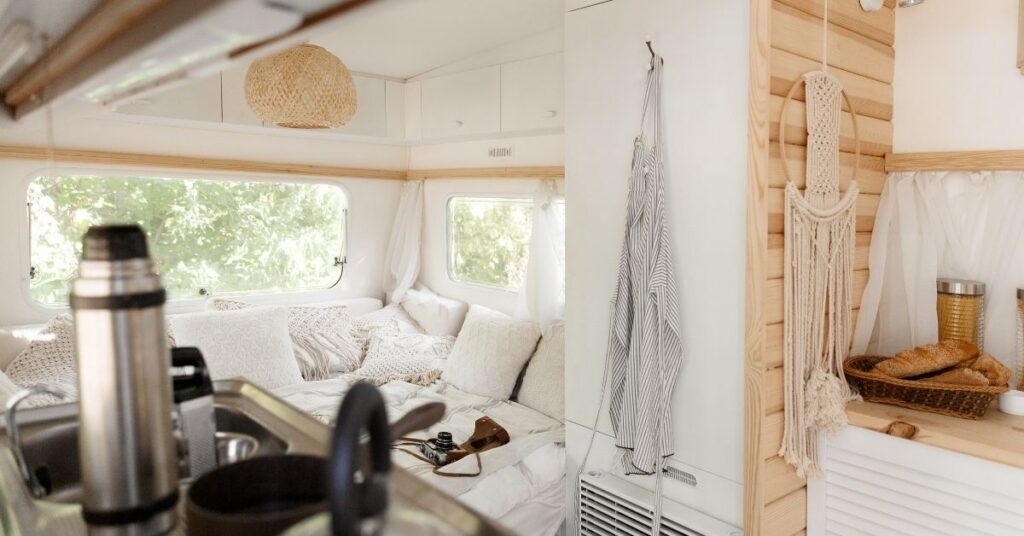 Trailer Storage Ideas for the Bathroom
One of my top RV storage hacks for the bathroom is to use a 3-Chamber Shower Dispenser. Capable of holding shampoo, conditioner and body wash, it is such an incredibly simple solution and mounts to the wall of your shower with a silicone adhesive. This keeps everything up high and out of the way!
If you would rather not use a dispenser, then another good option is to use suction cup travel bottles instead. You just fill them individually before you leave and stick them onto your shower wall with the suction cups provided. Alternatively, just use a simple drawstring shower caddy, that easily attaches to the shower wall.
If you want to cut down on the number of toiletries you need to take with you, a good option is to look for 3-in-one soap, which can usually be used both as a shampoo and body wash.
Storing bulky towels can be a challenge, but a Hanging Shoe Organizer makes life so much easier, making the most of your vertical space and giving you somewhere to store washcloths and other items too.
You can neatly stow your hairdryer, straighteners, brushes, and other accessories in an over-the-door organizer, which you could use in either your bathroom cabinet or hang over the shower door itself. This certainly saves on drawer and cabinet space but is also a great way to keep everything organized!
Finally, consider sticking a magnetic strip inside the door of your medicine cabinet. This gives you somewhere to keep small metal items like scissors and clippers!
RV Organization Ideas for the Bedroom
Having a neatly organized bedroom is key to a relaxing night's sleep, but the lack of closet space in an RV can lead to mess… and stress.
As with the bathroom, I strongly recommend in at least one vertical Hanging Shoe Organizer, in part for your shoes but also for your folded clothing. An Over the Door Shoe Organizer is perfect too, with lots of pockets to keep all your loose items neatly together.
If your RV closet is a large, open space, then invest in some storage bins to keep things organized. This gives you the feel of opening drawers and allows you to separate items, rather than forming one large pile that you have to hunt through every time you want a change of clothes!
Hanging a large number of clothes in the closet can be difficult, but these Compact Hangers can help. They have a thin design which really helps make the most of the space in small closets. These Space Saving Hangers are good too – their drop-down design lets you store lots more clothing in a small space than conventional hangers.
You might find using the KonMari method of folding sweaters and other items vertically instead of horizontally very useful for RV living! This style of folding comes from Marie Kondo's book "The Life-Changing Magic of Tidying Up: The Japanese Art of Decluttering and Organizing" and it will revolutionize the way you organize your closets! By folding items like T-shirts vertically, you can easily see which one is which and don't have to hunt to the bottom of a large pile to find the one you want.
With little room for luxuries like nightstands or bedside tables, a Bedside Storage Organizer is a great way to keep things like your remote controls, reading glasses, and cellphone close to hand and looking tidy.
If you are traveling with children, then it's very likely they will insist that their soft toys come along for the ride. Instead of having them clutter up the small bedroom, the ideal option is to fit a Stuffed Animal Toy Hammock. Easy to install, a toy hammock is a fun idea that also makes it easy for your child to tidy up at the end of the day.
Finally, consider fitting some Wall-Mounted Storage Baskets for some much-needed extra space, along with Command Hooks for smaller items.
If you are traveling with extra bulky items like spare blankets and pillows, you will find these Vacuum Compression Storage Bags incredibly useful! They can reduce the size of your textiles by more than 80%, which is a significant reduction and makes them so much easier to store! This set is particularly good, as it comes with a hand pump that you can use when you are on the road.
More Camper Organization Hacks
We all have that one closet filled with spare plastic bags – but in an RV that closet space is precious! Those spare bags are handy so tossing them out isn't an option. Instead, keep them in an empty baby wipe container. As you push each one in, leave the handles sticking out, then loop the next bag through that. Keep going until you've squeezed in as many bags as possible. Joining the bags together in this way will make a new bag pop up each time you pull one out!
Don't forget to take advantage of all the storage potential provided by your RV's seats, or for the seats in the tow vehicle of your travel trailer! The Uleeka Car Backseat Organizer has tons of room for keeping all those little bits and pieces, with multiple pockets for keeping everything well organized.
Tired of trying to find somewhere to keep your broom and mop? It's Command to the rescue again, with these handy Broom and Mop Grippers. They fix easily to almost any wall – without leaving a mark – and you just push your broom or mop handle into place to secure it. (Bonus tip: broom and mop grippers make great flashlight holders too!).
If you want to enjoy movies and music when you are on the road, then the easiest option by far is to go the digital route and download everything you need.
I've saved one of my favorite RV organization ideas until last, and that is to invest in a desk lamp with an electrical outlet. The Cozoo LED Desk Table Lamp is one of the best around, as it doesn't just provide you with two convenient outlets for when the lamp is in use, but also has 3 USB charging ports. In addition to the great functionality, this means that it is easy to plug in your electrical items without having to bend down and find an outlet at floor level.
Final Thoughts
I hope that these RV organization ideas and storage hacks have given you some inspiration for new ways to make the most of the space you have available. Having everything well organized will start your day off smoothly and will give you a welcoming and relaxing environment to come hard to after a day of new adventures.