Revealed: The Best Beach Towns In Portugal
One of the most wonderful things about Portugal is that you don't have to choose between visiting its best towns and its best beaches. That's because the majority of the country's most popular towns are actually also the best beach towns in Portugal!
The scenic Portuguese coast makes it possible to take in everything from historic architecture to glittering golden sands, all in one destination!
PSSST. Your travel medical insurance can now cover COVID-19!
If you grab SafetyWing Nomad Insurance, it'll be covered just like other illnesses. I've been using it since 2019 and I can assure you it's the perfect solution for nomads like you and me.
No matter whether you are a keen surfer, a history buff, or someone looking for a slow pace and a laid-back vibe, these top beach destinations in Portugal have it all.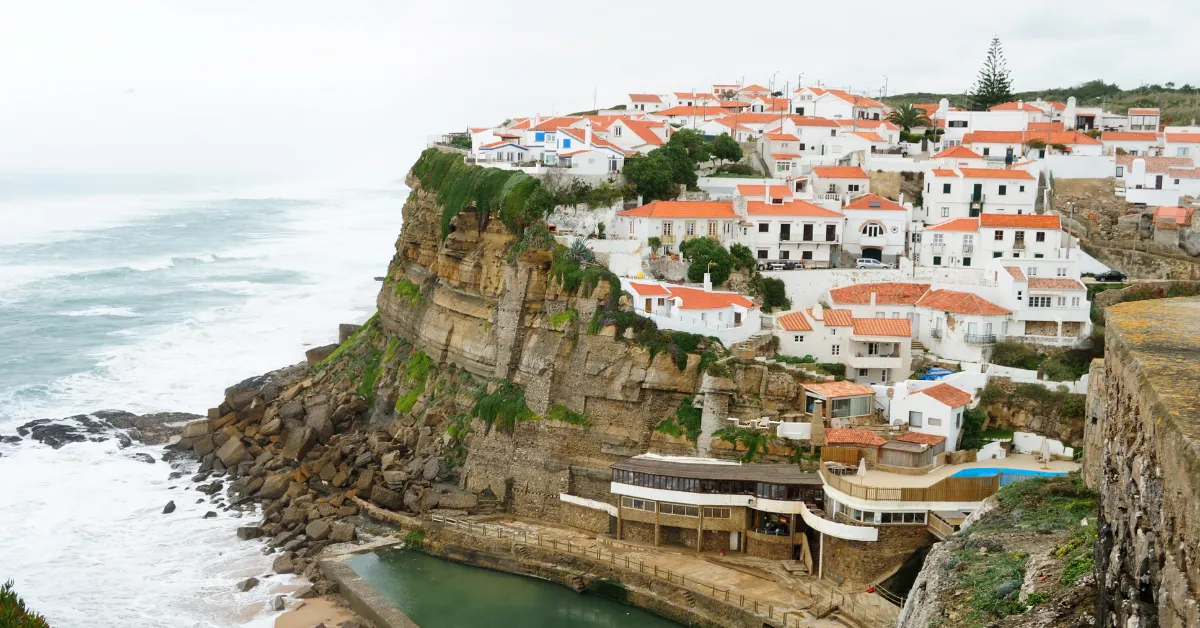 Azenhas Do Mar
First on my list of Portugal beach towns is the sleepy fishing town of Azenhas do Mar.
This is somewhere to visit if awesome views are your priority, as this destination enjoys a cliffside location that is simply stunning to see!
Close to Sintra, Azenhas do Mar is famous for its splendid seafood. And where better to enjoy the day's catch than in the restaurant built into the cliffs called 'Azenhas do Mar'?
Here you can feast on giant prawns, goose barnacles, lobsters, and more, all whilst enjoying the jaw-dropping vistas across the Atlantic Ocean.
This resort isn't packed with attractions. Instead, it is a place to come if you want to get away from it all, where the pace is calm and the atmosphere serene.
It's also perfect for children, with many natural rock pools for them to explore and a gorgeous sandy beach for safe swimming and paddling.
The village itself is exceptionally pretty, with lovely white-washed cottages, narrow staircases, and cobbled streets.
Look out for the millstones that you will see lining some of them. These came from the sea-powered water mills which gave the town its name (Azenha means mill and mar means sea).
Aveiro
When you see the pretty network of canals winding their way through the city, you will understand why Aveiro is nicknamed the "Venice of Portugal".
It was originally formed by a set of river islands and is one of the best Portugal beach cities to visit, filled with colorful gondolas called moliceiros. Its canals are not its only attractions and this is a city with a rich architectural history.
You'll find the São Gonçalinho Chapel here, along with the Convento de Jesus. Both are incredible buildings, filled with beautiful works of art.
Another 'must see' is Aveiro's stunning Baroque cathedral. Even the city's houses are scenic, featuring traditional 'azulejo' or whitewashed Mediterranean facades.
The city is also home to one of Portugal's most famous landmarks, the Costa Nova do Prado. It is famous for its brightly painted striped huts which were once built as fishing shacks but are now used as holiday homes.
Before you leave, be sure to try the local sweet specialty 'ovos moles'. This simple pastry – made of egg yolks and sugar – comes from a recipe invented by the nuns of the Convent of Jesus of Aveiro.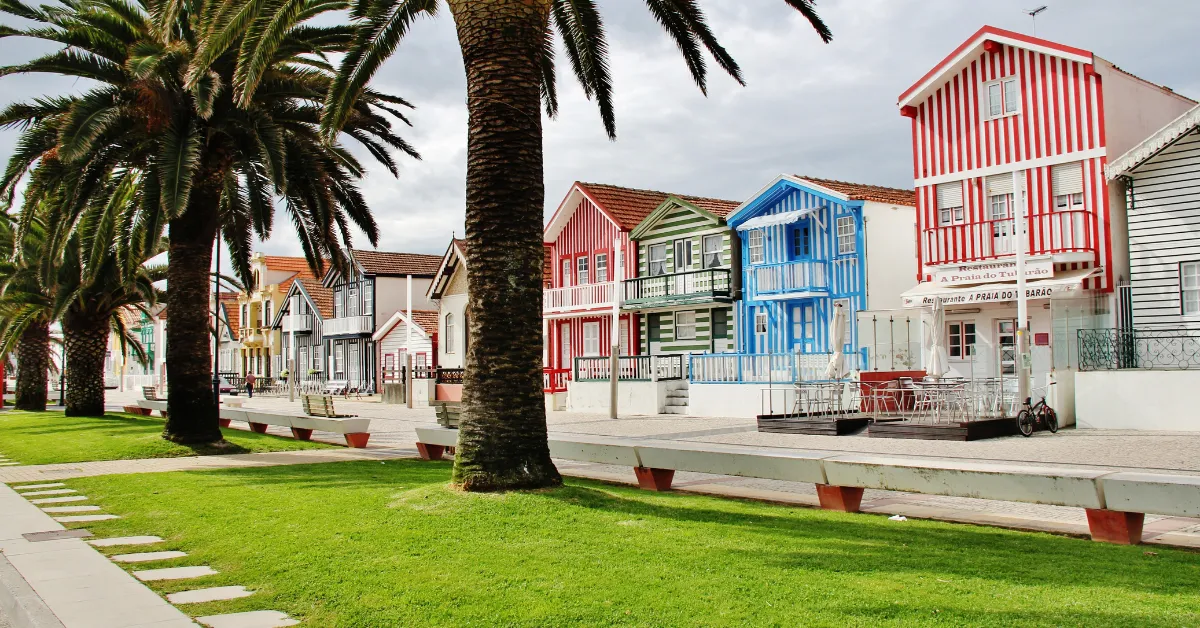 Cascais
One of the best coastal towns in Portugal, Cascais is popular for its diverse beaches.
Stretching westwards towards Lisbon is the peaceful Costa sa Estoril coastline, with its tranquil waters and extensive tourist facilities. But to the north and facing the Atlantic Ocean lies the wild coastline of the Serra de Sintra, where the waves are strong and the scenery natural and dramatic.
Cascais' charming and classy old town is filled with quaint cafes and little boutiques, connected by winding cobbled streets. The town also has much impressive architecture to admire, particularly the 17th-century waterfront fortress of Palacio da Cidadela, and interesting museums like the Casas das Historias Paula Rego.
Cascais was originally a fishing port and even today you can walk to the old town square and watch the little fishing boats come in. For natural beauty, take a stroll in the Marechal Carmona Park, or to watch the local windsurfers in action head to Praia do Guincho.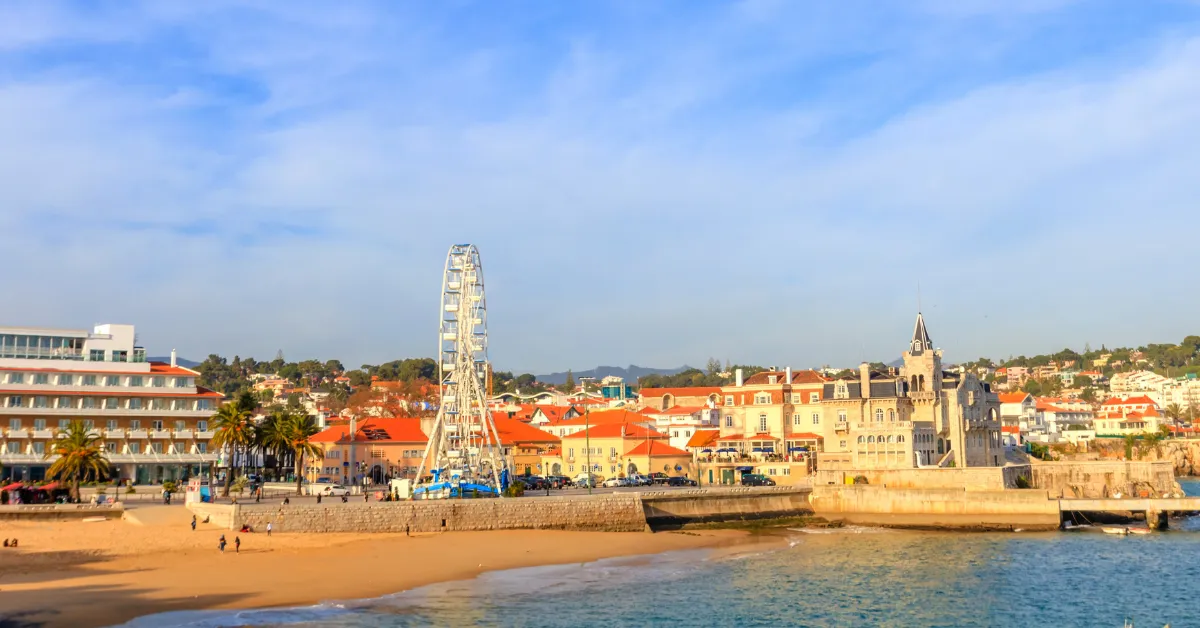 Tavira
PSSST. Want to get FREE accommodation in exchange for work?
If you're traveling on a budget or want to save and extend your trip, this could be exactly what you're looking for. Worldpackers is a platform that connects travelers like you with hosts. It's just like volunteer work –exchange your skills for free accommodation. SAVE $10 using my discount code and get 3 FREE months. Learn more about how it works here.
Of all the beach towns in Portugal, perhaps the romantic is pretty Tavira. It has a slow-paced, old-world appeal, with a lovely town square lined with cafes.
The region's architecture is reminiscent of its Moorish past, but one of its most famous sights is its seven-arched bridge, said to date back to Roman times. The perfect spot for a stroll on a summer's evening, the bridge often plays host to various street entertainers in its alcoves.
The town is well known for its unique roofscape, with distinctive upturned terracotta tiled roofs.
These are known as Telhados de Quatro Águas (roofs of four waters) and often have no gable or flat end, so all four sides of the roof slope downwards. This sometimes gives them the appearance of pyramids!
The beaches here are flawless and they – along with the sparkling clean water – are protected from development. The most popular is to be found on the Ilha de Tavira, which is separated from the mainland by the Parque Natural da Ria Formosa and can be reached by ferry.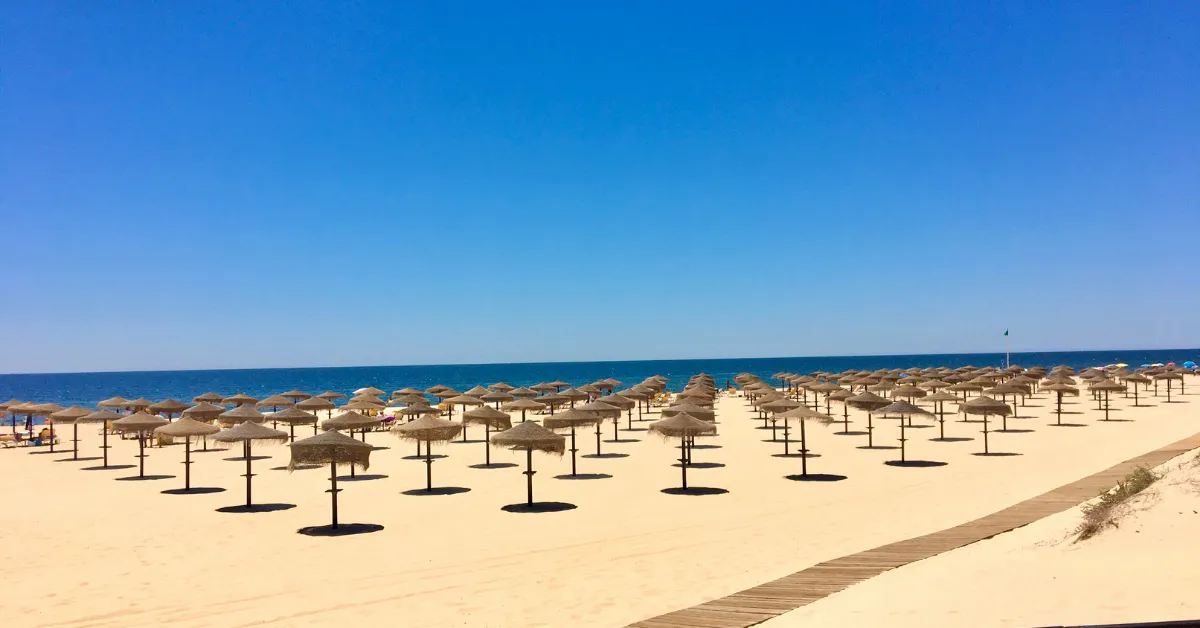 Viana Do Castelo
This is one of the best beach towns in Portugal for history buffs and lovers of architecture.
It features spectacular mansions built in a range of styles, including Baroque, Gothic, and Renaissance. The Santuário de Santa Luzia – located on a hilltop and with a scenic ocean backdrop – is one of its most stunning buildings.
One of the oldest towns on the Portuguese coast, it also has an attractive main square – the Praça da Republica. This is where you can see the gothic arched Paços do Concelho and the Chafariz, a Renaissance fountain dating back to the mid-16th-century.
Once you've had your fill of the town's culture then it's time to head to the beach.
The main beach is the Praia do Cabedelo on the opposite side of the estuary. A beautiful, curving bay, it is backed by dunes and excellent for swimming.
You can reach it by a ferry service that runs from the southern side of the harbor.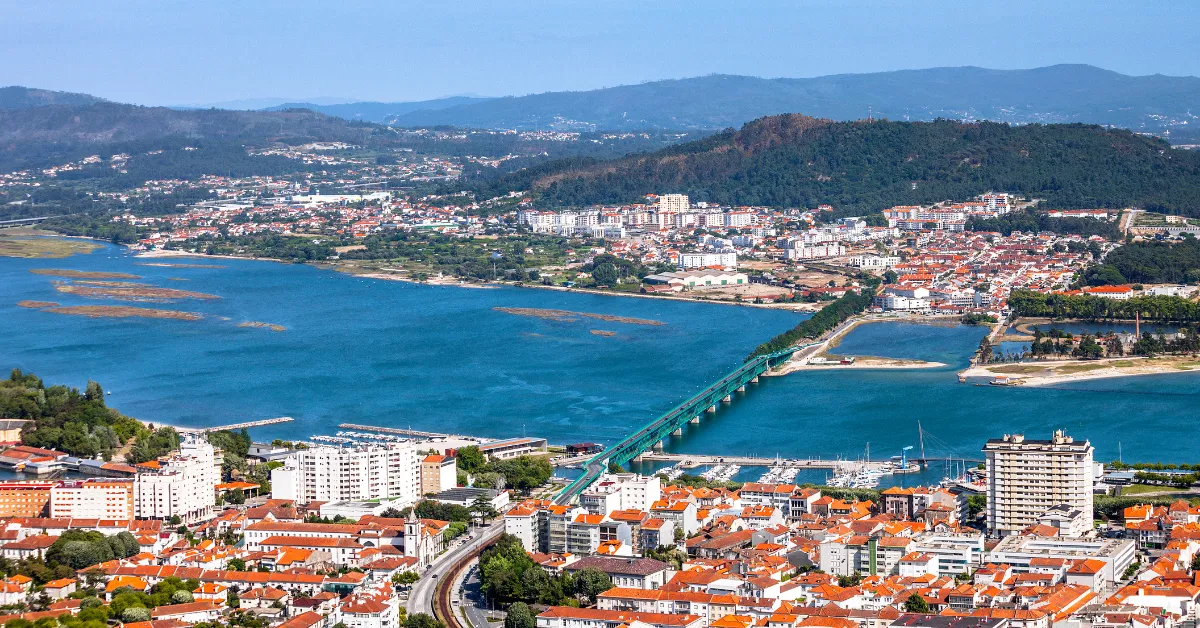 Lagos
Lagos is one of those beach destinations in Portugal with a little bit of something for everyone!
It has a large marina and a buzzing, trendy town, offering plenty of restaurants and bars. It also has a vibrant nightlife.
But Lagos has its quieter side, too, and plenty of features of cultural interest.
It was conquered by the Arabs in the 8th century and you can still see some of the fortifications there today. Not to be missed are the ancient Moorish city walls, or the Igreja de Santo António (Church of St. Antony).
This beautiful Baroque building is filled with gilded woodwork – considered to be the finest in the country – and blue and white tiles. You will also find some of the Algarve's very best beaches here, many just a short walk from the town center.
The most popular is Dona Ana, a sheltered beach with deep blue waters, studded with limestone rocks. But – if you have time – the beaches of Camilo, Batata, Luz, and Pinhão are also worth visiting for their beauty.
You can visit the Algarve region by car.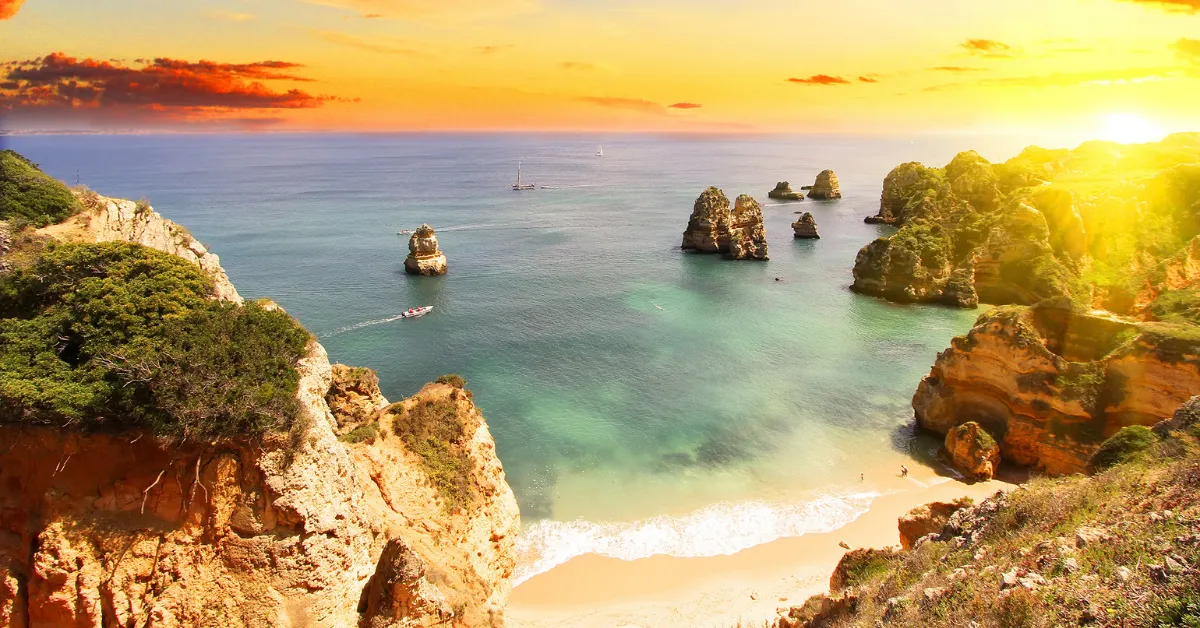 Peniche
This is one of the most popular beach destinations in Portugal for surfers.
Known by the nickname 'The European Pipeline', it is located on a peninsula that juts out into the Atlantic ocean. This makes it a great place to sit on the golden sands and watch experts from all over the world catch the waves.
But if you are looking for a little tranquility, then head to Baleal Beach on the other side of the peninsula. The waters here are much calmer, so this is a good spot to practice watersports before joining the pros!
Partly enclosed by city walls dating back to the 1500s, Peniche boasts a fortress that was once used as a prison and now serves as a museum. Also worth visiting is the beautiful Cathedral of Misericórdia with its richly decorated interior.
Peniche is still a working fishing port, too, famous for its excellent seafood restaurants that line the harbor.
Be sure to try the 'caldeirada' whilst you are here – a light and flavorful fish stew – along with the grilled sardines that many say are the best in the country.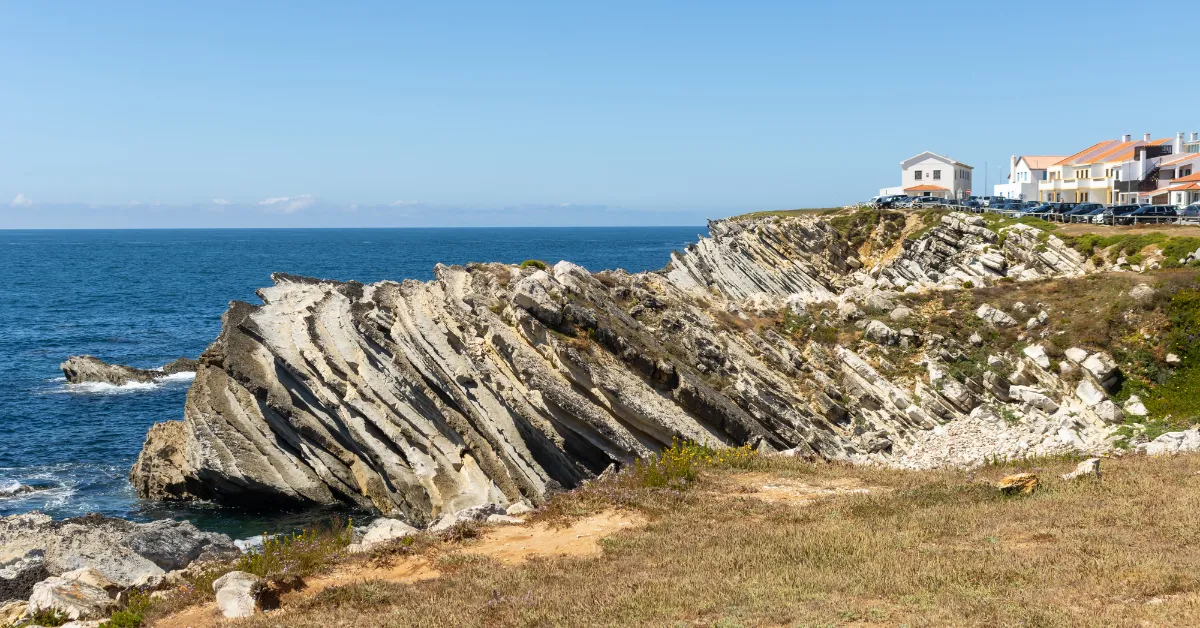 Ferragudo
One of the most laid-back beach towns in Portugal, Ferragudo is the place to visit if you want to escape the crowds.
Filled with quaint white-washed homes and boats bobbing along its shoreline, Ferragudo is home to the historic Sao Joao de Arade, formerly the area's watchtower.
You can also visit the Church of Nossa Senhora da Conceição here. Situated opposite the São João Castle, it is one of the town's oldest historical monuments.
Ferragudo receives more than 300 days of sunshine every year, making it the perfect place to enjoy any of its nine heavenly beaches.
Be sure to include a boat trip to the caves of Lagoa on your sightseeing list in order to visit the Benagil cave. With its natural skylight, it is considered to be the most spectacular grotto along the Algarve coastline.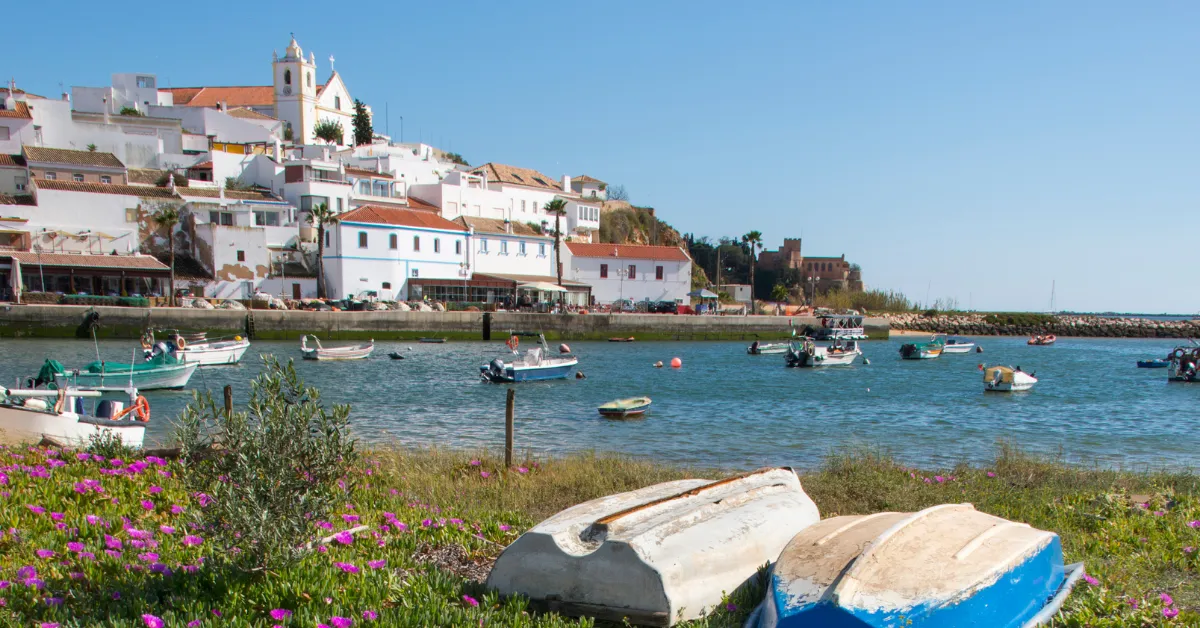 Final Thoughts On The Portuguese Coast
The best beach towns in Portugal are as beautiful as they are diverse. With so much culture to experience, good food to appreciate, and spectacular scenery to admire, it is easy to see why Portugal is one of Europe's most popular year-round destinations.
Visiting Portugal soon? Read one of the following guides: