Perfect Weekend In Seattle Itinerary
Seattle is one of the most favored cities in America, both for living and visiting. Its waterfront location and mountain surroundings make the city an ideal destination for outdoor activities.
What's more, its hipster cafe culture and quirky, artsy vibes attract foodies and art lovers.
Because of this, Americans love to spend a weekend in Seattle, and many international visitors stop by for two days in Seattle as part of a road trip.
So, if you're planning a short trip to this northwest seaport city, you'll surely want to know how to make the most of your time there.
We're sharing our two day Seattle itinerary containing all the city's best sights and activities.
Read on to discover how to have the perfect weekend in Seattle.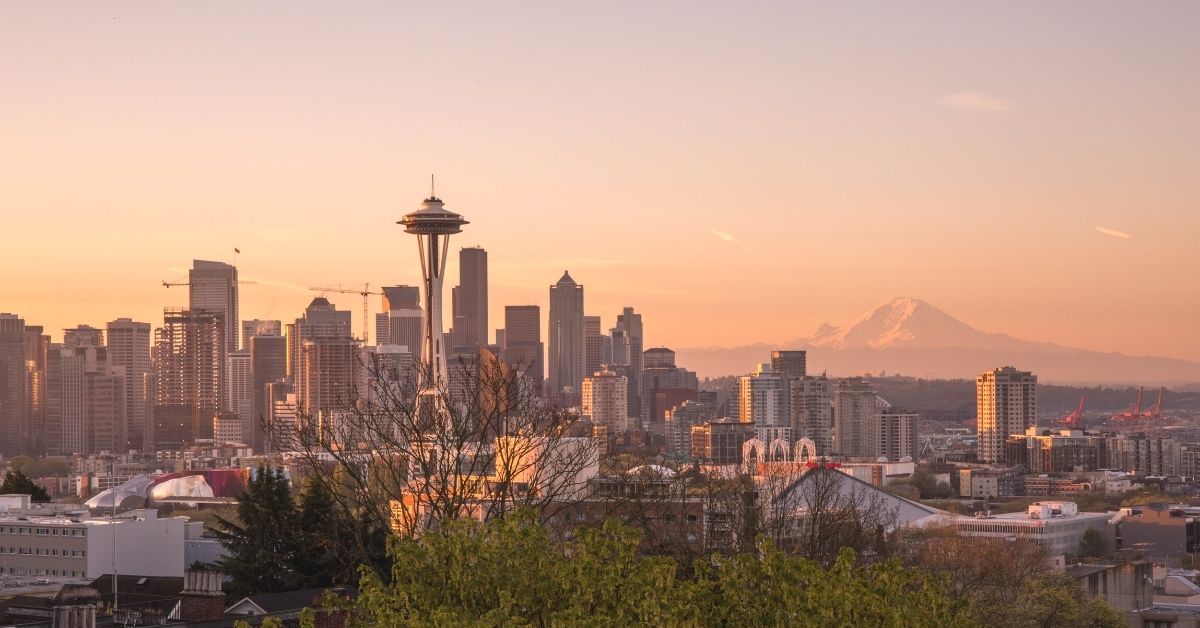 Seattle Day 1
For your first day in Seattle, you'll get to see the downtown and waterfront area, some cool districts like Pike Place and Bell town, before watching the sunset and a light show in the evening.
Morning – Downtown Seattle & Pike Place
Start your 2 days in Seattle exploring Downtown. Pioneer Square is Seattle's original neighborhood.
It was victim to the Great Fire of 1899, and parts of the area were destroyed and later restored. However, many of the ruins remain, making it an exciting place to explore.
Along with the old ruin structures, the square today is full of hipster cafes and boutique shops.
However, a must-see sight in this area is one you would never expect, the hidden UPS Waterfall Garden Park.
You can find this artificial waterfall and gardens at the original UPS headquarters on 2nd Avenue South.
Many tourists miss this hidden gem as it's in such a secluded spot. Therefore, if you visit early in the morning, you can soak up the tranquil atmosphere.
While you can wander around Downtown Seattle yourself, an excellent way to explore the area and learn about its history is to join the underground walking tour for $22.
As well as seeing the streets, this tour takes you through the underground passageways built in 1890.
The next district up from Downtown Seattle is Pike Place, where you'll find the iconic Gum Wall.
As you can guess, this attraction is a wall in a small alley covered in multicolored chewing gum.
While it's not your usual sightseeing spot, it's a great example of Seattle's creativity and quirkiness.
After all this walking, you have most likely worked up an appetite, so, luckily, the next stop of your weekend in Seattle is Pike Place Market.
This 9-acre farmer's market is one of the oldest in the country. It sells a wide range of fresh produce and food, along with arts and crafts.
The market has a busy Bazaar-like atmosphere, but you will find many places to eat lunch. My advice is to wander around trying a little of everything.
Pike Place is also home to the very first Starbucks, so why not stop by and enjoy a cup of joe from where America's coffee culture first began?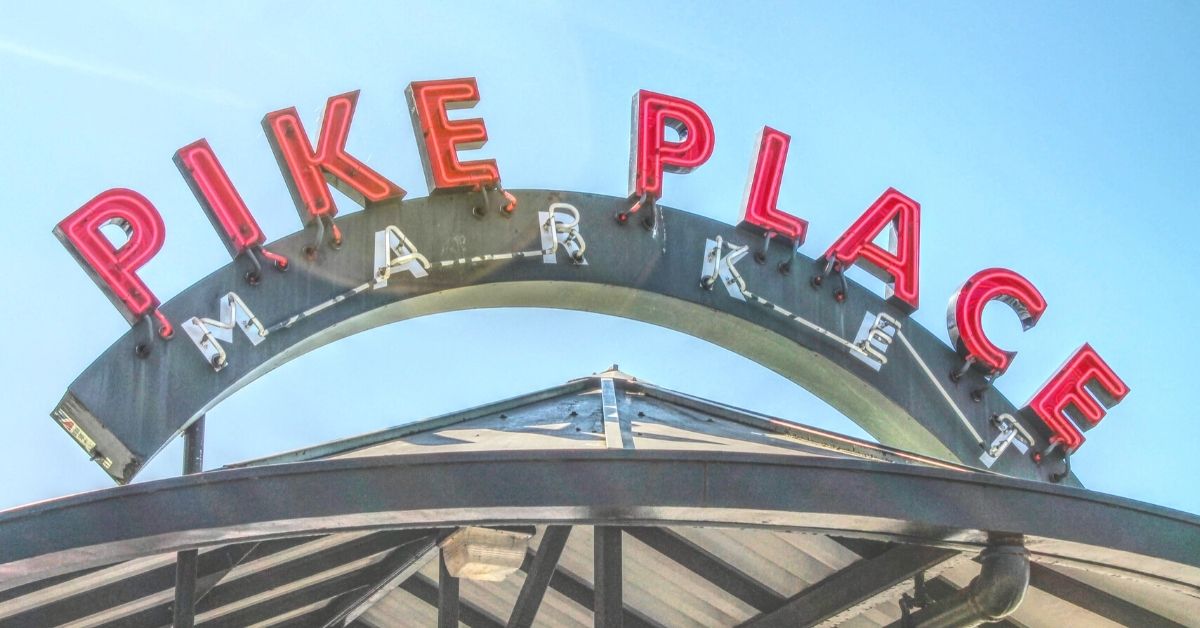 Afternoon – Seattle Waterfront & Bell Town
When you have finished in Pike Place, walk along the Seattle Waterfront to catch a glimpse of The Seattle Great Wheel.
Then, be sure to stop in at the 120-year old Ye Olde Curiosity Shop. Here you will find some very quirky souvenirs as well as collectibles and historical items.
Walk north past Pier 66, where you will come to Bell Town. Spend your afternoon enjoying the 9-acre Olympic Sculpture Park.
This garden belongs to the Seattle Art Museum and features numerous art sculptures.
It gives fabulous views over Puget Sound, so it makes an ideal place for a peaceful, scenic afternoon walk; plus, it's free to visit!
Evening – Sky View Observatory & Seattle Great Wheel Light Show
The Sky View Observatory is on the 73rd floor of the Columbia Center.
This is an incredible sunset spot as you get to see the sun disappear over the mountains in the distance and watch as the cityscape transitions from day tonight.
You can also enjoy the view with a drink from the bar. General admission is $25. You can grab your ticket in advance here.
Afterward, head to The Seattle Great Wheel on the waterfront for a spectacular light show.
Every Friday, Saturday, and Sunday night, the Ferris wheel runs a colorful light show with over 500,000 LED lights.
Then, grab a late dinner and drinks in Pike Place before retiring to your hotel.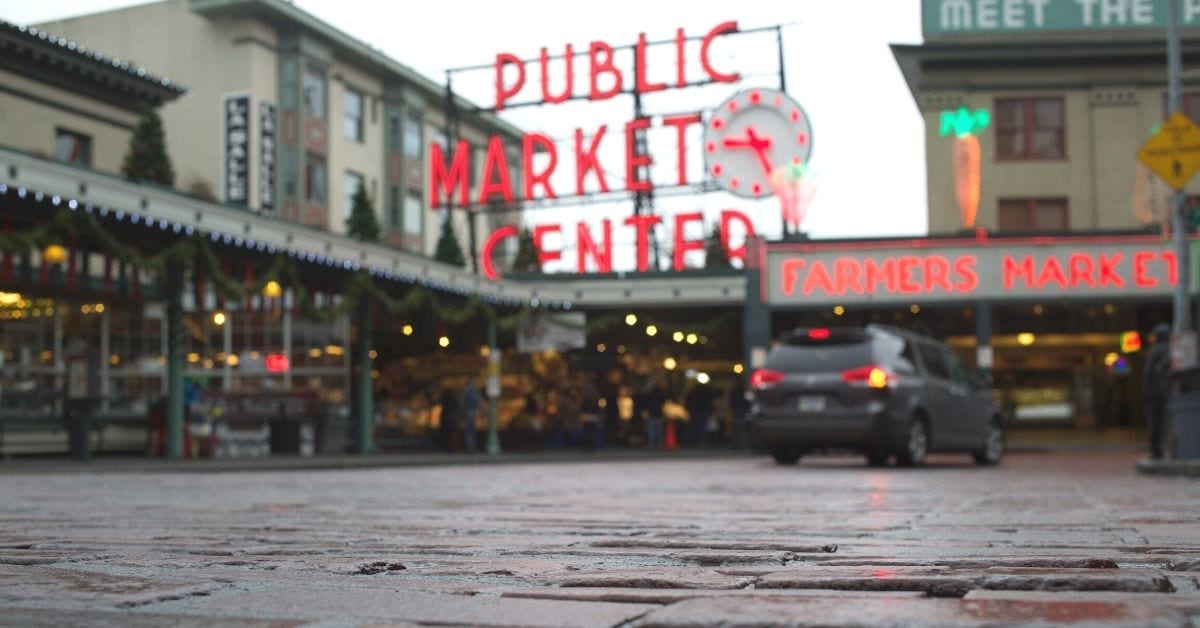 Seattle Day 2
For your second day in Seattle, explore the Uptown and South Lake Union areas, before having dinner and drinks in Capitol Hill.
Morning – Uptown
The uptown district is full of some fantastic attractions, so start your second day early.
First, fill your belly with breakfast at The 5 Point Cafe nearby, a classic American diner that dishes up large portions.
Then head to The Chihuly Garden and Glass Museum.
This impressive exhibition hall features eight galleries, a glasshouse, and a sculpture garden showcasing stunning glass artwork by artist Dale Chihuly.
The entrance costs $32. Chihuly's masterpieces are colorful, unique, and awe-inspiring. Therefore, the exhibition is a must-visit during your weekend in Seattle.
---
Want to connect with fellow long-term travelers? Join our exclusive Facebook group and take part in the conversation.
---
PSSST. Your travel medical insurance can now cover COVID-19! If you grab SafetyWing's Nomad Insurance, it'll be covered just like other illnesses. I've been using it since 2019 and I can assure you it's the perfect solution for nomads like you and me.
Next to the Chihuly Garden is the Space Needle, an iconic piece of architecture with a saucer-shaped observation deck and rotating restaurant.
The futuristic 605-foot tower was built in 1962, and it features an incredible panoramic of the city from the top.
Admission is relatively expensive, at $35. Still, you can buy a bundle ticket, including the Space Needle and Chihuly Garden, for a better deal.
The last stop of the morning is the Museum of Pop Culture, situated next to the Space Needle.
This museum is another example of Seattle's eccentric personality and is full of fun and peculiar things.
The museum is inspired by Jimi Hendrix and features items from all the famous pop music icons.
Plus, the venue showcases local talent with regular musical and artistic performances. Tickets cost around $30.
Afternoon – South Lake Union
East of Uptown is the neighborhood called South Lake Union, which is the tech hub of Seattle.
However, aside from the biotech headquarters, the area has many fantastic hip restaurants and is a fab place to grab lunch.
For example, Portage Bay Cafe is a popular daytime eatery with plenty of options for carnivores and herbivores, as well as healthy and unhealthy dishes.
Alternatively, Duke's Seafood is a brilliant lakefront restaurant for seafood and burgers.
A unique sight to see here is the Seattle Spheres Campus. Interestingly, this is the Amazon headquarters but also a high-tech greenhouse.
The spherical conservatories house over 40,000 exotic botanical plants from 30 countries.
Depending on the weekend you are in Seattle, you may get the chance to tour the spheres as they open to the public every first and third Saturday of the month, free of charge.
If a tour is not possible during your two days in Seattle, it's still worth stopping by to check out the cool glass-domed exterior.
Then, if you're feeling adventurous, rent a kayak or canoe to explore the stunning Lake Union waters.
Alternatively, you can take a sightseeing lake cruise if water sports are not your thing.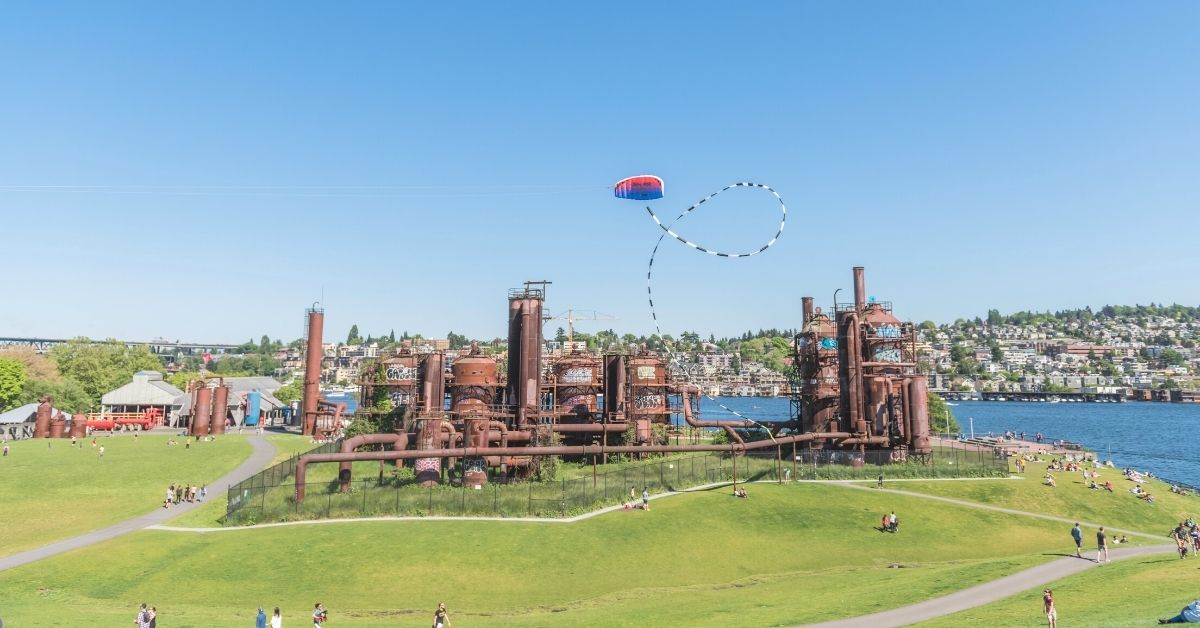 Evening – Dinner & Drinks In Capitol Hill
Capitol Hill is certainly Seattle's hipster hub and a great place to spend a non-touristy evening.
There are plenty of brilliant places to eat and drink here, including many Mexican restaurants.
Two of my favorites are Poquitos and La Cocina Oaxaqueña, which serve up delicious tacos and cocktails.
Or, if you're after American cuisine, check out Capitol Cider or Terra Plata. For dessert, I recommend Seattle's renowned ice cream parlor, Salt & Straw.
There are some equally excellent bars here, such as Linda's Tavern, a cowboy-themed joint, Unicorn, a colorful carnival-style bar with arcades, Optimism Brewing Company, a large beer hall.
Where To Stay In Seattle
Seattle offers a wide range of accommodation options, so you'll definitely be able to suit your budget and travel tastes.
Best Budget Accommodation
Suppose you want something cheap and cheerful without being far from the city center.
In that case, HI Seattle Hostel at the American Hotel is perfect. You can stay in a shared dorm for around $30 a night or get a private room with a shared bathroom for $60.
The hostel is just south of Pioneer Square in the Chinatown-International District. There is a common room, shared kitchen, free WiFi, and a complimentary continental breakfast.
Best Mid-Range Accommodation
citizenM is a hip hotel in the heart of South Lake Union with colorful artsy decor throughout and an eye-catching exterior.
This stylish hotel makes a great mid-range option as king rooms cost around $160 a night.
The rooms feature an extra-large bed, desk, modern private bathroom, air-conditioning, and extra amenities such as an iPad.
There are also lots of comfortable common areas, a bar, and a breakfast station.
Best Luxury Accommodation
If you want to splash out, why not stay somewhere unique like The Edgewater?
The Edgewater Hotel is located right on Seattle's waterfront at Pier 67, offering priceless views of Elliott Bay and the Olympic Mountains.
The rooms have cabin-style decor with real fireplaces, knotty pine furniture, and leather chairs.
Each room also has a European-style spa bathroom, coffee machine, and comfy seats around the fire. Rooms start from $230 a night.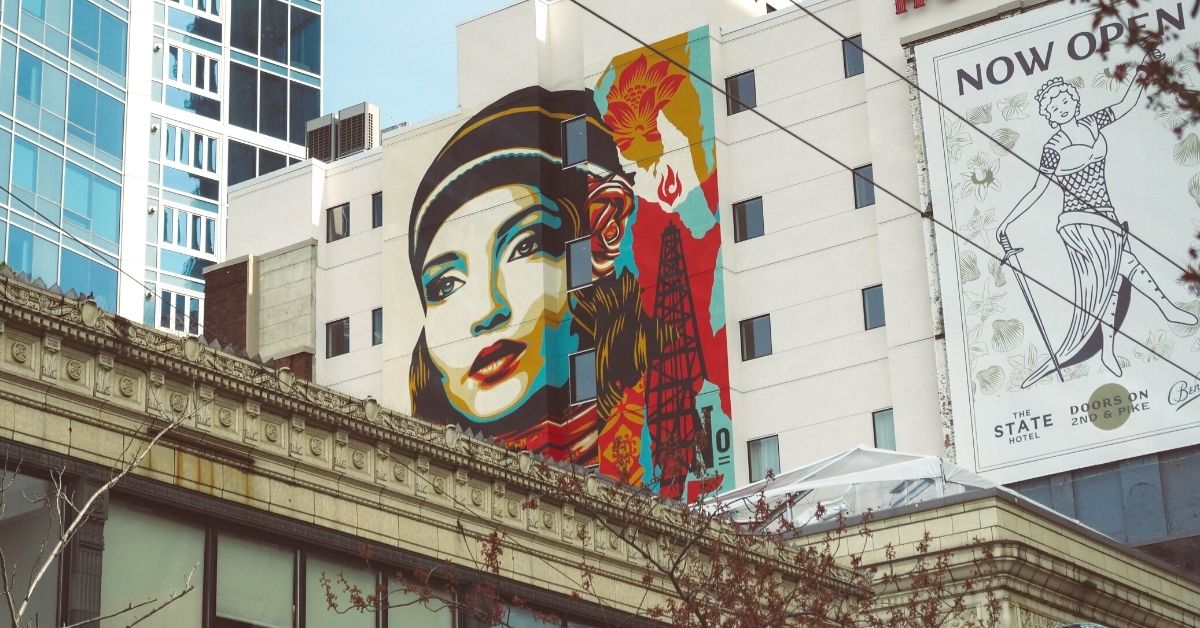 Final Thoughts
Seattle is a truly unique American city where each diverse district has a lot to offer.
Therefore, if you only have 2 days in Seattle, follow our Seattle Itinerary to ensure you can fit in all the city's best neighborhoods, sights, and attractions.
For some more travel inspiration, check out these 5 hidden vacation spots in the US!