Perfect 2 Days In Athens Itinerary
Spending 2 days in Athens and wondering what to add to your itinerary? You're in the right place!
Athens is a fascinating city, filled with ancient ruins and historic monuments. It's a great place to visit on a short break, with many of its main attractions located close together in the city center.
Ready to travel again? Don't go without travel insurance.
I recommend SafetyWing Nomad Insurance. I've been using it since 2019 and I can assure you it's the perfect solution for nomads like you and me.
If you are planning to visit Greece's capital for the first time, you may be wondering just what to do in Athens in 2 days and how to plan your time. This guide is designed to help!
We have put together a complete itinerary for you, with suggestions for what to do each morning, afternoon, and evening of your stay.
We've also recommended some great places to eat, plus a few accommodation options to suit every budget!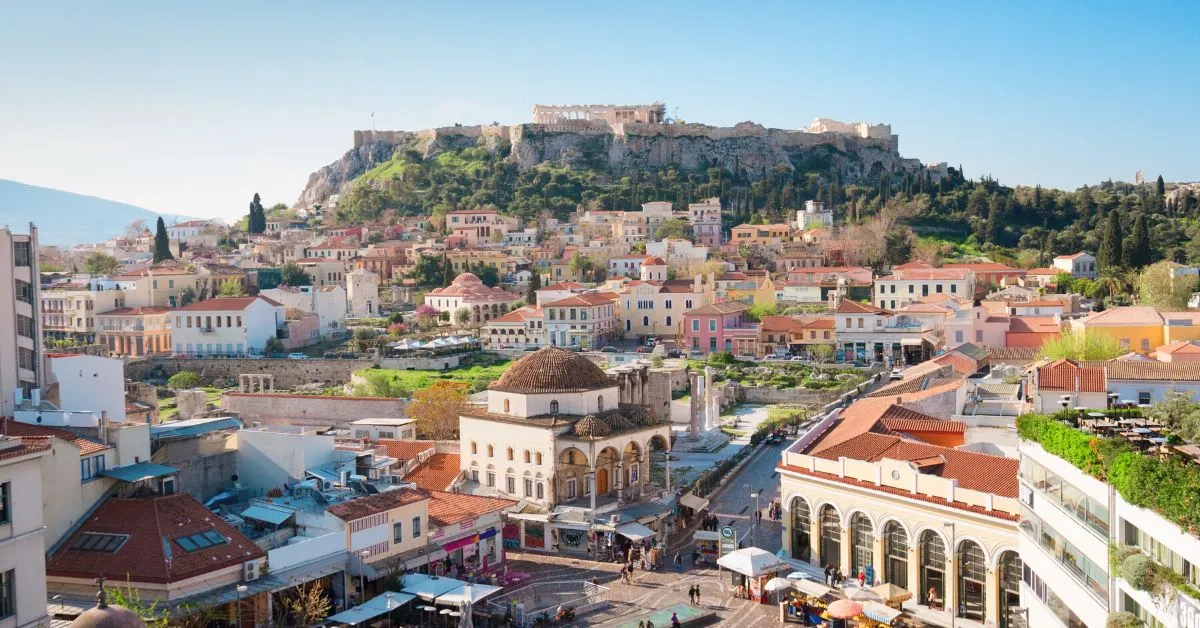 Day 1
On the first day of your weekend in Athens you will be seeing many of its important historic buildings and monuments, visiting two of its most picturesque neighborhoods, and taking a walk in the beautiful botanic gardens.
Morning
Start your day with breakfast in The Acropolis Museum Restaurant, located on the second floor of the New Acropolis Museum. The food is lovely, featuring a traditional Greek breakfast with bacon and eggs, pies with feta cheese, and sweet treats.
But the biggest attraction is the view – you'll be looking right at The Acropolis as you dine! How cool is that?
Once you've eaten, take time to see the rest of the museum – one of the most important in the world. Designed to sit harmoniously alongside The Acropolis, it contains ancient artifacts found at the site and gives you a good idea of how everything would have looked originally.
There are regular workshops to help you learn more about ancient Athens and a varied program of seasonal exhibitions.
Be sure to check out the excavations under the building. Whilst the museum was being constructed, the homes and streets of a traditional neighborhood of Ancient Athens were discovered and then preserved.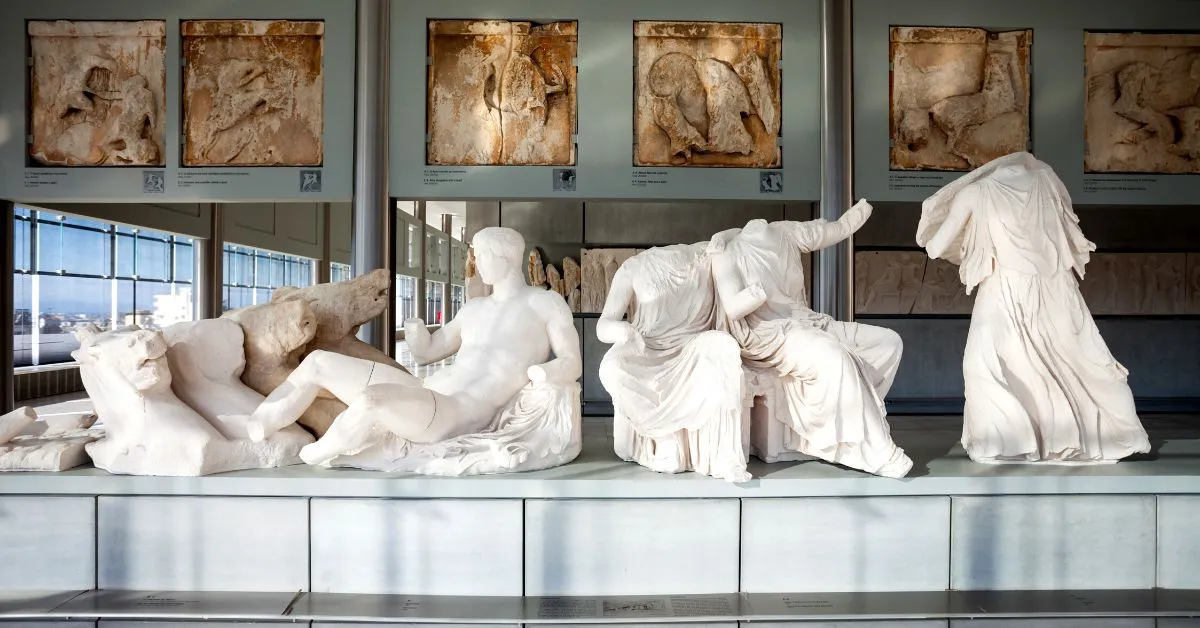 Your next stop is – naturally – The Acropolis itself. This UNESCO World Heritage Site is the highlight of the city for many visitors.
When you see it for yourself, you can understand why. Enter via the lower entrance and you can see the well-preserved Theatre of Dionysys and the Odeon of Herodes Atticus.
At the top are the Temple of Athena Nike (the smallest temple in the religious citadel), The Erechtheion, and Propylaia (the ceremonial gateway entrance).
But the real star of the show here is the impressive Parthenon. This temple dates back to 432 BC and was dedicated to the goddess Athena, after whom the city is named.
The most famous building in Greece, it was originally constructed to serve as a treasury and to house Athena's statue.
Featuring typical Doric architecture, it is decorated with sculptures and has a frieze all the way around the top, although the carvings you see are copies (you should have seen the originals in the museum).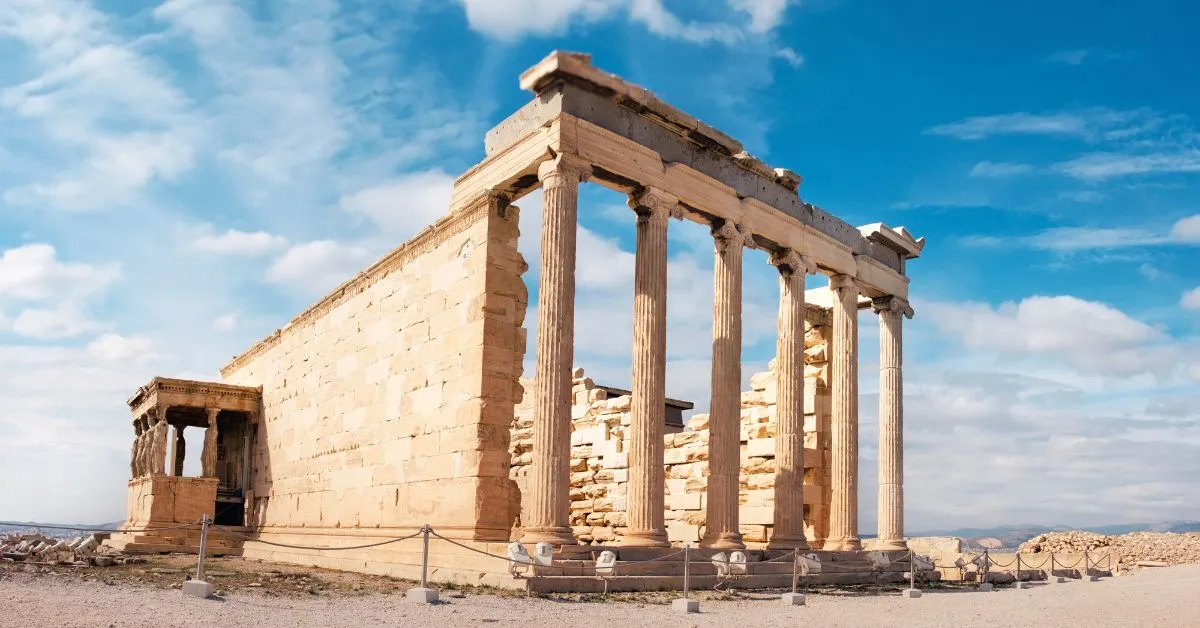 To complete your morning, take a stroll to the nearby neighborhood of Plaka.
Filled with pretty buildings and narrow streets, it is very photogenic and feels just like a little village.
Another short walk will take you to the charming settlement of Anafiotika, with its island-style whitewashed buildings.
Be sure to stop in a local cafe for lunch, maybe followed by baklava – a traditional Greek dessert.
Afternoon
After lunch, it's a 10-minute walk to your next stop – the Temple of Olympian Zeus.
This imposing structure with its impressive columns was dedicated to Zeus, the most important Greek god. What you see today are the ruins of the original monument and just 16 of the original 104 huge Doric columns.
At one point it was Greece's largest temple, but it was destroyed during a barbaric invasion of Athens and never rebuilt.
Mere steps away from the Temple you can see Hadrian's Arch. It was originally commissioned by the Roman Emperor Hadrian and stands beside what was once the road separating Athen's center from the Temple of Olympian Zeus.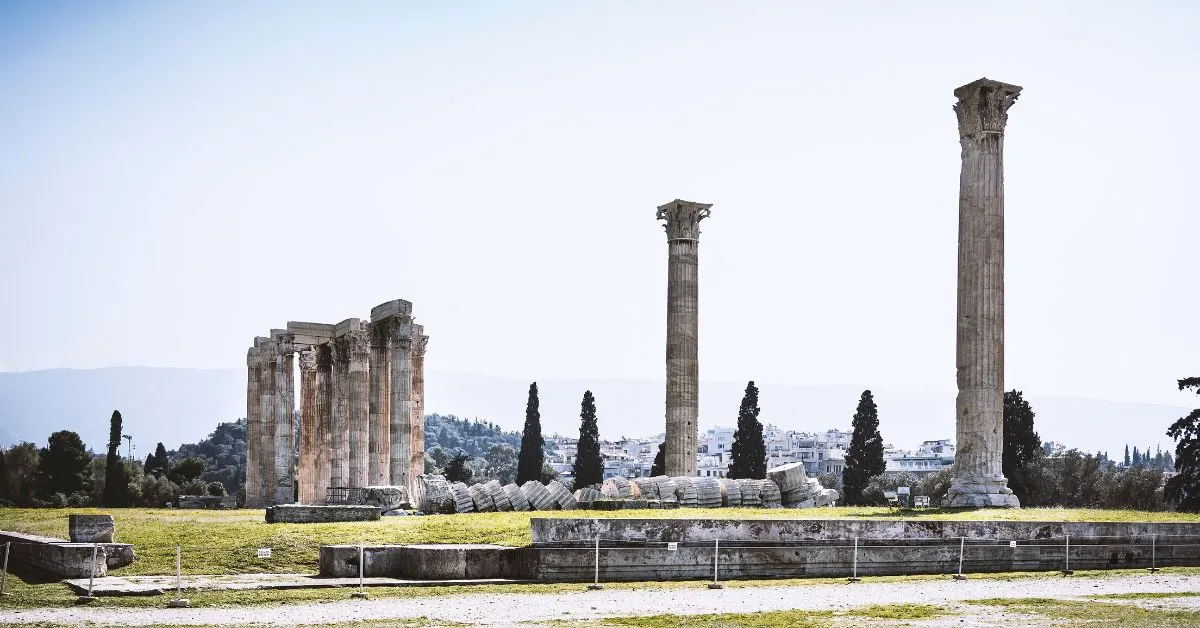 From there, head to the Panathenaic Stadium – a 'must-see' for sports fans!
This reconstructed stadium is where the first modern Olympic Games were held in 1896, and you can walk along the track in the footsteps of the original athletes. There is also a small museum on site where you can see Olympics-related memorabilia.
To end this busy day of sightseeing, take a 10-minute walk via Irodou Attikou to the National Garden. A lovely oasis of green in the city, it spans over 15 hectares and contains more than 500 species of bushes and trees.
It is free to enter and has a tranquil atmosphere – the perfect place to rest your legs after all that walking!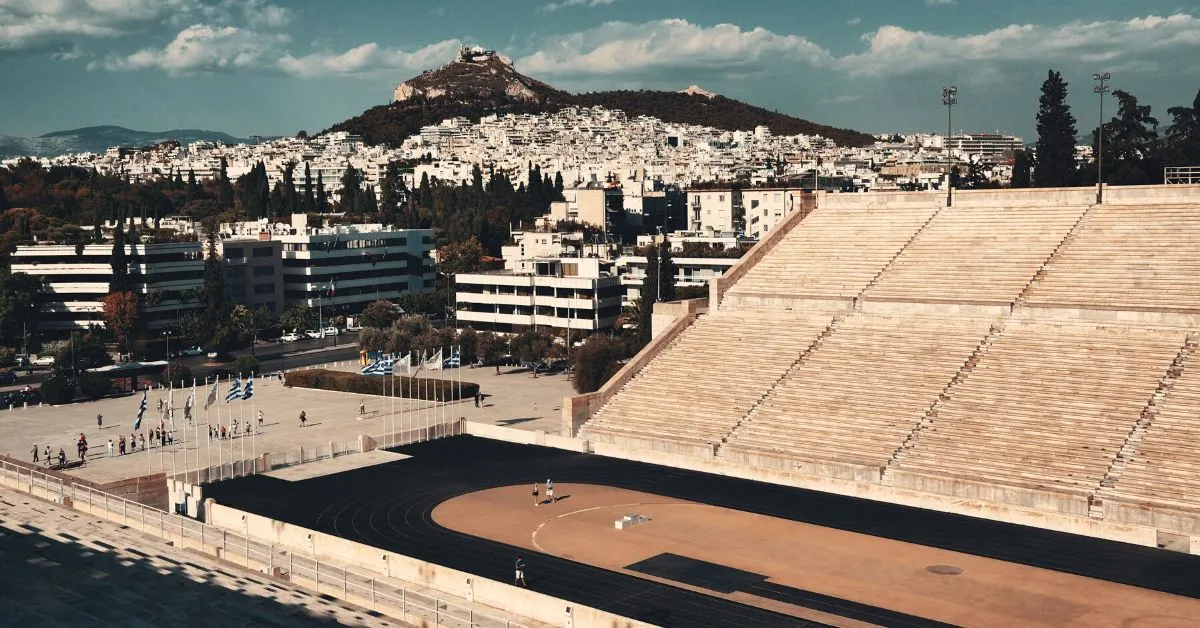 Evening
Once the sun goes down, the entire area surrounding The Acropolis looks quite wonderful, especially when viewed from one of the many rooftop bars that dot the city.
For the first evening of your weekend in Athens, we recommend paying a visit to Point a (Acropolis Point). This is an open bar and restaurant located on the terrace of the Herodion Hotel.
Serving imaginative cocktails and adding its own flair to traditional Greek dishes, the restaurant provides simply stunning views of the Acropolis as you dine.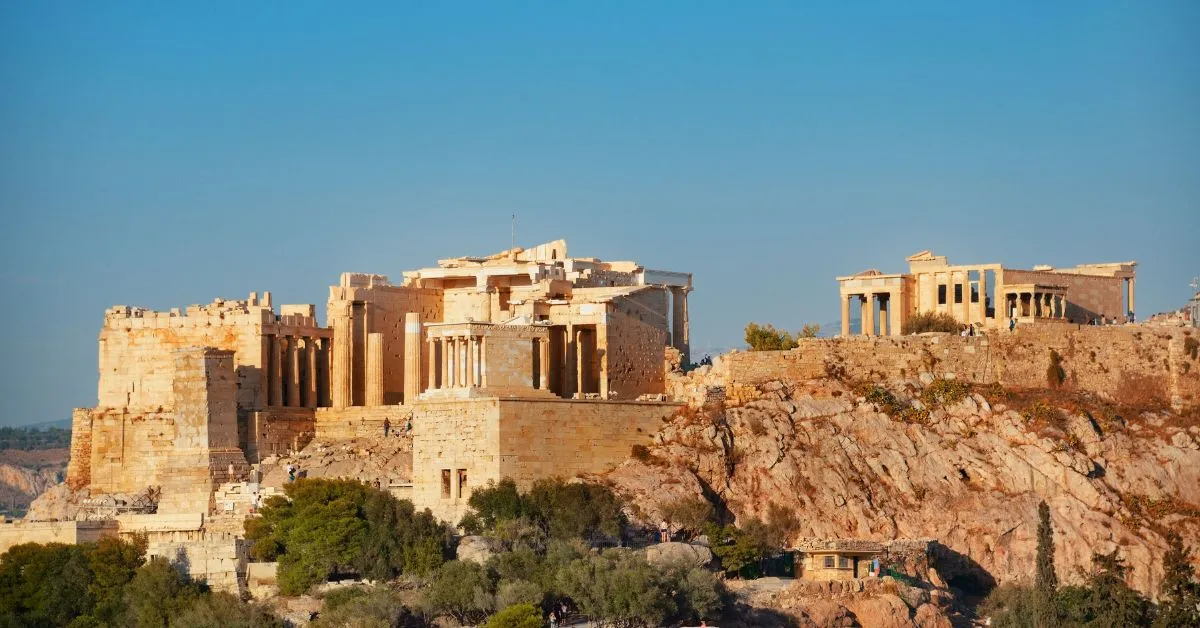 Day 2
On the second of your two days in Athens you'll visit more historic sites, see the Changing of the Guard, go souvenir shopping in Monastiraki, and experience the hustle and bustle of the city's lively market.
Morning
Start your day at Kerameikos. Often overlooked by visitors to Athens, this is the city's ancient cemetery and it is quite beautiful.
It contains tombs dating back to the Bronze Age and was used as a burial ground for a thousand years.
You can see the Street of Tombs – used just for the most elite citizens of Athens – and some fascinating grave markers, with carved scenes showing you how life in the city looked in days gone by.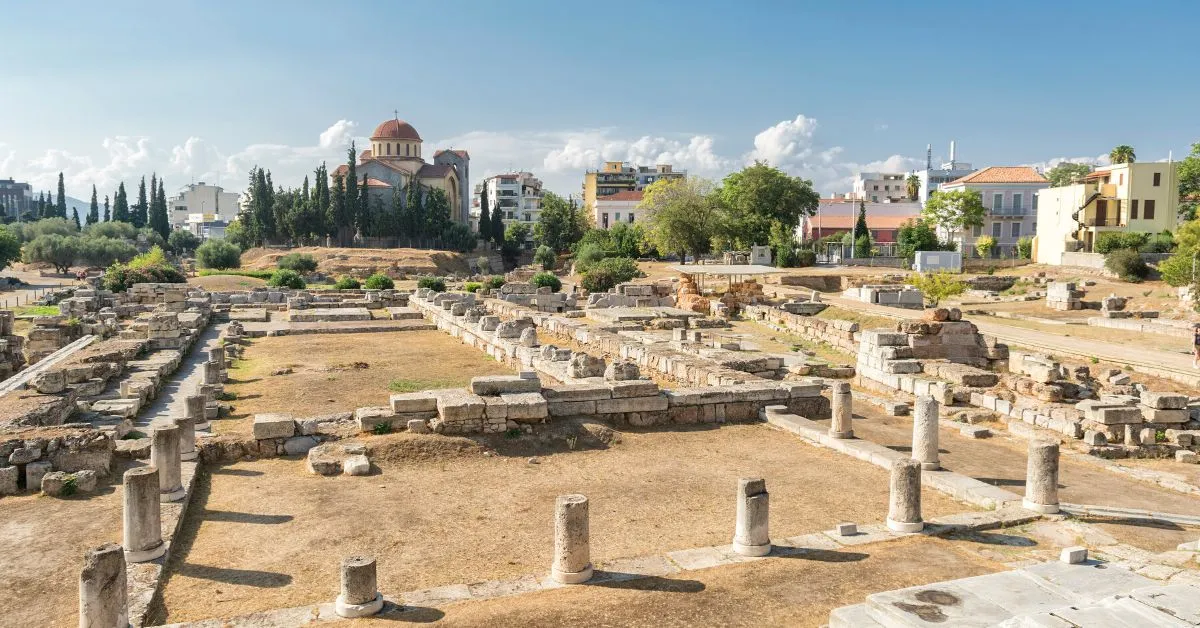 After that, take a walk to The Ancient Agora, just under 10 minutes away. This was originally a place of public assembly and was pivotal to the business, political, and social life of the city.
Inside, you can admire the magnificent Dorian temple devoted to the god Hephaestus. This was built around 450 BC and is the best-preserved ancient temple in Greece.
Although you can't go inside it, you can walk around it. You might also like to take a look inside the museum and visit the Aggii Apostoloi church.
Next, make your way to the Roman Agora. It is smaller than the Ancient Agora and not quite as impressive, but its recently renovated Temple of the Winds is worth visiting.
To complete your morning – and find somewhere for lunch – head to Monastiraki Square.
This is where you'll experience the modern side of Athens and do your souvenir shopping! If your 2 days in Athens happen to include a Sunday, you can also take in the Monastiraki Flea Market, where you'll find antiques and interesting items for sale.
If you get time, be sure to check out the ruins of The Library of Hadrian, which was established by Emperor Hadrian in the 1st century.
You are spoilt for choice when it comes to lunch options, but one of the best places to try is Efcharis, just steps from Hadrian's Library. It serves rustic Greek cuisine and has outdoor seating so you can sit and soak up the atmosphere as you eat.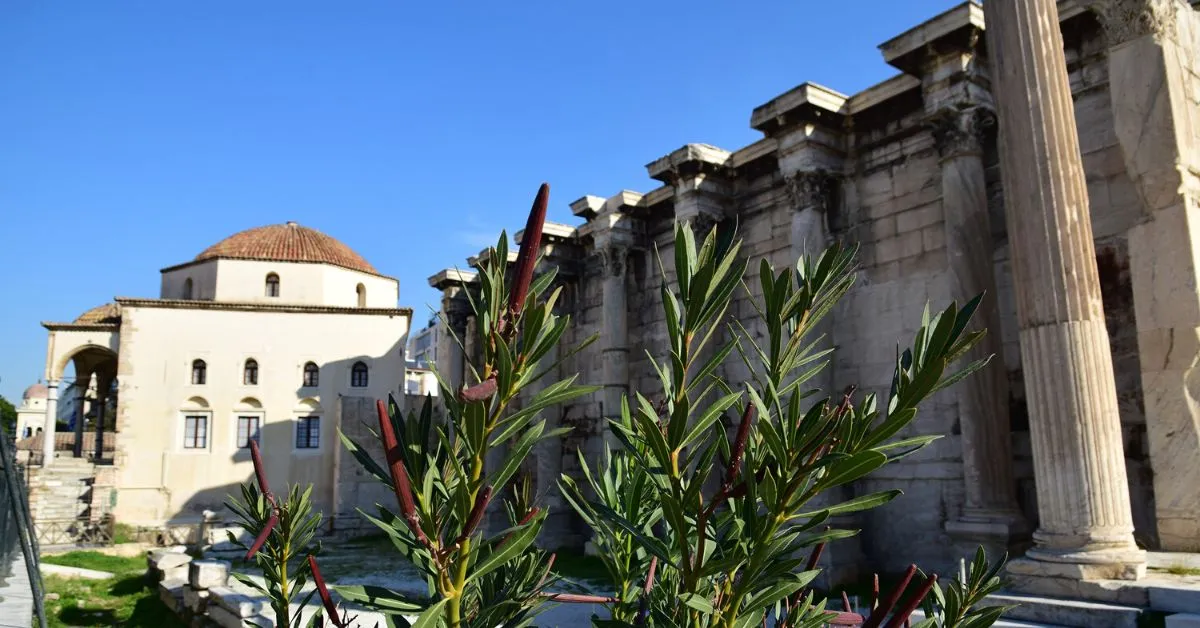 Afternoon
Take a stroll along Ermou (checking out the trendy shops as you go) until you reach Syntagma Square. Occasionally the site of demonstrations and political protests, this is where you can watch the iconic Changing of the Guard.
It takes place next to the Tomb of the Unknown Solider, just in front of the Athens Parliament Building.
Two Evzone guards from an elite division of the Greek army watch over the building 24 hours a day. These change on the hour, every hour, in a very solemn ceremony.
(Note: If your visit includes a Sunday, you may wish to modify this itinerary a little so that you can see the Changing of the Guard at 11 am. On Sundays, the whole ceremony is much more elaborate and impressive.)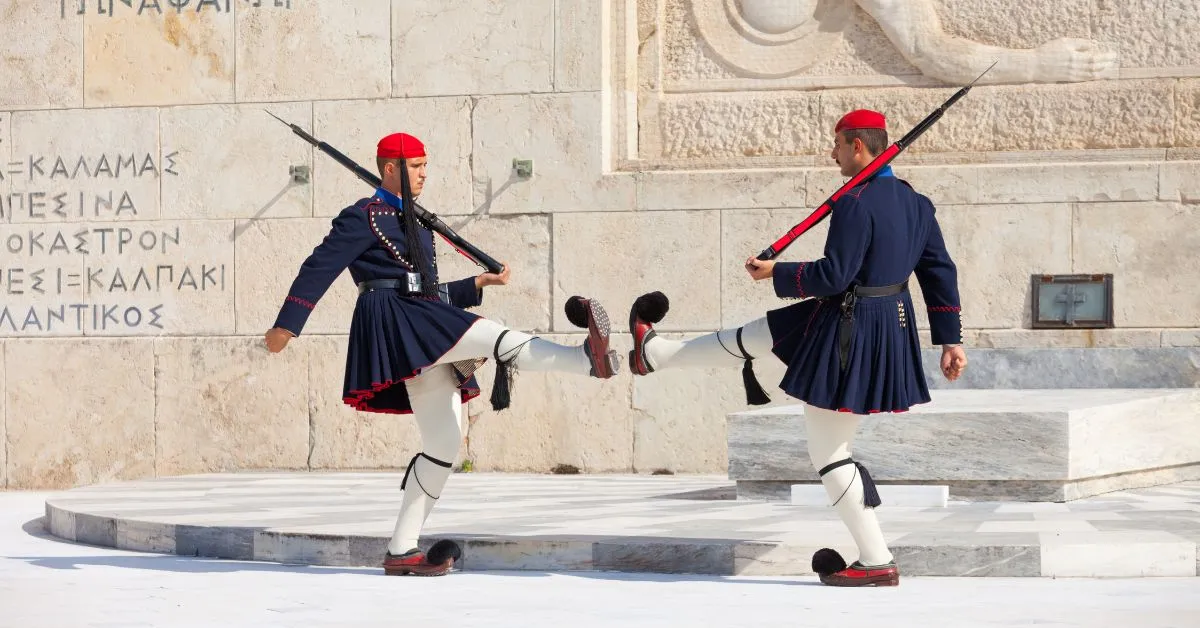 Take a moment to admire the Parliament building itself, which is housed in a nineteenth-century Royal Palace, then head to the city's vibrant Central Market.
There is lots of fresh meat, fish, spices, and produce available, with some weird and wonderful ingredients that you may not have come across before!
The final stop of your two days in Athens is at the National Archaeological Museum. Some people think this is the best museum in the city and it's definitely not to be missed.
It contains treasures like the original Mask of Agamemnon and a wide variety of artifacts from every period of Greek history.
This is a large museum and it will take a good few hours to see it all.
Evening
The perfect way to end your 2 days in Athens is with a walk up Lycabettus Hill. Depending on your pace, it will take you from around 30 minutes to an hour.
Time it so that you can admire the fabulous views from the top, located 277 meters above sea level, and then watch the sun go down.
At this point, all the city's important monuments are illuminated – a spectacular sight that will leave you with a lasting memory of your visit.
There is a funicular to the top of the hill if anyone in your group has mobility issues. The only downside is that it ascends in a closed tunnel, so you don't get to enjoy the amazing views on the way up!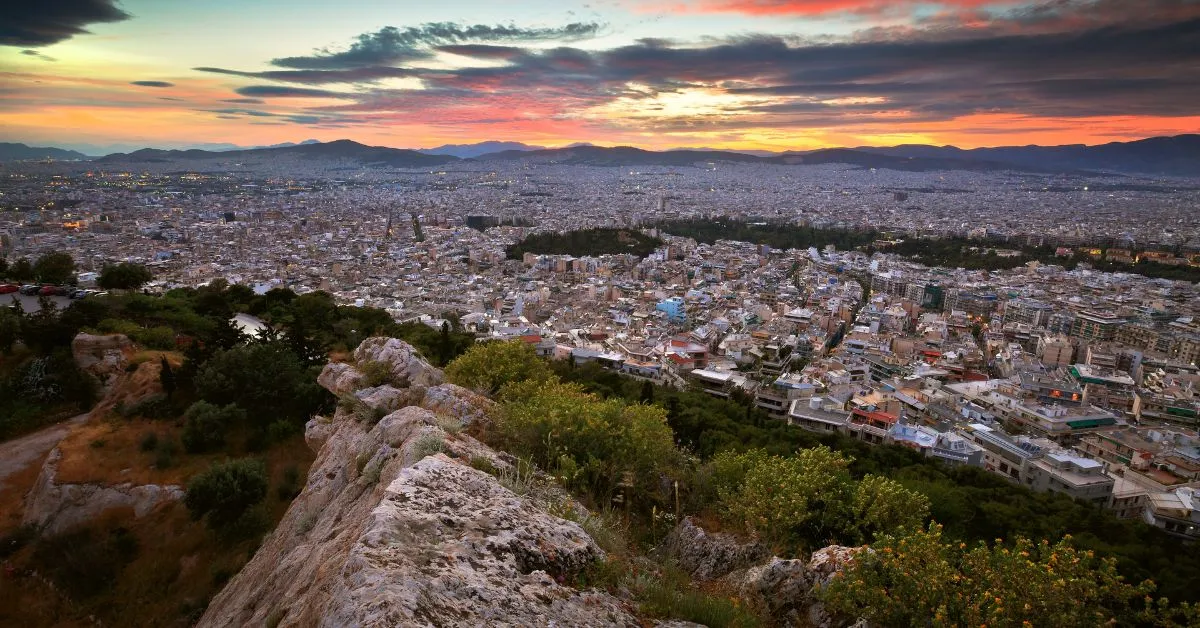 ---
---
Are 2 Days In Athens Enough?
Athens is packed with interesting things to see and it would be very easy to spend 4 days in the city and still not quite see everything!
But this guide to seeing Athens in 2 days takes in the major sights and combines history with just enough contemporary life to get a feel for the culture and its people.
Where To Stay In Athens
Here are some of our favorite places to stay in Athens, with a suggestion to suit every budget!
Best Budget Accommodation
You get the best of everything with the Bedbox Hostel – affordable prices and a great, central location. Just yards from Monastiraki Square, it offers a selection of private rooms and dorms.
Best Mid-Range Accommodation
Just 900 yards from the Acropolis, the Elia Ermou Athens Hotel boasts an à la carte restaurant with great views of the site.
It also has a wellness club with a cryosauna, fitness center, and hair salon. The clean, spacious rooms are furnished in a contemporary style.
Best Luxury Accommodation
Why not spoil yourself during your weekend in Athens with a stay at the Grande Bretagne on Syntagma Square?
Located right opposite the House of Parliament, it offers opulently furnished rooms and unmatched city views.
Final Thoughts On Two Days In Athens
This itinerary was designed to help you see the very best of Athens in two days. We hope that you enjoy every moment of your visit to Greece's enchanting capital city.
Traveling to Greece soon? Read one of the following guides: