Perfect 2 Day Itinerary In Prague
The capital city of the Czech Republic is one of Europe's most visited cities thanks to its awe-inspiring architecture, cultural heritage, and bohemian charm.
Here you will find stunning historic castles, baroque and gothic cathedrals, medieval squares, and beautiful old bridges.
However, it's not all about the architecture. Prague boasts some of Europe's best nightlife spots, a thriving arts scene, enticing food markets, and of course, top-quality beer!
If you're thinking of spending a weekend in Prague, you may have concerns that a 2-day itinerary in Prague will not be enough.
However, most travelers visit for a weekend getaway or want to backpack in Prague. Therefore, two days in Prague is certainly enough time to see the city's highlights.
Here is our 2-day itinerary Prague, detailing everything to do, see, and eat in this captivating city and the best places to stay during your two days in Prague.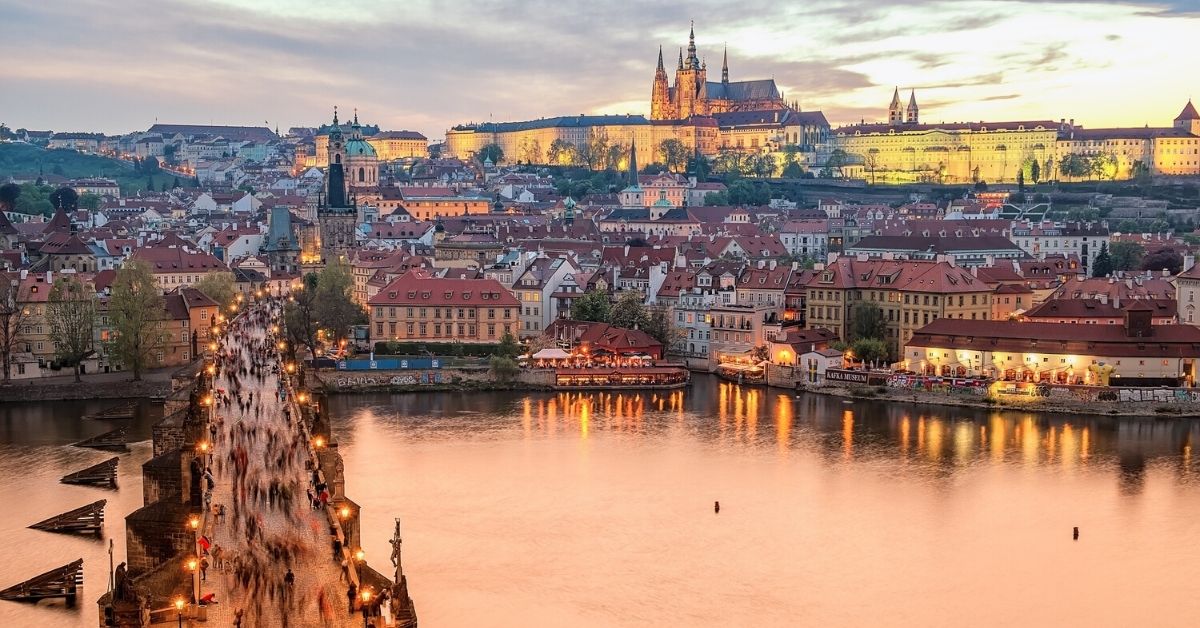 Prague Day 1
For your first day in Prague, enjoy the Old Town, the riverside, and then end the night with wonderful food and drinks at a chic outdoor market.
Morning – Explore The Old Town
The Old Town is usually the first stop for travelers spending 2 days in Prague, and for a good reason.
The historic center is full of Gothic buildings, dating as far back as the 10th century.
To explore this part of the city, you can join a free walking tour, or you can wander around at your own pace, depending on your travel style.
If you decide to join the free walking tour, tours depart every day at 10 am from the Old Square.
However, if you're taking a self-guided tour, the Old Square is also the best place to start. In the center of the plaza, you'll spot the Jan Hus monument, serving as a memorial to the famous martyr.
Next to the square is the Astronomical Clocktower outside the town hall, which has an astronomical dial showing the position of the sun and the moon.
On the other side of the square, you'll find the 14th-century gothic church known as the Church of Our Lady before Týn.
You'll spot this church from afar because of its unique-looking spires. Entry is free, although they do ask for a donation. You can also take guided tours around the church to learn about its history.
You'll then come to The Powder Tower, Prague's iconic medieval gate, built in the 15th century. The city gate was damaged during the Battle of Prague and has since undergone restoration.
You can go inside for 100 CZK (€4) and climb up the tower to see a lovely panoramic of the city.
One unique sculpture in the Old Town you certainly don't want to miss is the Hanging Freud, which, as the name suggests, is a sculpture of Sigmund Freud hanging from a pole above a street.
From here, head towards the river where you will come to Klementinum, the last stop of the morning. This complex contains one of the most beautiful libraries in the world.
You can take a guided tour of this stunning library for 300 CZK (€12), where you will learn about the astronomical history of the complex.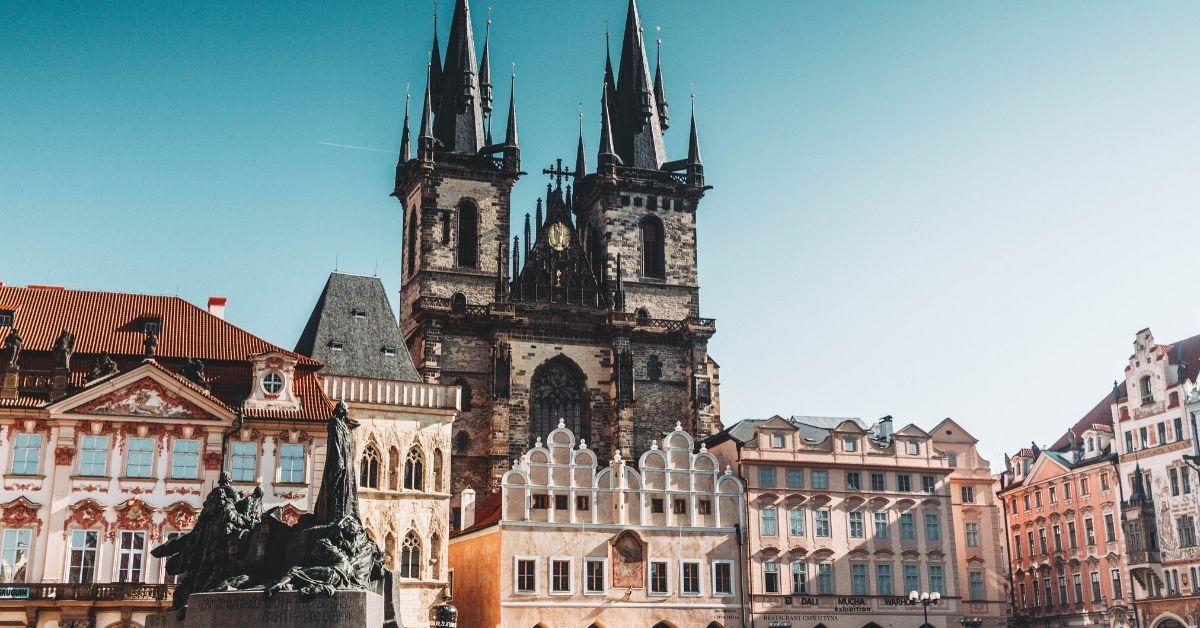 Afternoon – Riverside Landmarks & New Town
Now you've seen the majority of The Old Town take a well-deserved lunch break. You'll find some great eateries around Klementinum, including Potrafena Husa.
This restaurant has a traditional Czech kitchen that will whip you up a feast, and the service is very attentive. Save some space for one of Prague's iconic Chimney Cakes from Good Food Bakery.
The next stop on your 2 day itinerary Prague is the Old Town Bridge Tower. For 100 CZK (€4), you can climb the tower's narrow winding staircase to arrive at one of the best viewpoints in the city.
Afterward, take a wander over the pedestrian-only Charles Bridge. This 14th-century stone bridge can get crowded, but it's worth it for the picturesque landscape.
There are often Czech artists, local musicians, and souvenir vendors along the bridge too. Not many people know that you can also go under the bridge from the other side.
So, once you cross over and arrive in the area of Mala Strana, find the steps to go underneath and check out the cool street art.
From here, head south to Čertovka River, also known as The Devil's Canal or Little Prague Venice.
It's a peaceful place to wander around, and the houses along the canal are beautifully decorated. Plus, there is a lovely historic watermill too.
Keep heading south, then cross Jiráskuv bridge to arrive in New Town.
Here you will find some quirky sights such as Dancing House, a unique curve-shaped office building designed by Frank Gehry.
There is also the rotating Franz Kafka Head to check out, one of Prague's strangest statues.
---
Want to get FREE accommodation in exchange for work? If you're traveling on a budget or want to save and extend your trip, this could be exactly what you're looking for. Worldpackers is a platform that connects travelers like you with hosts. It's just like volunteer work –exchange your skills for free accommodation. SAVE $10 and get 3 extra months added to your plan using my discount code. Learn more about how it works here.
---
Evening – Manifesto Market Florenc
At night, head to Manifesto Market Florenc, an industrial-chic outdoor food market and drinking hub with over 20 vendors.
There's always a great atmosphere here, and the food options are plentiful. It is a very hipster joint, though, so expect slightly high prices.
Then, for a more relaxed evening, head to Mlíkárna beer garden for a few drinks before calling it an early night. Or, explore The Old Town cocktail bars like The Alchemist, Black Angel's, or Hangar.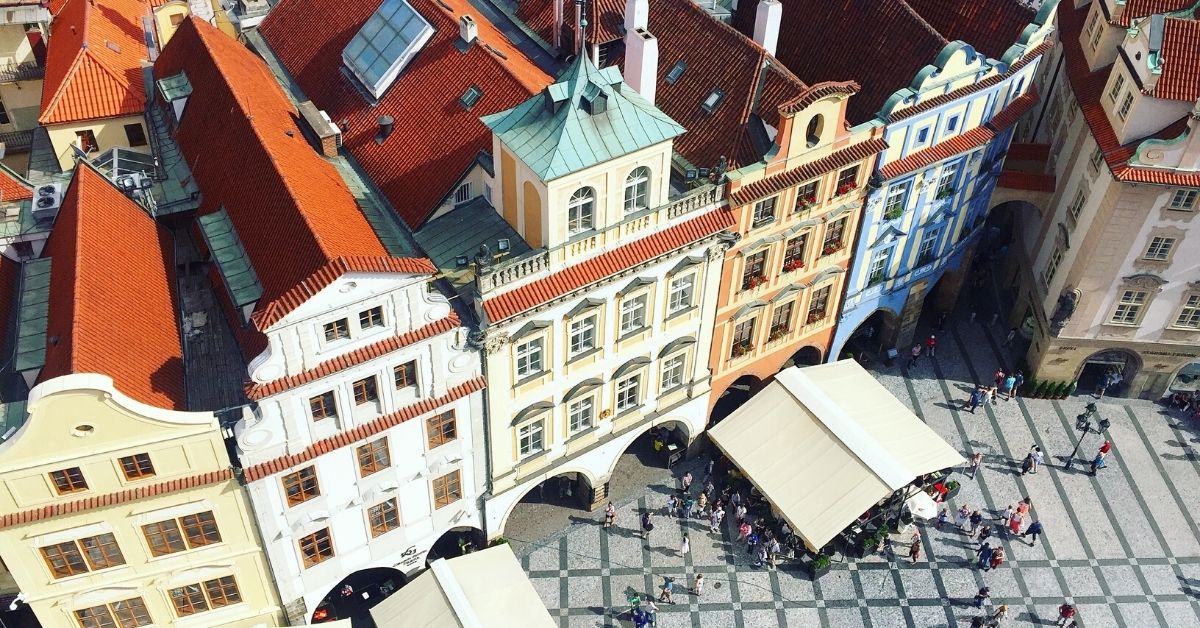 Prague Day 2
---
Want to connect with fellow long-term travelers? Join our exclusive Facebook group and take part in the conversation.
---
PSSST. Your travel medical insurance can now cover COVID-19! If you grab SafetyWing's Nomad Insurance, it'll be covered just like other illnesses. I've been using it since 2019 and I can assure you it's the perfect solution for nomads like you and me.
For your second day, spend the day exploring a castle, a monastery, some beautiful gardens, and then end with a concert or a beer tour!
Morning – Prague Castle
Start day two of your Prague itinerary with a visit to Prague Castle. This vast complex features architecture from Roman-style to Gothic to 20th century.
While it may not be the most beautiful castle you've seen, it is the largest castle complex in the world, covering almost 70,000 square meters.
Certain parts of the grounds are free to access, but you can buy a ticket for all areas for 250 CZK (€10).
The ticket includes St. Vitus Cathedral, Old Royal Palace, St. George's Basilica, Golden Lane with Daliborka Tower.
However, whether you buy a ticket or not, you might have to queue a while for security checks before you can get into the grounds. Therefore, we recommend getting there at 9 am for opening.
Afternoon – Petrin Gardens & Strahov Monastery
After a long morning exploring the palace, head to Petrin district for a more relaxed afternoon.
First, enjoy lunch at Bella Vida café, a quiet spot along the riverfront. Then grab an ice cream from Angelato and head into Petrin Gardens.
This enormous park is full of scenic spots, such as the lookout tower at the top of the hill. From here, you can enjoy expansive views of the entire city.
There is also an observatory, art gallery, small chapel, medieval wall, and various sculptures.
Next to the gardens is Strahov Monastery, home to another impressive historic library.
Admission is 120 CZK (€5), and while it isn't as big or lively as Klementinum, it's still worth a visit during a weekend in Prague.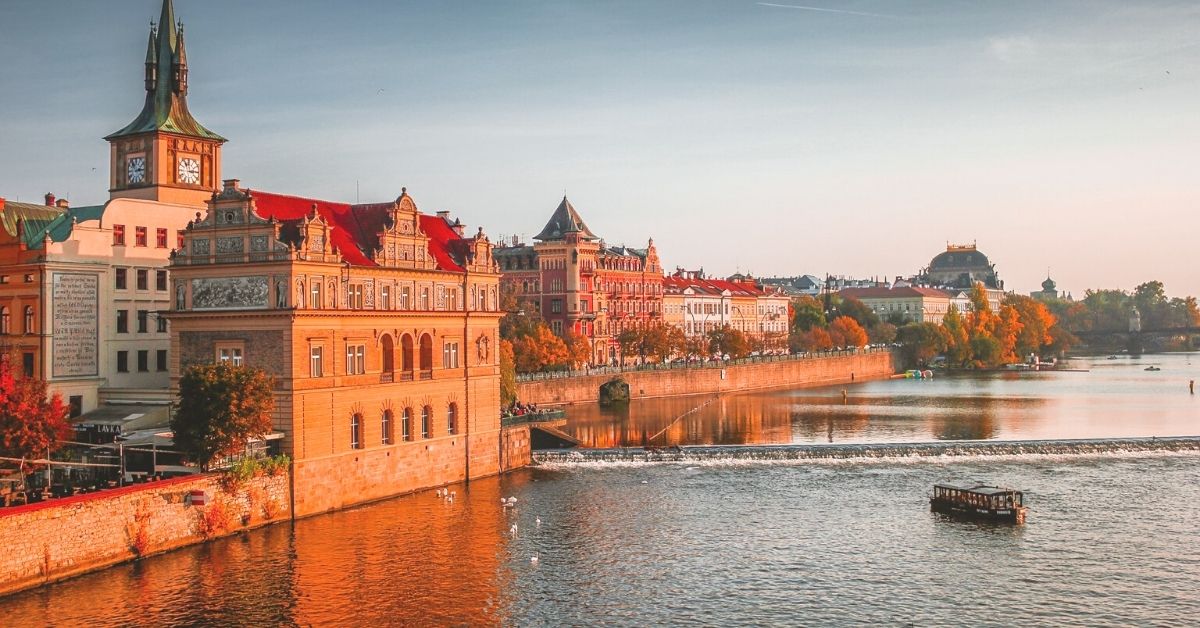 Evening – Concert At Municipal House Or Beer Tasting Tour
If you enjoy a good orchestra and are in Prague for the weekend, then a night at Municipal House is a must.
They hold concerts most Friday and Saturday nights but check their program ahead of time. Prices range from 150 CZK up to 1440 CZK for gold row seats.
If that's not your thing, why not join Prague's famous Czech beer tasting tour instead?
This is a great way to taste many of the country's best beers while learning about the history of beer production in the Czech Republic.
Multiple companies run tours, and prices are generally between 500 and 1000 CZK (€20-40).
Where To Stay In Prague
So, now you know how to spend your 2 days in Prague, where should you stay. We've picked our favorite hotels in the city, suitable for all budgets.
Best Budget Accommodation
Prague has so many cheap accommodation options, including private rooms, like at ​​Safestay Hostel, centrally located 5 minutes from Charles Bridge and The Old Town.
Here you can stay in a double room with a private bathroom for €27 a night.
The rooms have air conditioning, heating, and a fan so that you can control the temperature, no matter the time of year. The hostel has common areas, a bar, and they provide breakfast for €4.
Best Mid-Range Accommodation
For a unique Prague stay, check out 7 Tales Suites. 7 Tales is a range of short-term apartments in The Old Town inspired by Czech fairy tales.
The units are spacious, even the smallest one, Studio Cinderella, which costs €61 a night.
The studio includes a private bathroom, a small kitchen/dining area, free WiFi, and fairytale-style decor.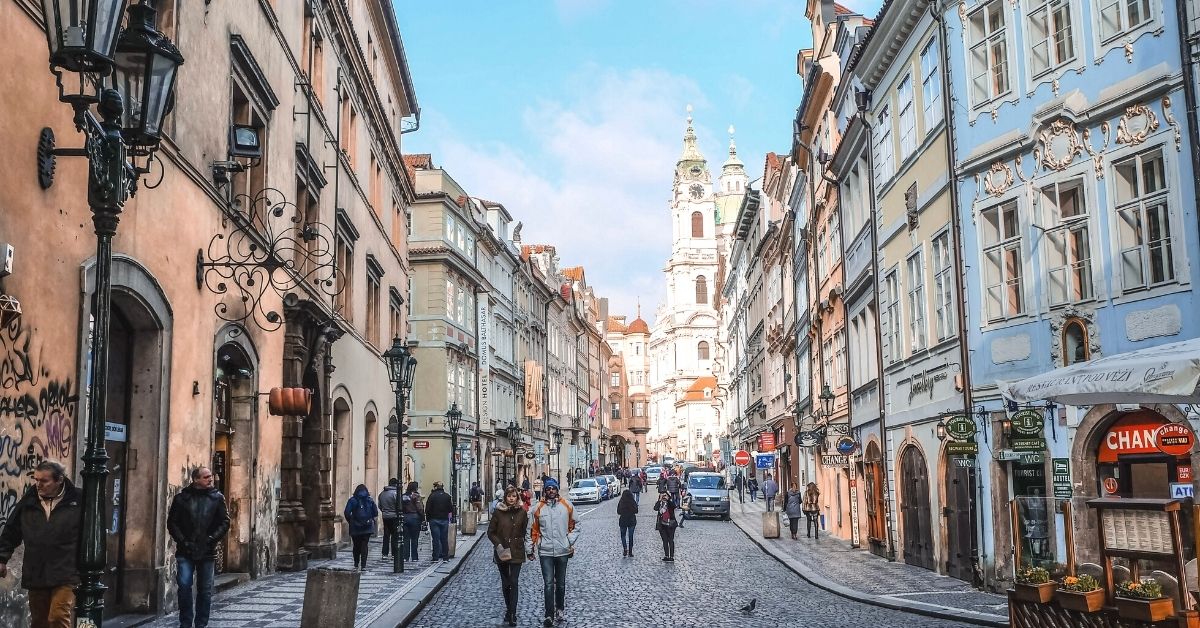 Best Luxury Accommodation
For a luxurious stay, choose the elegant Hotel Paris Prague, housed in a 17th-century residential palace opposite Municipal House.
The rooms here have traditional decor and original Art Nouveau furniture. The large marble bathrooms have underfloor heating and a bathtub.
An executive room here costs €200 a night, or a junior suite is €250. The hotel also serves up an excellent breakfast included in the cost.
You also have access to the spa facilities, including a jacuzzi, sauna, and steam bath.
Final Thoughts
Prague is a city full of wonder and charm. If you only have two days here, be sure to make the most of your time by following a 2-day itinerary in Prague like this one.
Whether you're a history lover or a hipster, the capital city of the Czech Republic will steal your heart.
Therefore, don't be surprised if you find yourself planning a second trip straight away!