One Day In Sintra, Portugal
Sintra is a delightful, historic town located on the foothills of Portugal's 'Serra de Sintra' mountains. It is famed for its medieval palaces and castles and its majestic beauty. Sintra is the perfect Portuguese town to experience the country's rich culture and heritage while appreciating the scenic mountainscape.
Being only 25 km from the country's capital, Lisbon, taking a day trip to Sintra is straightforward. Whether you're living and working in Lisbon, or are backpacking through Portugal, don't miss a visit to this enchanting town.
We've put together the ultimate guide of what to do in Sintra in one day, saving you the time and effort of researching for yourself. Here, you will find the must-see attractions and activities as well as the best spots to eat and drink. So, if you're looking to take a Lisbon day trip to Sintra, check out the itinerary below.
Pssst. Many tour operators in Lisbon are offering day trips to Sintra. GetYourGuide offers a private tour from Lisbon or Cascais – you can learn more here.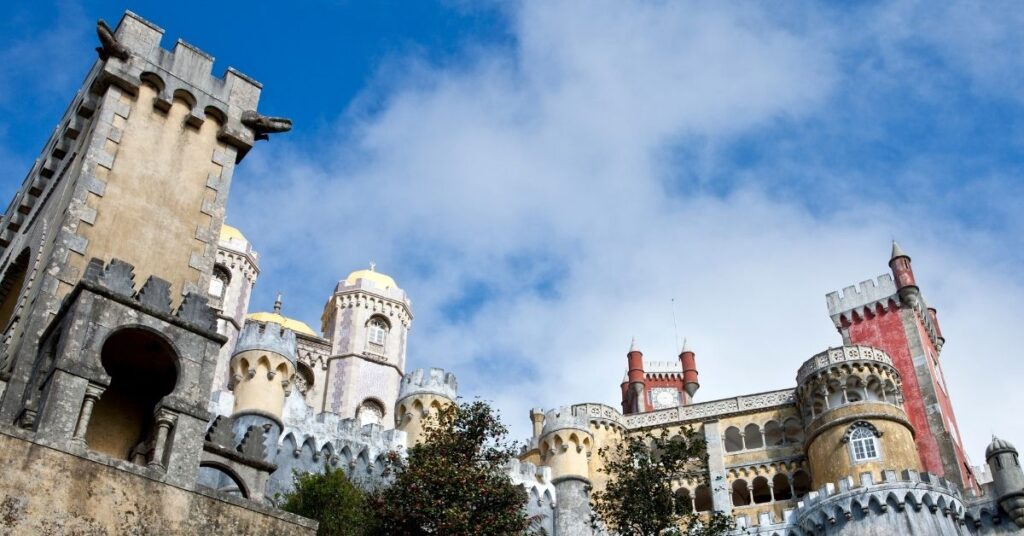 1. Explore the Ruins of Castle of the Moors
Start your Sintra day trip by taking a step back in time and visiting the ruins of a mighty castle that once defended the region. During the Moorish era (8th – 12th century), the Castle of the Moors (Castelo dos Mouros) was strategically built on an exposed rocky outcrop to give clear views of the coast and surrounding land.
After Christian Crusaders stormed the castle in 1147, it was left to become a ruin. However, in the 1800s, King Ferdinand II commissioned the partial restoration of the building. Today, it has become a popular attraction for visitors who are spending one day in Sintra.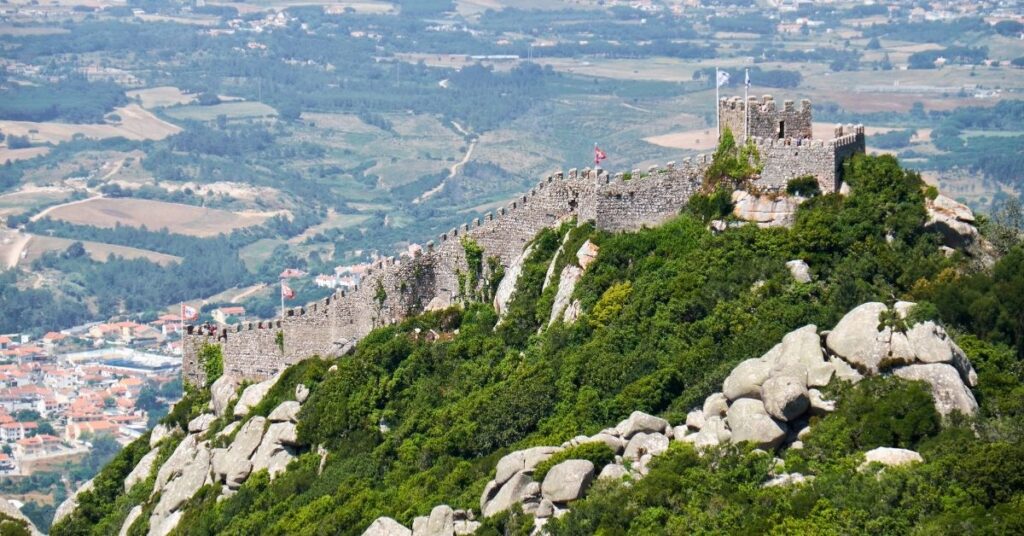 2. Experience One of Portugal's "Seven Wonders," Pena Palace
From Castle of the Moors, take a short trip to the fairytale, romanticist castle known as Pena Palace. The palace sits atop one of the highest hills in Sintra, providing stunning panoramic views of the town and beyond. It was constructed in the 1800s, after an earthquake in 1755 destroyed the monastery that was situated there before. Pena Palace is now a UNESCO world heritage site.
The castle's architecture consists of colorful walls and an eccentric design, influenced by several different styles, including Neo-Manueline, Neo-Islamic, and Medieval. Aside from the giant building, Pena Palace has a 200-hectare park boasting over 500 species of trees and plants from all over the world. Entrance to the palace includes access to the enormous grounds too.
3. Hike from Pena Park to Cruz Alta
Before you leave the palace grounds, challenge yourself to hike the 3.8 mile Cruz Alta loop. This trail is a great way to enjoy Sintra's beautiful nature as it takes you to the highest point in the Serra de Sintra (528m), which is marked by a stone cross. Here, you'll experience a magnificent and unique perspective of Pena Palace and the surrounding mountains. On clear days you can even see as far out to Lisbon.
The hike will take you around 90 minutes, but it's relatively easy and suitable for all fitness levels. Moreover, there is an easily accessible path all along the trail. It's certainly a rewarding hike, and you'll feel a great sense of achievement after completing it.
4. Take a Leisurely Lunch in the Old Center of Sintra
---
Want to get FREE accommodation in exchange for work? If you're traveling on a budget or want to save and extend your trip, this could be exactly what you're looking for. Worldpackers is a platform that connects travelers like you with hosts. It's just like volunteer work –exchange your skills for free accommodation. SAVE $10 and get 3 extra months added to your plan using my discount code. Learn more about how it works here.
---
After your hike, head to the Old Centre of Sintra to refuel. There are many fabulous restaurants here. If you're a fish lover, the 'Bacalhau Na Vila' restaurant is a must. This unique place specializes in Cod dishes, offering them as either tapas or a light meal. Other top-rated restaurants here include Villa 6, offering tasty local dishes in a cozy setting, and Dona Maria, for lunch with a view.
Be sure to take a stroll around the old center too. Soak up the pleasant atmosphere and watch the coming and going of the locals and tourists around. Admire the unique architecture of the old buildings and the narrow lanes, too.
5. Taste Sintra's Signature Sweet Treats at Piriquita
---
Want to connect with fellow long-term travelers? Join our exclusive Facebook group and take part in the conversation.
---
PSSST. Your travel medical insurance can now cover COVID-19! If you grab SafetyWing's Nomad Insurance, it'll be covered just like other illnesses. I've been using it since 2019 and I can assure you it's the perfect solution for nomads like you and me.
After lunch and a stroll around the historic center, stop in at the 155-year-old shop, Piriquita, for a coffee and pastry (or two). The most famous sweet here is the Travesseiro, a sticky, flaky, and sweet rectangular puff pastry filled with almonds and egg cream.
Another Sintra exclusive treat to try is the Quijada. This is a small circular cake made with eggs, milk, sugar, and cheese. The unlikely ingredient of cheese gives the cake a smooth texture and a sweet-savory flavor. Trust us, your day trip to Sintra will not be complete without trying one of these!
6. Check Out Sintra National Palace
The Sintra National Palace is located right in the heart of Sintra town, so it makes for an ideal first stop after lunch. The palace was inhabited for nearly eight centuries by the Portuguese monarchy and is now a present-day historic house museum, displaying collections of life between the 16th and 18th centuries.
The national palace has the same gothic style as the other historic buildings in Sintra. One of the first things you will spot is the two distinctive chimneys rising out of the roof. Inside, the walls and ceilings are covered with Portuguese decorative artwork to admire.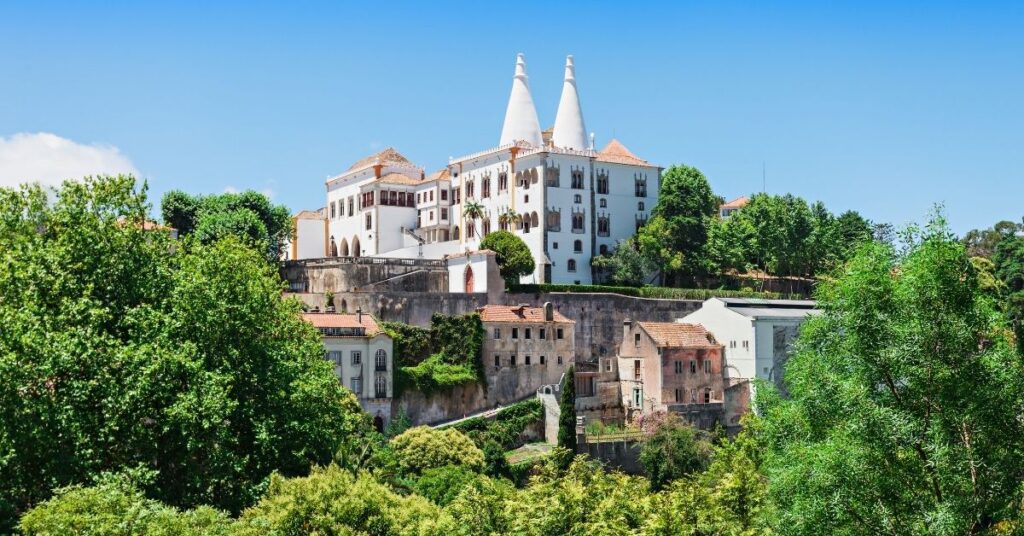 7. Visit the Fascinating Quinta da Regaleira
Not far from the Sintra National Palace is the Quinta da Regaleira. This is an intriguing country estate full of symbols of ancient cultures. Lush trees surround the gothic-style palace, and at first glance, it looks like the perfect setting for a horror movie. It was built by an eccentric FreeMason, António Augusto Carvalho Monteiro, in the early 1900's. Like Pena Palace, the Quinta da Regaleira is now a world heritage site.
The property is home to a vast array of bewildering constructions such as a romantic palace and chapel and a luxurious park with lakes, caves, fountains, and more. It also houses the mysterious Initiation Well, a ceremonial well with a spiral staircase leading into a tunnel system.
Deep in the tunnels, you will find a vast selection of Pagan and occult symbols, prompting many thoughts and questions of what life was like during this period of history. You can take a 90-minute guided tour to learn more about the palace or explore it yourself. The last admission is at 5:30 pm, and the closing time is 6:30 pm, so you should have plenty of time to look around before concluding your one day in Sintra trip.
8. Stop for Dinner before Heading Back to Lisbon
Conveniently, there are some superb restaurants located close to the train station in Sintra. Therefore, if you're traveling back to Lisbon by train, it makes sense to enjoy dinner here first. Our favorite dinner spots are Incomum, for incredible risottos and mouth-watering desserts, and Metamorphosis, for inexpensive but hearty dishes for both meat-eaters and vegans. These restaurants may look like just a standard Portuguese diner from the outside, but the food quality is top-notch.
Getting to Sintra from Lisbon
Many tourists taking a day trip to Sintra from Lisbon choose to take one of the two direct train services that connect the towns. There is an average of four trains running each hour from Rossio station in Lisbon during the day. Another reason to opt for the train is the cheap fares. Expect to pay a couple of euros for a one-way ticket.
The train journey takes between 40 and 50 minutes, and Sinatra station is a convenient 10-minute walk from the town center. When traveling around Sintra, you can use the hop-on-hop-off bus that loops around most of the top attractions.
Alternatively, if you have a car or prefer to rent a vehicle rather than take the train, it's a short and easy 30-minute drive one way. This is providing the traffic is light, however. Driving also makes it easier to get around while you're here as you'll have more freedom and won't have to wait around for buses. However, do note that driving up to Pena Palace does consist of some steep and narrow roads.
If you are taking a day trip to Sintra from Lisbon in the summer, it's best to go as early as possible to avoid the crowds. Most attractions open at 9 am during the summer months, and the first train leaving Lisbon is as early as 6 am. Moreover, if you only have one day in Sintra, it's worth booking your entrance tickets to the attractions online so you can skip the long queues.
Final Thoughts
So, there's your round-up of how to spend one day in Sintra, Portugal. As you can see, Sintra has an abundance of culture and beauty to offer and is a must-see town in western Portugal. If you're a digital nomad based in Portugal or are currently planning a trip there, be sure to schedule a day trip to Sintra.