Must-See: The Best Beach Towns In France
The French coast extends for more than 621 mi (1000 km) and is incredibly varied. The best beach towns in France offer visitors everything from picturesque ports and glitzy resorts to tranquil beaches and surfing spots.
There is nothing better than spending time in a destination that combines stunning seaside views and cultural heritage – and that's just what the best beach towns in France are known for.
PSSST. Your travel medical insurance can now cover COVID-19!
If you grab SafetyWing Nomad Insurance, it'll be covered just like other illnesses. I've been using it since 2019 and I can assure you it's the perfect solution for nomads like you and me.
Read on to discover the best beach towns in France and the reasons they are so wonderful to visit.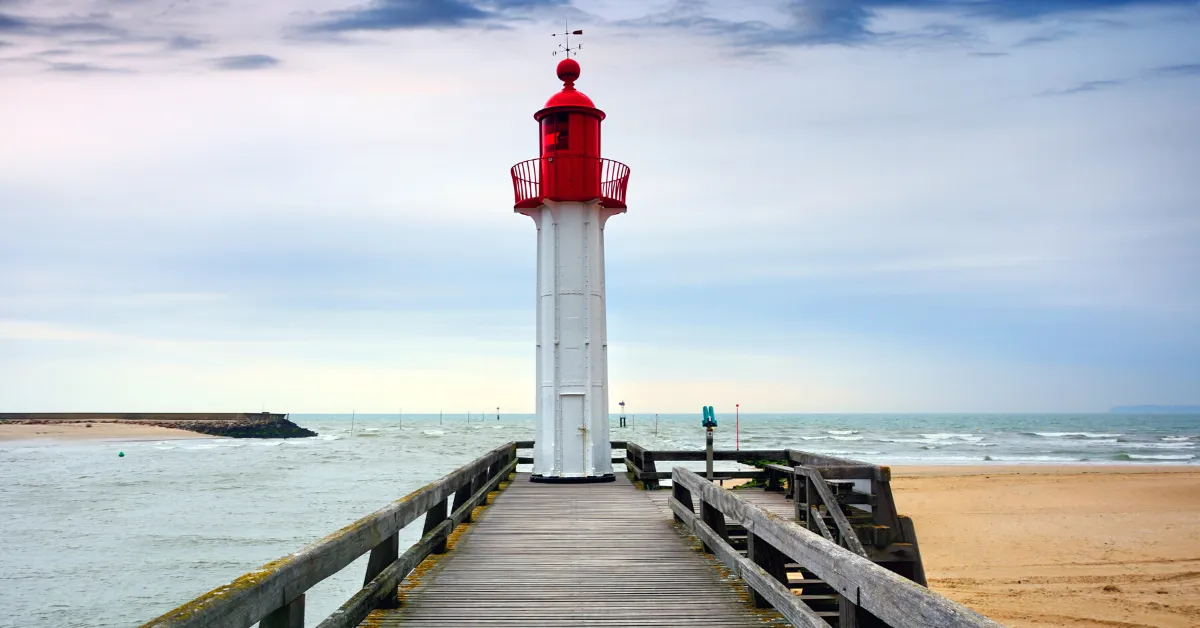 Trouville-Sur-Mer
Whilst you may have heard of Deauville, its neighbor Trouville may be less familiar to you.
Yet this unpretentious and traditional resort – located in the region of Calvados – just happens to be one of the best beach destinations in France.
Close enough to the D-Day landing sites to easily visit them if you wish, Trouville has long been the haunt of writers and artists. It is filled with gorgeous buildings and glamorous old villas, yet it has a low-key charm that makes it more appealing than Deauville to many, especially those with young families.
The beach is huge, offering a lot more room for children to play than in some of the other towns on the French coast. Meanwhile, the 19th-century boardwalk and typical seaside shops give it a traditional feel – something that is a little lacking in sophisticated Deauville!
Good places to visit include the bustling Marché aux Poissons (fish market) in the town center and the working fishing port. And you cannot leave without sampling the excellent seafood at any of the local restaurants.
Marseille
If you want to vacation on France's Mediterranean coast, then the town of Marseilles is one of the more affordable options.
France's second-largest city, it offers an inspiring combination of culture and beauty, with historic neighborhoods, fascinating museums, and stunning coastal vistas.
The Le Panier neighborhood is the oldest part of the city whilst the République quarter – filled with historic Haussmannian-style buildings and charming boutiques – is just waiting to be explored!
Take a walk around the old port to see the majestic Fort Saint-Jean, built under the orders of Louis XIV from 1668 to 1671, then stroll to the spacious beaches nearby. With calm waters and soft sands, they are safe for swimming and popular with young families.
Although there are some lovely shores within walking distance of the city, I strongly recommend a visit to the Calanques National Park at some point during your stay.
It's accessible via the village of Les Goudes, close to the city, and made up of coastal inlets with azure waters.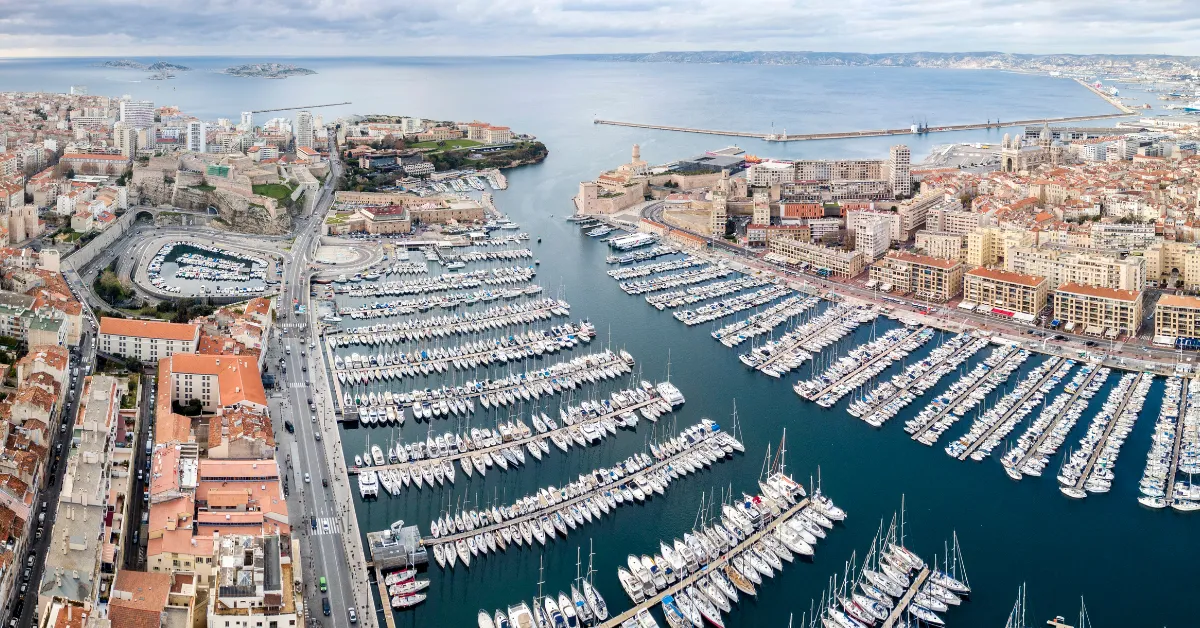 Saint-Tropez
Mingle with the rich, glamorous, and famous when you visit Saint Tropez, the very pinnacle of upscale beach towns in France!
This may be famous as a French Riviera resort for celebrities, but it started life as a lowly fishing village. And you can still see traces of its humble past, especially when you visit its open-air markets and quaint pavement cafes.
The main attraction here, of course, is the beach. The Plage de Pampelonne is the most popular – and just as luxurious as befits such an exclusive resort!
Located in a picturesque, sheltered bay, it has a mixture of public areas and private clubs with all the amenities. It can become very busy during peak season, although it extends so far that you will usually find a sunbathing spot if you are prepared to keep walking.
And when you are finished relaxing for the day, be sure to take a stroll and see all the superyachts of the rich and famous lining the harbor.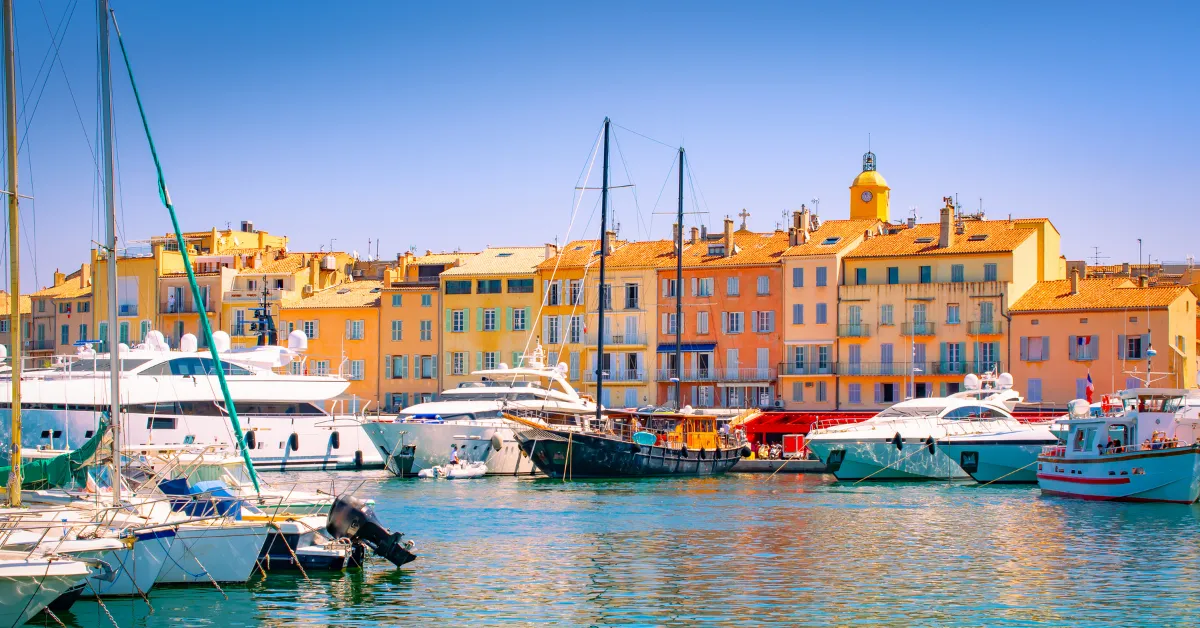 Dinard
PSSST. Want to get FREE accommodation in exchange for work?
If you're traveling on a budget or want to save and extend your trip, this could be exactly what you're looking for. Worldpackers is a platform that connects travelers like you with hosts. It's just like volunteer work –exchange your skills for free accommodation. SAVE $10 using my discount code and get 3 FREE months. Learn more about how it works here.
In complete contrast to swanky Saint-Tropez is the family-friendly seaside resort of Dinard.
It was originally developed by wealthy British and Americans in the latter half of the 19th century. In fact, you can still see many of their Victorian mansions along the coastline and the area remains immensely popular with British tourists today.
Overlooking the English Channel, Dinard has a very pleasant climate. It also offers lots of traditional and elegant seaside appeal, with colorful striped tents on its pretty beaches.
The sheltered Plage de l'Ecluse is the most popular, with its waters warmed by the gulf stream and an Olympic-size swimming pool filled with saltwater. This is great for children, particularly when the low tide can mean a walk to the sea is a long one!
The town center is filled with cafes, restaurants, and boutiques and you will also find lots of art galleries to explore. You can even see a statue of Alfred Hitchcock next to the Plage de l'Ecluse, installed to commemorate Dinard's 20th annual film festival!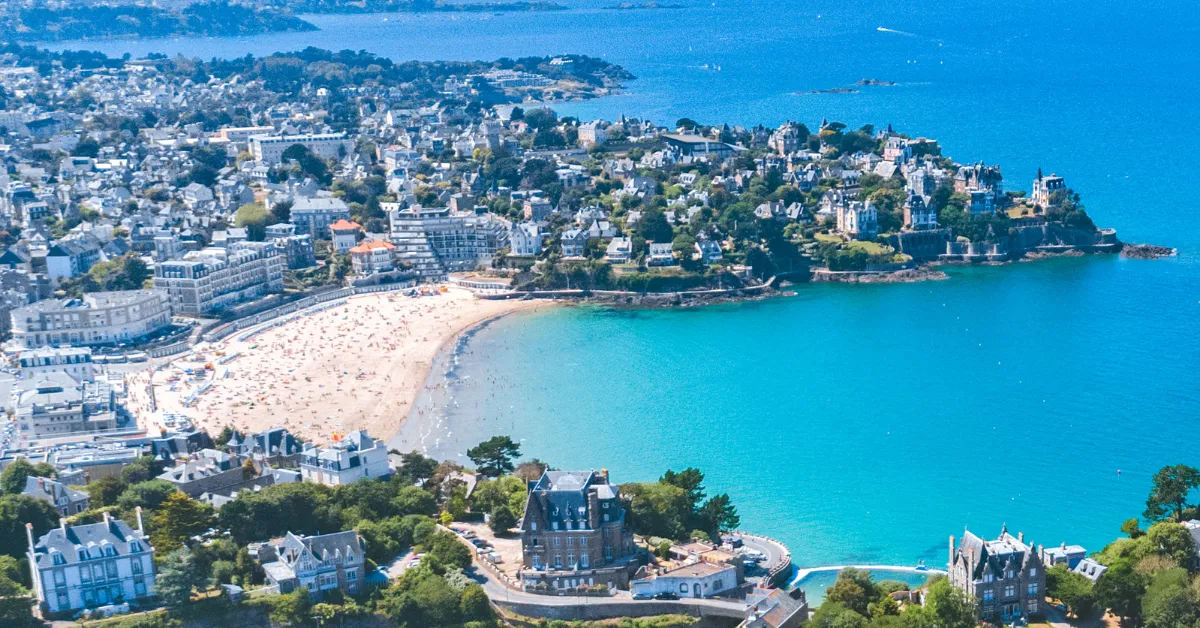 Etretat
One of the most beautiful beach towns in France, Etretat is located 12.4 mi (20 km) north of Le Havre. Although it has a small pebble beach, its most outstanding features are the chalky white cliffs at either end.
Reminiscent of England's 'White Cliffs of Dover', Etretat's cliffs make up just part of the 87 mi (140 km) stretch known as the Alabaster Coast. They are especially spectacular when enjoyed from the beach's lively promenade.
The old town's architecture is interesting, with half-timbered Anglo-Norman houses featuring beautiful wooden decorations on their roofs, pillars, and beams. It is easy to walk around for a closer look since most of the tourists visiting Etretat come for the beach!
Foodies will love the excellent restaurants serving local fish and produce. For natural beauty, head to the Etretat Gardens where landscape art and sculptures are combined to magnificent effect.
Other must-see attractions in the region include the chapel of Notre Dame de la Garde – recently built in Neo-Gothic architectural style – and the Clos Arsène Lupin, a traditional two-story house that belonged to the French writer Maurice Leblanc.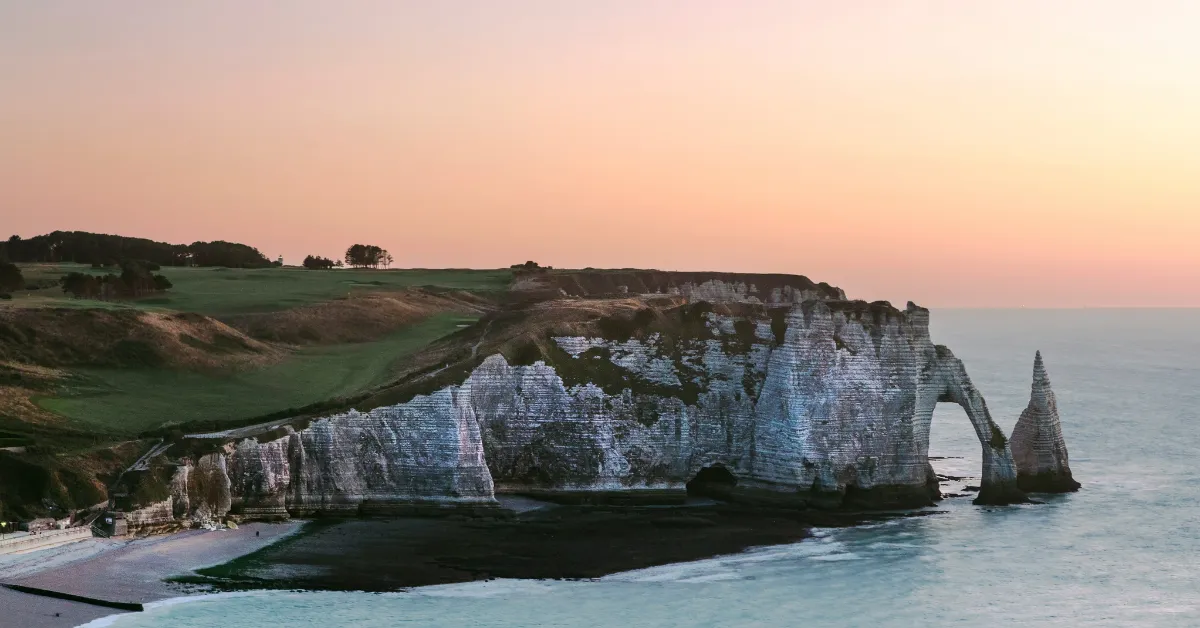 Honfleur
Perhaps the most traditional of all the beach towns in France, Honfleur is also one of its most popular.
Located on the estuary where the Seine and the sea meet, it offers lots of attractions and a beautiful port, lined with half-timbered houses, restaurants, and galleries. It is a lovely spot to just hang out for a while and watch the world go by.
Honfleur's chief highlights are the 17th century Chapel Notre Dame de Grace, the wooden 15th century Sainte-Catherine Church, and the Lieutenancy Building, once painted by Monet.
Also worth visiting are The Jardin des Personnalités – a 10-hectare cultural walkway located between the Vieux Bassin and the dyke – and the Satie House and Museum, dedicated to composer and musician Erik Satie.
The town has a traditional and bustling market, held every Wednesday and Saturday in front of the old church of Eglise Ste-Catherine. There is a lovely beach here, too, with lots of rock pools filled with marine life that are fun to explore.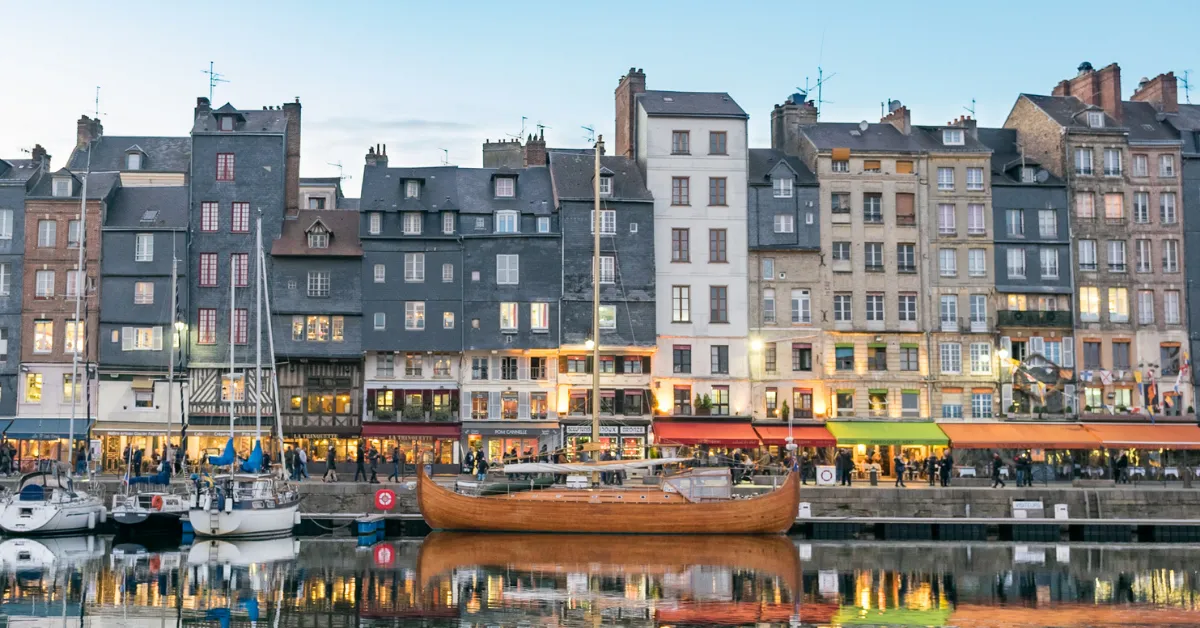 Saint-Jean-De-Luz
One of the most picturesque beach destinations in France, Saint-Jean-de-Luz is a town rich in culture, history, and architecture.
Host to the wedding of King Louis XIV and Infanta Maria Teresa of Spain because of its position on the French/Spanish border, it is home to the beautiful Maison de l'Infante.
This stunning pink building – considered one of the town's most beautiful pieces of architecture – is where Maria Teresa stayed prior to her wedding.
A stroll through the town rewards you with interesting sights at every turn, including a view over Rhune Mountain.
And there is so much good food and wine to enjoy here, either at the excellent restaurants or from one of the town's local markets. The mouthwatering sweet treats 'macarons' are a local specialty and simply not to be missed!
The town's beach – The Grande Plage – is conveniently located right in the town center.
Sheltered by three sea walls from the swell and the waves, it is a great spot for families with young children. It also has a few rock pools on the right-hand side for kids who love to explore!
Cancale
This picturesque town on the French coast may have a scenic port and stunning beach – but its main claim to fame is its world-renowned oysters! Just take a walk on the town's pier and you can see the seven square kilometers of oyster beds stretching before you!
There are some lovely old fishing houses around the harbor (most of which are now restaurants where you can try the oysters for yourself) – and you can learn more about the town's connection to shellfish at its 'Museum of Oysters'.
But there is lots more to appreciate here, too, including pretty hiking trails, dolphin spotting at Pointe du Grouin, and not least the impressive view of Mont Saint-Michel from Pointe des Crolles.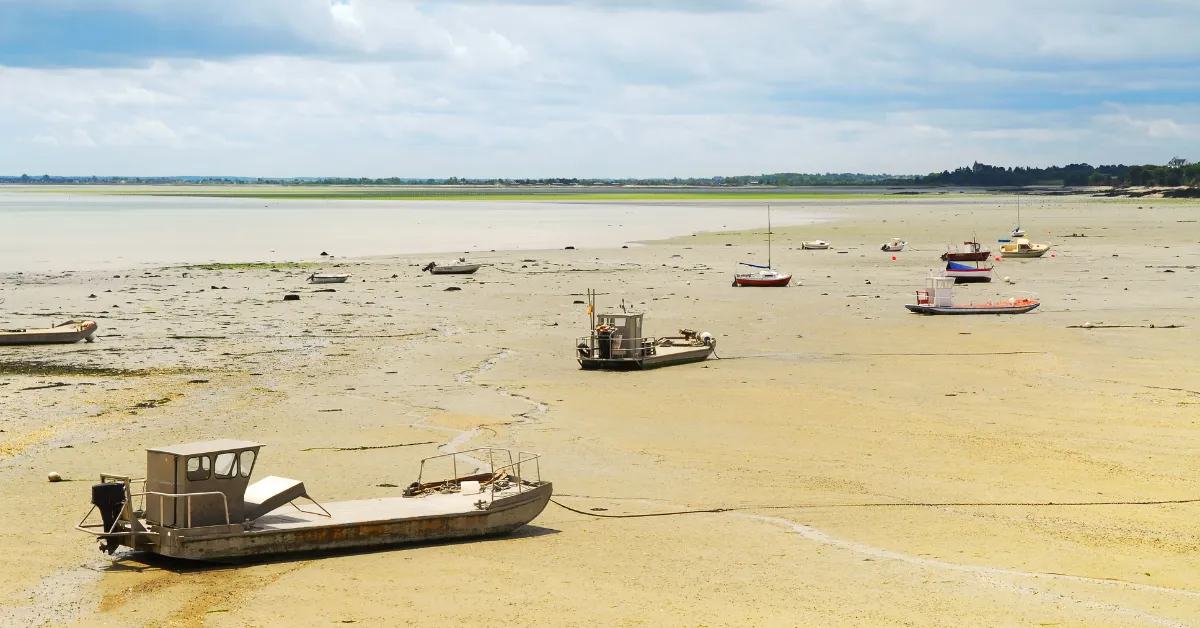 Final Thoughts On The French Coast
I hope this guide to the best coastal towns in France has helped you decide on those you would most like to visit.
Whatever your passion – be it sightseeing, shopping, dining, or sunbathing – you will find the perfect spot on the French coast for a truly memorable vacation.
Visiting France soon? Read one of the following guides: