Lisbon, Portugal's capital city, is one of the most culture-rich, historic cities in Europe. Lisbon is frequently voted Europe's best city-break destination, and for a good reason! The climate is pleasant, there are many things to do and see, and the city is easily accessible. Furthermore, as well as an architectural melting pot, it's a foodies paradise and a lively hub.
Everyone should visit Lisbon once in their life. A long weekend in Lisbon is enough to see the sights and soak up the incredible atmosphere. We've put together the ultimate Lisbon 3 day itinerary with all the top places to visit in Lisbon in 3 days.
Read on to learn how to spend 3 days in Lisbon.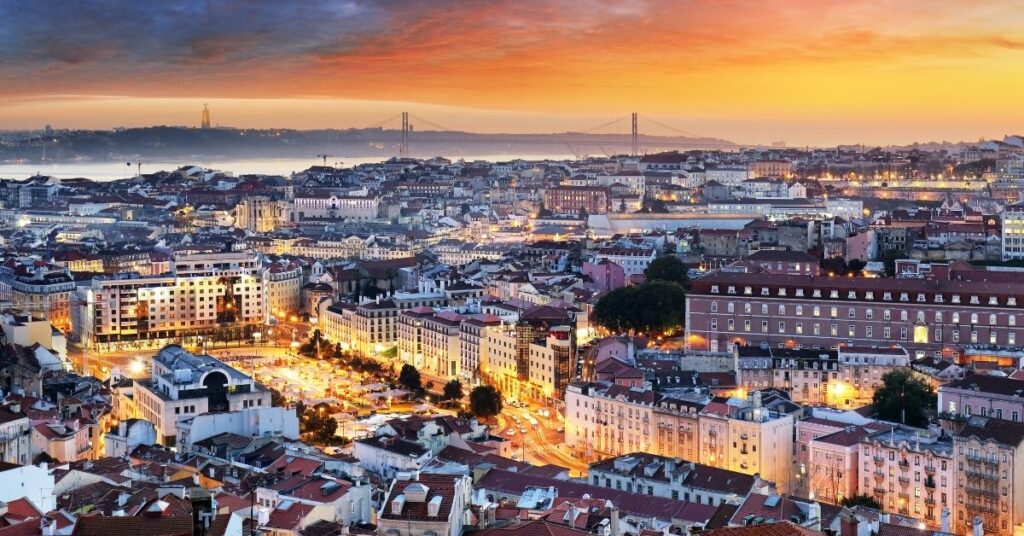 Day 1
Morning – Visit Castelo de Sao Jorge and roam around the oldest part of Lisbon, Alfama
The best way to kick off your weekend in Lisbon is by exploring one of the city's most historic areas. It's easy to get lost in the winding streets of Alfama and all of its delights. However, before you do that, head to Castelo de São Jorge, the hill-top 11th-century castle that sits above the Alfama neighborhood. While there is not so much to do in the castle itself, it's pretty cool to look around, and the views from here are magnificent.
Afterwards, grab a mid-morning coffee and Portuguese pastry from one of the many cafes in Alfama. While there are many splendid options to choose from, there is a lovely outdoor cafe at the Miradouro da Graça viewpoint. Just a ten-minute walk from Castelo de Sao Jorge, this is a great spot to enjoy a sweet treat with a view. From here, explore the traditional craft shops in the cobblestone alleyways until your stomach rumbles for lunch.
Afternoon – Tour around Lisbon on the tram 28
You won't struggle to find somewhere to eat lunch in Alfama, but you may be overwhelmed with the choice. Petisqueira Conqvistador is an excellent choice if you want to graze on Portuguese-style tapas, known as 'Petiscos'. Otherwise, visit Farol de Santa Luzia for high-quality fresh fish, or try the creative menu at Chapitô à Mesa while enjoying panoramic views of Lisbon.
After lunch, take a tour of Lisbon on the tram 28. The iconic route takes around an hour and is one of the best ways to see Lisbon's historic buildings and explore the neighborhoods. We also like this small yellow tram as although it's popular with tourists many locals use it as their main transport. Therefore, it doesn't feel too touristy. We find taking this tram tour on your first of your 3 days in Lisbon gives you your bearings for the rest of your weekend in Lisbon.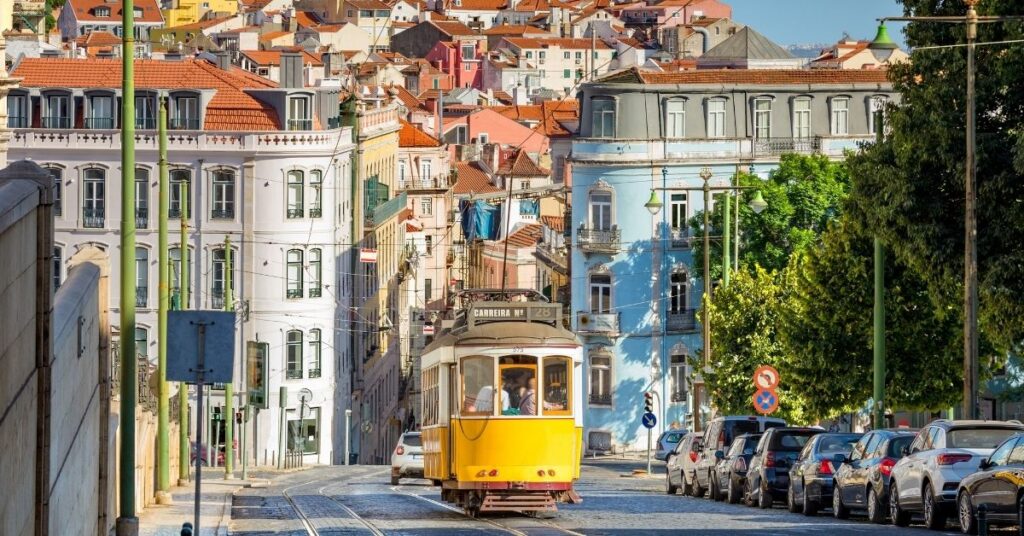 Evening – Watch the sunset at Portas do Sol Miradouro and catch a Fado show
Take the tram back to Alfama to spend the evening here. The Portas do Sol Miradouro viewpoint is a must on your Lisbon 3 day itinerary. Take the short but steep walk up here to witness the incredible sight of the sun setting over Lisbon and turning the rooftops a gorgeous orange-hued color. There is a terrace restaurant here that overlooks the Tagus river. Arrive early to nab a table and enjoy a cocktail while you watch the sun setting on your first evening in Lisbon.
After sunset, eat dinner at one of the top-quality restaurants by the Miradouro. If you're not exhausted from your day of sightseeing, enjoy an authentic evening of Fado. A Fado show is a genre of Portuguese music performed in many pubs and restaurants in Lisbon. There are some great Fado shows to be found in Alfama. For the most traditional, head to Casa de Fado or check out Duetos da Sé for a modern twist to the classic performance.
Day 2
Morning – Ride on a Lisbon Funicular and enjoy the view from Miradouro de São Pedro de Alcântara
Spend the second day on your Lisbon 3 day itinerary exploring the Baxia district, the central, downtown area of Lisbon. An earthquake destroyed this area in the eighteenth century, leading it to be rebuilt. Since then it's become the liveliest part of Lisbon and one of the best places to visit here.
---
Want to get FREE accommodation in exchange for work? If you're traveling on a budget or want to save and extend your trip, this could be exactly what you're looking for. Worldpackers is a platform that connects travelers like you with hosts. It's just like volunteer work –exchange your skills for free accommodation. SAVE $10 and get 3 extra months added to your plan using my discount code. Learn more about how it works here.
---
One of the highlights of Baxia is the 19th-century funiculars. These look like trams but operate like mountain cable cars to transport you up the steep streets of this hilly city. Lisbon has three funiculars, which were all designed by a Portuguese engineer called Raoul Mesnier de Ponsard.
Begin your morning from Rossio square where you can catch the Elevador da Glória up to Miradouro de São Pedro de Alcântara. Here, you can enjoy beautiful views of various parts of Lisbon, including Bairro Alto, Chiado, Alfama, and the Castelo. From here, take a 15 minute downhill stroll through Bairro Alto to Lisbon's most-photographed funicular: the Ascensor da Bica. This funicular connects Rua de São Paulo and Largo do Calhariz, one of Lisbon's steepest hills.
You can take the Ascensor da Bica down to the Cais do Sodré neighborhood. This area was once occupied by sailors and prostitutes but is now a very trendy part of the city where one street, Rua Cor de Rosa, is painted pink. Stop here for an early lunch at the Mercado da Ribeira, a large food market and indoor food court offering countless local and foreign cuisine options.
Afternoon – Visit the quirky Elevador de Santa Justa and relax in Parque Eduardo VII
---
Want to connect with fellow long-term travelers? Join our exclusive Facebook group and take part in the conversation.
---
PSSST. Your travel medical insurance can now cover COVID-19! If you grab SafetyWing's Nomad Insurance, it'll be covered just like other illnesses. I've been using it since 2019 and I can assure you it's the perfect solution for nomads like you and me.
Continuing your day in Baxia, a quirky tourist attraction worth visiting is the Elevador de Santa Justa. This neo-gothic style lift takes you to a 147ft high observation deck, giving magnificent views over Baixa. After taking a ride up the elevator, take a break at Parque Eduardo VII. This park is a large, welcoming green space where you can relax and take in the views of the city and the Tagus river for a chilled afternoon.
Evening – Enjoy an evening at the plazas
After you've got your energy back, take a walk around the district's famous squares and plazas. The best ones are Praça da Figueira, Praça do Comércio, and Praça do Rossio, all in close proximity to each other. Rossio Square is probably the liveliest and a great place to enjoy alfresco dining.
Restaurants are abundant here, but they can be pretty expensive as it's a touristy area. El Rei D'frango and Restaurante Bastardo are just two of the most popular spots. For dessert, we recommend Amorino Baixa for the best gelato or Pastelaria Suica for their delicate cakes.
Rossio Square is also home to a famous performing arts theatre, Teatro Nacional D. Maria II. This historic theatre is one of the most prestigious venues in Portugal, hosting spectacular performances. Therefore, if there happens to be a performance taking place during your visit, it's undoubtedly a must-do addition to your Lisbon 3 day itinerary.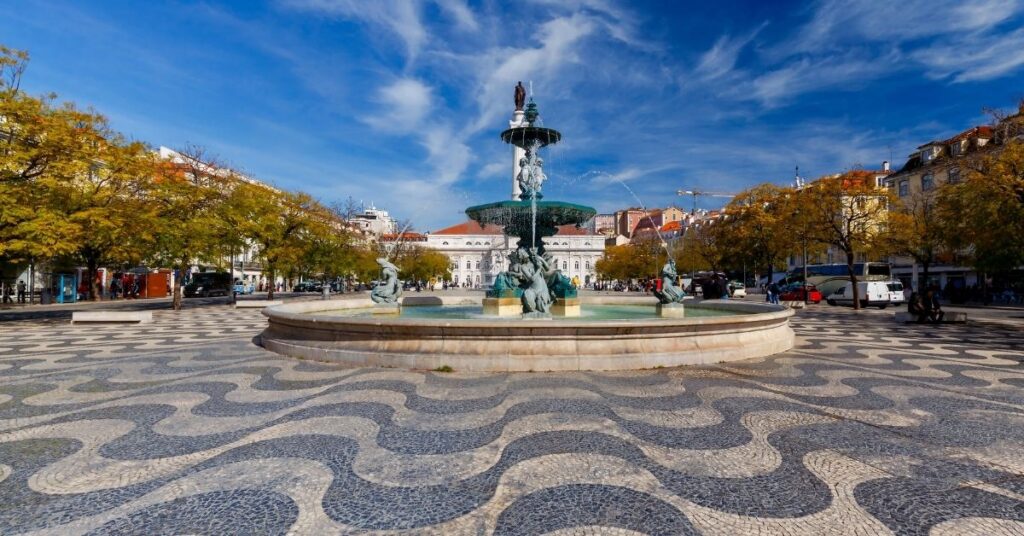 Day 3
Morning – Check out Belem's landmarks; Jerónimos Monastery, Monument to the Discoveries, and Belém Tower
For the last day of your Lisbon 3 day itinerary, head to the Belem district to see many distinctive buildings and landmarks. It's a little far from the city center, but should not be missed, even if you are only in Lisbon for 3 days. To get to Belem, get the tram 15 from Praça do Comércio. Conveniently, the tram stops right in front of Lisbon's most famous bakery, Pastéis de Belém. Therefore, it would be rude not to grab a 'Pastéis de nata' here before exploring the landmarks.
One monument you should visit in Belem is Jerónimos Monastery. This is a UNESCO World Heritage Site and one of the most prominent landmarks of Portugal. The architecture of this monastery blends Gothic and Moorish influences. Once inside, you'll find it hard not to marvel at the slender octagonal pillars that hold the building together. Don't miss the cloister and its delicately detailed tracery, either.
From Jerónimos Monastery, head to the Monument to the Discoveries (Padrão dos Descobrimentos). As the name suggests, this 52-meter tall monument celebrates the Portuguese age of discovery during the 15th and 16th centuries. It is dedicated to some of Portugal's most famous explorers. One of the highlights here is the marble map of the world on the floor, with the dates of the discoveries set in metal. You can also go to the top of the monument for a panoramic lookout over Belem.
The last landmark of the morning is Belém Tower, located close to Jerónimos Monastery. This is also a UNESCO World Heritage Site due to its significant role in Portuguese maritime discoveries. While it's picture-perfect from the outside, there's not much to see inside. Therefore, we recommend marveling at it from the outside until you are ready to grab lunch at one of the nearby cafes.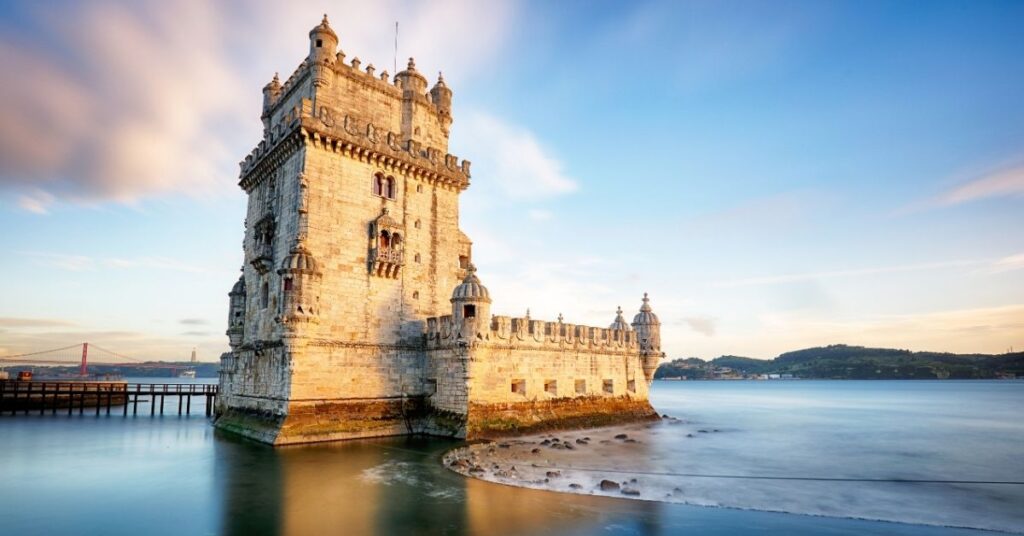 Afternoon – Walk along Tagus River and admire the 25 de Abril Bridge & Cristo Rei
This afternoon will have a more relaxed pace than the morning. After a long, leisurely lunch, take a walk along the bank of Tagus river towards Lisbon's San Francisco-style suspension bridge, Ponte 25 de Abril. As you will see, this bridge is inspired by and closely resembles the Golden Gate Bridge.
The bridge has no pedestrian access, but that's not a problem, as you'll experience incredible views from river banks. Even so, many people believe the best viewpoint is from the other side of the river, particularly at the Cristo Rei (Sanctuary of Christ the King). Whether you decide to stay and relax by the river or venture to the Cristo Rei is up to you. If crossing the river, you can take that train that goes over the bridge.
The Cristo Rei was also inspired by a famous landmark outside of Europe, the Christ the Redeemer statue of Rio de Janeiro, in Brazil. It's worth checking out as you can climb to the top of the 269-foot statue for a small fee. This is one of the city's most popular viewing platforms, with views extending over Lisbon and beyond.
Evening – Eat and drink in the converted warehouses of Santo Amaro Docks
The dock area below 25 de Abril Bridge is known as the Santo Amaro Docks in the Alcântara area. Here is one of the most pleasant places in Lisbon to spend an evening. Therefore, it seems fitting to spend the last night of your 3 days in Lisbon at Santo Amaro Docks. The docks house numerous warehouses converted into hipster bars, restaurants, and cafes, overlooking a vast marina.
If you're a lover of the arts, you will enjoy the LxFactory space too. What was once a strip of industrial brick factories is now full of independent artsy shops, including Livraria Ler Devagar, one of the most aesthetically pleasing bookstores in the world. There are also some funky bars here to celebrate the end of a successful weekend in Lisbon.
Final Thoughts
If you're backpacking through Europe, do not miss this enchanting Portuguese city! Likewise, if you're a digital nomad staying in Portugal, or you're living and working in another European country, Lisbon should be your next weekend trip!
Our 3 days in Lisbon itinerary makes planning your trip a breeze. We hope you enjoy Portugal's capital as much as we do!