Lake Tahoe is a hidden gem in the United States' western part, sitting between Nevada and California. It's a massive lake in the Sierra Nevada Mountains, 6,000 feet above sea level. Surrounding the lake, you will find endless activities, viewpoints, restaurants, nature, and fun. The best part – it is a year-round destination, as it has activities for both the snow and the sun!
Hotels.com asked me to share how I would spend three days in Lake Tahoe. It offers everything from skiing to beaches. Anyone who visits is amazed by its natural beauty. Beautiful nature, crystal clear water, and endless activities, why would anyone want to leave?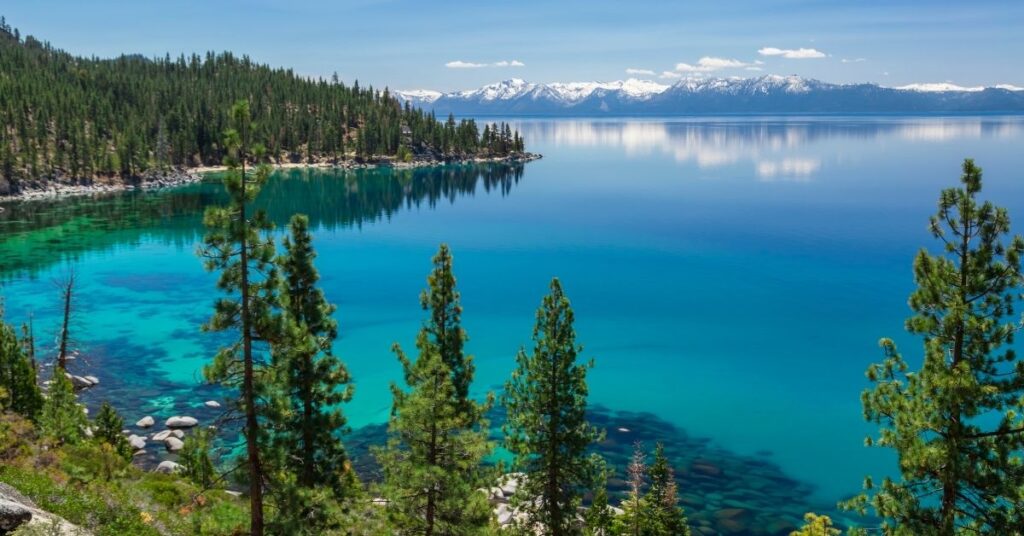 Best Time to Visit Lake Tahoe
As mentioned before, Lake Tahoe has numerous outdoor and indoor activities all year round!
The summer, mainly July and August, is the peak season for tourists and it can get really crowded! The end of May and early June are quieter, and you can still enjoy the gorgeous weather without the large crowds.
If you prefer colder activities, the winter is a great time to visit. You can do all the winter classics, snowboarding, skiing, ice skating, snowmobiling, and so much more!
After deciding when to visit, you can think about where you want to stay. The South shore is more touristy with casinos, budget hotels, and more nightlife. The North shore has more outdoor activities and is quieter as it has more local people. However, you will find the area more expensive. Wherever you stay, you can access sites anywhere in the area.
Day 1
Our first day will start with a visit to Emerald Bay State Park. Emerald Bay State Park is about a 25-minute drive from South Lake Tahoe, and there is enough to do for you to spend the whole day here. This is a stunning site – a gorgeous turquoise lake with spectacular mountains painting the backdrop for this stop. There are many things to do in this state park, but one of the most popular attractions is Vikingsholm Castle. The history and architecture of the castle make it a sought-after attraction. If you enjoy history, make sure to check out this castle!
There are so many activities to do in Emerald Bay State Park! Numerous hikes, water sports, biking trails – choose your favorite activity and cater the experience for you! Of course, one of the best ways to experience the beautiful lake is to get in it! You can take a relaxing boat cruise to sit back and take in the views. If you're looking for a little more action, you can rent a paddleboard or a kayak.
Now for the hikes, there are so many options! Hike Eagle Lake Trail, which will lead you to Eagle Falls. You'll find some beautiful views – waterfalls, lush green scenery, fantastic rock formations, and more to enjoy.
---
Want to connect with fellow long-term travelers? Join our Facebook group and the conversation.
---
PSSST. SafetyWing finally covers COVID. I've been using their Nomad Insurance since 2019. It's the perfect solution for nomads like me. Don't leave without your travel insurance.
---
Rent a kayak to get to Fannette Island, which is the only island on Lake Tahoe. There is a small house at the top of the island, which gives you an amazing 360 view of your surroundings. There are also numerous points to jump off into the lake for added fun.
Travel Tip – Download the All Trails App on your phone to make the most of all the trails and make sure you don't miss out!
Day 2
Today, visit Van Sickle Bi State Park, which is a stunning state park overlooking Lake Tahoe. The park sits between Nevada and California. You can even stand on the line between the two states! The Van Sickle Trail is great for hikers of all abilities. For a shorter hike, hike to the waterfall and appreciate the beauty of the waterfall along with views of the Lake – visitors can do this hike in 90 minutes. If you're looking for a longer trek, continue to follow the trail to enjoy more vista points and breathtaking views.
If you are looking for winter activities, you can check out Squaw Valley. Squaw Valley was the site for the 1960 Winter Olympics. There is an aerial tram ride, giving you gorgeous views of the mountains and Lake Tahoe. A hotel, The Village, offers excellent restaurants and lots of activities!
A short drive away from Squaw Valley is the town of Truckee, a cute stop with a lovely old town area. Truckee is a touristy town with lots of cute shops and restaurants – a great place to relax after a busy day! If you still have some energy left, there is a river in Truckee you can go tubing down.
Day 3
To end your trip in Lake Tahoe, time for a challenge – hiking Mount Tallac. It's the largest mountain in Lake Tahoe. If you are a complete beginner at hiking, you will find this hike challenging. Even seasoned hikers may find this hike demanding but the result is worth it. When you reach the summit of the mountain, everything is amazing- the views, the atmosphere, the calmness – all of it!
The hike is about 10 miles in total. There are a few viewpoints on the way to the top, but the real beauty is at the top. Make sure to bring a lot of water and wear the appropriate clothing – it can get cold at the top!
Final Thoughts
Travelers cannot understand Lake Tahoe's beauty until they go and see it for themselves! There are numerous activities for you to enjoy the outdoors no matter what time of year.
Disclaimer: Traveling these days remains uncertain, so make sure to stay safe to protect yourself and others at all times. Many hotels offer free cancelations at the moment, so you should book a hotel that allows you to change your plans if you need to. Remember that traveling right now is at your own risk.