How To See Salzburg In 2 Days
Salzburg is a beautiful Austrian city that sits on the border of Germany.
It is one of the prettiest cities in Europe thanks to its breathtaking backdrop of the Eastern Alps, hilly landscape, and impressive historical buildings.
So, how many days in Salzburg is enough? The city sees most visitors come for a weekend as you can easily fit all the highlights of Salzburg in 2 days.
Salzburg is also a cultural hub, being the birthplace of Mozart and the host of the world-class Salzburg Festival that happens every summer.
Therefore, there is always plenty to do and see, and this stunning Austrian city is well worth a visit.
To help you with your trip planning, we've put together this 2 days Salzburg itinerary, including everything to see, do, and eat in Salzburg in two days.
Before we start, you should know that you can grab the Salzburg Card to make the most of your time in this beautiful city. The card gives you access to all the main sights including the fortress funicular, the panorama boat, and the cable car. As a bonus, you also get access to all the public transportation.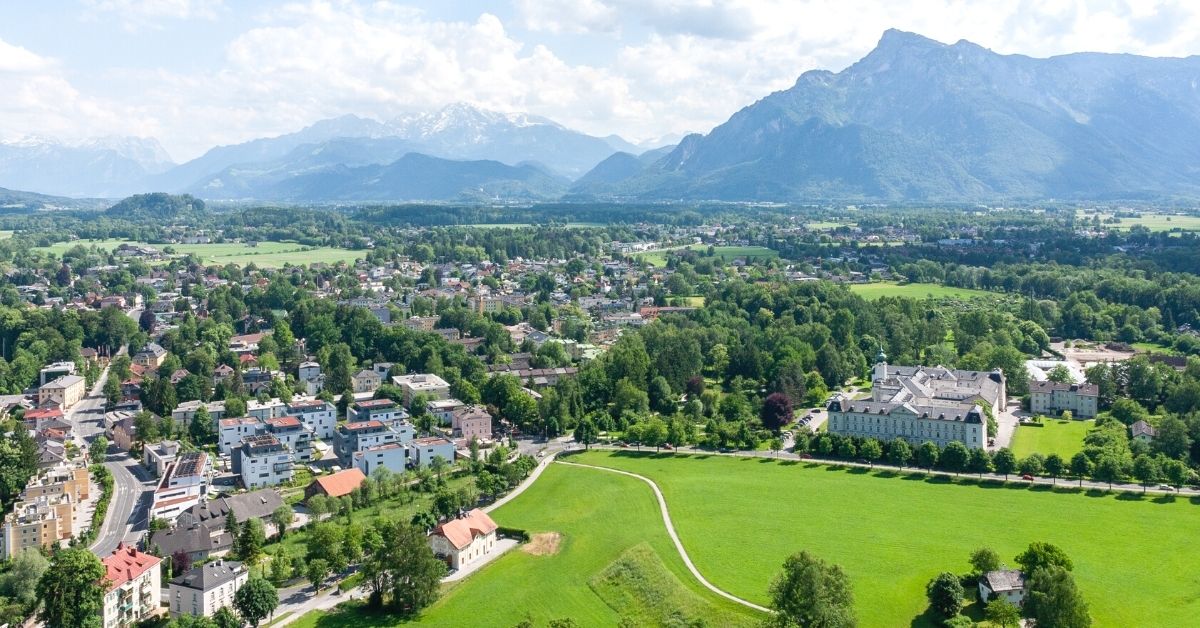 Day 1
To start your first day in Salzburg off on the right foot, you'll get to see famous landmarks, learn all about Mozart, try some delicious foods and even watch a show at one of the oldest marionette theatres in the world.
Morning – Hohensalzburg Fortress & Mozart's Birthplace
Start your 2 days in Salzburg by visiting the two most famous landmarks of the city.
First, Hohensalzburg Fortress is a stunning 11th-century fortress that is viewable from anywhere in the old town. It sits atop Festungsburg hill.
Despite being so old, this fortress is well-maintained and offers magnificent views over the city.
To get to the castle, you can take the Hohensalzburg Funicular up the hill. The €15.90 entry price to the fortress includes the use of the cable car.
There's a lot to explore in the castle, including a vulture tower, various chambers, wings, courtyards, and a museum.
Next, it's time to check out what this city is famed for, Mozart's Birthplace. The house where the much-loved composer grew up is now a museum that showcases his life and career.
Entry costs €12, but you will have to pay extra if you want a guided tour.
The museum has some remarkably well-preserved memorabilia, including Mozart's first violin, buttons from his jacket, and even a lock of his hair!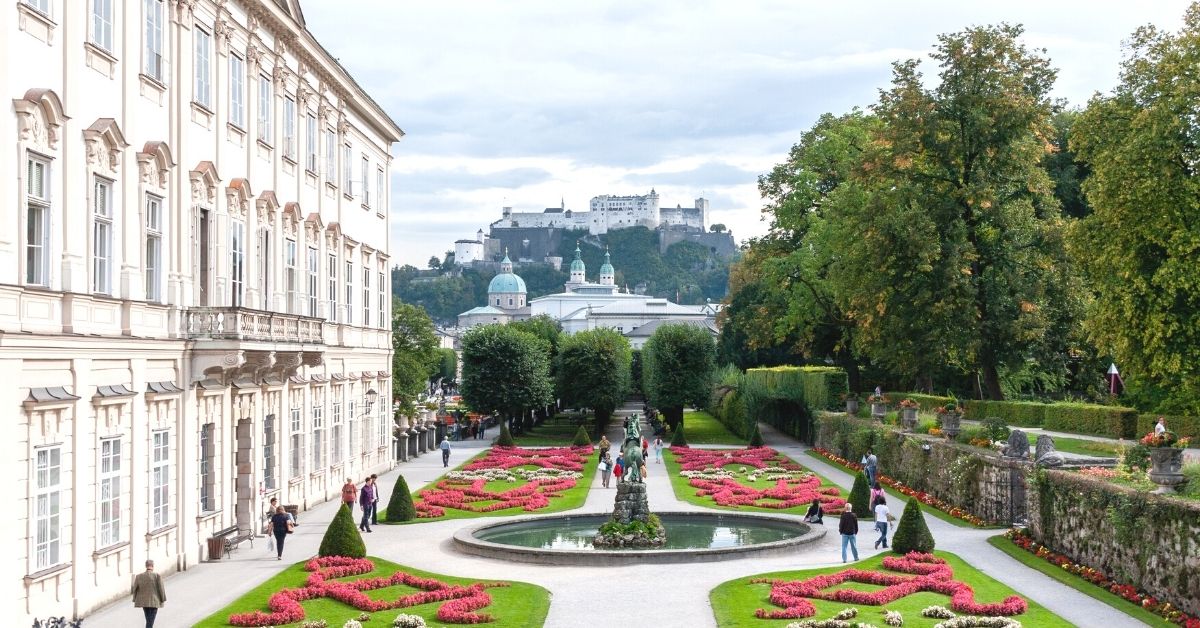 Afternoon – Geteidegasse, Salzburg Cathedral & Petersfriedhof Cemetery
Mozart's Birthplace is located on Getreidegasse, a picturesque street full of shops and restaurants.
If you're yet to try a traditional Bosna (Austria's take on a hot dog), grab one from the popular take-out spot, Balkan Grill.
You might have to queue here, but it's worth the wait. The bread is crispy on the outside and fluffy in the middle, and the meat is spicy and flavorful.
Another eatery here that you should not miss is the Confiserie Fürst chocolate shop, by world-famous chocolatier Paul Furst.
Furst is the original creator of the Mozartkugel chocolate balls. The shop is located right at the end of the street, so be sure to pick up some candy as you pass.
Once your stomach is full, head to another of the city's highlights, Dom Zu Salzburg (Salzburg Cathedral).
This 17th-century baroque cathedral is a fantastic piece of architecture to enjoy regardless of if you are religious or not. Plus, admission is free.
The last stop of the afternoon is Petersfriedhof Cemetery and Catacombs. This pretty burial site is not as dreary as it seems and is worth a visit as it is right by the cathedral.
Next to the cemetery are the intriguing catacombs, which costs €2 to enter. They are small but fascinating, and the site has a special atmosphere to it.
Evening – Salzburg Marionette Theatre
The Salzburg Marionette Theatre has been running for over 100 years, making it one of the oldest marionette theatres in the world. There is a show on most evenings, and two on every Friday.
The schedule alternates and features popular productions such as 'The Sound of Music,' 'Snow White and The Seven Dwarfs,' and 'A Midsummer Night's Dream.'
---
Want to get FREE accommodation in exchange for work? If you're traveling on a budget or want to save and extend your trip, this could be exactly what you're looking for. Worldpackers is a platform that connects travelers like you with hosts. It's just like volunteer work –exchange your skills for free accommodation. SAVE $10 and get 3 extra months added to your plan using my discount code. Learn more about how it works here.
---
Ticket prices range from €30 – €40, and shows start at either 5 pm or 7:30 pm.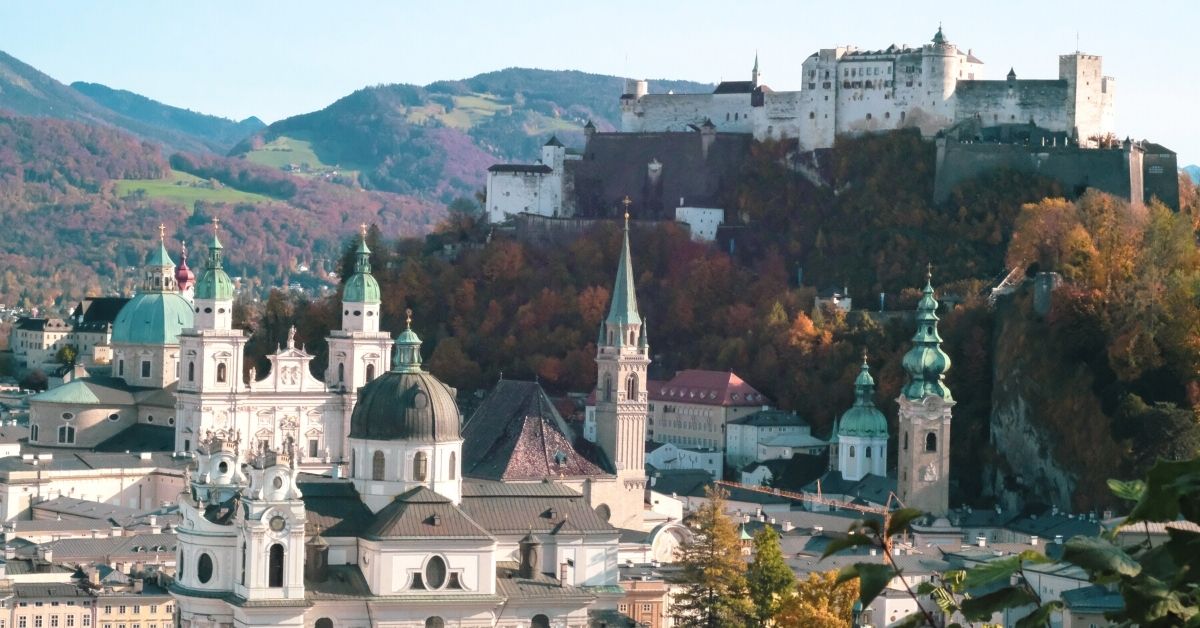 Day 2
For your second day in Salzburg, you'll get a chance to see the green side of the city by exploring gardens and hiking to a beautiful viewpoint, and of course a stop at a beer garden in the evening!
Morning – Mirabell Palace & Gardens
Start the second morning of your Salzburg in 2 days itinerary by visiting Mirabell Palace and Gardens. While the palace itself is beautiful, the main attraction is the gardens.
If you're a 'Sound of Music' fan, you'll surely recognize these grounds as they were one of the musical's filming locations.
---
Want to connect with fellow long-term travelers? Join our exclusive Facebook group and take part in the conversation.
---
PSSST. Your travel medical insurance can now cover COVID-19! If you grab SafetyWing's Nomad Insurance, it'll be covered just like other illnesses. I've been using it since 2019 and I can assure you it's the perfect solution for nomads like you and me.
You'll be impressed by how well-kept and clean these gardens are, like most parts of the city. Wander around and check out the fountain, rose garden, and cutesy dwarf garden.
Both the gardens and the palace have free admission, so this is a must-visit on your Salzburg trip.
From here, walk south towards Linzergasse Square. There are plenty of great eateries here to grab an early lunch.
One of my favorites is Zum Fidelen Affen, which is slightly north of the square. This restaurant has a gorgeous patio, tasty traditional Austrian dishes, and mouth-watering desserts.
The portions are large, too, so you can refuel ready for the afternoon.
Afternoon – Basteiweig Trail & Viewpoint
After lunch, it's time to stretch those legs and explore more of this beautiful city. Take a walk down Steingasse lane, a historic cobblestone street that is adjacent to Linzergasse Square.
The narrow street is lined with shops and restaurants. Wander to the end of this lane, and you will come to one of Salzburg's hidden gems, Basteiweg (Stadtmauer).
This short and peaceful hiking trail brings you to a broad viewpoint, giving an incredible panorama of the city and caste.
Enjoy the rest of the afternoon here, taking in the peaceful vibes high up over the city.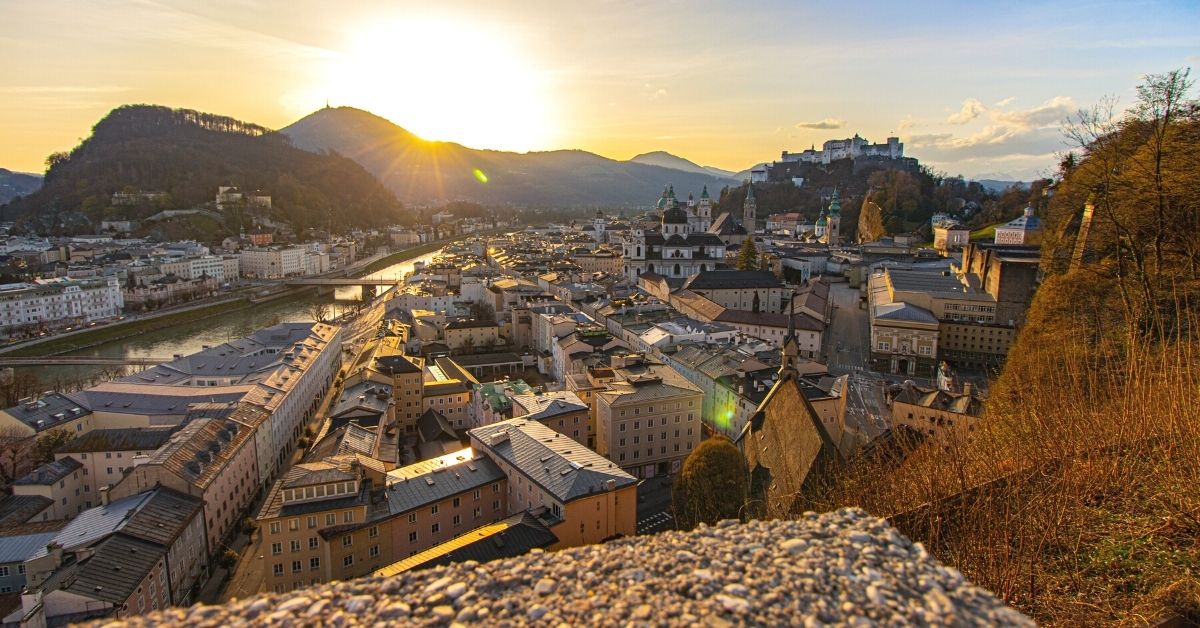 Evening – Augustiner Bräu (Beer Garden)
Don't conclude your Salzburg in 2 days trip without visiting an Austrian beer garden. Augustiner bräu is undoubtedly the best beer garden in Salzburg.
Not only is the beer selection impressive and the quality high, but an evening here is always entertaining.
Moreover, this beer hall isn't at all touristy. You will see many locals here, making it a truly authentic experience to end your short stay.
You don't have to sit down in the cellar either. Instead, go up the staircase, and you'll discover a beautiful tree-covered courtyard, the perfect setting to taste a few on-site brewed beers.
Afterward, be sure to grab some food to soak up all the alcohol. Head across the street to Krimpelstätter or Bärenwirt for a killer schnitzel.
Where To Stay In Salzburg
An essential part of planning 2 days in Salzburg is finding a good hotel that meets your needs. Salzburg has a wide range of accommodation for all budgets.
What's more, as it's a small city, any centrally-located hotel will be within walking distance to all the sights on your Salzburg in 2 days itinerary.
Best Budget Accommodation
Whether you are backpacking through Europe or you prefer to save your cash for experiences in Salzburg, YoHo International Youth Hostel is a great affordable place to stay.
The hostel is a mere 500 meters from Mirabell Palace, and there are six and four-bed dorms and private twin rooms.
The dorms feature modern wood furniture, and the front desk is manned 24 hours a day. Plus, there is a small cozy bar and free WiFi throughout. Dorms start at €59 a night.
Best Mid-Range Accommodation
Hotel IMLAUER & Bräu is a traditional 4-star hotel with modern decor and furniture in all rooms.
It is conveniently located in the heart of the city center and offers a comfortable yet affordable stay for travelers.
All rooms have private bathrooms with a bathtub and shower. They also feature air conditioning to control the temperature and soundproof windows to block out any traffic noise.
Single rooms start at €200, and double rooms are from €300. The hotel has a decent restaurant on site, too, serving both Austrian and international dishes.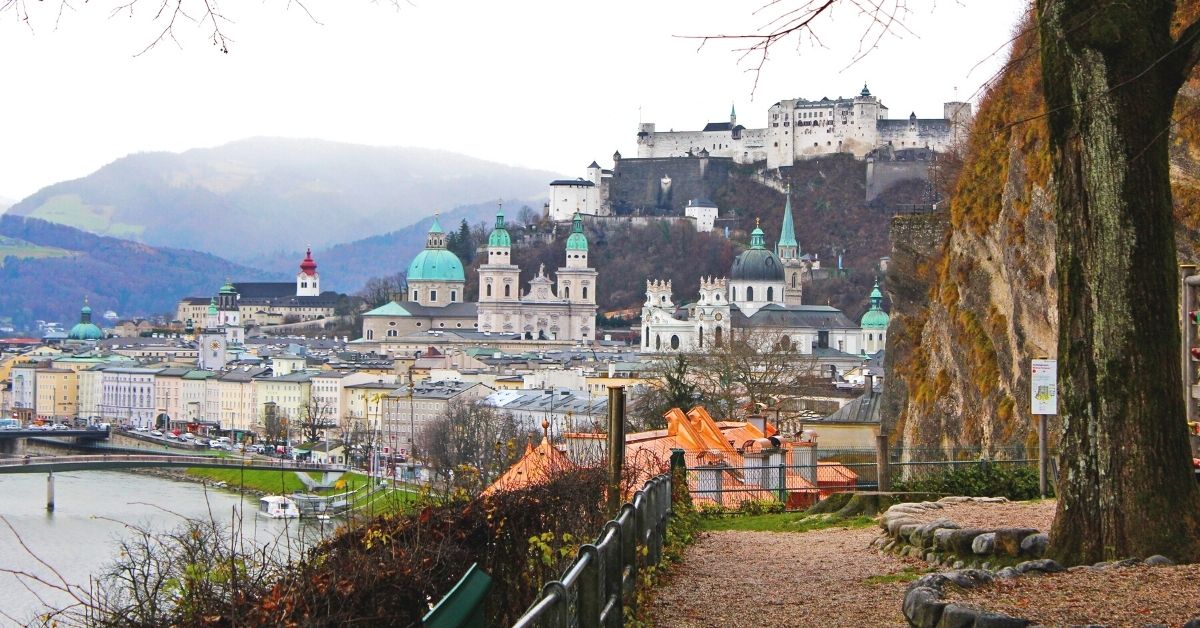 Best Luxury Accommodation
If you're looking for the best of the best, look no further than Hotel Schloss Mönchstein.
This luxury 5-star hotel is not cheap, but it is certainly something special. It is located on top of Mönchsberg hill and has an infinity pool, giving the most magnificent views of the city below.
There is also an outdoor hot tub, beautiful gardens, and a spa with a steam bath and sauna.
All the rooms at Hotel Schloss Mönchstein are fit for a king, with antiques and marble bathrooms.
What's more, the hotel presents its guests with a welcome drink, complimentary fruit basket, and homemade cake upon arrival.
Rooms start at €1,800, and a gourmet breakfast is included, served at the on-site Michelin star restaurant.
Final Thoughts
When planning a trip to Austria, many travelers wonder, 'Is 2 days in Salzburg enough?
Considering the city is only a 2.5-hour train journey from Vienna, it is an ideal weekend destination or short stop for any European backpacking trip.
What's more, while Vienna is an incredible city to visit, Salzburg is one of Europe's most beautiful and underrated cities. Therefore, make the most of Salzburg in 2 days with this in-depth itinerary.