How To Pick The Best Camp Shower Tent
After a day exploring the great outdoors, a camp shower tent will allow you to get clean and comfortable in privacy so you can settle down and enjoy your evening.
This guide is designed to help you find the best shower tent for your needs and describes the features to look for before making your purchase.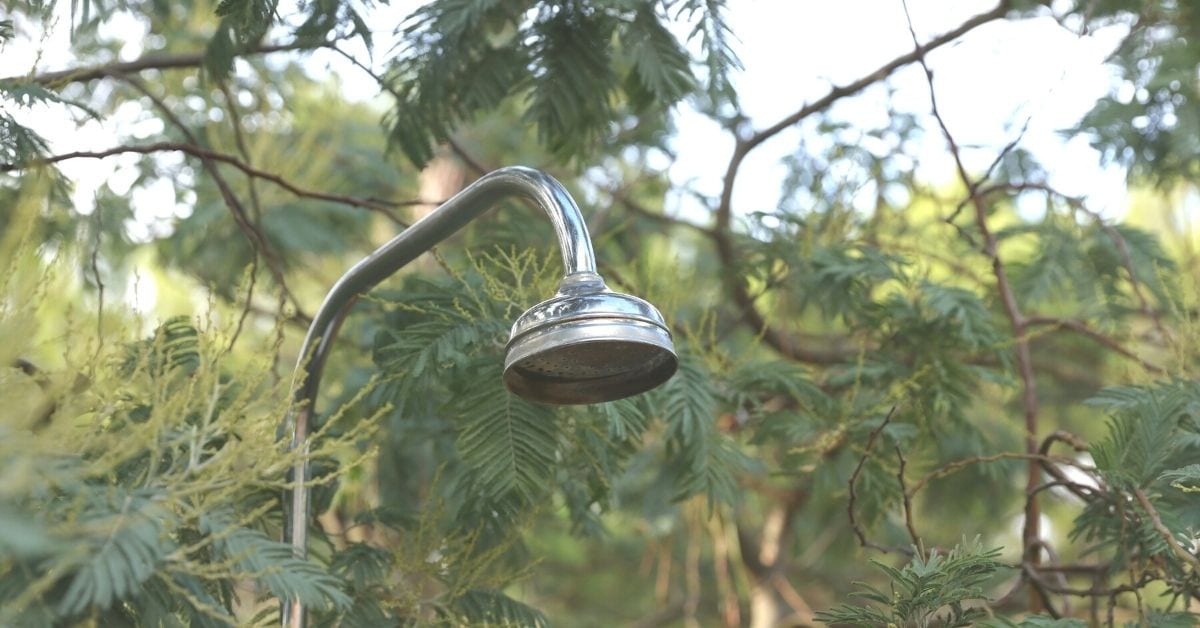 What To Look For When Buying A Shower Tent For Camping
First, decide if you want a tent designed to hold the weight of a shower bag. Some are sturdily constructed, with hooks capable of holding bags with a 5-gallon capacity.
Others – particularly the more lightweight, pop-up models, are not strong enough for this and will simply feature a shower opening at the top, through which you can run a hose.
If you choose this type, you will need to support the shower bag above the opening, or buy a stand to do the job
Next, think about the speed of assembly. If you want a camp shower tent that you can have up and ready within minutes, then the best option for you would be a pop-up version.
These usually involve no more than removing them from a bag and unfolding them, until they pop into shape.
But if you are happy to put a little extra time into an assembly, then you will be able to look for a more solidly constructed camp shower tent with a greater weight capacity.
Of course, the amount of storage space you have is important too, along with what type of camping trip you will be taking.
If you need to physically carry the tent over any distance, try to find a lightweight model that packs up to a small size.
If you are car camping, the weight won't be as much of an issue, although it's always useful to find a tent that doesn't take up too much room.
It may sound obvious, but do check that the height of the camping shower tent you are interested in is adequate. There's nothing worse than trying to have a shower in a tent that is too short! It is also a good idea to look for the roomiest tent within your budget, as it allows for a far more comfortable experience.
Ventilation plays an important part in tents with showers and helps get towels to dry more quickly. Check to see if there is a mesh roof and/or windows, which will allow for better air circulation.
Finally, look for the little extras that make life comfortable! The best shower tent will have either hooks or some type of rope on which you can hang your towels and clothes.
It is also nice to have mesh pouches inside the tent, as these can be used to store things like shampoo and soap.
Green Elephant Camping Shower Tent
The best camping shower tent if you are looking for something quick and easy to set up, this pop-up model is ready to use in just seconds!
Once you get the hang of it (using the handy instructional video provided), putting it down is simple too.
It is almost 6 ft 11 inches high so will accommodate pretty much everyone and is extremely secure, with 8 tent pegs and 4 guy lines provided, along with 4 sandbags for extra stability.
It has tons of handy little features, including a pouch to store your personal items, hangers for your towel, clothes, and flashlight, plus a toilet paper holder.
Weighing just 5.5 pounds and packing down to 24″ x 2", it's compact and light enough to take anywhere.
There is an opening for a solar shower and its durable material is dark enough to stop it from being as translucent as some tents.
Vidalido Outdoor Shower Tent
This is a robust camp shower tent with a sturdy design that can support a 5-gallon shower bag with ease, plus a zippered opening for an outside shower.
Its dimensions once set up are 55″ w x 55″ d x 86.5″ h, which offer plenty of room to shower and change comfortably.
The material is durable, made of opaque 200D Oxford cloth that hides shadows and preserves your modesty.
Even a handy mesh window on one side is good for ventilation and helps your towels dry a lot more quickly.
---
Want to connect with fellow long-term travelers? Join our exclusive Facebook group and take part in the conversation.
---
PSSST. Your travel medical insurance can now cover COVID-19! If you grab SafetyWing's Nomad Insurance, it'll be covered just like other illnesses. I've been using it since 2019 and I can assure you it's the perfect solution for nomads like you and me.
All the parts are well made, with high-quality stitching, and it comes with tie-down and stakes.
This portable shower tent for camping is straightforward to put up, taking around 10 minutes and includes a removable floor, which is handy for drainage.
The mesh storage pockets are ideal for all your toiletries and there is an adjustable strap running across the back that you can use to hang your towels and clothes.
Alvantor Shower Tent
Taking just seconds to pop into shape, this camp shower tent gives a generous 4'x4'x7′ space in which to shower and change in comfort.
Made from opaque 300D poly-oxford Teflon coated fabric it is resistant to water, tears, dirt, and oil.
It also features wear-resistant tube protection on the bottom edge, so it will easily stand up to the rigors of outdoor use.
It is compact and lightweight enough to carry easily but has all the guy lines, stakes, and sandbags you need to provide stability.
It has a mesh top design and a large double-sided zippered entrance, so it is very easy to keep adequately ventilated. Although unable to support a shower bag, there is an opening at the top for the hose.
This camping shower tent also features a mesh bag located high enough up to hold your shampoo and soap within easy reach, plus hooks for clothes and towels.
Kingcamp Oversize Extra Wide Camping Privacy Shelter Tent
If you need a little more room, the best camping shower tent, this extra-wide one measures 66 X 66 X 85 inches when open and can accommodate two adults.
Despite this, it is still reasonably lightweight at just 12.5 pounds, and it can hold a shower bag containing up to 3.9 gallons.
The two mesh windows and mesh roof keep the air circulating freely and there are pockets inside and outside for all your toiletries, plus top and side hooks, and a rope to hang clothes or a towel.
This camp shower tent doesn't pop up, but assembly is very straightforward, using fiberglass and steel poles, plus ropes and stakes for stability.
There is also a useful instructional video to show you just how to do it!
The floor is made of durable polyester and the 150D durable oxford fabric with 1500mm PU silver coating is not only designed to last but will give you complete privacy.
Texsport Instant Portable Outdoor Camping Shower
If you are looking for tents with showers, then check out this model from Texsport!
Whilst putting it together may be a little more complicated than with some of the others in this guide, this may just be the best shower tent in terms of strength.
The heavy-duty pole connection joints are made of strong, molded plastic, and the spring clips at the connections ensure a sturdy construction that can easily support its 5-gallon shower (included).
The poles are made of chain-corded steel – so they are resistant to rust – whilst the walls, rainfly, and door are made from heavy-duty polyurethane coated taffeta.
Along with stakes and a storage bag, you also get a mesh accessory caddy, a removable towel holder right outside one of the two windows (so it is within easy reach), plus a removable floor mat.
This camp shower tent is 87 inches tall and very roomy, easily able to accommodate both a shower and a toilet.
Final Thoughts
A portable shower tent for camping goes a long way towards making the whole experience so much more enjoyable.
Getting mucky during a day on the trail might be fun, but it is so nice to feel clean and fresh when the day is over.
Needing some more camping inspiration? Check out these easy and quick camping meals and how to make coffee while camping!