How To Find The Best Camping Tents For Trucks
Are you looking to turn the back of your truck into a safe haven or a place to rest for the night?
Then, a truck tent is what you need, and you've come to the right place to learn more about them!
Here we cover some of the most important qualities of tents for trucks along with reviews of some of the best options on the market.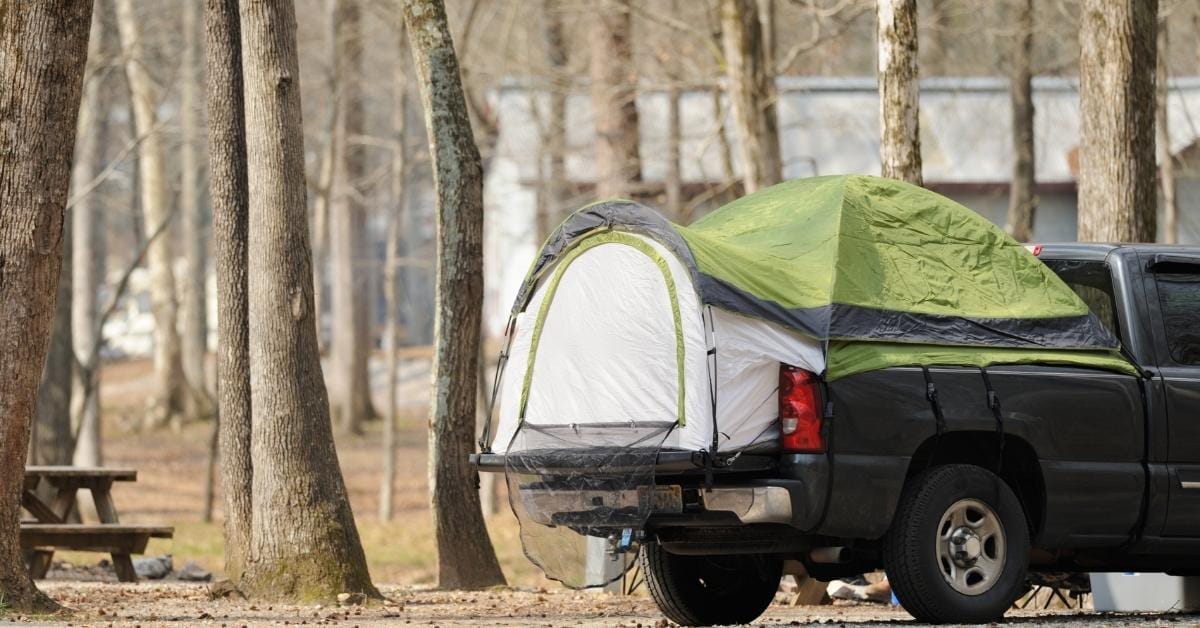 What Is A Truck Tent?
Truck tents are basically tents designed for installation on the beds of pickup trucks. Install one of these in your truck bed, and you essentially have a self-contained shelter for the night.
The principle behind the truck tent is seemingly straightforward. After all, what could be simpler than setting up a tent at the back of your truck, right?
But it would take the genius of Napier Enterprises' Roman Napieraj to come up with the first working model in 1990. Before that, campers had to make do by modifying ground tents to work on their truck beds.
Today, the market is positively awash with truck tents of all shapes and sizes, from simple models not much different from standard ground tents to more complex solutions that are almost standalone huts in their own right.
They offer the benefits of convenience and portability, plus the added advantage of keeping you dry and comfortable. Most importantly, they keep away insects and other creatures that might be tempted to drop by in the middle of the night.
How To Pick A Tent For Truck
Like any other tent, shopping for a truck tent requires some thought and planning. In particular, you have to assess your needs and figure out which qualities address those needs.
Here are some of the most important factors to take into consideration if you are in the market for a truck tent:
Size
Your truck tent should be large enough to accommodate however many people you are planning to fit in it.
Unless you only ever plan on going camping on your own, you will probably need a tent that can accommodate two or more people.
An alternative is to buy a modest-sized tent and extensions that you can use to increase capacity. Then, even if you don't need to fit in with other people, you could always use the extra space for additional storage.
Durability
A truck tent should be durable enough to withstand the rigors of the road. Although they won't usually be subjected to as much rough usage as a ground tent, they will undergo considerable wear and tear regardless.
Therefore, the material should be thick, dense, and resistant to tears, and the seams should be double-stitched for added strength.
Weight
The tent's weight is a tricky issue. Although you will want a tent that is easy to carry around and pack, you don't want it so light that a good stiff breeze will blow it off the back of your truck.
On the other hand, you also don't want it too heavy, which will make it tedious to pack and carry around with you on camping trips.
The tents we review below offer a good balance between lightweight and robust. They will hold up nicely and retain their shape even when the wind picks up but are still easy to fold up and put away.
Set-Up
Quick setup is essential for a truck tent. Sometimes, you only have a few minutes to put together your sleeping area for the night, so you should be able to get your tent up quickly.
Check out models that have color-coded poles for easy assembly. Ideally, you will want to go from packed to a fully-assembled tent in ten to 15 minutes.
Compatibility
Most truck tents are designed to fit a variety of pickup trucks. But if you have a vehicle with an oversized bed, you might struggle to fit a tent without leaving some gaps or open spaces.
Some of the tents we review below can be stretched to accommodate oversized beds. When in doubt, check the dimensions of your truck bed before making your purchase.
Budget
Finally, consider the cost of the truck tent you are planning to buy. Some of the best models are a bit expensive, but you tend to get more bang-for-the-buck the more you spend.
It is probably best to avoid the cheapest models on the market as many of them are made of thin material and have flimsy seams.
The models we review below strike a good balance between quality and affordability. Most are even cheaper than standard ground tents, and all of them will provide excellent value for your money.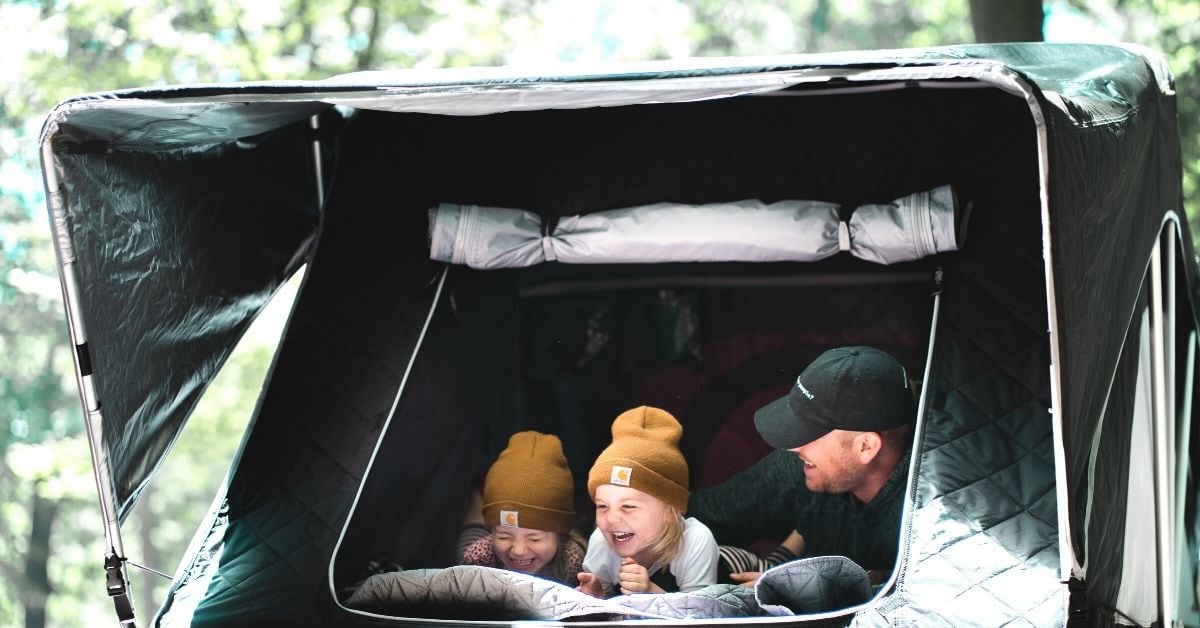 The 5 Best Tents For Trucks
With so many different pickup truck tents available on the market, it can be challenging to find the ones that perfectly suit the type of truck you have.
Based on the above criteria, we've selected five of the best tents for trucks you can buy. Any one of these models provides excellent performance and features, so choosing one is only a matter of deciding which one is best suited for your needs.
Napier Backroadz Truck Tent
---
Want to connect with fellow long-term travelers? Join our exclusive Facebook group and take part in the conversation.
---
PSSST. Your travel medical insurance can now cover COVID-19! If you grab SafetyWing's Nomad Insurance, it'll be covered just like other illnesses. I've been using it since 2019 and I can assure you it's the perfect solution for nomads like you and me.
The Napier Backroadz Truck Tent is the ideal choice if you want a tent with a large, roomy interior and adequate ventilation.
It has two large mesh windows that allow plenty of fresh air to flow in, keeping the inside cool even in the most sweltering weather conditions.
You'll never feel cramped either, with the spacious interior that provides plenty of headroom. With a center height that stretches from 58" to 62", this is one of the roomiest truck tents on the market.
The Napier Backroadz Truck Tent works equally well in wet conditions, with a full rainfly that keeps you nice and dry if you get caught in a rainstorm.
It even has extra storm flaps for the windows and doors to keep rain and moisture out, ensuring total comfort when you sleep.
You can assemble the Napier Backroadz Truck Tent in as little as ten minutes, even if you've never set up a truck tent before.
The sleeve assembly fits snugly on the color-coded pole, providing secure protection against any nocturnal creatures that may come visiting. The pole itself is made of fiberglass, so it can withstand rigorous use.
The Napier Backroadz Truck Tent also has a lantern holder, a gear pocket, and a dedicated gear loft. These features help keep essential items organized and within easy reach.
Rightline Gear Truck Tents
If the quick setup is high on your list of priorities, Rightline Gear Truck Tents are worth a closer look.
It has a floorless design that reduces assembly time considerably, making it a perfect choice for situations where you need shelter as quickly as possible.
This design also lets you set up the tent without having to clear camping equipment and accessories from the truck's bed.
If you like taking a lot of stuff with you on camping trips or cross-country runs, you will appreciate how much quicker the floorless design will let you get set up and tucked in when you stop for the night.
Rightline Gear Truck Tents also keep rain and moisture out with their dependable waterproof construction.
The rugged, water-resistant material combined with tape-sealed seams do a great job of keeping the interior dry, so you are assured restful sleep even in the wettest conditions.
Rightline Gear Truck Tents are held securely in place by heavy-duty straps and rugged nylon buckles. These can be undone quickly and won't scratch or mar your truck's paint job.
The tents even have sky view vents that allow external light to illuminate the interior and provide adequate ventilation.
JoyTutus Pickup Truck Tent
Are you expecting plenty of rainfall on your trip? Do you want to make sure you are protected if the weather takes a sudden turn for the worse?
The JoyTutus Pickup Truck Tent is the perfect choice to keep you warm and dry. Everything about the material, design, and construction is designed to keep rain and moisture out, making it the ideal accessory for camping or cross-country drives.
The tent is made of 150D polyester oxford, giving it superior strength and durability. The material is further enhanced with PU2000 coating, resulting in a waterproof covering with a warm and dry interior even under the stormiest conditions.
And that's even before you install the extra canopy, which enhances the protection even further. The JoyTutus tent even has a waterproof bottom layer that prevents water from seeping in.
Because the ability to see outside is just as important as keeping moisture out, the tent also comes with three windows for hunting, observation, or simply enjoying the view.
These have a double-layer design with a shading layer that you can pull down at night for privacy. And with four mesh bags inside, keeping your things neat and organized is never a problem.
Fofana Truck Bed Tent
Owners of full-sized trucks often struggle to find a truck tent that fits just right without any modifications. There is usually compromise between size and functionality, which leaves users at a severe disadvantage.
But with the Fofana Truck Bed Tent, you get a versatile solution that will fit almost any truck bed without sacrificing usability and dependability.
The Fofana Truck Bed Tent fits 5.5-foot beds perfectly, providing comfort and protection for most standard-sized trucks.
It will also fit onto trucks with 6.5-foot and 8-foot beds with gaps near the cab area. So whether you have a Ram, a Sierra, an F150, or a Tundra, this is the perfect truck tent for you.
The Fofana Truck Bed Tent has full-height windows bigger than you will find on most truck tents. These allow you a full 360° view of your surroundings and a 180° view of the sky.
So whether you want an unobstructed view to enjoy the sights or you need visual access for hunting and tracking game, you will find the Fofana Truck Bed Tent ideally suited to your needs.
It even has window flaps that you can pull down to keep out the light or ensure privacy at night.
Guide Gear Full Size Truck Tent
Do you have a truck that you need to turn into a camper at a moment's notice? The Guide Gear Full-Size Truck Tent is the right choice for you!
A safe and secure solution for outdoor adventures and road trips, the Guide Gear truck tent can be set up within minutes. With this tent in your cab, you are assured of a comfortable shelter no matter where you go.
The Guide Gear truck tent fits onto most full-sized beds without any modifications necessary.
It is designed for truck beds measuring 79" to 81" with the tailgate positioned down. Whether you drive a Ford, a Chevy, a Nissan, a Toyota, or a GMC, you will find that the Guide Gear truck tent fits perfectly.
Even the harshest weather is no problem due to the 190T polyester material used in the tent's construction. This is strengthened further by the 1500 mm waterproof coat, which keeps rain and moisture out. A full rainfly is also included to keep the interior dry and comfortable.
The Guide Gear truck tent has mesh windows that keep fresh air flowing in. These could be covered up at night for privacy. The tent's floor is made of polyethylene, with the sides sewn for rugged durability.
Final Thoughts
That concludes our rundown of the best camping tents for truck beds.
As you can see, they are more practical solutions than most rooftop tents and regular tents, making them cost-effective alternatives if you need quick and convenient shelter on the road.
Apart from cost, camping tents for trucks usually provide a more comfortable experience than regular ground tents. With these pickup tents, you won't have to worry about sleeping on cold, hard ground, or uneven terrain.
Better still, tents for trucks provide excellent protection against rain and moisture, as well as insects and other nocturnal creatures.
And when you are ready to take off, you can pack them up and stow them away with the rest of your gear and drive off.
A truck tent is a worthy investment if you spend a lot of time outdoors. Make sure to always have one in the truck with you, and you will always have a safe, dry, and comfortable place to stay for the night, no matter where you are.
Needing some more camping inspiration? Check out these amazing pop-up tents and tents that fit four people!