How To Find The Best Camping Chair For Bad Back
If you suffer from a bad back, then the thought of sitting in a camping chair might be putting you off from taking trips to great outdoor destinations.
But the good news is that camping chairs have come a long way since the original, unsupportive canvas and pipe models of the past and there are now some excellent options around!
This guide is intended to help you find the best camping chair for bad back, designed to offer comfort and support in all the right places.
It includes 5 of my favorite supportive chairs, plus tips on what you should look out for when choosing the best one for your needs.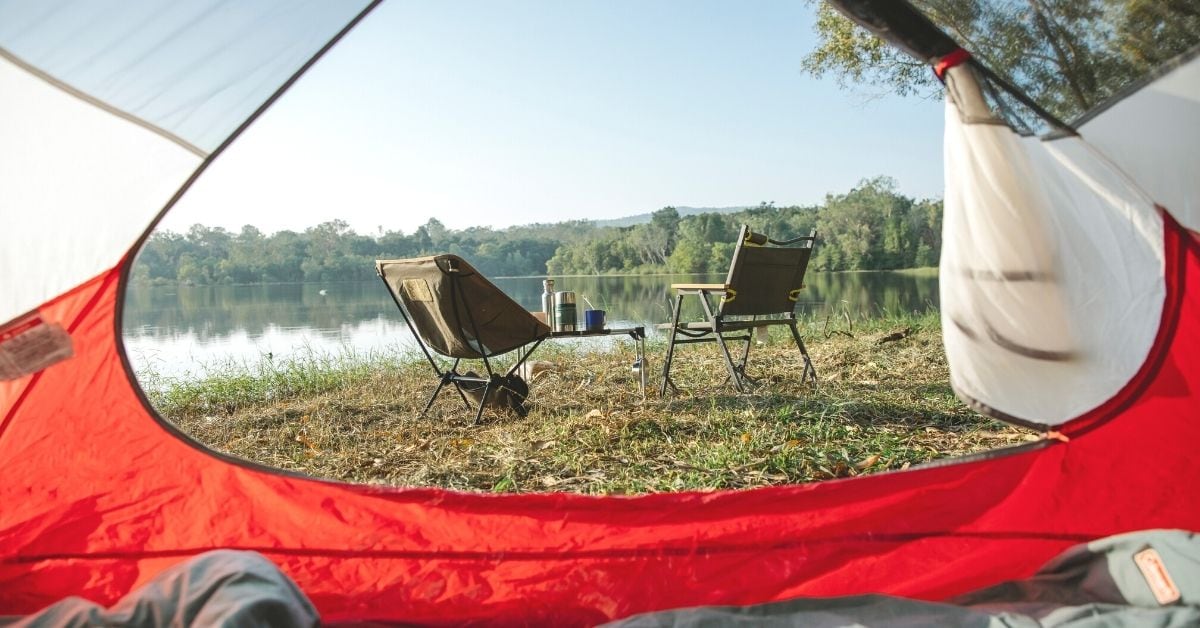 What To Look For When Buying A Camping Chair For Bad Back
Camping shouldn't be painful for your back, so it's essential to find the right type of camping chair. Here are some tips to help you in your search.
Lumbar Support
Extra support in the lumbar region is key to preventing back pain when sitting and helps with maintaining the correct posture.
Look for chairs with added support and padding in other areas, too, which will all help towards making you feel more comfortable.
Some type of cushioning in the neck area can be useful and high back camping chairs are a good option as they offer extra support right up to your head.
Although it may not help relieve your bad back, extra padding around the armrests is a welcome touch too!
Large Size
Many of the camping chairs that are good for bad backs are a little larger than average. This makes it easier to get in and out of them and to get completely comfortable when seated.
Load Capacity
When looking for a folding chair with back support, be sure to check the load capacity and make sure it is adequate for your needs.
The more robust a chair is, the better. This is especially true when you need to exert a lot of force on the arms of the chair for support in order to stand up or sit down safely.
Weight Of The Chair
The chairs included in this guide range from as little as just under 3 pounds all the way up to just over 13 pounds.
So it is important to think about the type of camping you enjoy and whether or not the weight of the chair will be suitable for you.
This, of course, becomes more important when you are backpacking, and you will need to find the lightest chair possible that still provides the support you need.
Extras
Whilst not essential, there are some extra features that are nice to have if available, such as a purpose-built bag to carry your chair.
A cup holder is a fairly standard feature, but some chairs in this guide also have their own little coolers and storage pockets for extra drinks or smaller items.
Chairs with wide feet are great too, as these are designed to be stable even when the ground is soft.
PELLIOT Portable Camping Chair
The PP cotton filling of the Pelliot folding chair with back support gives it a soft feel and makes it very comfortable.
It is ergonomically designed on the back and seat to support the spine and it is made of breathable Double Oxford cloth, which is both durable and resistant to dirt.
One of the best camping chairs for a bad back, it doesn't sink when you sit on it, so it is easy to get up from.
At only 7.28 pounds this camping chair is light enough to easily take with you on your travels, but it still has a decent load capacity of 330 pounds.
Once opened, its dimensions are 23.2 x 23.2x 38.9, which are generous enough to allow the 'wiggle room' you need to get really comfortable.
---
Want to connect with fellow long-term travelers? Join our exclusive Facebook group and take part in the conversation.
---
PSSST. Your travel medical insurance can now cover COVID-19! If you grab SafetyWing's Nomad Insurance, it'll be covered just like other illnesses. I've been using it since 2019 and I can assure you it's the perfect solution for nomads like you and me.
If you like to keep a cool drink to hand, then this chair is ideal – it comes with its own built-in beverage pouch which hangs from one armrest and can hold up to 4 x 12-ounce cans.
From the other armest hangs a handy mesh cup holder.
STRONGBACK Elite Folding Camping Chair
These Strongback award-winning camping chairs that are good for bad backs provide excellent lumbar support, preventing the spine from rounding and ensuring you maintain good posture at all times.
Available in four different colors, these spacious chairs are ergonomically designed to keep the hips and back in proper alignment, helping prevent pain.
Ideally designed for people 5'8″ and over, the chair has a maximum weight capacity of 300 pounds.
At 11.93 pounds it is a little heavier than some folding chairs, but this is because it is extremely solidly constructed, with large feet that are designed not to sink into the ground, well-padded sturdy armrests and additional lumbar padding integrated into the frame.
This chair also has a beverage holder on one side, comes with its own backpack-style carry bag, and has a 2-year warranty, so you can buy with confidence.
ALPHA CAMP Oversized Camping Folding Chair
This top-rated folding chair with back support is one of the most heavy-duty models around, capable of supporting up to 450 pounds in weight.
The seat area is spacious enough to feel extremely comfortable, with padded armrests and 600x 300D padded oxford fabric to help you truly relax.
There is even a soft padded area to support your neck for the ultimate comfort. The durability of this chair is enhanced by the hammer tone powder coating, which prevents it from fading and corroding.
It has a sturdy steel frame construction and weighs 13.2 pounds, so it is perfect for car camping. A
drink holder in the armrest allows you to keep your water bottle within easy reach and there is a mini cooler on the other side of the chair to store extra drinks.
You also get a convenient side pocket for storing items like keys, maps, or your phone, and – best of all – the chair offers great value for money.
KingCamp Camping Chair
These are excellent camping chairs for a bad back, as they feature a unique, tilted high back that feels exceptionally comfortable and offers the extra support you need.
They also have padded armrests made from steel, which are very strong and stable so you can confidently use them to support you as you get in and out of the chair.
Weighing just 9.4 pounds these chairs are easy to carry, but they have very generous dimensions and really make it possible to kick back and relax in comfort.
With a load capacity of up to 300, these chairs are solidly constructed, with a load-bearing lock design and supportive cross rivet connections.
The feet are uniquely designed with a greater surface area, so they won't sink into the ground, and the chair has a built-in holder for your drink. There is also a handy storage pouch for small items like your keys or wallet.
G4Free Lightweight Portable High Back Camping Chair
High back camping chairs can provide you with the extra comfort you need when you have a bad back and this model is one of my favorites.
Available in 6 different colors, it is exceptionally lightweight, weighing just 2.8 pounds! This makes it easy to take with you on any sort of camping trip, even if you will be backpacking.
It does require a little bit of assembly, but it is very simple. All the poles are connected by shock cords, so it is simply a case of slotting them all together.
The 17.7" wide headrest is made from a soft sponge and the chair's high back makes you feel very well supported and relaxed.
Despite its lightweight, this chair is sturdy, easily able to support up to 240 pounds in weight.
Reinforced stitching on the chair cover makes it very durable, whilst the mesh ventilation panel helps you stay cool, even if you sit in the chair for long periods.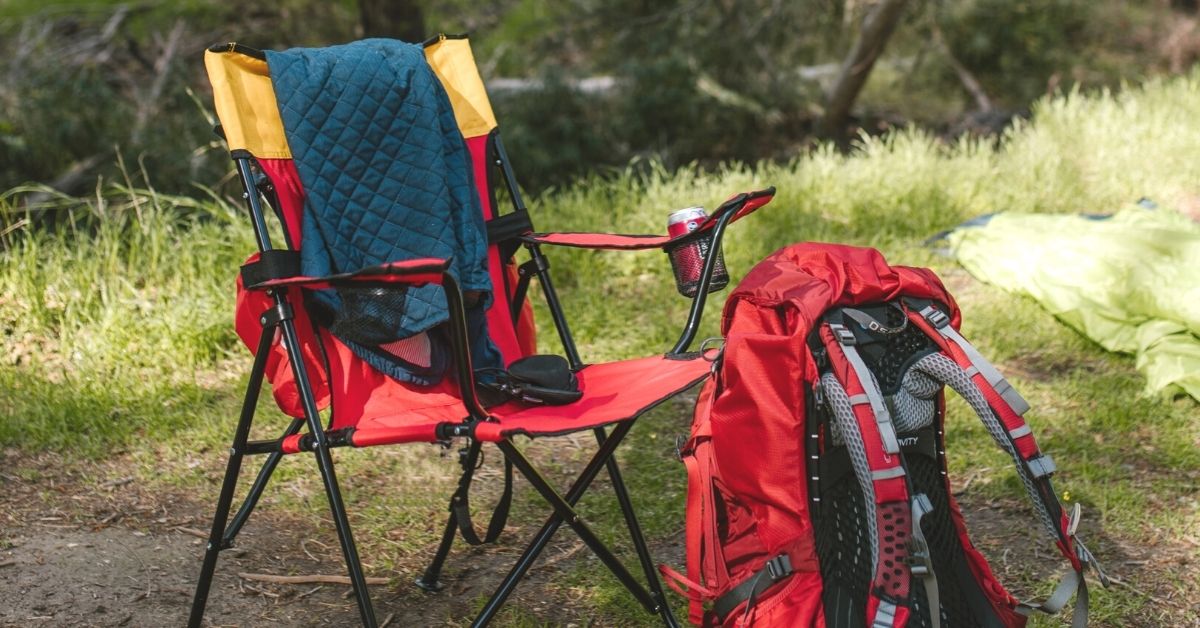 Final Thoughts
As you can see, there are several camping chairs that are good for bad backs, designed to give you the support and comfort you need.
I hope this guide has helped you find the perfect model so now nothing is stopping you from getting out there and enjoying your next outdoor adventure.
Make sure to check out these amazing backpacking chairs too!