How To Find The Best 3 Room Tents
Looking for the best 3 room tents around for you and your family or friends? In this guide, I share recommendations for my favorite multiple room tents, plus some tips on the features to look for when making your decision.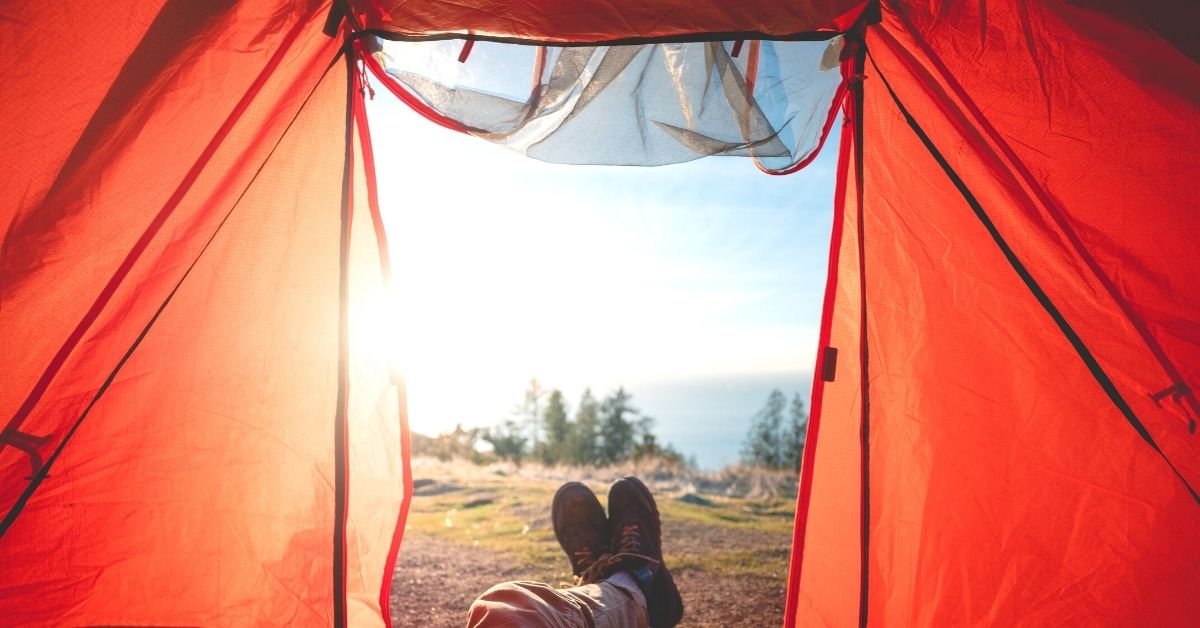 What To Look For When Buying A 3 Room Tent
When searching through all the 3 room tents available, you need to keep in mind things like, how fast it will be to put it together, whether it's waterproof, what's the ventilation like, etc. Here are some tent buying tips!
Assembly Time
Modern tents are a lot easier to put up than they used to be, but there is still some variation from one model to another.
If you want a 3 room camping tent that can be assembled in mere minutes, then the best option would be to look for an instant tent.
These usually have pre-attached poles that either pop – or can be extended into – place. They are almost foolproof to set up and give you more time to get started on your outdoor adventure.
None of the large multi room tents in this guide take longer than 30 minutes to assemble.
Waterproofing
If the weather isn't kind during your camping trip, you will want to be confident that your tent won't let in water.
Look for features like taped seams – which prevent leaks – and check the specifications to find out the level of rainfall your chosen 3 room camping tent is equipped to cope with.
Ventilation
A well-ventilated tent is key to a good night's sleep, so it is important to check that any 3 room tents for camping that you consider will let enough air in.
A mesh roof is ideal for this – it will keep out bugs whilst simultaneously giving you a view of the stars at night.
However, if it rains, you may need to cover the roof with the rainfly, in which case you will want your tent to have multiple mesh windows to keep you cool. Some tents even include additional ground vents for optimum comfort.
The Comforts Of Home
The best 3 room tent will have those extra little features that make your trip that bit more comfortable. Extra storage is always handy, so check to see if there are at least pockets in which to store smaller items.
A gear loft or hammock is even better, as it makes it possible to keep everything off the ground and increases your living space.
Of course, you can always buy a separate portable hammock, and don't forget to get a sleeping bag that fits in a hammock too!
An E-port is also very useful. This allows you to run electrical cables into your tent to power things like a heater or air conditioner.
Running cables through the doorway can create a trip hazard – an E-port keeps them safely out of everyone's way.
Ozark Trail 10 Person Tent
This 3 room camping tent from Ozark is a generous 20′ X 10′ and sleeps up to 10 people.
It will comfortably accommodate 3 queen air mattresses or 10 sleeping bags, and – with a central height of 78 inches – it is easy to move around in. Assembly is relatively straightforward, taking only around 20 minutes or so.
Well designed to keep you and your family protected from the rain, it features a tub floor, securely taped fly seams, and Enhanced Weather Armour.
The three separate rooms are easily created using the two included dividers and in addition to the center door, there are two side doors, which means you have complete privacy when you need it.
It is also quick and easy to remove the dividers to create one large space whenever you want everyone to get together.
Six windows and a mesh roof not only give you great panoramic views, but they also keep the tent well ventilated and comfortable at all times.
There is a mud mat to keep the inside of the tent clean, along with a handy shoe pocket, plus an E-port that allows you to run electrical cables safely into the tent if required.
Ozark Trail 11 Person 3 Room Instant Cabin Tent
With dimensions of 14′ x 14′, this 3 room cabin tent is designed to comfortably sleep up to 11 people.
If quick and easy assembly is a major selling point for you, then this may be the best 3 room tent on the market, taking just a few minutes to pop right up into shape!
---
Want to connect with fellow long-term travelers? Join our exclusive Facebook group and take part in the conversation.
---
PSSST. Your travel medical insurance can now cover COVID-19! If you grab SafetyWing's Nomad Insurance, it'll be covered just like other illnesses. I've been using it since 2019 and I can assure you it's the perfect solution for nomads like you and me.
The tent is made up of an open cabin with an extra room attached at the back – especially useful if you are traveling with kids!
All you need to do is use the included divider to separate the main room into 2 rooms, giving you three rooms in total.
The tent has an overall height of 78 inches so it is possible to stand and move around very easily and the entrance is protected with a large front awning.
The hanging gear organizer is great for keeping everybody's gear up and out of the way, giving you more room in which to relax, and the six large windows and mesh roof keep the tent well ventilated.
This prevents an uncomfortable build-up of heat during the night and helps prevent any condensation from forming.
Noti 10-Person Family Camping Tent
These 3 room tents for camping are ideal if you have a large family or want a little privacy if traveling with a group of friends.
Composed of 3 smaller tents that are attached inside to create bedrooms, this well-made tent weighs just 17 pounds – much lighter than many other large multi room tents.
It has large mesh windows and a mesh roof for ventilation, plus a front flap that can be propped up to create an entrance.
It can be easily set up in under 10 minutes and uses J hooks, so you don't have the hassle of pushing poles through sleeves.
It also has patented foot sleeves which allow you to set up the tent more securely, with greater resistance to the wind.
Due to their size, it can be a struggle getting multi room tents back into their storage bags after dismantling them, but this one comes with a generously sized zippered duffle that makes life easier.
Made from polyester 185T PU1000mm fabric, this 3 room camping tent is guaranteed to be water-resistant, with the vestibular awning and extended awning design stopping any rain from dripping inside.
There are also multiple storage pockets to keep all your personal items well organized and off the ground.
Ozark Trail Hazel Creek 16 Person Family Cabin Tent
Offering a massive 230 square feet of living space, these fabulous multi room tents come with two sewn-in room dividers.
Not only do these allow you to create three rooms for privacy but they also provide greater stability to the tent itself.
Easily accommodating 4 queen air beds or 16 people in sleeping bags, this tent has three doors, so you don't need to disturb anyone in a different room if you have to get up to visit the bathroom in the middle of the night!
The door flaps roll back so you can let in plenty of fresh air whilst the screens will protect you from bugs, whilst the mesh roof allows you to lie gazing at the stars when the rainfly is removed.
This tent has some fantastic little details that make it feel extra comfortable.
The nine windows provide loads of ventilation and zip up to afford you a little more privacy when you need it, and the center height is an impressive 80 inches, so even your tallest friend or family member can walk around comfortably.
There are lots of organizer pockets to store your personal items, along with a gear loft, a gear hammock, and even a media pocket to keep items like tablets.
What's more, there are 3 E-ports to safely run in electrical cables and even a 55″ removable screen to enable you to enjoy a family film night on your trip.
Ozark Trail 12-Person 3 Room Instant Cabin Tent
These 3 room tents are absolutely perfect if you want to spend the least amount of time on set up as possible and get straight to enjoying your time outdoors!
That's because no actual assembly is needed – instead, the poles are pre-attached to the tent, so all you need to do is unfold and then extend them!
Measuring 16′ x 16′, this tent gives you plenty of space in which to relax and can sleep up to 12 people.
It has 7 windows to enjoy the views and to let in some fresh air to aid ventilation, but all windows can be fully closed when needed.
An oversized ground vent provides additional ventilation – ideal for those hot summer nights – and can even accommodate an air conditioner for when the temperatures are soaring.
The tent is high enough to easily stand up and walk around in and one particularly good feature is the large front awning, which gives you a nice shady area in which to relax and enjoy a meal or wind down at the end of the day.
This 3 room cabin tent also comes with an E-port, allowing you to easily use electrical items in your tent without running the cables through the doorway.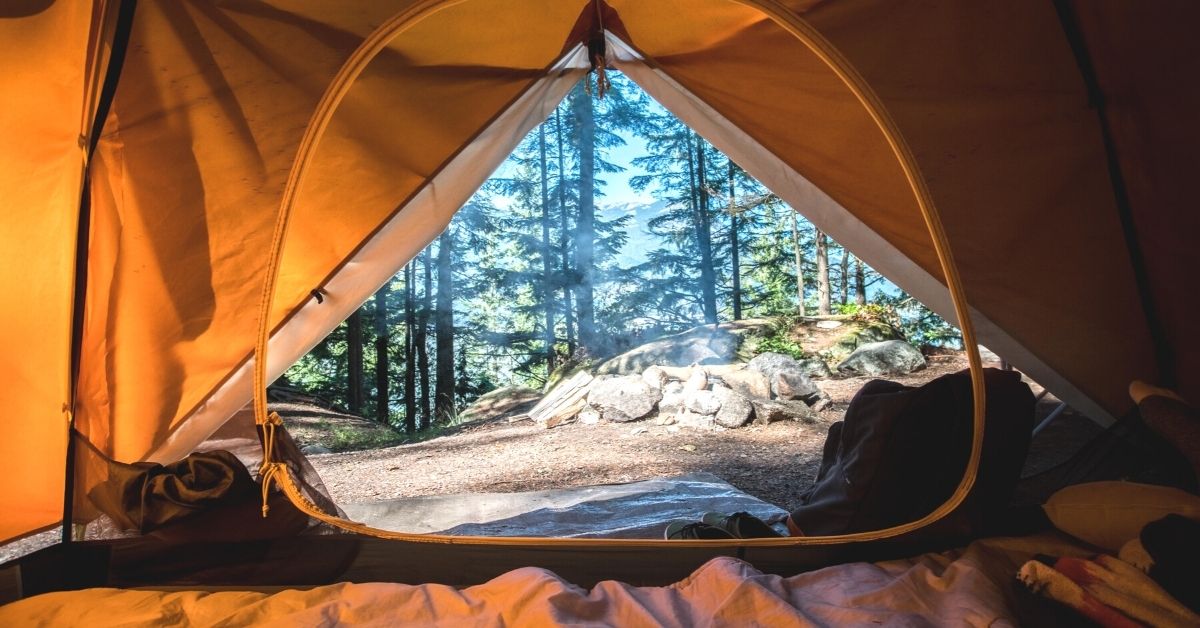 Final Thoughts
A camping trip with your extended family or a large group of friends is great fun.
So it's good to know that there are some excellent 3 room tents available that provide plenty of space and privacy, helping make your adventures so much more enjoyable.
Make sure to check out these great pop-up tents and tents for trucks, for more camping inspiration!