Hiking Lunch Ideas and Snacks
One of the most important things to remember when choosing lunches and snacks for hiking is that these foods will serve as fuel for your trek.
Making sure that your meals are nutritious will be even more important than usual. You will need to eat foods that keep your energy levels high, that help you recover well from a long and strenuous day and that keeps you feeling full for as long as possible.
Plus, of course, you will want meals with plenty of flavors that taste as good as foods prepared at home.
If you are considering a longer hike, you should aim to include complex carbohydrates in your hiking lunches. Also known as slow-release carbohydrates, these keep your energy levels consistent, without the highs and lows that simple carbohydrates (like sugar) can cause.
Foods rich in protein are valuable for rebuilding muscle and aiding with recovery, whilst a hiking lunch containing healthy fats will help your body absorb all the nutrients from other foods.
When coming up with hiking lunch ideas, you also need to think about how well foods will travel. Avoid very delicate foods that are likely to get squashed or foods that may become soggy.
If you are bringing food that is already prepared, you will want it to taste just as good at room temperature as it would either chilled or heated.
Alternatively, you might want to bring along dried or dehydrated ingredients, that you can rehydrate and heat during your hike, using a lightweight camping stove and cookpot. Not only are these convenient, but they are lightweight too!
Although dehydrated carbohydrate-rich foods are relatively easy to find, it's not so easy (or affordable) to buy dehydrated proteins. If you hike regularly, it's simple to dehydrate your own meats at home using an electric dehydrator. It's great for dehydrating fruits and veggies too and works out a lot more cost-effective than buying them pre-dried.
When packing your hiking lunch, don't overlook hydration! Water is always the best option, of course, and for short hikes, it's a good idea to bring it along in an insulated stainless steel bottle. This keeps your water cool for longer and prevents that 'plastic' flavor you sometimes get when bottles warm up.
For longer hikes, opt for a hydration bladder, which is lightweight, collapsible, and allows you to sip as you walk.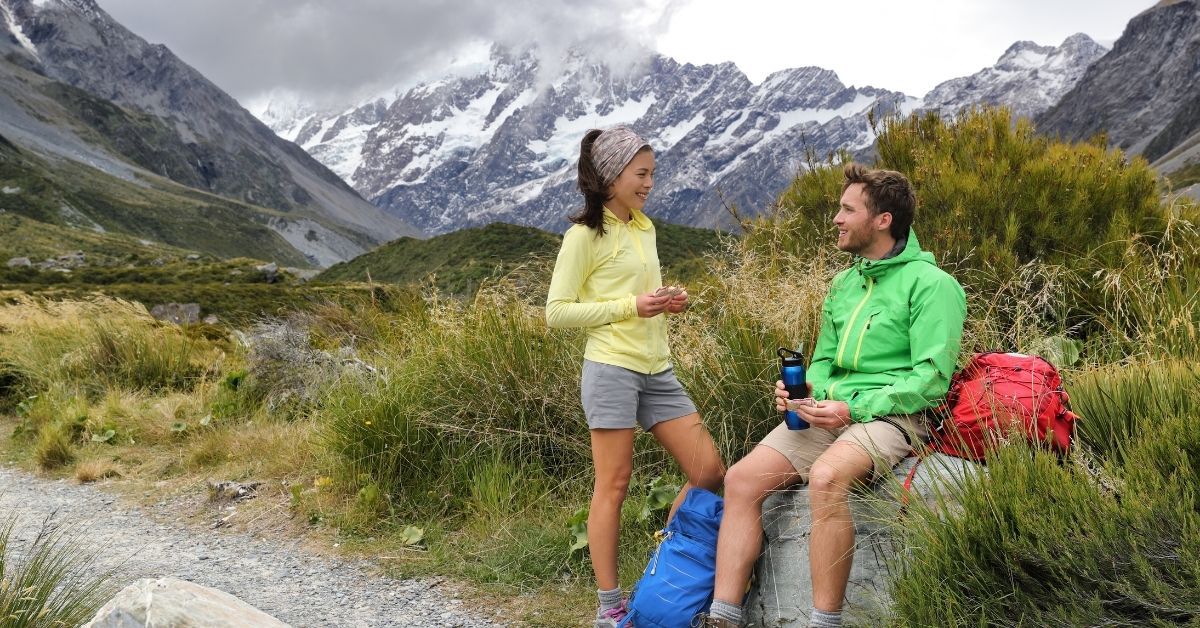 Easy Lunch Ideas for Hiking
Here are some nutritious hiking lunch ideas that are simple to prepare and pack plenty of flavors. To make it easy to bring along multiple items, why not consider using a bento box – it's great for separating savory from sweet!
Some of these hiking lunch ideas contain perishable items. This means they will need to be kept cool in an insulated bag. Why not throw in some frozen juice boxes instead of ice packs, killing two birds with one stone!
1. Chicken and Pasta Salad
Combining a lean protein like chicken with a complex carbohydrate like whole-grain pasta ensures a very slow and steady release of energy, leaving you satisfied for longer.
Simply combine cooked chicken with a whole grain pasta of your choice, toss in some quartered cherry tomatoes, and stir in mayonnaise. Alternatively, use pesto instead of mayonnaise for a real pop of flavor.
2. Hard-Boiled Eggs
Packed with protein, hard-boiled eggs are very nutritious and keep you satisfied for hours. Whilst they taste great with just a dash of salt and pepper, try topping them with mayonnaise (you can buy tiny reusable bottles to take with you on your hikes) or a teaspoon of hummus.
3. Hummus and Pita with Cherry Tomatoes
Protein-packed hummus with whole-grain pita will give you plenty of energy! Breads like pita, tortillas, or bagels are great for hiking lunches as they hold up well.
If you don't want to bring an insulated bag for fresh hummus, why not opt for powdered hummus instead? All you need to do is mix it with hot water and a sachet of olive oil.
4. Tuna and Crackers
Full of healthy fats and protein, tuna is perfect for a hiking lunch served with whole-grain crackers and a hard cheese that travels well, like provolone or cheddar.
Starkist Tuna Pouches are perfect for a hiking lunch – they don't need to be kept cold and are ready to eat straight out of the packet
---
Want to connect with fellow long-term travelers? Join our exclusive Facebook group and take part in the conversation.
---
PSSST. Your travel medical insurance can now cover COVID-19! If you grab SafetyWing's Nomad Insurance, it'll be covered just like other illnesses. I've been using it since 2019 and I can assure you it's the perfect solution for nomads like you and me.
5

. Chicken or Turkey Wraps with Cheese
It may sound unoriginal, but a simple wrap is one of the best hiking lunch ideas out there! The combination of a whole-grain wrap with meat and cheese makes a very complete meal, especially when served with some healthy, crunchy veggies on the side.
Alternatives to chicken or turkey include ham, cooked sausage, salami, or something completely different like smoked salmon. Carry your sandwiches in sealed Ziploc sandwich bags.
If you don't want to worry about keeping your sandwiches cool, pack the bread separately and bring the protein along in a pouch. Either use tuna pouches as mentioned above or try Starkist Chicken Pouches.
6. Oatmeal or Soups
Oatmeal isn't just for breakfast and this carbohydrate-rich food is great for keeping you going on a long hike. Rolled oats are easy to bring along with you and cook on the go, or you can bring instant oats and simply rehydrate them with hot water from your Thermos.
To make oatmeal into a lunch, add savory ingredients such as cheese, sun-dried tomatoes, rehydrated mushrooms, hard cheese, and seasonings. If savory oatmeal isn't your thing, bring along powdered soup instead for a quick and tasty meal.
7. Nut Butters and Crackers
Nut butters are great for giving you energy and make ideal hiking lunches served on whole-grain bread or crackers. These Classic Peanut Butter Squeeze Packs are a perfect choice and contain just 2 healthy ingredients, but if you're allergic to nut butters then why not try a nutritious seed butter instead?
8. Dry Foods You Can Prepare
There are lots of different dried foods you can take with you to prepare on the go, meaning that it's possible to make all sorts of meals! Dried hiking food ideas include instant grits, powdered cheese, jerky, instant mashed potato, bacon bits, dried vegetables, and lots more.
9. Meal Bars
When it comes to easy lunch ideas for hiking, nothing is simpler than packing a supply of Greenbelly Meal Bars.
These are not your average meal replacement bar and each pack delivers an incredible 650 calories. Designed specifically for hiking, these bars are ready to eat right out of the pack, with no cooking and no clean-up afterward!
10. Freeze-Dried Meals
If you want a hot meal – but without the hassle of cooking – then a freeze-dried meal is perfect. All you need to do is add hot water and wait for 10 minutes – then it's time to eat. Mountain House makes a huge selection of freeze-dried meals for breakfast, lunch, dinner, and dessert, so it's easy to find something you'll enjoy!
Hiking Snacks
Your hiking snacks are just as important as your lunches. Whilst at home we tend to stick to three main meals a day, your needs are different when hiking. You are constantly using energy, so you want to be constantly topping up your supplies.
This means that snacking as you go is a lot better than eating lots of food in one sitting. Make sure at least a few of your hiking snacks are foods that you can easily carry in your pocket, so you will always have something to hand when those hunger pangs strike!
Here are some nutritious and tasty hiking snacks to pack for your next trip:
No-bake energy balls

are easy to make and economical. Just mix together oats, dried fruit, shredded coconut, and chocolate chips with your favorite nut or seed butter until you achieve a texture like cookie dough. Roll into balls and pack frozen.

Pure Protein Bars are great and they won't just fuel your hike – they'll satisfy your sweet tooth too!
Fruits and vegetables

are hydrating and give a satisfying crunch. Pack ones that will hold up well – carrots, apples, and oranges, for example.

Dried fruits

are energy-dense and easy to pop in your pocket to eat as you go. Try raisins, apricots, figs, or cranberries.

Jack Link's Beef Jerky is another easy-to-carry snack. Made from 100% premium beef it packs a ton of protein and comes in original or teriyaki flavors. Alternatively, try Primal Spirit's Vegan Jerky, with 10g of plant-based protein per serving.
Honey Stinger Organic Energy Chews

may just be one of the best hiking food ideas of all. Formulated for people with an active lifestyle, they taste great and are so convenient to enjoy as you hike!
Final Thoughts
I hope these easy lunch ideas for hiking have inspired you. It's easier than you think to put together a great meal outdoors that will provide enough fuel for your adventures and taste good too.
Hiking alone? Make sure to add these best hiking songs to your playlist.