Guide To The Best Towel For Camping
It's important to choose the best towel for camping as regular towels can be bulky, heavy, and slow to dry.
Camping towels or towels designed for travel take up less space and dry quickly, so you can be packed and ready to move on in no time.
PSSST. Your travel medical insurance can now cover COVID-19!
If you grab SafetyWing Nomad Insurance, it'll be covered just like other illnesses. I've been using it since 2019 and I can assure you it's the perfect solution for nomads like you and me.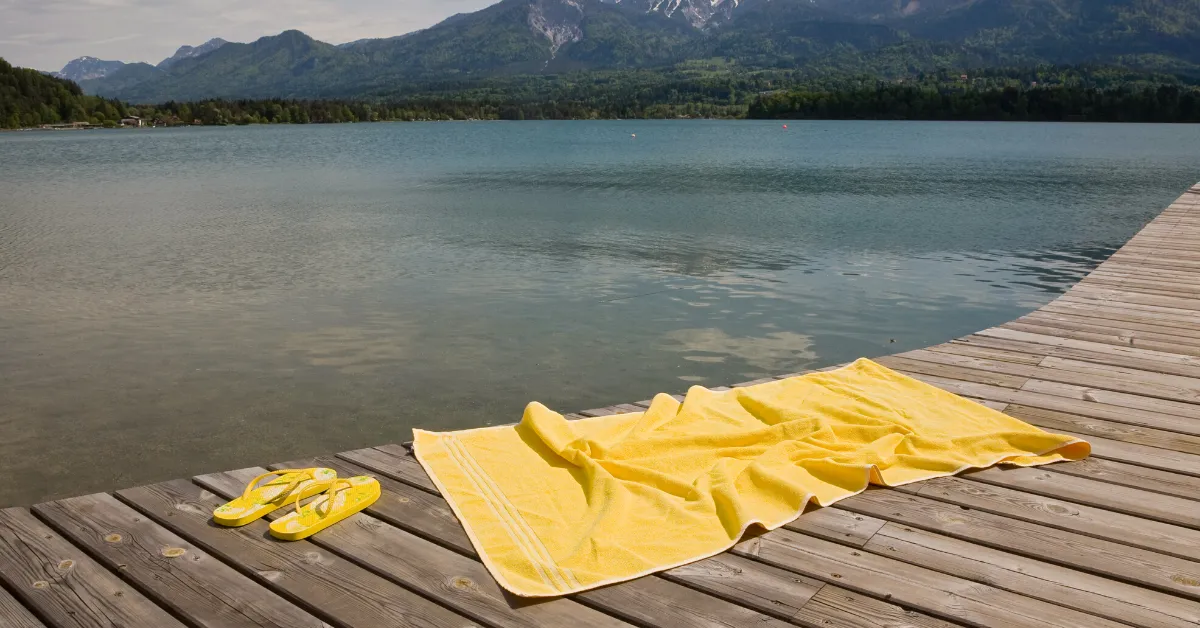 What To Look For When Buying Towels For Camping
There are lots of different towels on the market designed for camping and travel, but not all are created equal!
Here are the features to look out for, helping you choose a towel that will be the best one for the job!
Compact And Lightweight
Whereas a regular towel could easily take up half your backpack, camping towels are usually much smaller. They are designed to roll up nice and tight, with some even folding down to the size of a soup can.
They are also much more lightweight – always an important consideration when it comes to packing for your trip.
Absorbent
The best towels for camping are usually made from microfiber. This is usually a blend of polyamide (nylon) and polyester.
Because the fibers are so small, they create a very large area to soak up water. This means that microfiber towels are incredibly absorbent, with some types able to absorb several times their weight in water.
Because microfiber towels have the ability to soak up so much water, they don't need to be as large as regular towels. This means they don't take up as much space in your gear, nor do they contribute as much to the weight!
Another advantage is that some microfiber towels are made using recycled plastics, so they are good for the environment too!
Fast Drying
Wet towels can be a real pain on a camping trip.
They can start smelling bad very quickly, especially in a small space like your tent or car. They are heavy, too!
And packing a wet towel into your gear is far from ideal, so it can slow you down as you need to wait for it to dry before moving on. What's more, a wet towel is a breeding ground for bacteria – obviously something you want to avoid!
With quick-dry towels for camping, these problems become a thing of the past! Rather than taking several hours to dry outside, a good camping towel can take as little as half an hour.
Soft
Practical features aside, there's something else you want to look for in a towel for camping, and that's comfort! Because they tend to be made from microfiber, most camping towels are super soft.
In fact, you'll probably find that you don't even need to use fabric conditioners to keep them that way. Even better, they often get softer the more you use them!
Versatile
A quick-dry camping towel can be useful for so many activities besides camping!
Depending on the size you buy, you could also use it when jogging, hiking, swimming, going to the gym, and more. You could even buy one for your pet!
Think about other potential uses when making your selection, as it may affect the color and design pattern you choose.
Useful Extra Features
Aside from the basic requirements, there are a couple of little extras to look out for that can make life just so much more convenient!
Some towels come with a hook or a loop that you can use to hang them. This small detail makes a big difference as it allows you to hang the towel easily so that it dries as quickly as possible.
Another nice feature is a carrying bag. Usually made from breathable mesh, a carrying bag can be ideal if you are very short on space.
This is because you can easily attach it to the outside of your backpack, making the most of every inch of interior space for the rest of your gear!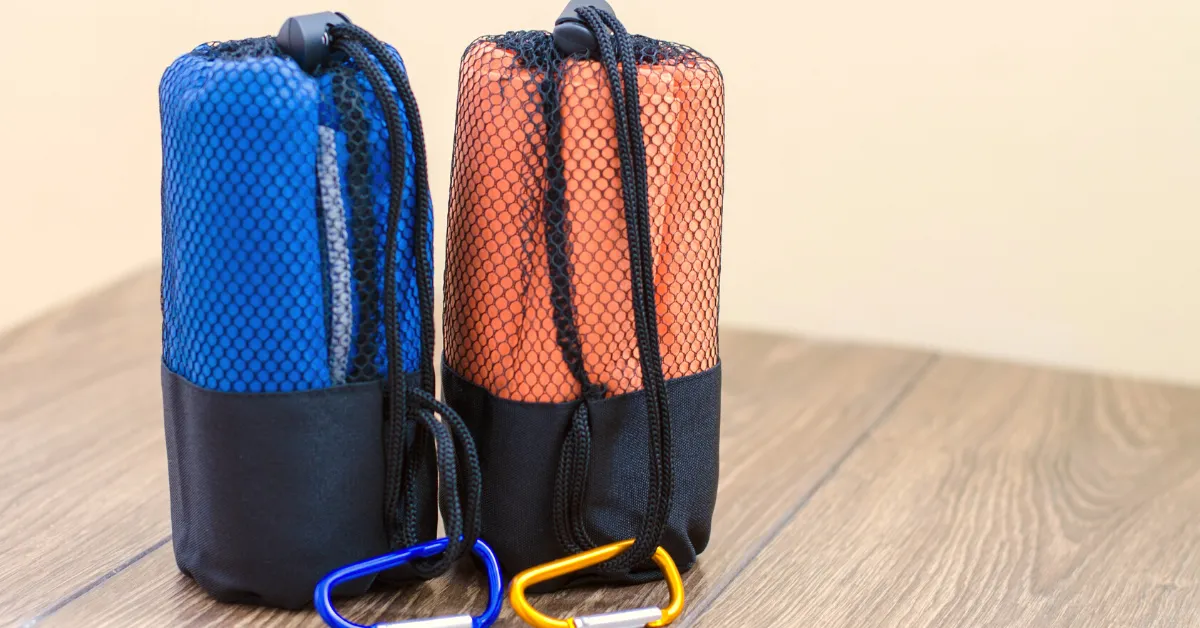 Top 5 Camping Towels
Here are my recommendations for the best towels for camping and why you may love them too.
BAGAIL Basics Microfiber Camping Towels
Whether you are looking for the best towel for camping or the beach, you'll find it in this fantastic range from Bagail.
There are lots of different sizes to choose from, starting from extra small and rising all the way to the 40 x 80 inches XXX large version! Some sizes even include a handy zippered pocket in the corner, ideal for storing your phone or keys.
They come in lots of lovely, vibrant colors, too – or you can opt for the eye-catching striped design.
Drying up to 10 times faster than a regular towel and capable of holding 4 times its weight in water, this camping towel is made from an eco-friendly suede microfiber. Free from harmful additives and hypoallergenic, it feels beautifully soft to the touch and gentle on your skin.
Lightweight and very compact, each towel comes with its own handy zippered EVA case or ultralight travel bag, plus a snap hanging loop that makes it easy to hang.
Rainleaf Microfiber Towel
Available in your choice of 10 bright colors and 6 different sizes, this quick-dry Rainleaf camping towel can absorb 5 times its weight in water.
Colored with 100% natural plant dye, it has a lovely soft feel and is made with a suede microfiber (85% polyester and 15% polyamide) that feels lovely against your skin.
This is a high-quality product and the stitching is excellent, which means that the towel will give you plenty of use without fraying. It has some great extra features, too!
These include a hook with a button, which means you can easily hang the towel from a crossbar or other object. There is also a zip pocket on the XXL version, so you'll have somewhere safe to stow your phone or keys.
Each towel is treated with SILVADUR antimicrobial technology to prevent the growth of bacteria and comes with a breathable mesh carrying bag.
Wise Owl Outfitters Camping Travel Towel
From a company known for high-quality but affordable camping gear, this towel comes in 10 different colors and 5 different sizes.
Capable of repelling sand, water, and sweat, its soft suede feel makes it comfortable to use as it wicks away moisture without drying your skin.
The Wise Owl Outfitters Towel is very convenient to carry in your gear, being both exceptionally lightweight and folding down to a super small size. It fits snugly into its breathable mesh carrying bag and features a snap loop that makes it easy to hang anywhere.
Durability is important, too, and this towel doesn't disappoint! It has interlocking stitching that keeps it looking great but that still feels gentle against your skin.
Microfiber Towel – 3 Sizes In 1 Pack
I love the convenience of this set as it includes quick-dry camping towels in three different sizes – small, medium, and large.
This means you always have the perfect towel on hand for whatever activity you're doing. In fact, the smallest size fits easily into your pocket, so it's ideal for keeping with you throughout the day.
Each towel can absorb 3 to 4 times its weight in water and will dry 10 times faster than your regular cotton towels. This means you won't need to worry about that damp-towel smell or the development of mildew or bacteria.
The attached hanging loops make it even easier to dry them quickly! Each set – available in either blue or gray -comes with a zippered carrying bag.
It is generously sized, so you'll even have room to include small items like your phone and keys. And the towels feature interlocked stitching, so you can be confident they won't fray and will last you for many trips into the future.
Fit-Flip Travel Towel
This popular Fit-Flip camping towel comes in 8 different sizes and there are lots of bright, vibrant colors to choose from, including mint, pink, and royal blue.
It has everything you need for your travels, folding down to a nice small size and extremely light in weight.
Made from a mixture of 88% polyester and 12% polyamide, the towel has the advantage of being both smooth to the touch but also durable. The strong interlocking stitch helps too, preventing the edges from fraying.
Machine washable, this is a highly absorbent towel made from high-quality microfiber that can easily repel dirt and sand. It dries very quickly after use so it stays fresh-smelling and free from bacteria, plus it has a convenient hang-dry strap that opens to allow you to hang it from anywhere!
A handy mesh bag is included that you can either tuck into your gear or attach to the outside of your backpack to make the most of your space.
Final Thoughts On Camping Towels
I hope that this guide has helped you choose the best camping towel for your needs.
Once you see how well these towels get you dry and how compact they are to pack, you'll never hit the road without one again!
Going camping soon? Read one of the following guides: