Guide To The Best Kettle For Camping
A good camping kettle may be one of your most important pieces of kit when you're out on the trail. In this guide, you'll learn what to look for in order to pick the best kettle for camping.
Being able to safely boil water means you can have a hot drink whenever you need one. It also means that you have a way to sterilize water or equipment whenever needed.
PSSST. Your travel medical insurance can now cover COVID-19!
If you grab SafetyWing Nomad Insurance, it'll be covered just like other illnesses. I've been using it since 2019 and I can assure you it's the perfect solution for nomads like you and me.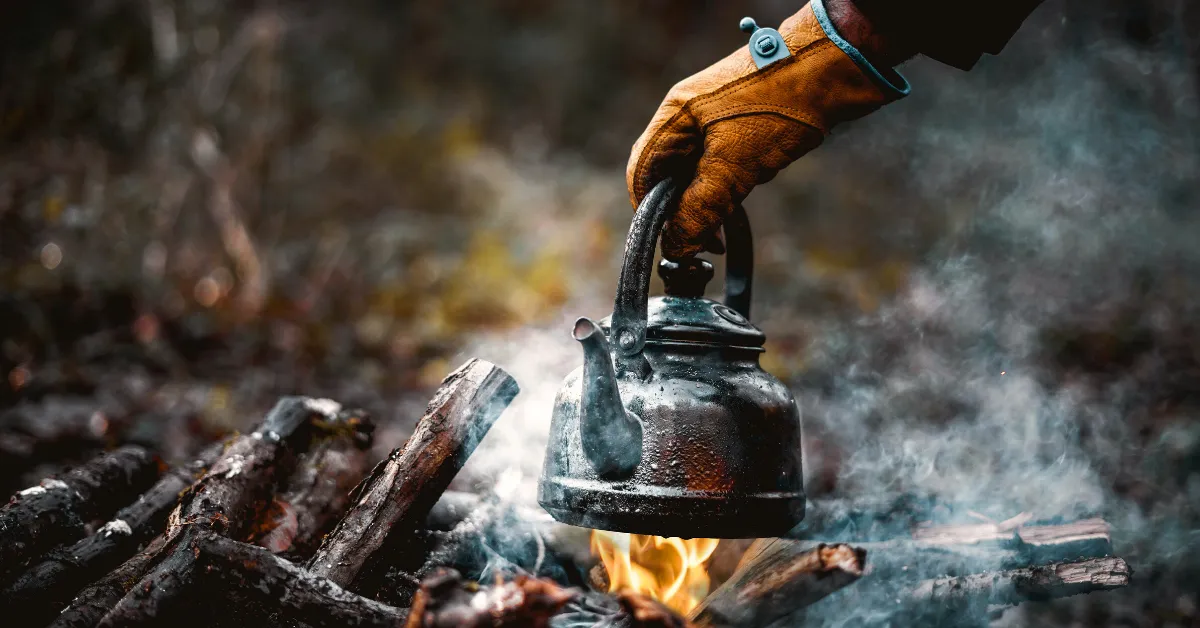 What To Look For When Buying Kettles For Camping
You'll come across lots of options when searching for the best kettle for camping.
Here are the main features to look for when deciding which is the right type for you.
Size And Weight
Anything that you take camping with you needs to be as small, lightweight, and portable as possible. So the type of material your kettle is made from is important!
Aluminum kettles tend to be the lightest to carry and are often the most affordable. Stainless steel kettles are usually a bit heavier.
If you're very short on space, a folding kettle can be a good idea. These tend to be made of silicone, with an aluminum base.
The only downside with a folding kettle is that it may not be as efficient as other models.
If you don't want a fully-folding model, at least look for a kettle with a handle that folds down, as this can be a real space-saver! Do check, though, that it can be locked for safety whilst the kettle is in use.
Capacity
Think about how many people will be in your group and the reasons you'll be heating water.
If it's just for drinks, then a smaller model will be all you'll need – but if you want to heat water for cooking or washing up, then opt for the largest capacity you have space for.
Durability
When you choose an outdoor kettle you want to be sure that it will last you for many trips. So which type is the most durable?
In general, stainless steel models are the best kettles for camping and are good at withstanding heat, knocks, and bumps.
Aluminum isn't quite as tough, so look for an aluminum kettle that has been anodized. This helps it last a lot longer!
Ease Of Use
Check that the handle of the kettle you choose is ergonomically designed and comfortable to hold. Some models will have a silicone coating, which not only gives you a better grip but also helps protect your hand from the heat.
Other good features include rolled edges to stop hot water from splashing and well-designed spouts that allow the water to pour freely.
Stove-Top Or Fire?
If you will be heating water on a stove-top, think about the size of your stove. If it's a regular size then you can use any kettle.
But if it's a small one, then choose a kettle designed for smaller stoves. If you pick a model that is too big and overhangs the edges, it could cause your stove to tip over.
If you plan to heat water over an open fire then you will need to check that the kettle you buy is suitable.
A kettle made purely from stainless steel is usually the best option. This is because it will be strong and won't have any plastic parts that could melt from coming into contact with a flame.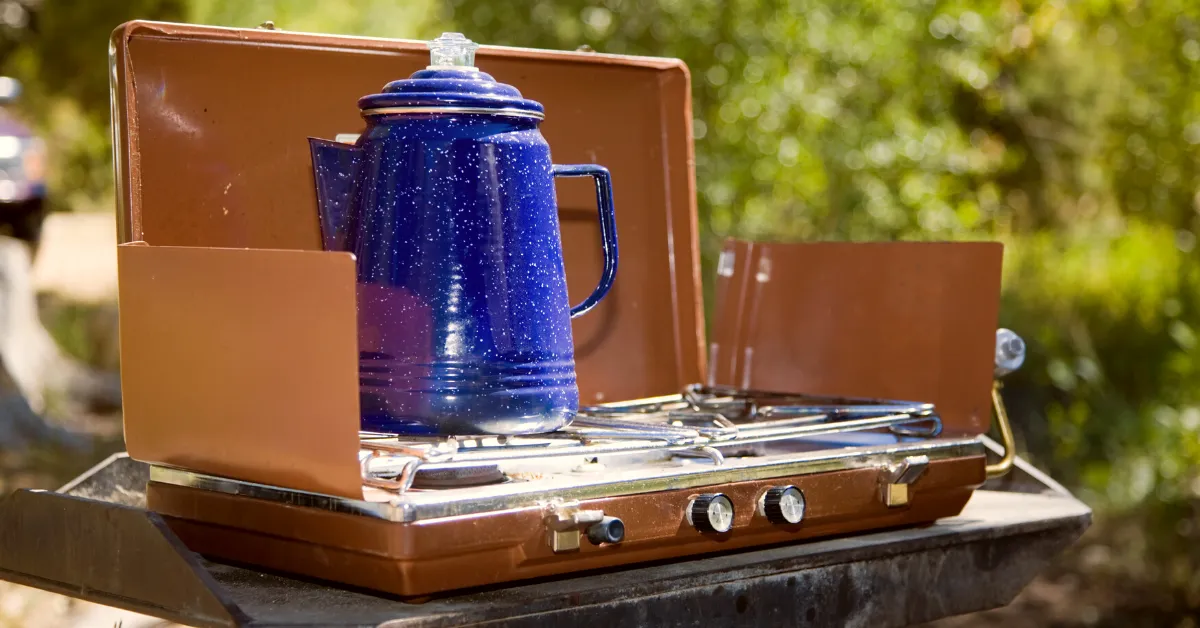 Top 5 Camping Kettles
Here are my recommendations for the best kettles for camping and the design features that make them ideal!
Stanley Adventure Camp Cook Set
Offering great value for money, the Stanley Adventure Camp Cook Set combines a lightweight camping kettle with 2 cups (500mL) so you have everything you need in one compact unit. Designed for everything from boiling water to outdoor cooking, this kettle comes with a vented top.
This is useful for letting steam escape but also makes it good for straining liquids. In addition, it features easy-to-read graduated marks up to 20 oz (.6 L).
The handle is very well designed. It extends and locks for stability while you use it, then folds over the lid when you pack it away, saving precious space.
What's more, the cups nest snugly inside the kettle – yet the entire unit weighs just 13.9 ounces (600mL)! And if you choose to carry the kettle without the cups, then the weight is just 7.5 ounces (220mL).
It is also deep – in fact, if you choose to leave out the cups you may even be able to fit your fuel canister inside. Made with 18/8 stainless steel and free from BPA, this kettle is built to last and can easily withstand the wear and tear of outdoor life.
Overmont Camping Kettle
One of the nice features of the Overmont outdoor kettle is that it comes with its own handy carrying bag. This means that you don't have to worry about having the space to store it with the rest of your gear, as you can easily attach it to the outside of your backpack.
Thanks to its aluminum construction it weighs just 11.11 oz (0.3 kg), so you won't need to worry about the weight either!
There are lots of other great little details, too, including a comfortable handle that is insulated to protect your hands from the heat (colored green to symbolize nature) and a lid knob that can be raised or lowered.
The edges of both the mouth and lid are rolled, which protects you from water splashing once it has boiled. The edges are also smoothly polished to avoid the risk of cutting your hands when it's time to wash up.
You can feel confident that the kettle will be stable when you use it as it has a flat, thickened bottom. This stops it from slipping and makes it resistant to high temperatures.
Collapsible Camping Kettle
When space is tight, sometimes even the smallest camping kettle just takes up too much room in your gear!
This collapsible kettle for camping stoves is the answer!
The main body is made from silicone so the unit can fold down to a fraction of its size when it's time to pack it away.
You'd be forgiven for thinking that a kettle made from silicone wouldn't be strong enough for camping expeditions, but this model is tough! Because it is soft it is not vulnerable to dents and it can withstand twisting and bumps with absolute ease.
But its base is made of metal, so you still get the stability you need (plus, of course, the ability to heat the contents to a high temperature !). Available in two different colors, the kettle is perfectly safe to use.
It features a built-in lock mechanism on the handle that allows you to heat liquids efficiently and a sealed lid that keeps out dirt and debris. At 1.8 lbs (0.8 kg), it is incredibly lightweight, too.
REDCAMP Outdoor Camping Kettle
Made of hard, anodized aluminum, the Redcamp campfire kettle is built for the rugged life and will last you through many outdoor adventures! Resistant to scratches, it also conducts heat well, so you won't have to wait long for a hot drink when you want one.
It is available in several different sizes, from the 28 oz (0.8L) mini version to the 49 oz (1.4L) medium model. The handle folds down and locks to make the kettle as compact as possible when not in use, plus it is coated with silicone to protect you from the heat.
The design shows plenty of attention to detail, with a short spout to help you pour water smoothly and a threaded bottom to encourage even heating.
Even the largest model weighs just 7.1 oz (0.2 kg) and comes with a convenient mesh bag. This means you can save space in your backpack by simply attaching it to the outside.
Fire-Maple Antarcti Portable Stainless Steel Camping Kettle
The best camping kettle for outdoor campfires, this model from Fire-Maple Antarcti has a rotating handle that is designed to hang easily from a branch, tripod, or rope. Designed by a company with a name you can trust, it is easy to use and has a tightly fitting lid.
It also has a capacity of 28 oz (0.8L) and a beautiful 6 gauge, food-grade stainless steel finish. This means that it retains heat well and boils quickly, so piping hot water is never more than a few minutes away!
It is also very durable and resistant to all the knocks and bumps you expect when camping outdoors.
Easy to clean, this handy kettle is small in size and weighs just a little over 10 ounces (.3 kg).
But if space in your gear is at a premium, then it's good to know that it comes with a mesh bag. This means you can attach it separately to your backpack if needed.
Final Thoughts On Camping Kettles
I hope that you have found this guide to the best kettles for camping useful and discovered a lightweight and practical model to take along on your next camping adventure.
Going on a camping trip soon? Read one of the following camping guides: