Guide to Living in Bulgaria | Expats in Bulgaria
Bulgaria is a popular destination amongst digital nomads and budget travelers. In fact, since 2020, more and more nomads decided to move to Bulgaria, especially to Bansko, a trendy digital nomad hotspot for outdoor lovers.
I, myself, decided to move to Bulgaria in 2020. I've had been thinking about it for a couple of years already, and with everything that happened, it just made sense to me to move there.
There are several reasons why I wanted to move to Bulgaria.
The affordable cost of living (which compares to Southeast Asia)

The cost of buying a property is low

The digital nomad community

The mountain life
So, what is it like for expats in Bulgaria? In this post, I'll tell you all about the best spots to live in Bulgaria, the cost of living, and everything you'll need to know to move and live in Bulgaria.
How to Move to Bulgaria | Bulgaria Visa
Many passports allow you to have visa-free entry into Bulgaria. I'd suggest you take a look at this website to see if you need a visa in order to enter Bulgaria.
The general rule of thumb here is that you'll get 90 days every 180 days. It's exactly the same as the Schengen zone, except that it isn't in the European Schengen zone.
This goes for European citizens too, but they can apply easily for long-term residency or simply signal their will to stay longer than 90 days to the Immigration office.
Otherwise, there's this thing called a D visa, which you can apply for from your country if you intend to stay long-term.
You may want to consult a lawyer who specialized in residency if you wish to make sure to know all your options. Most lawyers can join you when you apply for a residency in Bulgaria so they can also act as a translator for you.
Best Cities to Live in Bulgaria
Bulgaria offers lots of great destinations for travelers and nomads, but it seems like there are three main spots where we end up going.
If you are wondering where to live in Bulgaria, here are the top three spots to live in as an expat.
Bansko
Bansko is a small town located about two hours from Sofia, the capital of Bulgaria. It's a ski town, which means it's surrounded by mountains. There are now a few coworking spaces in Bansko, which makes it ideal for digital nomads.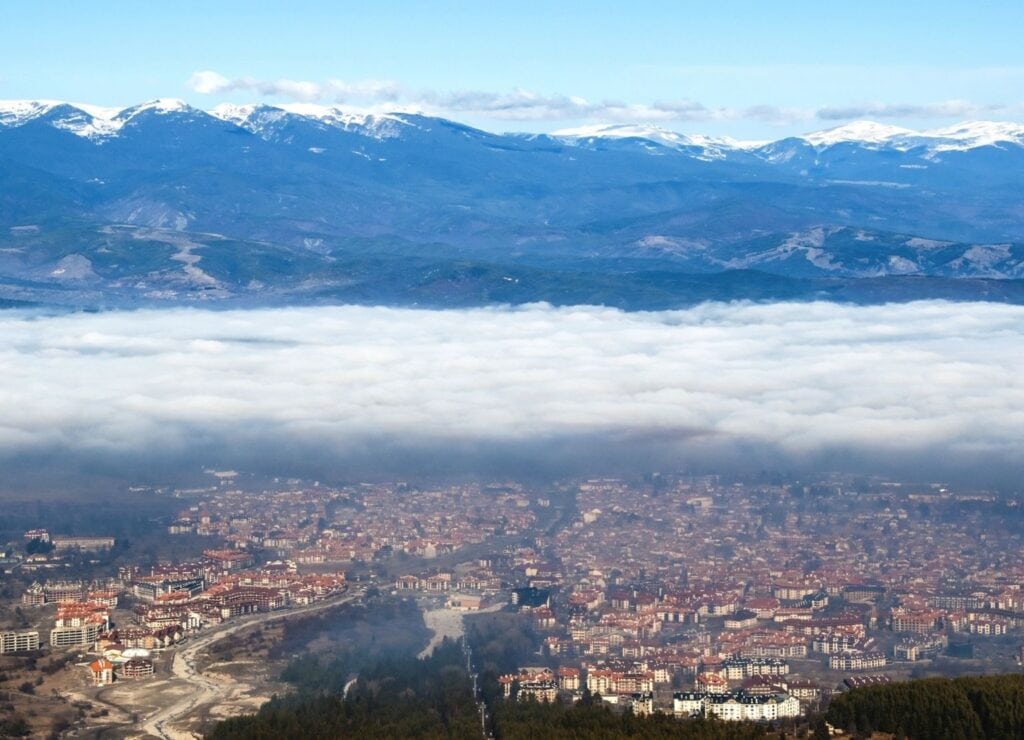 Plovdiv
Plovdiv is one of the popular spots amongst tourists in Bulgaria. It's known for its beauty and charming vibes. It's probably one of the prettiest cities in Bulgaria. It's a great option if you wish to walk around the town easily.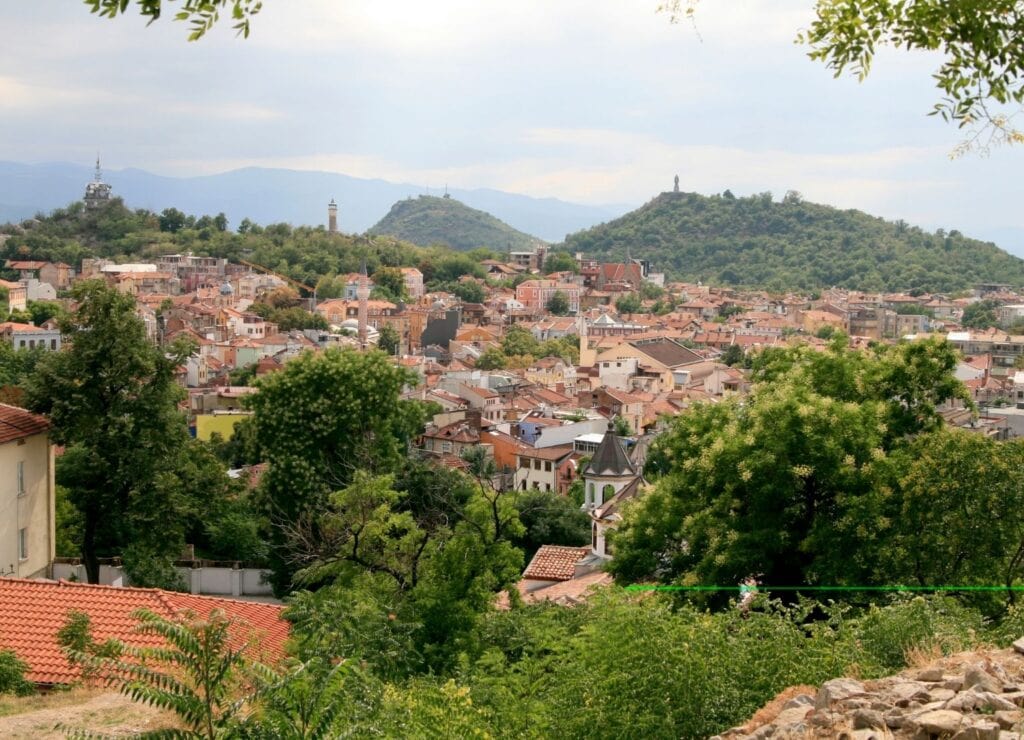 Sofia
Sofia is the capital of Bulgaria. It's, definitely, the most convenient place to be since you can use public transport to get around the city. Most expats opt for Sofia as a base in Bulgaria.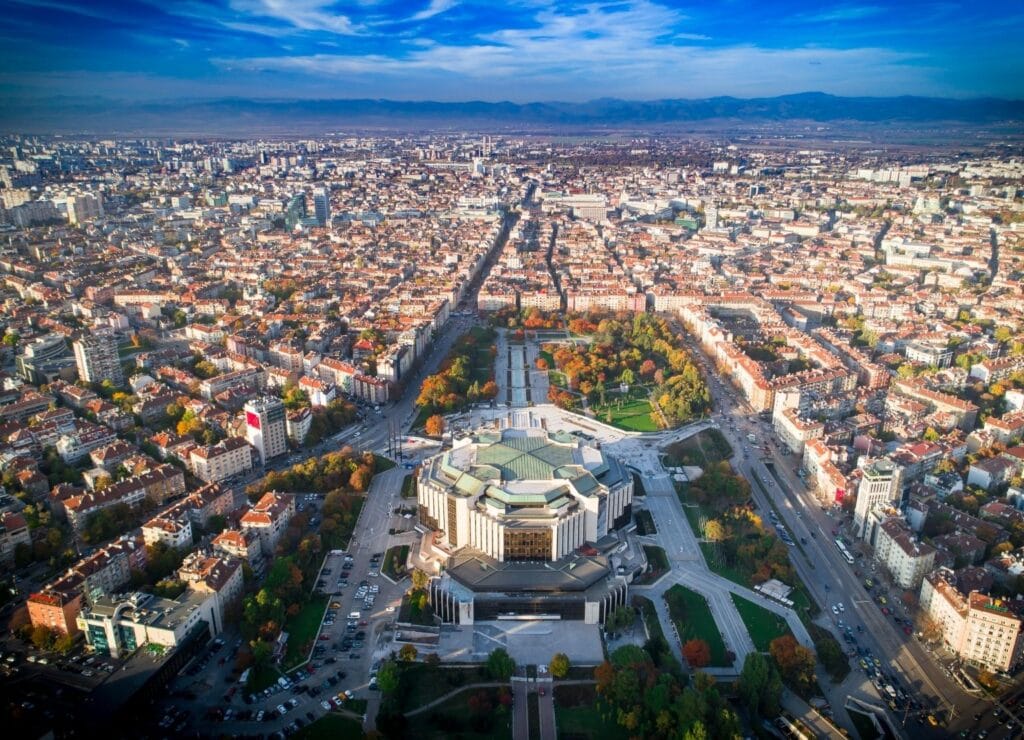 How to Get a SIM Card
Getting a SIM card in Bulgaria is pretty easy and affordable. I recommend not buying one at the airport, but instead, head to one of these two shops: A1 or Vivacom. You can get a top-up plan for less than 10 euros a month.
I personally picked Vivacom, and I top up via their app easily for around 5 euros a month.
Renting a Car in Bulgaria
While you can walk around town and use public transportation for longer distances, we opted for a car rental when we arrived in Bulgaria. If you intend to buy a car eventually, having a rental car until then is a great idea to get around.
Here are two rental companies you can rely on:
Depending on the seasons, the prices can vary. We used the first option for several months. They are located right at the airport in Sofia, which is very convenient, and we were able to extend our rental via email without having to go to Sofia all the time.
How to Find an Apartment
There are a few ways to find an apartment in Bulgaria. You can either join Facebook groups or look on Airbnb.
Long-term rent for 6-12 months is cheaper than if you're renting short-term. You may need to pay a deposit though.
---
Want to get free accommodation in exchange for work? If you're traveling on a budget or if you're trying to stay on the road longer, you could consider exchanging your skills for accommodation. Worldpackers is a platform that connects hosts and travelers. You could basically volunteer in exchange for accommodation and board. You can read more about Worldpackers here. Get a $20 discount using this link.
---
If you're planning on moving to Bansko, you can take a look at apartments on this Facebook page.
You can also find an apartment here – this website works in collaboration with Coworking Bansko which is the most popular coworking space in Bansko.
Another option is to get in touch with an apartment agent who can help you find an apartment in Bansko. This one is quite popular in Bansko.
How to Buy an Apartment in Bansko
If you're thinking of moving to Bulgaria and settle there, you can buy property easily. In fact, it's one of the most affordable places to buy property in Europe.
We bought an apartment in Bansko in 2020 for less than 30,000 euros. Although, you can find studios and one-bedroom apartments for less than 20,000 euros.
Coworking Spaces in Bulgaria
Coworking spaces are becoming more popular in Bulgaria. You'll find several options across the country. Here are some great coworking spaces to check out.
Bansko
---
Want to connect with fellow long-term travelers? Join our Facebook group and the conversation.
---
PSSST. SafetyWing finally covers COVID. I've been using their Nomad Insurance since 2019. It's the perfect solution for nomads like me. Don't leave without your travel insurance.
---
There are a few options in Bansko at the moment.
The most popular one is Coworking Bansko which is great especially if you're moving to Bansko alone. They organize several activities every week which is perfect to make new friends. They currently have 4 different locations.
Another option is AltSpace Coworking. This new boutique coworking space was created in 2020. The design is absolutely beautiful and there are lots of lights coming in. They will be opening a new location soon.
Sofia
Networking is a premium coworking space in Bulgaria. They have different locations across the country (also in Plovdiv). It does look beautiful. You can also opt for a membership that includes both locations.
Plovdiv
Cat and Mouse Coworking is a boutique coworking space located in Plovdiv. You can even rent a private office at their space which is ideal if you need a bit of privacy while working.
Laundry in Bulgaria
Many apartments come with a washing machine. If that's not the case, you can always use the local laundry services which are affordable.
It's similar to a few places in Southeast Asia where you can bring your laundry and pick it up the following day.
Food in Bulgaria
The food in Bulgaria is great. Most restaurants offer an affordable lunch menu option which means you can eat for just a few euros per meal.
You can also shop at grocery stores and cook at home to save money.
A cheap meal can be as cheap as 2-3 euros, while you can pay an average of 10 euros or so for a decent meal in many places.
Fitness in Bulgaria
There are several gyms across the country. If you pick a place like Bansko, you can hike during summertime and ski during winter which is amazing if you're active.
Here are the three main gyms in Bansko:
Fenics Gym: this is an old school gym, but this is definitely the cheapest one in town.

FitBox: this is a boutique gym that opened in 2021.

Grand Hotel: There's a gym at the Grand Hotel. It's more expensive, but it's a great option that you can combine with a spa membership.
Is Bulgaria Expensive? | Cost of Living in Bulgaria
The cost of living in Bulgaria is affordable. If you're working online, you will be able to live comfortably and even start saving money.
Here's a breakdown of expenses for one person for one month.
*Note that these can vary depending on the size of your apartment and your needs/standards. Also, you may need to pay for electricity if it's not included in the rent.
Expense
Cost (EUR)
Rent

– Studio

150

Coworking Membership

129

Food

200

Phone

10

Rental car

275

Fitness membership

22

Hot springs (1x per week)

5

Total

791
Bulgaria on a Budget
Living or traveling in Bulgaria on a budget can be done easily.
Here are some tips for living in Bulgaria on a budget:
Buy groceries from the markets and grocery to cook your own food. The Sunday Market in Bansko is very cheap and you'll find plenty of options for basic supplies such as vegetables, fruits, nuts, and eggs.

If you eat out, do it for lunch. Lunch menus can be as cheap as a few euros per meal.

Rent a studio. It will be easier to heat up during winter. You can also work from home or work at a coworking space (and save on the electricity bill that way).

Walk around instead of renting a car. Just make sure to pick an apartment that has a good location to make your life easy.
Is Bulgaria Safe?
While I can't speak for the whole country, I feel safe in Bansko.
I'd say my main concern is on the road. Drivers can be a bit crazy around here. So, be careful if you're driving a car around Bulgaria.
Best time to Visit Bulgaria
The best times to visit Bulgaria are the summer and winter. Bulgaria has four seasons, but the fall and the spring are not the best when it comes to the weather.
If you're on a budget, you'll find that the fall and the springs are less busy so you should be able to find better deals on car rentals and apartments.
Things to Know Before Moving to Bulgaria
There are pros and cons of living in Bulgaria, so here are some things you should know before moving to Bulgaria.
Bulgarian is a difficult language to learn. The alphabet is Cyrillic which can make it harder to learn. That said, English won't get you far. If you do speak Russian, this will be easier for you to get around.

Tap water is safe to drink.

The currency is Lev (BGN). Eur 1 equals around LEV 2.

You can pay by card in several places, although, in Bansko, payments by card are not always accepted especially during the low season.
Final Thoughts
Bulgaria is a great destination for outdoor lovers – mountains and beaches! I enjoy my life in Bansko, thanks to the mountains, the hot springs, the spa, and the delicious foods.
It can be hard at first, especially if you only speak English. The culture is quite different too and you can expect a different treatment if you don't speak the local language.
It's a wonderful destination to settle in if you're a digital nomad looking for a great dose of nature.
---
BEFORE YOU GO TO BULGARIA
☑ Book your flight: If your flight isn't booked yet – check out the flights on Skyscanner or via Google Flights. My top saving tip is flexibility. If you're flexible, you should be able to find a cheaper flight.
☑ Book your accommodation: I always use Airbnb and Booking.com. If you'd rather stay in a hostel, you should take a look at the options on Hostelworld. If you click on the Airbnb link and you don't have an account yet – you'll get a $30 discount on your first booking.
☑ Protect your cute face: Oh, you may want to protect your cute face with travel medical insurance. I would suggest SafetyWing as they offer the best rates, especially for long-term travelers. Otherwise, you can also take a look at World Nomads.
☑ Pack the essentials: You can consult this list when it's time to pack your bag! Do not leave without a universal charger, a power bank and your passport!
Disclaimer: This post may include affiliate links. If you click one of them, we may receive a cute commission at no extra cost to you. Thank you.