European Beds – Full Guide To Bed Sizes In Europe
American tourists traveling to Europe and staying in European hotels can be quite perplexed by European beds sometimes.
Being used to booking the standard single, twin rooms, or double rooms in the United States, they don't fully understand what they are getting into when they are traveling to Europe.
A good night's sleep is of paramount importance to every individual and you need to know in advance what type of bed you are choosing.
So, if you don't know what European beds have to offer this article is for you.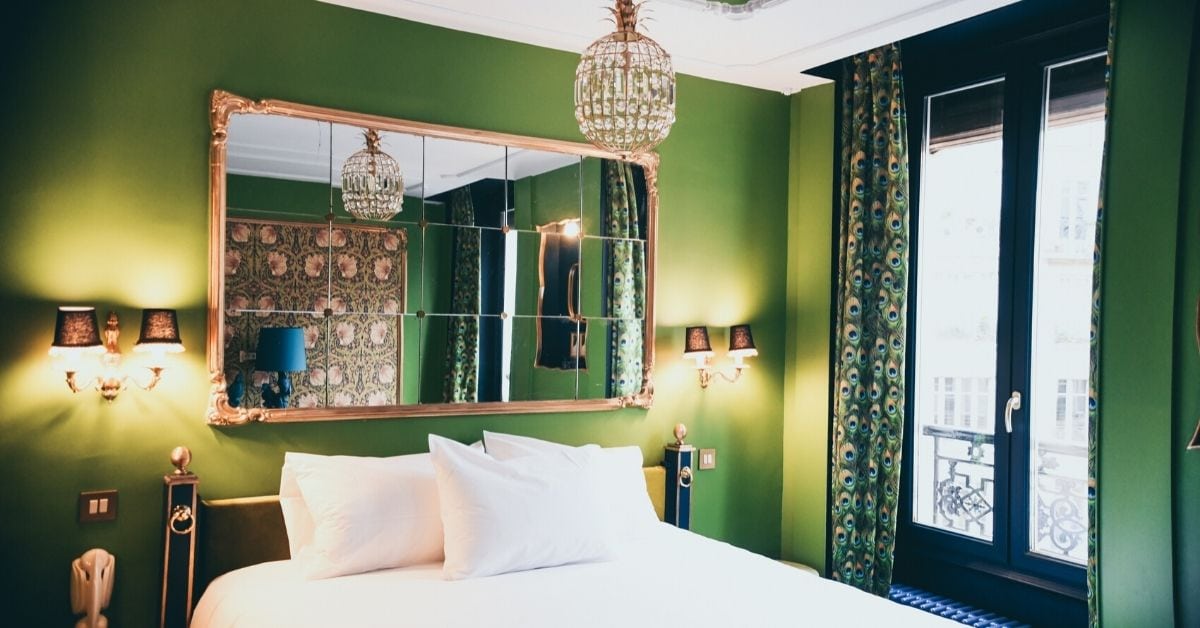 Understanding European Bed Sizes
One of the most important elements of any bed is its size. If you are well over 6 feet in height, you don't want to book a room with a bed that is too small for you.
So let's have a look at what standard measurements in Europe are and how they compare to their American counterparts. To make it easier we go from the smallest size to the largest.
First, let's discuss single or twin beds. But, before we do that, it is important to note that there is a difference between continental European and UK bed sizes.
For example in Europe twin beds would be 90 cm x 200 cm (35"x 79"). Whereas in the UK the standard measurements of the bed that goes by the same name would be 99 cm x 191 cm (39"x 75").
What they call a twin bed in the United States measures 97 cm x 181 cm (38 x 75").
Now let's move onto the so-called double or full beds. In Europe and the United Kingdom, the measurements would be 140 x 201 and 137 x 190 cm respectively (that is 55"x 79"and 54"x 75").
Whereas in the United States a standard double bed would be slightly smaller; only 130 cm x 190 cm (53"x 75").
So as you can see if you book a hotel room with a double bed in Europe You will be getting a slightly bigger bed than you thought you would which is great news for couples.
Now let's move onto one of the most popular bed sizes, queen beds.
In continental Europe and the United Kingdom standard measurements for the queen-size beds are 160 x 200 and 152 x 203 cm (63 x 79 and 60 x 80 inches in the United States).
Although queen beds are similar in length to the ones in the United States (200 cm or 80 inches) they are narrower; the width is only 150 cm or 60 inches.
And last but not least we have one of the most popular bed sizes in the United States, the king bed which is fairly uncommon in Europe.
If you stumble upon a hotel that advertises king-size beds then it is probably just a queen bed with queen-size measurements; however, In the United States this type of bed would measure 193 cm x 203 cm or 76" x 80".
In some instances, king-size beds in the United States can also be 2 m x 2 m or 78" x 78", the size truly fit for the king.
Now that we have covered various bed sizes in the EU, the UK, and the USA, let's dive deeper into European double beds and European twin beds which are the most popular bed types in European hotel rooms.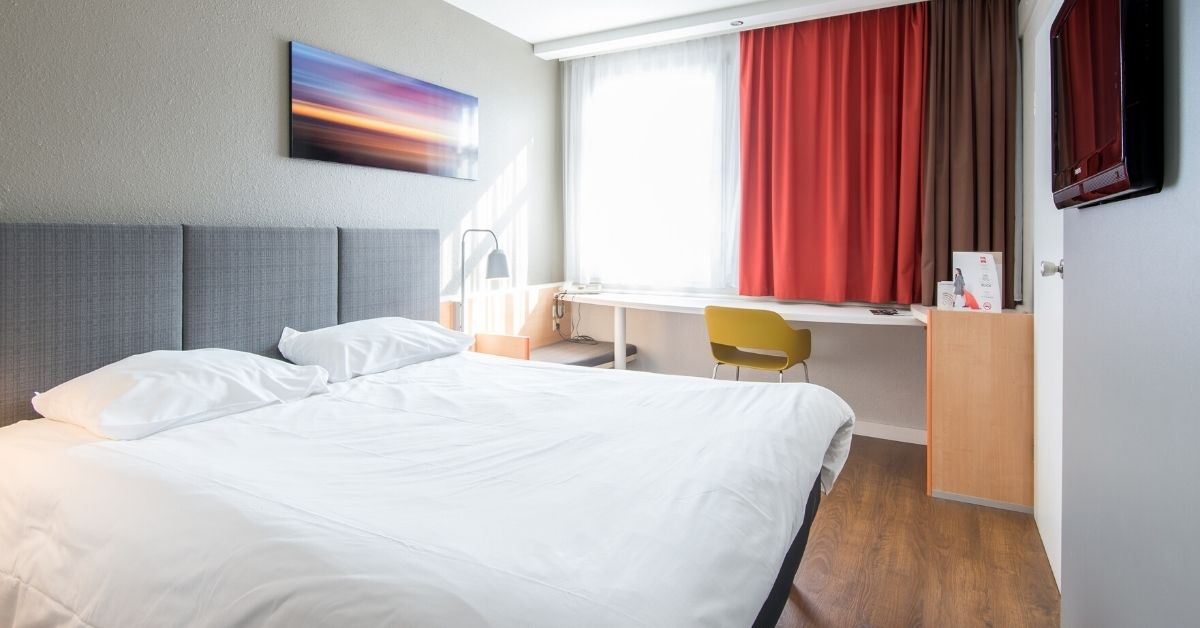 European Double Beds
Most Americans traveling to Europe opt for hotel rooms that contain double beds, which is to be expected since the majority of them travel with a partner and they want to share a bed.
However, upon arrival at their hotel, US residents are confronted with something they didn't quite expect.
First of all, keep in mind that in Europe the term "full bed" is used interchangeably with the term "double bed" so if your hotel advertises either one know that they are the same thing.
---
Want to get FREE accommodation in exchange for work? If you're traveling on a budget or want to save and extend your trip, this could be exactly what you're looking for. Worldpackers is a platform that connects travelers like you with hosts. It's just like volunteer work –exchange your skills for free accommodation. SAVE $10 and get 3 extra months added to your plan using my discount code. Learn more about how it works here.
---
Moreover, in the United States, they think of double beds almost as a combination of two single beds and they are expected to be the same length as a standard US Single bed.
Do not expect the same thing when you are traveling in Europe. The measurements we gave you are above are standard however they can vary from one country to another.
Moreover, in some countries, when hotel owners say they have a room with a double bed what they mean is that they have pushed two single beds together so you might not even be getting one full bed.
Instead, you and your partner will have to sleep on two single beds placed adjacent to one another.
Needless to say, this type of sleeping arrangement might be quite uncomfortable and the dividing line in the middle of the bed might disrupt your peaceful sleep.
So the first thing you need to make sure of is that the double bed which is advertised is actually one large bed.
The easiest way to find out what you're getting into is to simply call, text, or email the hotel's representative and ask. Better safe than sorry, as they say.
---
Want to connect with fellow long-term travelers? Join our exclusive Facebook group and take part in the conversation.
---
PSSST. Your travel medical insurance can now cover COVID-19! If you grab SafetyWing's Nomad Insurance, it'll be covered just like other illnesses. I've been using it since 2019 and I can assure you it's the perfect solution for nomads like you and me.
European Twin Beds
Those US residents who are traveling around Europe with friends naturally want to book a room containing twin beds.
Unlike European double beds, twin beds are quite predictable and easy to wrap your head around. So as long as you're mindful of the measurements we provided above you will do just fine.
The peculiarity here lies in the space Europeans tend to leave between two twin beds.
In America, these types of beds are usually placed quite far apart from one another and typically there is a nightstand in the middle with a lamp on it.
However, in Europe, it is another story; do not be surprised to find your twin beds situated quite close to one another. In some instances, there are merely a few inches separating them.
This can be quite awkward if you are sharing a room with one of your pals. But most hotel rooms place twin beds at a comfortable distance.
When you are booking the hotel room you can always just look through the pictures to see what kind of a deal you are getting, or (if there aren't any pictures) just contact the hotel representative and ask.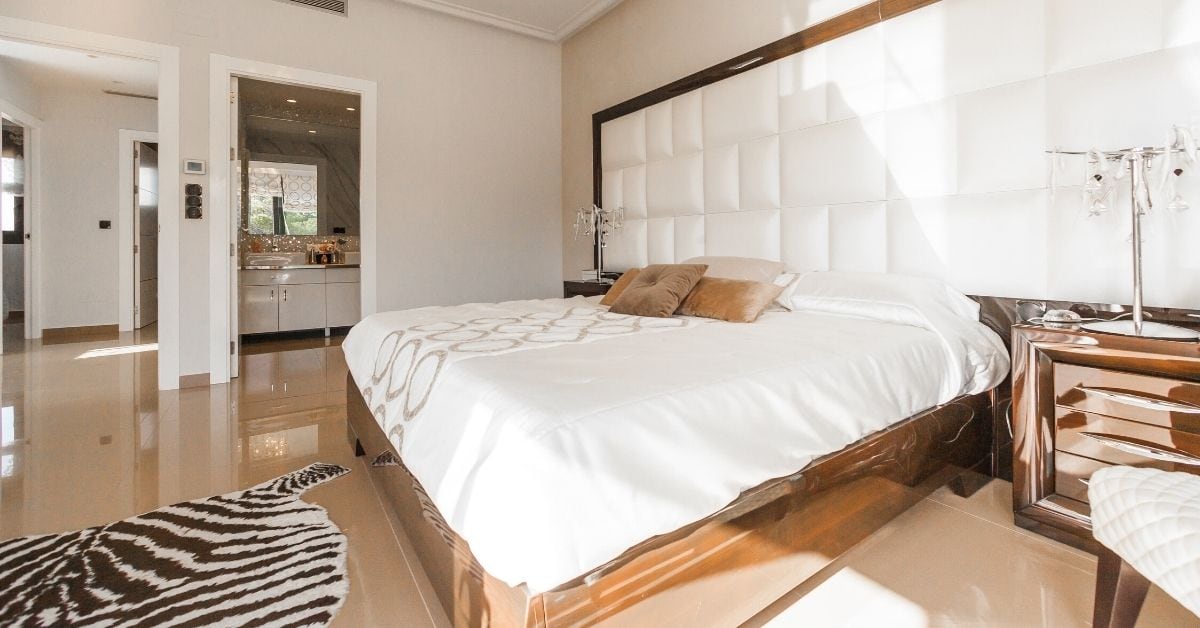 European Hotel Rooms
Besides being mindful of the bed frame and the mattress, you also need to consider the bedding.
Nowadays, many European hotels have adopted the American system so you are more likely to encounter a duvet in your hotel room.
And we are talking about a real duvet, the one that contains an insert and a cover unlike a comforter (that is often mislabeled as a duvet in the US) which is usually quilted with the filling being evenly distributed inside.
What Americans might find unusual though is that in Europe double beds often come with two single-size duvets instead of one large duvet.
This is an ideal situation for those who get constantly annoyed by their partner pulling the covers.
In Europe, each one of you will simply have its own so you can tuck yourselves in and have a peaceful night's sleep.
As for the sheets, they also can be unpredictable in European hotels.
If the double bed is simply two single beds pushed together, the mattresses can either be covered with a single large sheet or each of them can be covered with a separate sheet that makes the gap in the middle of the bed even more prominent.
If you think that this type of sleeping arrangement would ruin your European holiday, then the safest way is to call your hotel and make sure your expectations are met.
Tips When Booking European Hotel Rooms
The bed is the most important part of your hotel room. If you don't get a good night's sleep then you will be cranky the next day and won't enjoy your holiday as much.
Make sure that the bed in your room is exactly what you want it to be, and do not be shy to ask questions.
If you're traveling to Italy and want to make sure you are getting a real double bed, ask them if they have the "matrimonial" bed.
If they say they do, then you can be sure you are getting a real double bed and not just two single beds pushed together.
And finally, always look up your hotel on Google, Facebook, Yelp, or Trip Advisor. Often you will find photos and reviews from previous guests.
That said, I always book via Booking.com and click on each room to see what to expect.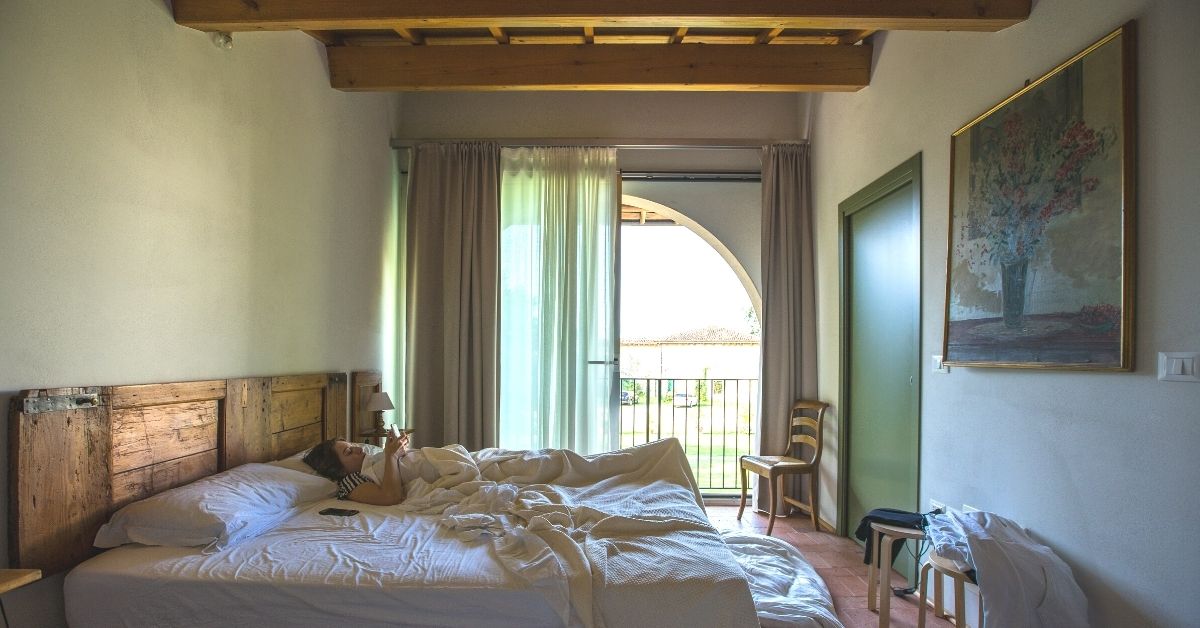 Final Thoughts
In conclusion, making sure that your bed is exactly how you want it to be doesn't really take that much effort.
All you need to do is look on the Internet for some pictures, make a quick phone call, or write a quick email.
It is certainly worth doing considering how expensive trips from the United States to Europe can be. You definitely don't want to ruin your holiday with an uncomfortable bed.
Make sure to check how your room will look like when booking on websites like Booking.com, or Hotels.com.