Essentials for Car Camping | Packing List
If you are planning a camping trip but thinking of foregoing a tent, then you may be wondering what to bring for car camping! If so, you've come to the right place – this car camping gear guide looks at all the cool products on the market to make your trip as fun and comfortable as possible!
This post is divided into four main groups, including the items you will need for sleeping, eating, and hygiene. It also includes a few little extra camping essentials that you may not have even realized you needed, but that will make your experience that bit more enjoyable.
What Is Car Camping?
Whilst sometimes used to describe the type of camping where you pack up your tent and other camping essentials in the car and head off for an adventure, true car camping involves sleeping in the car itself.
Although more cramped than sleeping in a tent, spending the night in the car has some distinct advantages – after all, it is sheltered from the weather, less open to bugs and creepy crawlies, and somewhat sound-proofed. And, of course, it is cheap!
It also gives you a lot of freedom – it is much easier to park somewhere than pitch a tent (although you should always make sure that it is legal to park in the spot you choose.
Apps like Hipcamp are ideal for this. And it is a lot easier to be spontaneous when car camping – just check out all the essentials for car camping listed below and you're good to go!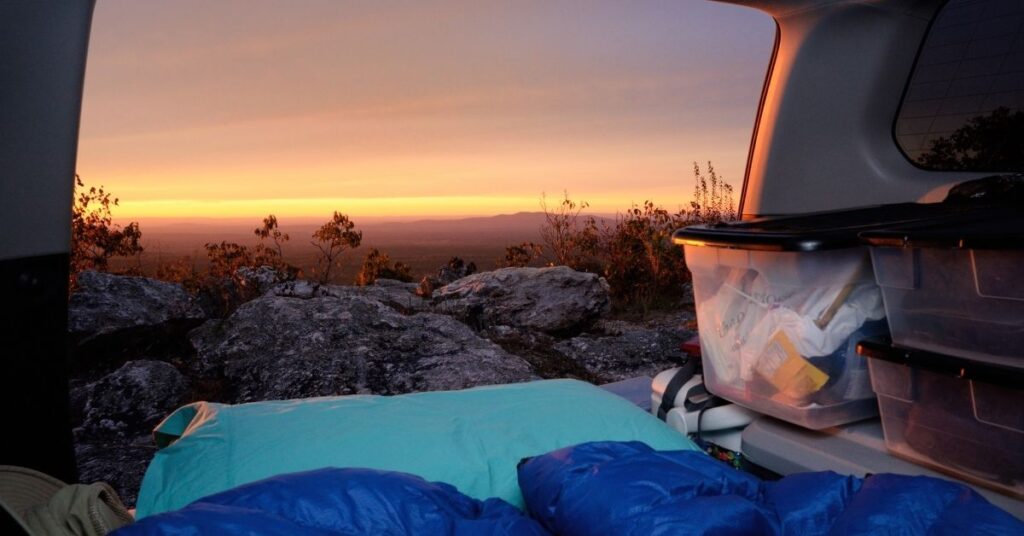 Car Camping Gear for Sleeping
The gear you will need to bring for a good night's sleep will depend on the kind of car you have. Ideally, a good camping car will have removable back seats and a nice flat floor, with plenty of room for a comfortable mattress like this one from KingCamp.
It is available in either double or single sizes and has 3.3 inches of rebound foam to keep you comfortable, but rolls to a size that is easy to store. It also comes with elastic straps so that you can bind it tightly and compress it even more. Best of all, it is self-inflating, saving you time and effort!
If you prefer not to sleep directly on the floor of the car – and you have enough space available – a genius tip is to create a base for your mattress. Under that base, you can add storage containers. You can, of course, use these to store all your camping essentials too, so it is a great way to get extra mileage out of them!
If there is no space for a typical camping mattress, another good item to add to your car camping packing list would be a back seat mattress. This one – compatible with 99% of car back seat models – is tailor-made for car camping and has lots of great features to make life easier! These include an electric pump to inflate it in just a couple of minutes, 2 inflatable pillows, and a safety baffle for children.
A comfy mattress topper could also work well as a sleeping pad for car camping and would be a good choice if you wanted a product you could use at home too. The 2-inch version of this Linenspa topper is ideal because you would be able to roll it up easily for storage. Thicker toppers might be too bulky.
If you don't buy a mattress that includes pillows, make sure to bring some along. Although you could use regular pillows, they can be quite cumbersome. A better choice would be a lightweight, inflatable camping pillow – this one inflates with just a few breaths and makes a great travel pillow for use during the day too!
To keep you warm at night you could bring along blankets or a comforter, but when thinking about what to bring for car camping the limited amount of space available should be at the forefront of your mind. So it would be better to bring along a sleeping bag or sleeping pod, designed to roll up small and occupy less space. The Winner Outfitters Mummy Sleeping Bag is perfect for the job – at only 2.8 pounds it is very lightweight, and it comes with a compression bag to reduce its size as much as possible. It also keeps you nice and warm, with draft collars for a snug feel.
Finally – be sure to protect yourself from prying eyes – or blazing early morning sunshine – with sun shades. This set provides protection all around your vehicle and helps deflect heat too.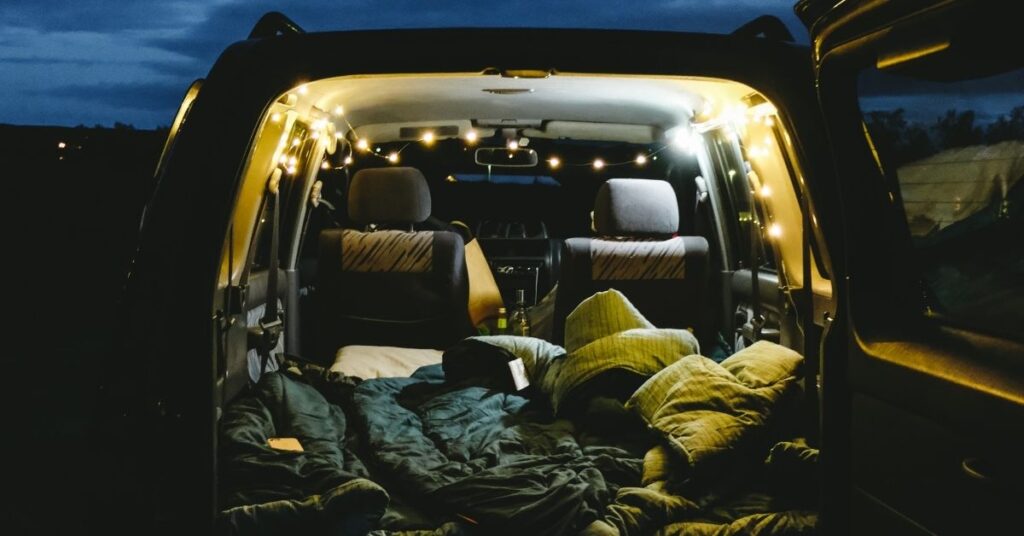 Personal Care Essentials for Car Camping
Unless you are staying at a campsite (and do remember that not all campsites will allow car camping), then you probably won't have access to sinks, showers, or toilets.
But this doesn't mean that hygiene has to take a back seat – fortunately, there are lots of suitable personal products around that you can add to your car camping checklist.
These Surviveware large wet wipes are brilliant – compact and portable enough to throw in with your other camping essentials and biodegradable to protect the environment. Not only can they be used to clean your body but they can double up as toilet paper too.
---
Want to connect with fellow long-term travelers? Join our exclusive Facebook group and take part in the conversation.
---
PSSST. Your travel medical insurance can now cover COVID-19! If you grab SafetyWing's Nomad Insurance, it'll be covered just like other illnesses. I've been using it since 2019 and I can assure you it's the perfect solution for nomads like you and me.
A bottle of effective hand sanitizer is a must and this Rinseless Shampoo is the perfect way to keep your hair looking and smelling good, even when you don't have access to water.
The biggest challenge can be not having access to a toilet and the rules for using the great outdoors can be quite strict. The most comfortable and hygienic solution is to opt for a good camping toilet instead. The Luggable Loo is a fairly basic and somewhat inexpensive option with a tightly fitting lid. Use it with Reliance Products Double Doodie Toilet Waste Bags for easy cleanup.
If you are looking for a more sophisticated option, you might want to consider the Camco Portable Travel Toilet instead. It has a valve to prevent odors and leakage and is easy both to flush and to empty. All you need to do is drop in a pack of Camco's TST biodegradable toilet chemical and it is ready to use.
Car Camping List for Food and Cooking
You will need to keep any perishable foods that you take along on your trip as cool as possible. Cooler boxes offer better insulation than cooler bags, although bags like the Lifewit Cooler are collapsible and easier to store. Make sure you have plenty of freezer packs to keep the temperature as low as possible.
Try to keep the number of items you need to store in a cooler to a minimum, in order to save on space. You could bring along UHT milk instead of regular milk, for example, as it doesn't need refrigeration, or use olive oil instead of butter.
You may or may not choose to cook on your car-camping adventure – but if you do, then you will need to bring the right gear to make it as easy as possible.
The 11 Piece Camp Kitchen Cooking Utensil Set contains everything you will need to prepare your meals in the great outdoors. In addition to typical cooking utensils such as a spatula and tongs, it also contains knives and a pair of scissors – handy tools with multiple uses.
You also need cooking pans and something to eat from – so what better than a set that combines them all into one compact unit? The MalloMe Camping Mess Kit is strong, lightweight, and easy to pack together after use. It even comes with cool little extras like a cleaning sponge and a foldable spork!
When it comes to doing the cooking itself, this Folding Campfire Grill makes life so much easier, providing an even and stable surface on which to sit your pots and pans. But if creating a campfire sounds a little too much like hard work, then be sure to add a portable stove to your car camping packing list. If you are looking for something easy to use, check out Coleman's Gas Camping Stove which has 2 adjustable burners, push-button ignition, and handy wind-blocking panels to stop the burners from blowing out.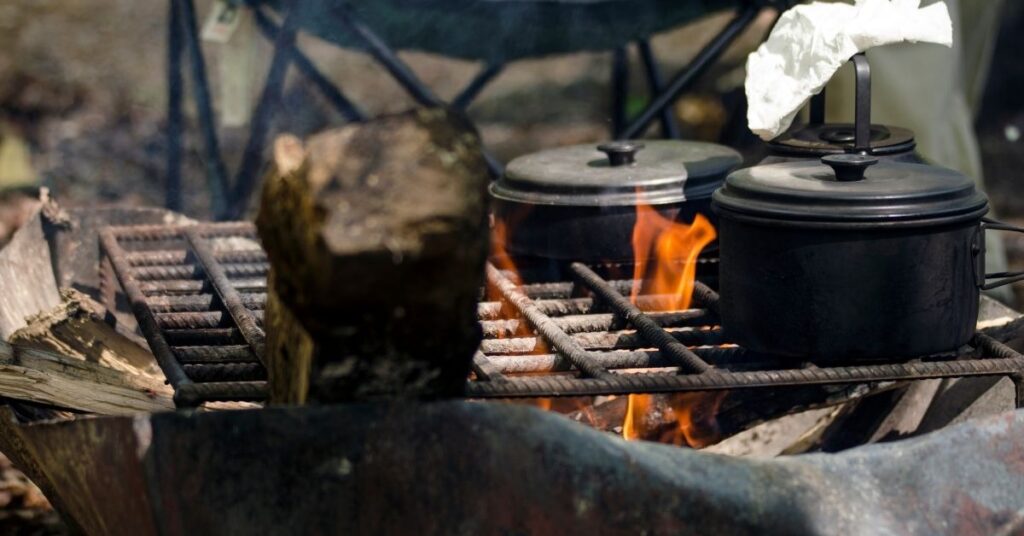 Other Essentials for Car Camping
The most important is a well-stocked first-aid kit, although it can sometimes be difficult to think of everything you might need. That's why something like the Johnson & Johnson All-Purpose First Aid Kit is so handy – it has just what you need for almost every minor situation you might encounter whilst camping, including bandages, itch cream, an instant cold pack, and more.
Something to light your way at night is a 'must have', whether it is for reading at night before you go to sleep, or for helping you find your portable toilet in the small hours!
If you prefer to have your hands free, then a headlamp is the best choice. At 300 lumens, the Tikka Outdoor Headlamp is nice and bright, runs up to 120 hours, and even has a phosphorescent reflector on the headband to help you find it in the dark.
But it is also useful to have a camping lantern – and this model from Alpswolf is one of the best around because you can use it in several different ways. Turn it on its side and it becomes a flashlight, or stand/hang it up and it becomes a regular lantern. It even has a red mode that you can use as a warning light if needed, plus it is rechargeable via a USB cable. It has another great function, too – once charged, you can use it as a stand-by power bank for your other devices, so you can keep your phone charged at times when the engine isn't running.
If the nights are a little chilly – even when you are tucked up in your sleeping bag – this Battery Powered Heated Blanket will soon have you feeling toasty again! At under 1 pound (without the batteries) it is incredibly lightweight and folds into a 10"x 8" carrying bag, so it is easy to pack with your car camping gear.
Sometimes, though, the opposite happens and you might find the car getting a little stuffy and uncomfortable during the night. You can, of course, crack your windows or your sunroof open, although you might be reluctant to do that if you are worried about bugs. So always be sure to make mesh netting an essential part of your car camping gear. It is lightweight and easy to pack, but is very handy for rolling up and using to stuff the gaps left by an open car window, stopping bugs from getting in along with the fresh air!
Alternatively, think about treating yourself to the Amacool Portable Camping Fan. It has a hook to hang it up and rechargeable batteries that will keep it running for up to 40 hours if only the fan is used. With three different speeds, you can be as cool as you like, and this model even doubles up as a nightlight and aroma diffuser too, giving you plenty of bang for your buck!
Final Thoughts
Arming yourself with all these essentials for car camping means that you will have everything you need for your outdoor adventures and the freedom to travel wherever your heart desires.