Elope In Costa Rica: 7 Perfect Destinations 
Are you dreaming of eloping in a tropical paradise? If you and your honey decide to elope in Costa Rica, it might just be the perfect destination for that kind of environment.
Costa Rica can bring your picture-perfect elopement to life with luxurious beaches, lush rainforests, and loads of adventure.
PSSST. Your travel medical insurance can now cover COVID-19!
If you grab SafetyWing Nomad Insurance, it'll be covered just like other illnesses. I've been using it since 2019 and I can assure you it's the perfect solution for nomads like you and me.
While eloping may ease some of the pressure that comes with planning a wedding, several logistics come into play. No need to worry; we are here to tell you everything you need to know to elope in Costa Rica.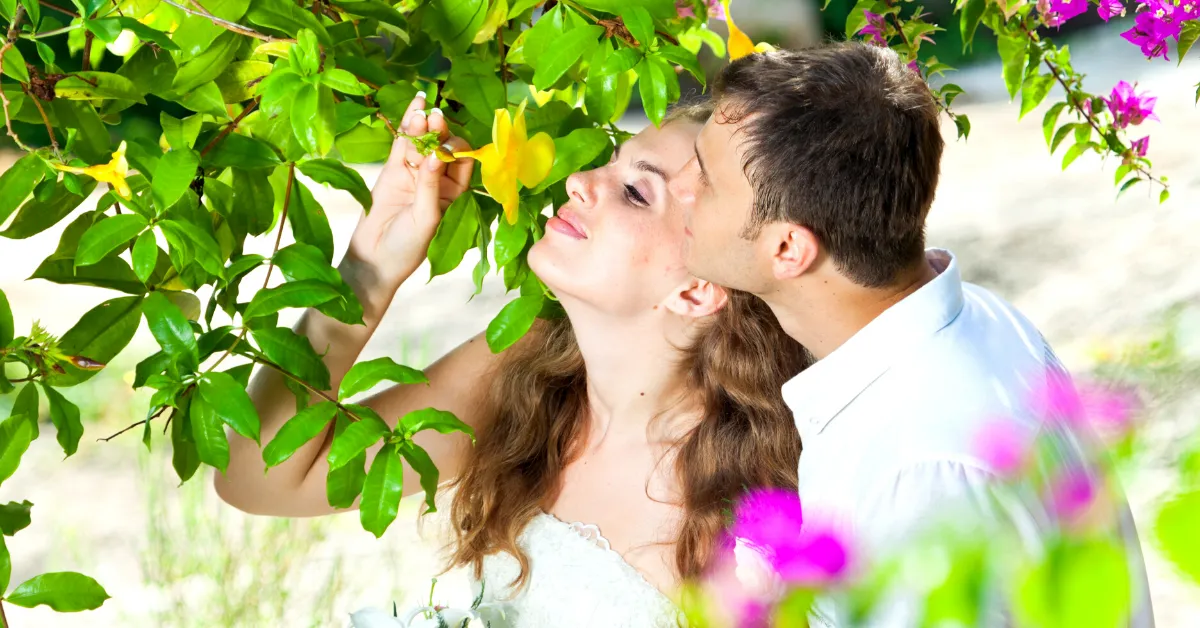 Best Places To Elope In Costa Rica
When deciding where to elope in Costa Rica, there are many beautiful cities and venues to choose from.
There is no shortage of options, from an indoor ceremony with a volcano view to reciting your vows on the beach.
When picking any destination, the weather must be taken into consideration. To avoid the rain and cloudy skies, it's best to elope from mid-November to early December or January to April.
Each destination below has something unique to offer. When deciding on where to elope in Costa Rica, it's best to keep a few things in mind.
What kind of view are you interested in?

What type of environment do you want?

Is this location accessible for your guests?
Some locations are a bit more remote than others and will require extra travel in order to reach them. Make sure to keep that in mind when deciding on the destination that will be best for you and your guests.
1. La Fortuna
This small town is home to a glorious natural hot spring, epic waterfall, and not one but two volcanos! If you're looking for adventure, this is the destination for you.
La Fortuna Waterfall is an ah-inspiring backdrop for your ceremony but will require a bit of hiking to get to. However, the plunging cascade in the center of the rainforest will make for some epic wedding pictures.
The waterfall is also a short distance from the Arenal Volcano, making it possible to say your vows and hop on over for another incredible photoshoot.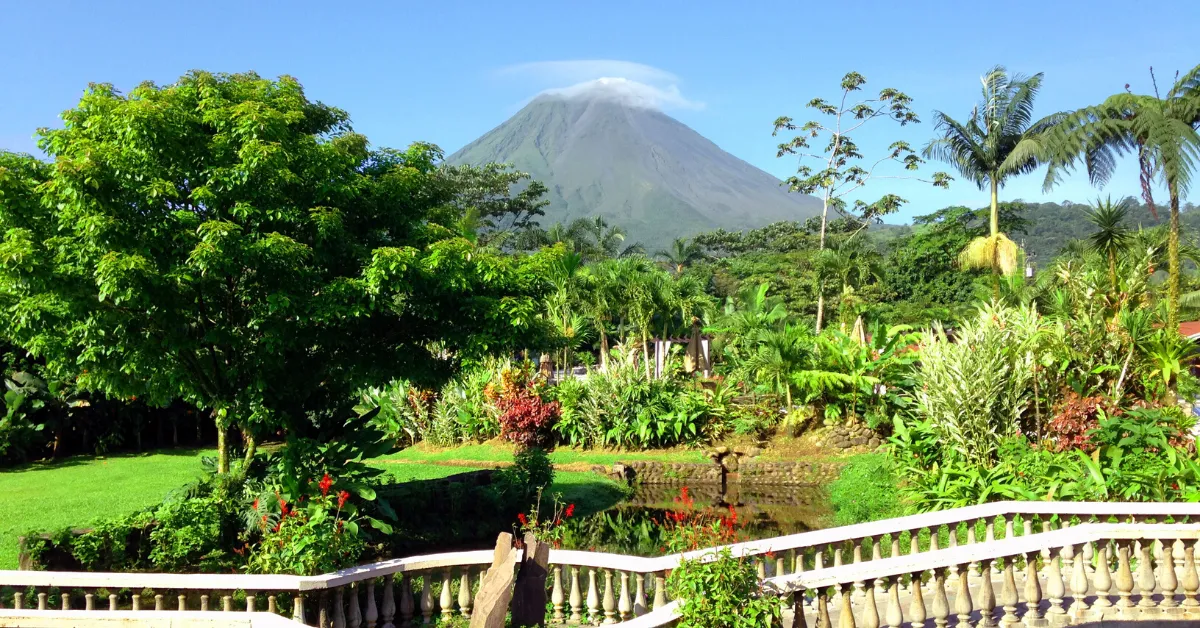 2.

Tamarindo
Tamarindo is a lush and beautiful beach town with no shortage of activities. Crawling with resorts, fine dining, exciting nightlife, and amazing surf, this is a perfect destination for a ceremony and an extended honeymoon.
This is also home to some important nesting sites for leatherback turtles. With a mixture of luxuries and adventure, you can't go wrong eloping here.
Some amazing venues for your ceremony include:
Tamarindo Diria

Las palapas

Casa de Luz

Casa Galanga

El Chante
3. Montezuma
Montezuma is located in the south of the Nicoya Peninsula with flourishing jungles and white sandy beaches. This is an excellent destination for couples looking for something a bit off the beaten path.
Montezuma is also home to some extraordinary wildlife. If you're lucky, you may be able to catch a glimpse of some sea turtles.
Some amazing places to host your ceremony in Montezuma include:
Montezuma Castle National Monument

Ylang Ylang Beach Resort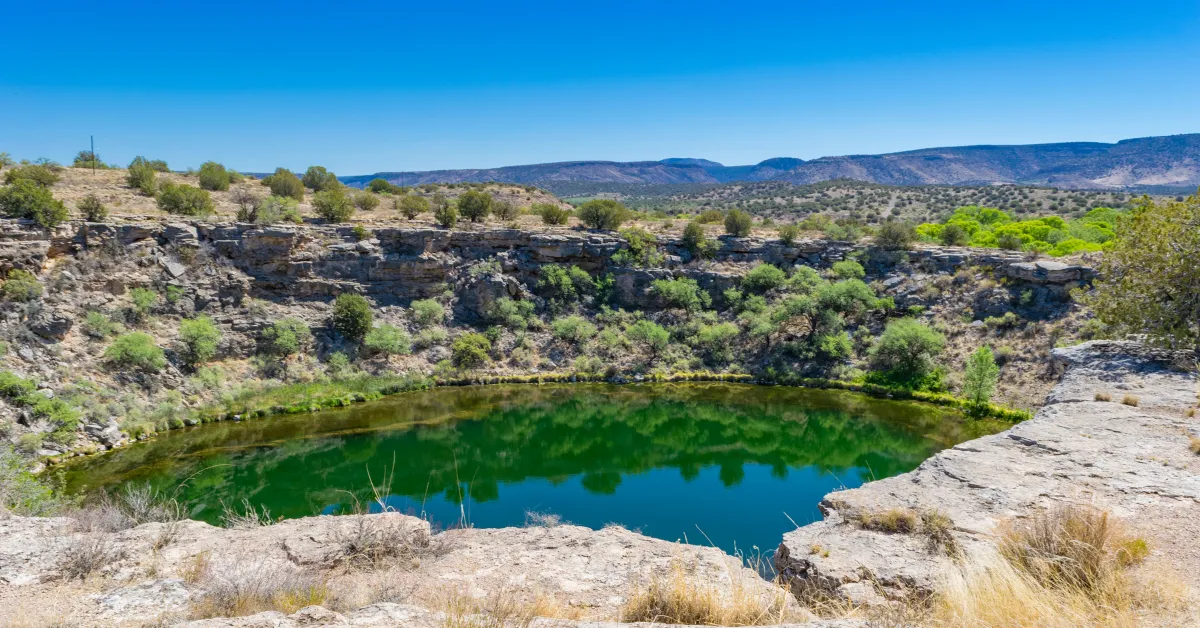 4. Puerto Viejo De Talamanca
This town sits right on the Caribbean coast, giving you front-row access to incredible views and sensational surf. But that's not all; Puerto Viejo is also home to black sand beaches, jaguar rescue centers, and other exotic wildlife.
Your experience here will be full of adventure and jaw-dropping scenery. Some lovely places to stay within Puerto Viejo de Talamanca include: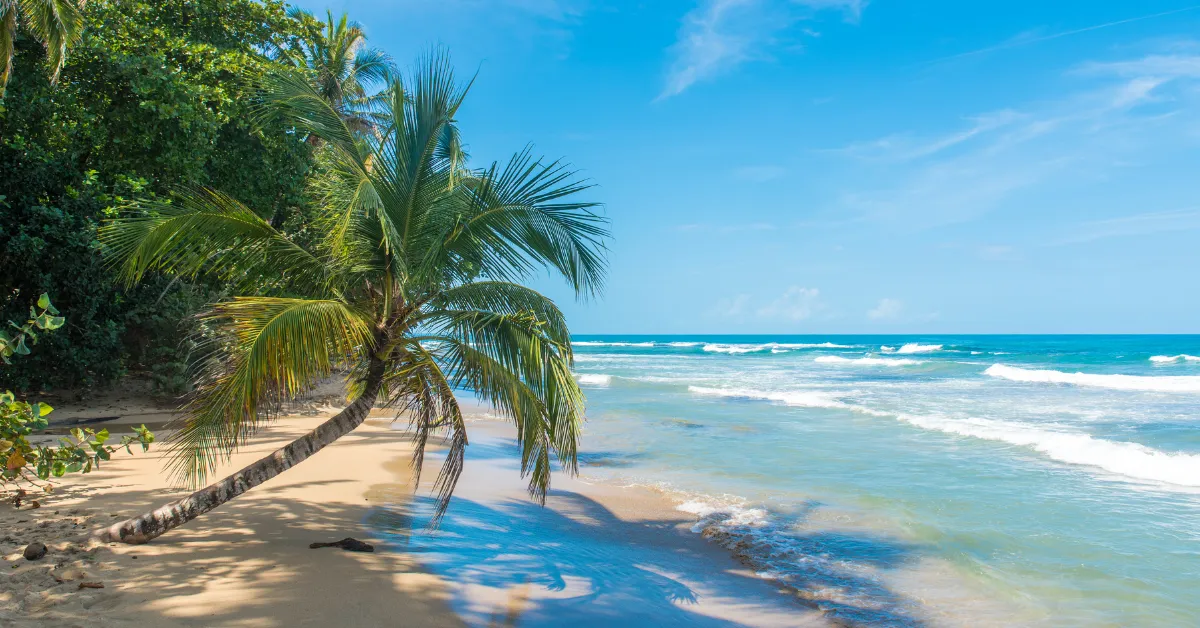 5. Nosara
If you're looking for fewer crowds and a slower pace of life, Nosara is the town for you. With pristine beaches, exotic wildlife, and no shortage of tropical fruit, this destination will quickly captivate your senses.
There is a range of beaches within Nosara, each providing a different vibe and a great location for an elopement.
You'll have your pick of beautiful venues here, including:
Finca Austria Resort

Coyol Restaurant

Lagarta Lodge

La Luna Restaurant
6. Uvita
Uvita is a quieter town that sits on the south pacific of Costa Rica. This is another excellent location if you're looking to stray away from crowded tourist areas.
With stunning beaches and national parks, there are many picturesque locations for your elopement.
After the ceremony has concluded, check out some thrilling activities such as hiking to the EL Pavon Waterfall, taking a tour through the stunning Sierpe Mangrove, or whale watching.
We recommend checking out some of the below venues and accommodations: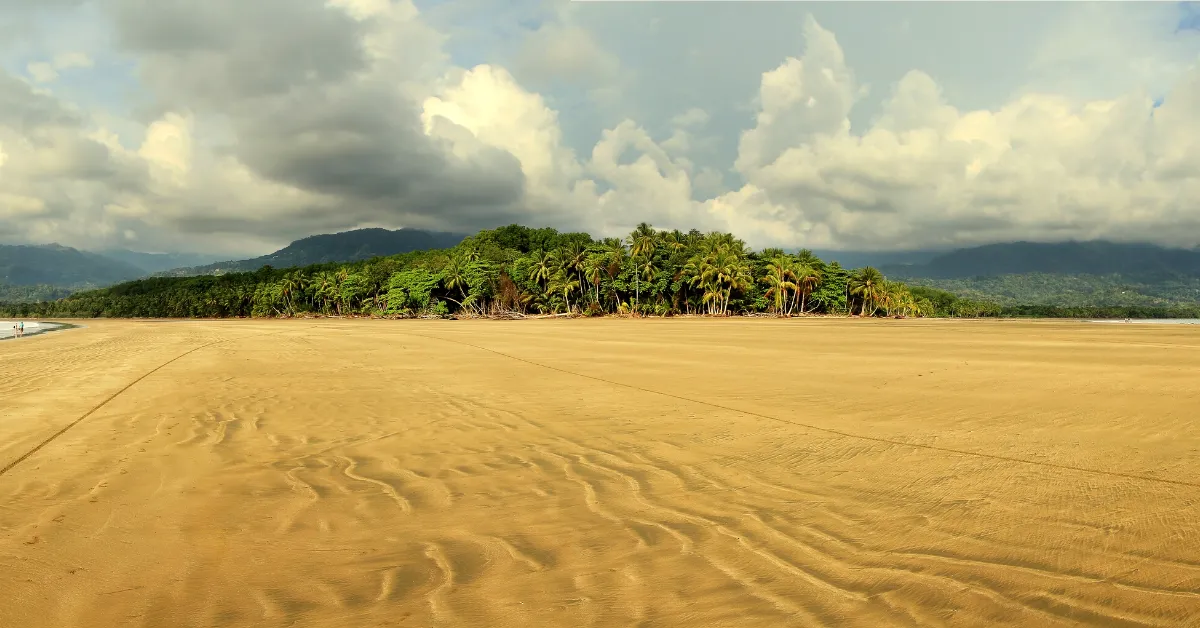 7. Las Catalinas
Take a step back in time as you enter this charming and walkable beach town. You can roam freely as a pedestrian as Las Catalinas is entirely car-free.
Tune in to the sounds of nature and the crashing of the waves without hearing congested cars or whipping of motorbikes in the background.
This special Costa Rican destination was inspired by the hilly towns of the Mediterranean but offers its own unique atmosphere. Surrounded by lush greenery and small yet stunning beaches, this is a great place for an intimate ceremony.
How To Elope In Costa Rica
Did you find your picture the perfect destination to say I do? Great! Let's jump into the logistics.
Getting married in Costa Rica is accessible for most couples. You do not have to be a resident or citizen to tie the knot here, and they allow same-sex marriage.
You will just be required to complete some paperwork and show a bit of documentation.
Here is what you will need:
An approved officiant

Two Witnesses (not family)

Completed Questionnaire

Statement of civil status, nationality, address, and occupation

Original birth certificate

Affidavit of single status (if applicable)

Valid passport

Divorce decree (if applicable)
You must provide this information to your ceremony officiant at least seven days before the wedding. The officiant will then be responsible for registering this information with the civil registry, and this can take up to three months.
This is specific to US citizens and may slightly differ depending on the country you reside in.
Finding An Officiant
Finding an officiant isn't a difficult task; however, there are specifics you will need to follow. Only a priest, lawyer, or judge can legally officiate a wedding.
If you or your partner are not fluent in Spanish, your best bet is to have a lawyer conduct your ceremony. Your venue should be able to appoint you to an officiant that will suit your needs.
Once you find your officiant, you will supply them with your documentation, and they will ensure that you have all the necessary paperwork to make the ceremony legal.
Civil Vs. Religious Ceremony
A civil ceremony is a more popular option when deciding to elope in Costa Rica.
It is legally binding and requires fewer steps than a religious ceremony. This will be conducted by either a judge or lawyer.
If you would like your religious ceremony to be legally recognized, your wedding will have to be officiated by a priest. Any other religious wedding will not be legally binding, and you will be required to have two ceremonies.
If you decide to have a catholic ceremony, you will need the following:
Completion of premarital classes

Reserve the church at least six months in advance

Certification of baptism

Certification of communion

Certification of confirmation

Both witnesses must interview with the priest

The couple must interview with the priest

Reserve the church at least six months in advance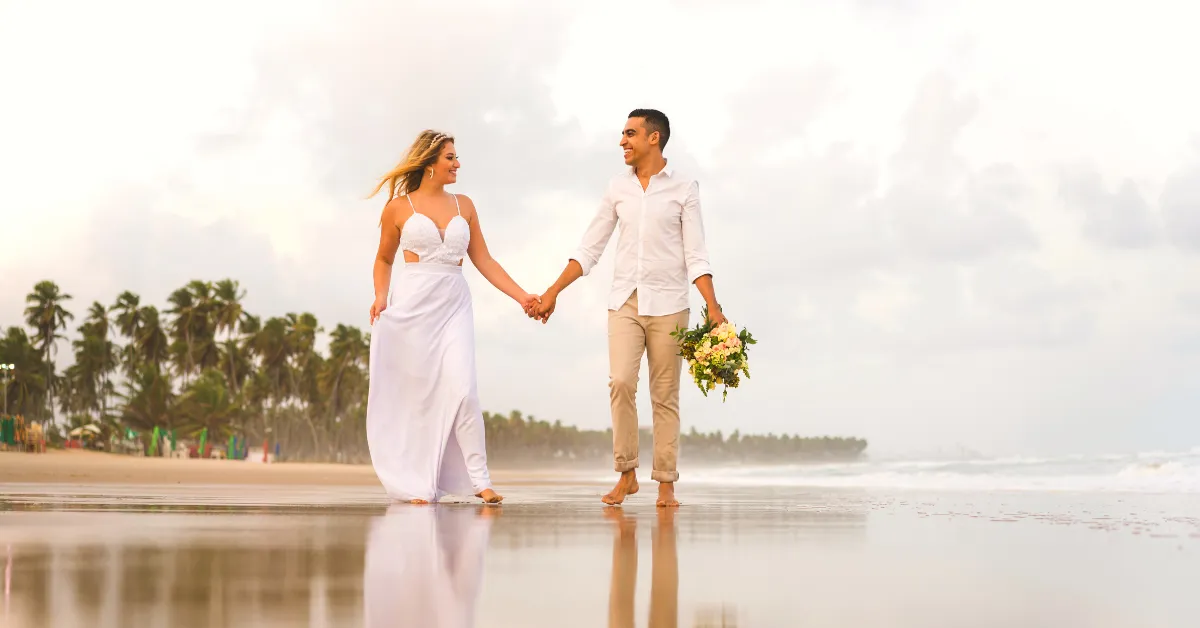 Symbolic Ceremony
Part of the point of eloping is to keep things simple. A symbolic ceremony can make sure that things stay that way.
A symbolic ceremony allows you and your partner to wow your commitment to one another without any legal obligations.
It is common for couples to legally marry in their home country and then have an elopement ceremony in their dream destination. This gives you the ability to create a ceremony that is authentic to you and your partner.
As you are under no legal obligation, you can have anyone you would like to officiate your wedding and are not required to have a set amount of witnesses.
Costa Rica Elopement Packages
Leave the logistics to someone else. Costa Rica has several venues and agencies that will handle all of your elopement details from start to finish.
It is common for an inclusive package to start around $3,000 and include things such as:
Wedding planner

Onsite coordinator

Venue location

Officiant

Bouquet and boutonniere

Dinner for two

Room accommodations
Whether you're looking for something simple or a bit more extravagant, most venues and agencies will work with you as much as possible to create the development of your dreams.
Final Thoughts On Eloping In Costa Rica
Whether you decide on volcanic views, waterfalls, or a beachfront ceremony, Costa Rica has a bit of something to offer everyone.
If you decide to elope in Costa Rica, you will not be disappointed; just make sure to bring the proper documentation and ensure you have all the legal requirements if you decide to opt for a religious ceremony.
Not sure if Costa Rica is the best destination to elope abroad? Read one of the following guides: