Camping Coffee Guide | How To Make Coffee When Camping
One of the biggest joys of camping has to be waking up and preparing a mug of piping hot coffee first thing in the morning! Camping coffee is amazing, there's just something that makes camping and coffee the perfect combination!
The smell of coffee brewing – and the shot of energy it gives you – gets your day in the great outdoors off to a fantastic start.
There are lots of different methods for preparing camping coffee. Some are quick, easy, and require very little in the way of equipment. Quite often, though, these are the methods that tend to produce a slightly inferior brew!
Other methods take a bit more time and use more equipment, but they create great cups of coffee which will meet the approval of even the most discerning connoisseurs.
So what is the best way to make coffee camping? Well, that depends on which you value most – speed and convenience, or the quality of your brew!
In this guide, I'm going to take a look at all the different options you have to prepare coffee for camping. Along with step-by-step instructions for each method, I'll also recommend some of my favorite products that will help get the results you are hoping for!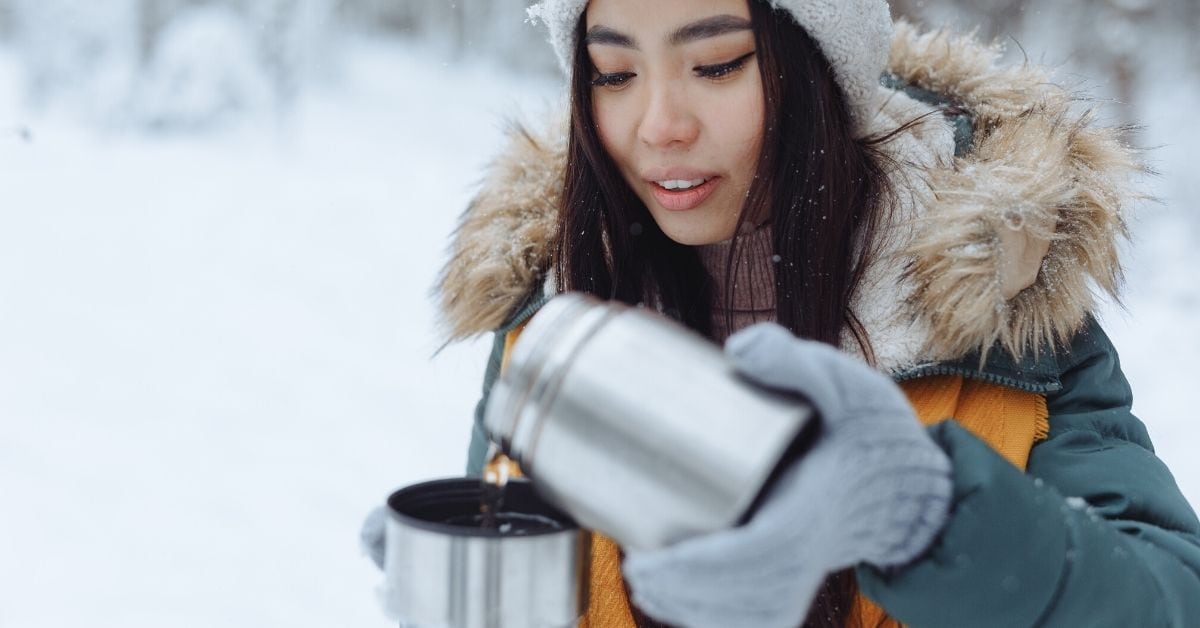 Instant Coffee: The Easy Way To Make Coffee While Camping!
Instant coffee is made from brewed coffee that has been dehydrated and turned into crystals. You will also find it sold as a coffee powder or coffee granules.
It is super convenient for camping! It is incredibly lightweight, easy to pack, and requires no equipment (other than something to heat your water in, of course).
Best of all, there is nothing to clean up afterward.
On the downside, instant coffee doesn't have the best reputation for flavor. Given the way it is produced, it obviously won't have quite the appeal of fresh.
There are still some really good instant coffees out there, so it's definitely an option worth considering if you don't want to take up space in your backpack.
Method
Different brands of instant coffee have different methods of preparation, but the general steps are…
Place the required amount of instant coffee granules or powder into your mug.

Add boiling water to the mug.

Stir well until the coffee has dissolved.


One of the tastiest instant coffees out there is Mount Hagen Organic Instant Regular Coffee.
This Fairtrade product is made from 100% Highland Arabica coffee beans, which are gently roasted for a good, rich taste. The first freeze-dried coffee in the world to be certified organic, it contains no preservatives or additives.
Best of all, it is less than half the price of many other brands, yet is every bit as good in terms of flavor!
Cowboy Coffee
Want to learn how to make coffee when camping just like real cowboys do? Then prepare yourself some cowboy coffee!
Admittedly, this is a somewhat crude method of coffee preparation. The results tend to be very dark and thick and clean-up can be messy because the coffee grounds don't dissolve.
But there are advantages too. It can be prepared with very limited resources – all you need is some sort of cooking vessel (a kettle or a pot), along with a campfire or camp stove.
Plus, making your coffee like a cowboy is very satisfying and makes the whole outdoor experience a lot more authentic!
You have two options when it comes to making cowboy coffee.
Method 1
Boil your water in whatever vessel you have available, then remove it from the heat.

Wrap your coffee grounds in a piece of cheesecloth – or, if you are going full cowboy – use a bandana! Tie with a piece of twine.

Place the pouch of grounds into the vessel, put over low heat, and allow to steep for several minutes.
Method 2
Strange as it may sound, this method works even better if you have eggshells available! If you do, crush them fairly small before you start and mix them into the coffee grounds.
Don't worry – they won't make the coffee taste odd – in fact, they may help get rid of any bitterness or acidity.
If you don't happen to have any eggshells, just follow the method below without them.
Boil a pot or kettle full of water.

Remove from the heat and add the amount of coffee grounds you need.

Return the pot to heat and simmer gently. The coffee grounds should start to sink down to the bottom of the pot, especially if you used the eggshells, which coagulate with the grounds and help them settle more easily.

Pour your coffee – but be aware that some of the grounds are likely to end up in your mug!


The Overmont Camping Kettle, which comes in 2 different sizes, is perfect for this method. It is very lightweight – at just under half a pound – and comes with a carrying bag that you can just attach to your backpack (so it won't take up valuable space!).
It is great value for money and allows you to enjoy a nice hot brew in just 5 minutes.
Coffee Bags
These are a great way to make coffee for camping and if you have ever used a tea bag, then you'll understand just how they work!
Although coffee bags are a relatively new concept, those who have tried them say they have a better flavor than instant coffee. They are also mess-free, lightweight, and easy to pack!
Method
Put the coffee bag into a mug.

Fill the mug with hot water.

Allow the coffee to steep until the strength you prefer is reached.

Remove the coffee bag and enjoy!


Steeped Coffee is a great choice for camping coffee bags.
Available in a range of blends – including decaffeinated – these single-serve bags of pre-dosed specialty coffee are carefully sealed to remove carbon dioxide, ensuring you get to experience that freshly ground flavor you love.
Alternatively, you can make your own coffee bags – it's actually very easy to do! For each bag, lay a coffee filter flat and fill it with a large scoop of your favorite ground coffee.
Gather the filter around the coffee and tie it up with a piece of butcher's twine. Cut off any excess filter and twine, but leave enough to use as a 'tail' so it is easy to fish the bag out of our mug.
Hey presto – homemade coffee bags at a fraction of the cost.
French Press
A French press is a popular choice for preparing coffee at home. But if you have only ever seen the type that uses a glass carafe, then you probably wouldn't have considered including a French Press in your camping coffee kit!
The good news is that manufacturers have taken people who love both camping and coffee into account, and created durable models that are rugged enough to withstand a little extra wear and tear!
Method
For a French press, you need coarse coffee grounds. Spoon them into the bottom of the French Press and dampen them with hot water (this helps the coffee release carbon dioxide and is known as 'blooming' or 'degassing'). Leave for a few minutes.

Fill the container with water and stir.

Wait for 10 minutes, then fully depress the plunger.

Your coffee is ready to serve!
The Jomo French Press Coffee Maker with Silicone Sleeve and Travel Bag is specifically designed for use in the great outdoors.
It has a protective silicone sleeve to prevent any damage, a canvas bag to carry it in, and a colorful coating that's resistant to scratches.
The double stainless steel mesh filtration stops any grounds from ending up in your coffee, so you get a perfect cup every time!
Pour-Over Coffee Dripper
If you have only ever seen ceramic or very decorative pour-over drippers, you may not have thought of taking one camping with you!
So you will be happy to hear that there are such things as collapsible drippers, which are a very easy way to make coffee while camping. Lightweight and compact, a dripper will fit easily into your backpack for great coffee on the go.
Method
Fill the stand with coffee grounds, using either a paper or a cloth filter.

Place the stand over your camping mug.

Boil your water, then smoothly and steadily pour it into the filter using a circular motion.
Using the Wolecok Collapsible Pour Over Coffee Dripper is a very easy way to make coffee while camping as it folds down to a thickness of just half an inch!
---
Want to connect with fellow long-term travelers? Join our exclusive Facebook group and take part in the conversation.
---
PSSST. Your travel medical insurance can now cover COVID-19! If you grab SafetyWing's Nomad Insurance, it'll be covered just like other illnesses. I've been using it since 2019 and I can assure you it's the perfect solution for nomads like you and me.
Simple to use, it is made of food-grade silicone and sturdy enough to stand alone when completely unfolded.
Single Serving Pour-Overs
A great alternative to using a pour-over dripper is to use a disposable version. They are not as cost-effective, but there is no clean-up to worry about after use, plus the grounds and water are kept separate.
They are individually wrapped in small, lightweight packets, so they are perfect for popping into your gear and grabbing when needed.
These are a fairly new innovation, but very easy to use.
Method
Open the packet, expand the paper frame and place it over your camping mug.

Pour boiling water through the pour-over.

Remove the frame from the top of your mug, dispose of it and enjoy your coffee!
Developed by outdoor enthusiasts who know just how a good coffee brewed in the wild should taste, Twin Peaks Premium 100% Pour-Over Colombian Arabica Coffee comes in individually sealed foil packets.
It has a rich, full-bodied flavor and is verified non-GMO, with no artificial additives.
Percolator
Percolators were once everybody's first choice to make coffee for camping, although newer products and ideas have since taken over. But a percolator can still be a useful part of your camping coffee kit.
The only downside with using it is that you need to set a bit of space aside for it in your gear, as some percolators can be quite bulky.
The way it works is quite simple. Boiling water percolates up a tube and into the metal basket, which you will have already filled with coffee grounds.
Method
Fill the percolator with water.

Put the coffee grounds into the metal filter or line it with a paper filter first.

Boil the water until the coffee is ready, using the viewing bubble at the top to gauge when the color of the coffee is just the way you like it.
You can brew up to 12 cups of coffee quickly and easily with the Coleman Stainless Steel Coffee Percolator.
Designed for use on a camping stove or grill, it is lightweight, durable, and resistant to corrosion. It's easy to clean, too!
Moka Pot (Or Stovetop Espresso Maker)
If you like a rich, strong coffee to start your day, an espresso maker is just what you need!
These vessels are made up of three parts – a serving carafe at the top, a metal filter in the middle for the coffee, and a compartment at the bottom for the water.
Method
Fill the bottom reservoir with water.

Add your coffee grounds to the metal filter.

Boil the water. As it boils, the brewed coffee will go up into the serving carafe.
The Bialetti Moka Express Coffee maker is ideal for use on your camping stove and makes enough coffee in one go for just over 2 cups.
It is made of high-quality aluminum, so it is tough enough to withstand the rigors of outdoor life, but at only just over a pound in weight, it is easy to carry along on your travels.
Best of all, your lovely fresh coffee is ready in just 5 minutes!
Portable Espresso Maker
A Moka pot can be a hassle to clean on a camping trip. So why not consider using a portable espresso maker to get you that invigorating coffee shot first thing in the morning? It's bound to energize your camping breakfast!
Method
Press your coffee grounds into the coffee compartment.

Pour the water into the other compartment.

As the pressure builds, use the manual pump to push the steam through the coffee.

Pour and serve!
The Staresso Portable Espresso Machine is a popular choice for making camping coffee! It gives you the lovely rich flavor of espresso but weighs under a pound and measures only 8 x 2.7 inches.
Easy to operate (and to clean up), you can use a choice of Nespresso pods or ground coffee for perfect espresso every time.
Best Coffee Beans
So now you know how to make coffee when camping, you'll need the perfect beans to use in your brews! Here are my top three…
Kicking Horse Coffee is available in a range of dark or medium roasts from Indonesia and South America, with sweet vanilla, smoky and dark chocolate notes.
Perfect for brewing with a moka or espresso maker – but also great with a French press or dripper – Lavazza Crema E Aroma has an intense flavor and long-lasting crema.
Starbucks' best-selling Breakfast Blend has sweet orange and brown sugar notes, giving it that crisp and tangy flavor that everyone loves.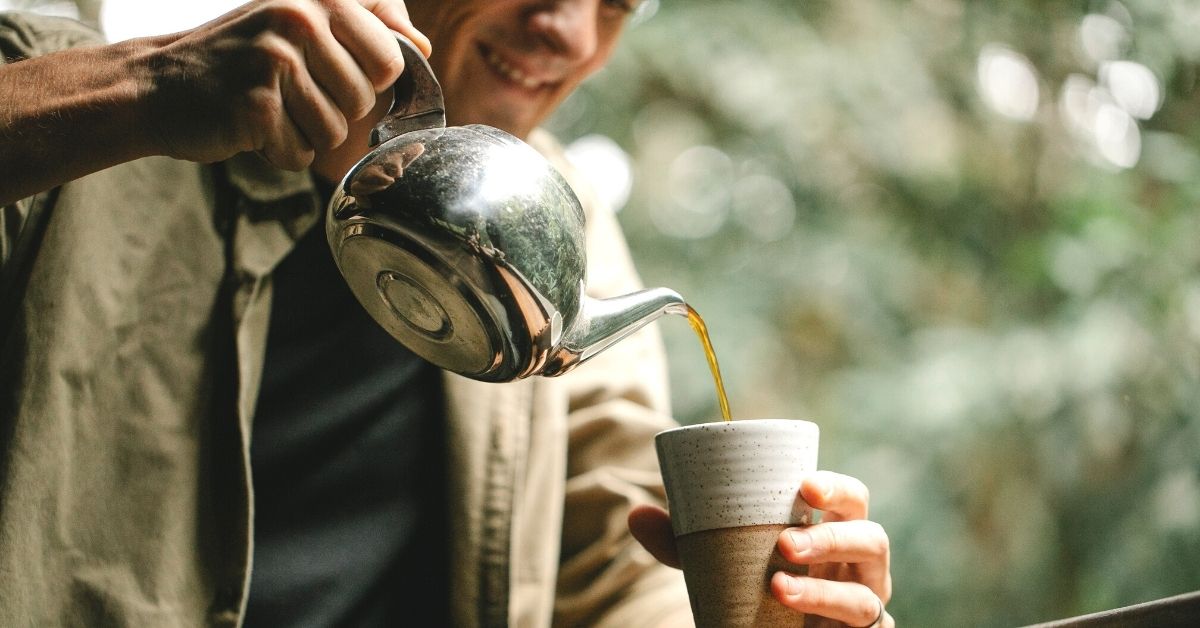 Best Coffee Mugs
There's only one thing left to make your camping coffee perfect – and that's the ideal mug to enjoy it in! Here are a few of my favorite camping mugs available right now…
The Coleman 10 Ounce Enamelware Coffee Mug is a no-frills, classic cup for camping, made of lightweight stainless steel and coated with durable, speckled blue enamel.
If you're looking for a camping cup with a lid, the Civago Stainless Steel Coffee Mug is ideal, with double-wall vacuum insulation and 20 different colors to choose from.
These Silicone Folding Camping Cups come with lids and – although they have a generous capacity of over 9 oz – they fold down to just over half an inch, so they are very easy to pack.
Final Thoughts
As you can see, there are so many ways to make good coffee for camping trips that you need never start a day without your favorite cup of joe, made just the way you like it!
Looking for other ways to energize your camping trip? Check out these fun campfire games for adults!