Best Portable Air Conditioner For Camping
Camping in the summertime is wonderful – until the heat that has built up during the day makes your tent incredibly uncomfortable to sleep in at night! Some people might think that a portable air conditioner for camping is a luxury – but if you like to camp often in areas with a warmer climate, then it is more of a necessity!
This guide is intended to help you learn more about air conditioners for camping, including the various types available and which might be most suitable for your needs and travel budget.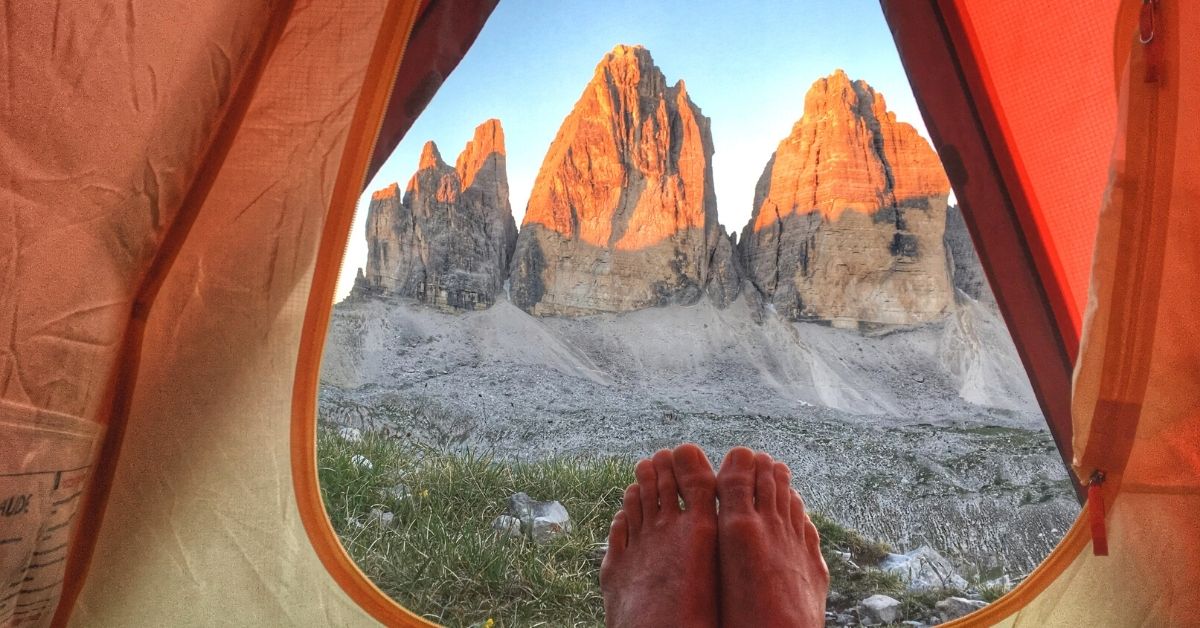 What To Look For When Buying A Portable Air Conditioner For Camping
The main thing to remember when looking for the best tent air conditioner is that there are few air conditioners designed specifically for camping.
You need to look at the features of portable air conditioners and coolers to see if they will work for you in a camping environment, keeping in mind that some may require you to be a little creative, or to adapt your camping tent slightly to make things work!
Power
There are two things to think about in terms of power. One is how powerful you want the air conditioner to be and the area it needs to cool. The second is whether or not you will have access to mains power at your campsite.
If you are buying a fully-fledged portable air conditioning unit, it will require some form of electrical power, preferably mains supplied. There are no batteries that are strong enough to deliver this type of power.
So you need to be sure that you have access to power at your campsite, or a generator that is robust enough to deliver the power you need.
If you don't have power, then a battery-powered unit will be a good option – just remember that these units – whilst often referred to as portable air conditioners – are actually closer to cooling fans.
Portability
A fully-fledged portable air conditioner for camping is likely to be fairly bulky and heavy, making it more suitable for car camping trips.
Look for something with integrated castors and a handle, which will make it easier to move. If you are not able to bring a lot of gear with you, a personal cooler would be ideal as they are very small and lightweight.
Remote Control
This isn't essential, but a remote control is a handy extra when it comes to using an air conditioner in a tent. Since the unit will only likely be running at night when you are asleep, the option to adjust the temperature without getting out of bed is very welcome!
How To Camp With An Air Conditioner
To cool your camping tent as effectively as possible, the first thing is to make sure that you pitch it in a shaded area. The cooler you can keep it throughout the day, the easier it will be to keep cool later!
Next, think about ways you can insulate your tent. If you are constantly losing cooled air through the tent walls, your tent air conditioner kit will have a never-ending struggle trying to maintain a low temperature.
Simply throwing a tarp over your tent can help insulate it, whilst blocking heat from the sun at the same time. If you camp often, consider purchasing an insulated tent and adding it to your packing list of camping essentials.
Some air conditioners for camping will need venting and most come with an exhaust hose that you can put outside. Some tents come with an AC port that you can use to vent the hot air – just make sure that you are not directing it towards fellow campers!
If you choose an air conditioner with a wastewater reservoir, remember that you will need to empty it on a regular basis, especially in humid conditions.
Finally, be sure to thoroughly ventilate your tent every morning to avoid breathing in the same air over and over.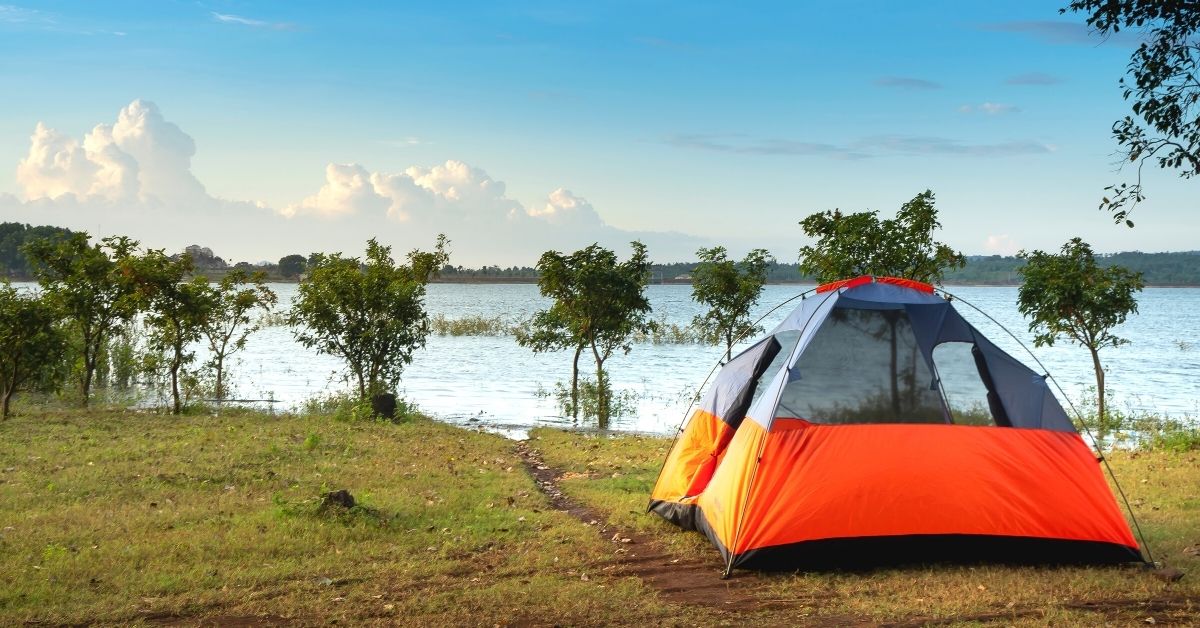 Types Of Air Conditioners For Tents
As mentioned earlier, there are few air conditioners designed specifically for tents. Instead, air conditioning for camping tends to fall into 3 main categories.
Portable Air Conditioners
These are the most powerful types of air conditioners for camping and also the most expensive. They require quite a lot of power to run – so you will need access to a source of electricity – but they are efficient and usually designed for small rooms within the home.
This means they are capable of cooling a tent quickly and easily. Although 'portable', they can still be large in size and somewhat heavy. They are most suitable for car/RV camping.
Evaporative Coolers
These are often described as 'air conditioners for camping' but differ from conventional air conditioning units. You need to fill them with water and this is then sprayed out by the fan in a light mist.
---
Want to connect with fellow long-term travelers? Join our exclusive Facebook group and take part in the conversation.
---
PSSST. Your travel medical insurance can now cover COVID-19! If you grab SafetyWing's Nomad Insurance, it'll be covered just like other illnesses. I've been using it since 2019 and I can assure you it's the perfect solution for nomads like you and me.
You can buy them in small, personal sizes right up to larger models. They are not as effective as true portable air conditioners, but they are often much cheaper. It is also possible to buy battery-operated models, which are handy if you don't have access to power.
Window Mounted
These are a popular choice with campers, because not only do they work as efficiently as portable air conditioners, but they are often smaller in size and more lightweight too! What's more, you can often get a powerful unit for less than half the price of a portable model.
You will either need a tent with an AC port to use one of these, or you will need to adapt your tent to allow the unit to vent outside. Just like portable air conditioners, window-mounted units will require a source of electrical power.
Black+Decker BPACT08WT Portable Air Conditioner
At the higher end of the spectrum in terms of budget and power is this unit from Black+Decker. More than just a great portable air conditioner for camping, it also works as a fan and a dehumidifier, keeping you comfortable in any environment.
At 16.5 x 11.5 x 26 in it is relatively compact in size given its power, and at 5,000 BTU it is capable of quickly cooling a tent or small room of up to 150 square feet – more than adequate for most camping needs.
This model is floor standing and simple to use – you just wheel it into position, attach the hose and window adapter that comes with it, and vent it outside. It also comes with a remote control – ideal when you need to change the temperature during the night and don't want to get out of bed – and also has an easy-to-read top-mounted LED display.
A 24-hour timer allows you to control the temperature at the times you need and the filter is easy to clean – you just need to slide it out and rinse it under the tap.
One of the features that makes it an ideal air conditioner in a tent is that it is bucket-less and self-evaporating, so there's no wastewater to worry about. This unit requires mains electricity, so it needs to be connected to a power source at a campsite.
Frigidaire 5,000 BTU 115V Window-Mounted Mini-Compact Air Conditioner
If you are thinking about using a window unit to provide air conditioning for camping, this model is ideal! It can cool an area of up to 150 square feet quickly and efficiently and has 2 different cool speeds and 2 fan speeds so you can adjust the temperature to be just the way you like it.
Although not primarily designed to be a portable air conditioner for camping, its compact size of 15.25 x 16 x 12 inches means that it is very easy to bring along with you, and it weighs just over 40 pounds which is lighter than many units that are designed to be portable.
It runs quietly with just a low, humming sound that provides a little white noise to help you sleep and has easy-to-use mechanical controls. Cleaning it is simple – the filter just slides out and can be quickly rinsed and replaced.
This unit is great value for money, offering a cooling power similar to far more expensive models, but do note that it requires mains power. This means it is only suitable for use on campsites where you will have access to a power source.
Evaporative Air Cooler
The best tent air conditioner in the budget range, this model is battery-powered. This makes it ideal for off-grid camping where you have no access to a power source.
The built-in 5000 mah grade A battery is rechargeable via USB and runs up to 9 hours, which should be enough to see you comfortably through the night. Designed to be safe to use around children and pets, this unit is simple to operate.
You fill the 700 ml tank with water, adjust the settings to your preference, and switch the unit on. You can then enjoy the lovely cool breeze, set at either a low, medium, or high speed. One water tank will last for up to 12 hours, so you won't need to worry about refilling it during the night.
You can set the fan to oscillate in order to cool a wider area and it runs very quietly, so you won't be disturbed from your sleep. This model is a very compact 6.1 x 5.7 x 9 inches, so it is easy to pack in your camping gear and will take up very little room in your tent.
Because it is so small, it is also very convenient for taking out with you on days out and about, or for using as a desktop cooler in warm weather, giving you the most bang for your buck!
Hessaire MC18M Portable Evaporative Cooler
Weighing just 16 pounds and measuring 20 x 10 x 28 inches, this is one of the most portable air conditioners for camping and also one of the most effective! Its 4 heavy-duty casters and handle make it easy to move around and it can cool areas of up to 500 square feet, so it is more than a match for the biggest tents!
It can be used in a couple of different ways, either as a fan with adjustable louvers or by incorporating the evaporative cooling system. The way it works is simple – you fill the internal tank with water, choose your speed (high or low), then switch on and enjoy the cool airflow.
A full tank of water will last for around 3 to 4 hours, but there is also the option to attach a hose to allow the unit to operate continuously throughout the night.
This low-energy model can be powered by a generator so it is ideal for camping and it is built for durability, with a rugged exterior that allows for outdoor use too. It comes pre-assembled so it is almost ready to use straight from the box – all you need to do is attach the casters and prime the pump!
SereneLife SLPAC Portable Air Conditioner & Heater
This model isn't just a great tent air conditioner kit. It actually has four separate functions and can be used as a cooler, heater, dehumidifier or fan, making it ideal for a variety of situations and for use at home once your camping trip is over.
8, 000 BTUs of cooling power help it to keep temperatures low across an area of up to 215 square feet, which is more than enough for an air conditioner in a tent.
The motor runs very quietly, ensuring everyone gets a good night's sleep, and a digital remote allows you to adjust the fan speed and temperature from the comfort of your sleeping bag. The body of the unit is designed to be sleek for portability and measures 14.6 x 13.8 x 27.2.
It weighs around 53 lbs, and whilst this is not particularly lightweight it is in the range you would expect for an air conditioning unit that can cool as efficiently as this.
This portable air conditioner for camping will need venting outside the tent and requires power, either from a generator or ideally from an electrical hookup at your campsite.
Final Thoughts
Your choice of the best portable air conditioner for camping will depend on whether or not you have access to power and the size of your tent.
As you can see, there are lots of different options to suit every need, and you'll love the difference that a cool night's sleep will make to your next camping trip!