Best Hiking Backpacks for Babies
If you plan to hit the trail and take your little one along for the ride, then a safe and ergonomically designed baby backpack is an essential piece of kit! Whilst a sling or front carrier can be useful for days out and about, you need to be able to clearly see your feet when trekking on uneven terrain.
The best hiking backpacks for babies will allow you to carry your little one securely on your back, giving him a great view as you hike – or a cozy nest to sleep in once he gets tired.
The following baby hiking carrier reviews take a look at some of the best products on the market, designed to ensure that both you and your child are totally comfortable on your travels.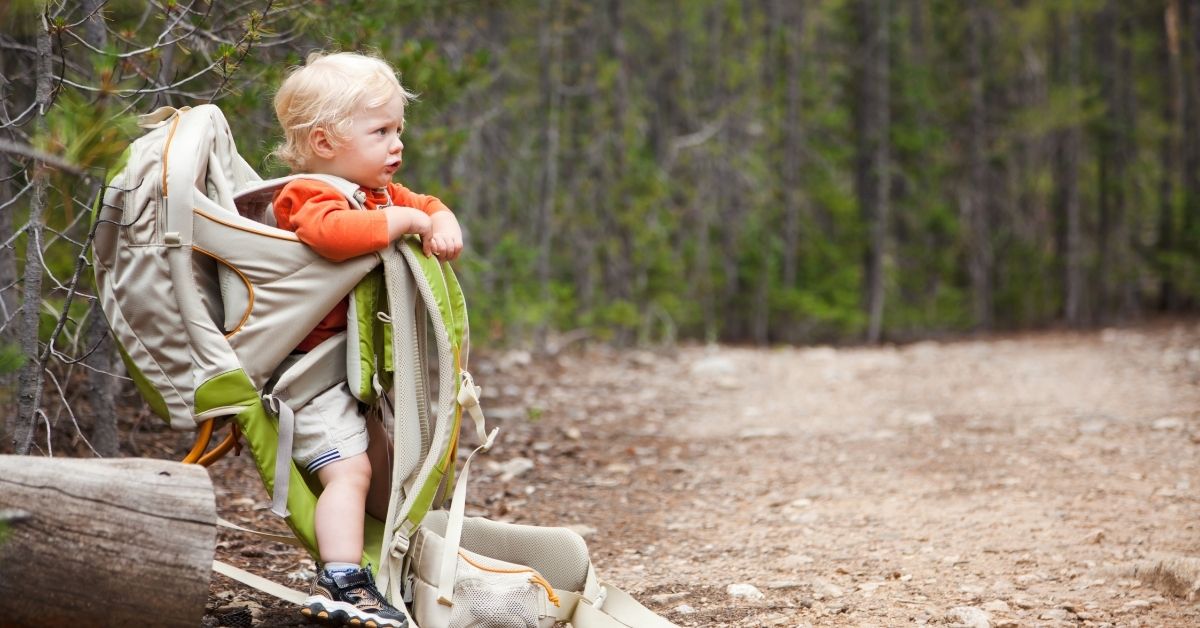 What to Look for When Buying a Baby Hiking Backpack
You really don't want to have to buy more than one hiking carrier for your growing child, so the best baby backpack to choose is one that will grow with him! Check the age and weight range listed in the specifications for the one you are interested in, ensuring that it will last right from when your baby can first sit up to toddlerhood.
Comfort
Comfort is a key consideration – not just for your precious cargo, but for you too! Baby's seat should be nicely padded and with a good harness to hold him in a secure position. Some carriers include little extra details like foot stirrups. Whilst not essential, they stop your baby's legs from hanging down and can make him feel more comfortable. This, of course, will keep him content throughout your travels, and will help him to easily nod off to sleep too!
Good baby hiking backpacks should be well padded on the shoulder straps and in the lumbar region. Additional padding on the hip straps is a nice touch too. You should also look at how good the ventilation will be – mesh backs and design details that maximize airflow will help keep you both cool, even on summertime trips. Check the weight of the frame – most baby hiking backpacks are made with aluminum, which is lightweight but strong.
Storage
If storage is important to you, make sure that the backpack you choose has large enough compartments for things like diapers, bottles, and food. This can be very useful and save you from having to bring along another bag.
Protection
Next, think about how well your baby will be protected from the elements. Good sun protection is essential and the best hiking backpacks for babies will feature an adjustable canopy, which can be pushed back or removed when not in use. Some carriers will feature a rain cover too, which is a handy extra touch and nice to have.
Easy to Travel With
Finally, consider how easy your chosen backpack will be to travel with and to store. Many designs fold down almost flat, which is ideal.
Luvdbaby Carrier
The Luvdbaby Carrier – a beautifully designed model made from very high-quality materials. It has cool, unique features including little stirrups to stop your baby's legs dangling down and kicking you as you walk, and even a thermal insulated zipper pocket to keep baby's milk or food warm until it's time to eat.
There is lots of padding to keep your baby comfortable, plus safety straps to keep him secure. And you will be just as comfortable as your baby – the carrier has great suspension and is designed to distribute weight evenly, avoiding strain on your shoulders and back.
It also has a mesh back, which will stop you and your baby from overheating, even on the warmest days. The height of the torso is adjustable, so this backpack will 'grow' with your baby to a maximum weight of 40 pounds.
Extra storage pockets give you somewhere to stow everything from diapers to toys, with additional hip pockets for you to access things like keys without taking off the whole backpack. There is even a free changing mat thrown in for quick and easy changes on the go.

Clevr Premium Country Backpack
---
Want to connect with fellow long-term travelers? Join our exclusive Facebook group and take part in the conversation.
---
PSSST. Your travel medical insurance can now cover COVID-19! If you grab SafetyWing's Nomad Insurance, it'll be covered just like other illnesses. I've been using it since 2019 and I can assure you it's the perfect solution for nomads like you and me.
At just 5.5 pounds the frame of this mountain baby carrier is very lightweight, but it is still exceptionally robust and very comfortable for you and your little one. With a waistband that extends to around 60 inches and padding on the straps, hip belt, shoulders, and lumbar regions, this is a backpack that you can wear for hours without feeling the strain.
Suitable for babies between 9 and 48 months, weighing up to 33 pounds, the adjustable child seat has safety straps and foot stirrups. It also features a sun canopy and a rain cover, so you can confidently enjoy your hike whatever the weather! The canopy can be pushed out of the way or removed altogether if not needed.
There is even a washable drool pad, so you can be sure that the fabric on which your baby is laying his face is perfectly clean.
There is loads of storage, giving you room to stow all the essentials for changing your baby, along with space for extras like a spare sweater and your phone. There are also 2 water bottle holders on the sides, so it's easy to take a drink as you walk. The frame includes a kickstand and is foldable for storage.

Chicco SmartSupport Backpack Carrier
The Chicco SmartSupport Backpack Carrier is one of the best hiking backpacks for babies and will make even the longest trek comfortable for you both! The seat is adjustable to three different heights, so it will last all the way from when your baby weighs 17 pounds, right up to a maximum weight of 40 pounds.
It has an extendable canopy that you can position at multiple angles in order to protect your baby from the heat of the sun, plus a padded backrest and 5 point harness that will make him feel snug and secure! Whilst sturdy and durable, the aluminum frame is very lightweight, and there is plenty of padding at the waist and shoulders to prevent straining your shoulders or back.
The lumbar region is specially designed to maximize airflow which will keep both you and your little passenger cool and comfortable throughout the day. One of the most useful features is the built-in kickstand.
This makes it easy to get the backpack on and off with your child still inside it, even if you are on your own! The entire unit folds relatively flat, so it is easy to travel with and equally easy to store after use.

Clevr Backpack for Toddlers
If the best baby backpack for you is one with plenty of storage in addition to all the comfort and practicality you'd expect, then check out this deluxe model from ClevrPlus. It has a large storage compartment under the carrier with space for the baby changing pad that comes with it, along with a sweater, diapers, wipes, keys, and more.
But a great bonus feature is the detachable mini backpack – it is small enough for a toddler to comfortably wear, but provides some additional storage space when attached to the carrier. The frame is tough but lightweight, and there is plenty of padding in all the right places to keep your hips, shoulders, and back comfortable and the weight evenly distributed.
The adjustable sun and rain cover will keep your baby snug and dry on his travels and the seat has a 5 point harness for security. Suitable for babies up to 33 pounds and aged from 6 to 48 months, the carrier is easy to adjust and sits upright on a flat surface thanks to its metal stand. It also folds flat when not in use so it is easy to travel with or store.

Kelty Journey PerfectFIT
The designers of this beautifully made backpack have thought of everything to make this one of the most convenient, comfortable, and enjoyable carriers to use on a long hike. It is suitable for babies weighing from 16 pounds all the way up to 40 pounds and has a lovely plush interior to cocoon your little one and allow him to travel in style.
The wide seat base and adjustable foot stirrups hold your child in the perfect resting position and there are plenty of grab handles to make it easy for you to lift, adjust or set down the carrier as needed.
The integrated sunshade is just the right size to very effectively protect your baby from the sun's harmful rays and the Kelty PerfectFIT Suspension System can be quickly adjusted so that either parent can easily take their turn to carry it.
There are multiple storage options including a large zippered pocket with handy internal stretch pockets, plus zippered hip belt pockets to keep items like your phone, keys, or snacks close to hand. You can hike with confidence knowing that your baby is secured in the carrier by a 5 point harness and there is even a padded aluminum roll cage for safety over rough terrain.

Final Thoughts
I hope that these baby hiking carrier reviews have helped you find just the backpack you need to tackle the great outdoors with confidence and with your little one.