Best Guide To Camping In Pickup Trucks
Have you considered camping in pickup trucks? If you have such a vehicle, you pretty much have a solid base for a successful and highly enjoyable camping trip.
Truck camping is fast becoming one of the most popular outdoor leisure activities, due to the convenience and ease of setting up camp almost anywhere.
But before you back out of the driveway and head off to parts unknown, you should make sure that you have everything else you need for camping in a truck bed.
Food, shelters, and safety are among the most important concerns when camping, and that applies to pickup truck camping as well.
So if you want to make the most of the warm weather and want to make full use of your truck, check out these truck bed camping ideas to have the best outdoor experience possible!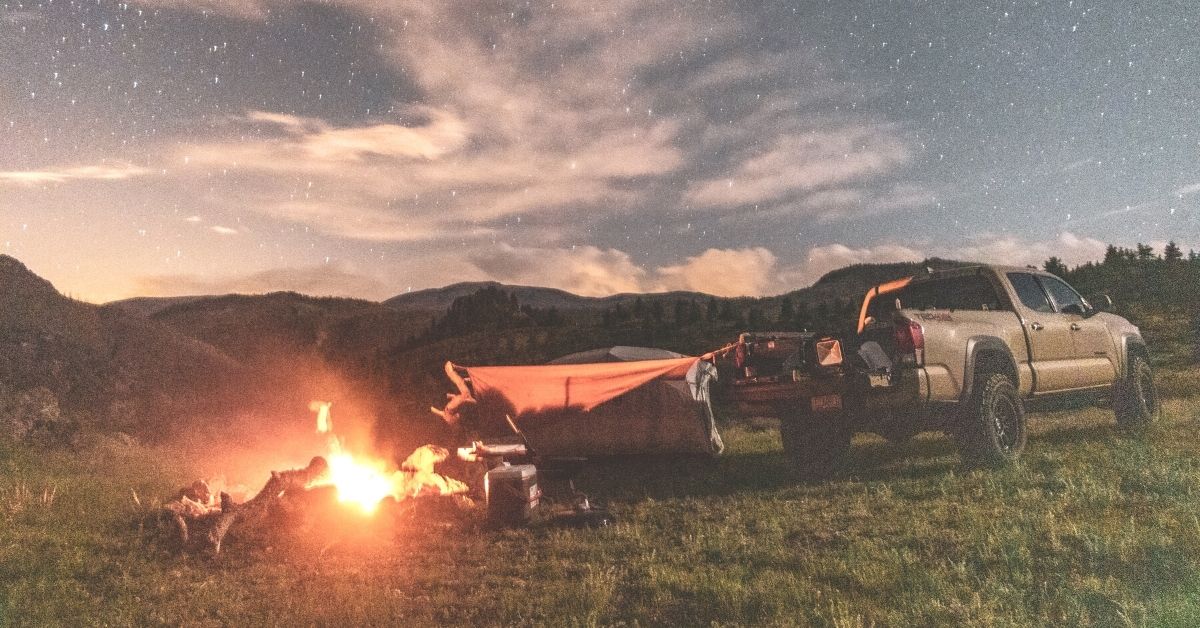 Truck Camping Methods
There are many ways by which you could use your truck for shelter during a pickup camping trip.
With the addition of a few essential items, you could even make your truck bed into a cozy and comfortable pad for a night or two.
Here are some suggestions on things to get to convert any truck into 5-star accommodations in the wilderness:
Camper Shell
A camper shell or a truck canopy is the quickest way to turn your truck into a shelter for the night. It is also the most robust and rugged solution, protecting you from pretty extreme weather conditions.
The beauty of using a camper shell for truck camping is that you can treat it as a semi-permanent fixture for your ride.
It is safe, secure, and weather-proof, and can be customized to a considerable degree. You could even pimp it out with drawers, organizers, lighting, and a sleeping platform, essentially turning it into a crash pad on wheels!
Truck Bed Tent
Truck bed tents are a less costly option, but not without their own merits. If you don't want to spend on a camper shell or prefer a less permanent solution, getting a truck bed tent is the next best thing.
One of the main advantages of a truck bed tent is that it allows you to turn your truck into a camping-friendly vehicle without having to make costly and permanent modifications.
It also provides a reasonable degree of comfort, security, and protection from the elements.
Keep in mind that truck bed tents require a bit of setup and organization. In most cases, you can't leave it up and drive your truck around.
Even so, it is worth considering if you can spare the time to set it up for the night every time you go camping.
Ground Tent
Contrary to what you might think, you can use a ground tent for shelter in a truck bed camping setup.
Think of the tailgate and bed as a shelf or a second level that you can use for camping gear, food supplies, and kitchen equipment.
This is certainly a more versatile solution than a ground tent alone and you get so much extra space besides.
The key here is to utilize your truck either for mooring or additional space. Putting up your tent close to your truck also provides added protection from the elements and nocturnal creatures.
What You Need For Truck Camping
Truck bed camping doesn't have to be expensive. You don't necessarily need a ton of equipment to have a good time.
However, there are some essentials that you absolutely must have to make your trip more comfortable, restful, and enjoyable. Here are a few suggestions:
Sleeping Gear
Ensuring that you sleep properly is the cornerstone of a successful camping trip. Getting plenty of rest is essential for keeping fatigue and illness at bay and is better for your mental health.
Make sure you have a good mattress, beddings, and a pillow or two, and you will be much more likely to enjoy your trip instead of pining to go home on the second day!
Mattress
A camping mattress should be light and easy to pack. It should also be durable and comfortable for those long nights on the road.
Don't skimp on a cheap mattress that gets lumpy and threadbare after a few trips. Spend some money on a good mattress and your back will thank you for it! And if you're traveling with a partner, check out these great camping mattresses for couples.
Top Picks:
Sleeping Bag
Even if you already have a good mattress and decent beddings, consider getting a sleeping bag. This will provide one more layer of padding that will ensure a good night's sleep.
It will also help keep you warm and toasty when the temperatures plunge as they often do when you are out in the middle of nowhere.
Top Picks:
Kitchen Equipment
Unless you plan on subsisting on a diet of Funyuns and Hot Pockets, you should plan on packing some basic kitchen equipment.
Most camping stoves are fairly small and lightweight and are useful for cooking up a hot camping meal or even just heating a bowl of soup.
You should also bring along some kitchenware so you aren't cutting food with a machete or eating with your bare hands.
Camping Stove
Your options here range from budget offerings that use white gas or gasoline to higher-end models that run on propane.
Go with an established brand like Coleman or Cook Partner, and you will be glad that you aren't living on chips and cold sandwiches.
Top Picks:
Kitchenware
You don't have to spend a lot on fancy cookware. After all, you probably aren't going to be preparing 9-course meals out in the woods!
Get the basic cutlery covered, make sure you have enough steak knives for everyone, and you should be good to go.
Top Picks:
Storage Equipment
One thing you will quickly realize about camping is that you need a fair amount of gear to ensure your safety and comfort. No matter how minimalistic you want to go, there is still plenty to pack and organize.
Storage equipment is just as important as other camping essentials so it makes sense to devote the same thought and planning as you would with other camping essentials.
Gear Storage
Unless you want your gear rolling around in the back of your truck or getting damaged before you even get to the campsite, get yourself a couple of gear storage solutions.
The suggestions provided below will keep your gear safe, secure, and well organized, all of which are necessary to ensure an enjoyable experience.
Top Picks:
Water Storage
Having fresh, potable water is an absolute must when camping. If you are planning on staying more than a day or two, a couple of disposable jugs just won't do.
What you need is a rugged and durable water storage container that will stand up to the rigors of the road. Check out these suggestions for water carriers you can rely on.
---
Want to connect with fellow long-term travelers? Join our exclusive Facebook group and take part in the conversation.
---
PSSST. Your travel medical insurance can now cover COVID-19! If you grab SafetyWing's Nomad Insurance, it'll be covered just like other illnesses. I've been using it since 2019 and I can assure you it's the perfect solution for nomads like you and me.
Top Picks:
Food Storage
You will need a place to store your food as well, to keep it fresh and edible and away from insects and four-legged critters.
Ideally, you will want to store dry and wet foods separately to prevent contamination. Consider getting two medium-sized food storage containers instead of a single large one.
They will be easier to carry, take up less space, and make it simpler to keep your food items organized.
Top Picks:
Survival And Repair Equipment
Survival and repair equipment is not only essential for making the most of your time out in the wild.
They could also spell the difference between getting lost and stranded and making your way back to civilization.
A comprehensive survival kit should have a good selection of cutting, chopping, hacking, and digging equipment.
Ideally, you will want to supplement these with more specialized tools, some of which are mentioned in a subsequent section. Even so, your kit should have enough to cover basic camping tasks.
Don't forget to pack a repair kit. You probably already have a toolbox in your truck, which should get you out of most sticky situations.
But consider bringing along basic tools for repairing tents, clothing, shoes, and other camping essentials.
Top Picks:
Toilet And Bath
Campers don't usually give a lot of thought to toilet and bath gear, but they can make your life a lot easier on the road.
Bathing in a stream and doing your business in a hole in the ground gets old quickly so do yourself a favor and pack a couple of these for sanitation and your own sanity!
Top Picks:
Off-Grid Power Equipment
Unless you're planning on going totally natural, a power supply will come in handy.
Whether it's for charging cellphones, laptops, and flashlights or powering electric stoves and water heaters, you will be glad to have these along for the ride.
Top Picks: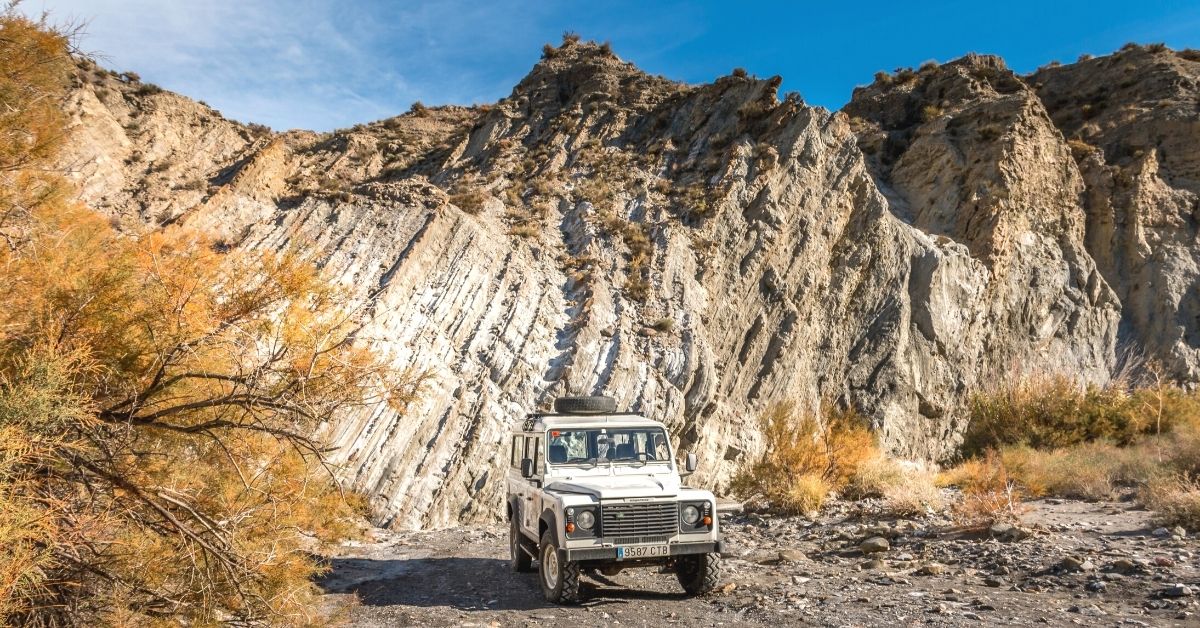 Other Useful Camping Gear
When you have the most important equipment covered and you still have some space left in your truck, you might consider picking up a few more items.
These aren't exactly essential for truck bed camping but they sure are nice to have around.
Camp Chairs
Camping chairs will give you another option for relaxation and keep you from having to spend all your time in your truck or on the cold, hard ground.
Budget options such as Coleman chairs will do nicely if you don't want to spend too much, but you could also splurge on a Big Agnes Mica Basin or a Helinox Sunset chair for the ultimate in camping luxury.
If you suffer from back pain, make sure to check out the best camping chairs for bad backs.
Hammock
A hammock is probably the most rewarding "non-essential" you can have on your trip. Lazing around between two shady trees with a good book and a cool drink nearby…what's not to like?
Again you don't have to spend a lot for a perfectly serviceable brand, but you probably want to up your budget a bit to get a hammock that holds up to regular use.
Headlamps
Even if you're already packing a couple of rechargeable flashlights, you might consider picking up some headlamps.
These provide much more illumination than all but the strongest flashlights, which is always a good thing if you're camping out in a dark forest at night.
They also leave your hands free to do other things, which you will definitely appreciate when you have to fumble with a knot or tent supports in the dark.
Tarp
Your truck bed setup will probably do a great job of protecting you from the wind and rain, but consider getting a tarp as well.
This will provide additional cover against the elements and give you more opportunities to stretch out. And if you opt for a ground tent, a tarp will make the cold, wet ground a lot more tolerable.
Solar Lantern
Flashlights and headlights are nice to have and useful in a campsite setting. But these rely on batteries, which often run down at the most inconvenient moments.
With a solar lantern or two, you won't have to stumble blindly in the dark even if you forget to charge your flashlight batteries or want to avoid draining your truck battery.
Saw/Axe
A saw or axe will always come in handy when camping. Even if you already have a fully-equipped survival kit, you can't beat the durability and sheer cutting power of a good axe.
And if you have to chop wood for your campfire, a woodworker's saw and axe will serve you better than the small and flimsy tools that come with most camping kits.
Shovel
Many of the arguments for having an axe apply to shovels as well. Most survival kits include a trowel or such a small shovel, but you need a real shovel to do real work.
From digging potty holes to putting out fires, gathering bait, or freeing a stuck wheel, there are dozens of uses for shovels in a camping scenario.
Camping Washing Machine
Running out of clean clothes can be a downer on a camping trip. How many times have you had to cut your trip short because all your clothes are wet or dirty?
You won't have to worry about that with a camping washing machine like the Scrubba Wash Bag.
With this in your gear storage bin, you'll always have clean and fresh-smelling clothes no matter how long your camping trip lasts.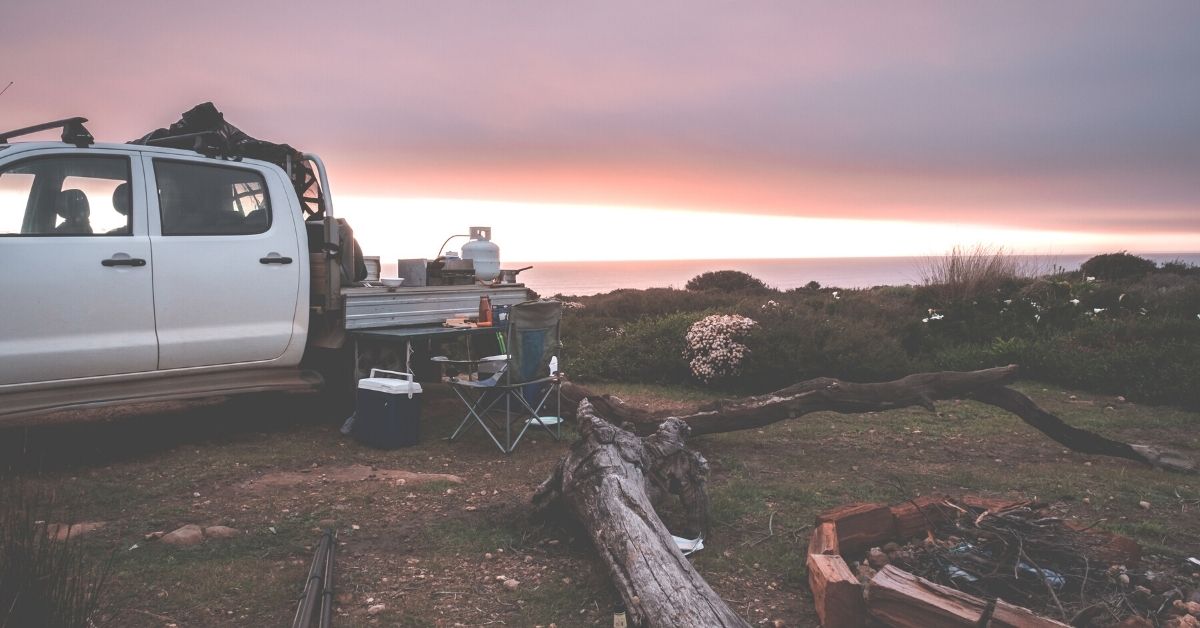 Final Thoughts
There you have it! That's our guide on how to make the most of camping in a truck bed.
Admittedly, camping in the back of a truck might not seem like the best idea. But don't knock it 'til you've tried it!
Once you get a feel for the sheer joy and absolute freedom of being outdoors with nothing more than the gear you've stashed away in your pickup, you'll wonder why you didn't do it sooner.
Think about which camping solution appeals to you the most, whether it's a camper shell, truck bed tent, or a ground tent.
Then get as many of the gear suggested to keep you happy and comfortable in the wild. That and a good camping spot and some company are all you need to have a memorable time!