Best Camping Shovel | Buying Guide
A shovel is a valuable and versatile tool for anyone who regularly goes on camping trips!
A camping shovel can help you do many things, such as build a fire pit, dig 'cat holes' if you don't have a camping toilet, and clear space to pitch your tent.
What's more, the best camping shovel will also help you with any tasks that involve chopping and hammering.
Therefore, whether you're new to camping or a seasoned camper, a lightweight camping shovel is an essential item for making campsite chores easier.
However, there are many shovels on the market, so it can be confusing to know which one is the best camping shovel for you.
Because of this, we've selected the five best shovels for camping that you can buy online.
What's more, each shovel has its own unique benefits, so you can easily see which one will best suit you.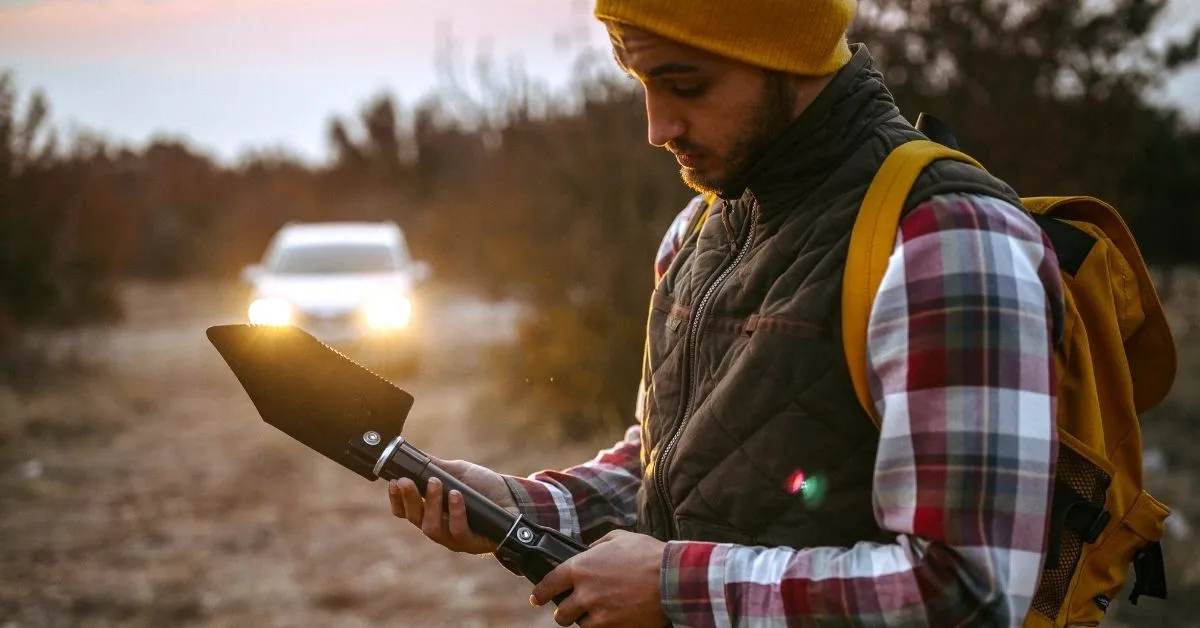 What To Look For When Buying A Shovel For Camping
There are certain things to look for when buying a camping shovel to ensure you choose a high-quality one that will last a long time. Here are a few things to consider.
Size
Shovels are not small tools and can take up a fair amount of space in your vehicle. However, luckily many of the modern backpacking shovels are foldable.
Some will even collapse down to the size of a hand, making it much easier to store and carry around. For most campsite tasks, a small shovel works just fine.
Weight
Shovels can be relatively heavy, which is not convenient if you are backpacking and moving from one campsite to another.
Military-grade survival shovels are the weightiest, usually around 4 lbs. However, for most campers, a lightweight camping shovel is sufficient.
You can find some high-quality camping shovels around 2.5 lbs, which are ideal as they will not increase your load too much.
Material
The shovel's handle should consist of durable material that can hold up against everyday use.
Meanwhile, the blade should be a solid yet lightweight steel that can cut through rugged terrains without bending.
Most shovels on the market are made from a specific type of steel: carbon, Manganese, or Stainless steel.
These are dependable quality materials with different advantages;
Manganese steel has a high resistance to wear and impact

Carbon steel has a supreme tensile strength

Stainless steel is resistant to rust, scratching, and everyday wear, plus high impact.
Blade Design
Another factor to consider is the design of the blade. Some blades are thick, some are thin, and others have a thin-to-thick style.
So which is best? Generally, thin-to-thick blade designs are the most efficient as they allow you to dig faster.
Extra Features
Some of the more expensive shovels on the market boast extra features such as a hammer, ax, fire starter, or ice breaker.
These types of shovels can be very appealing, but before you make your purchase, you should think about which of these extra features you are most likely to need.
The more extra features a shovel has, the bulkier and heavier it is likely to be.
However, if you know you will need a hammer to pitch your tent or an ax to clear away ice, then a multipurpose shovel is undoubtedly worth it.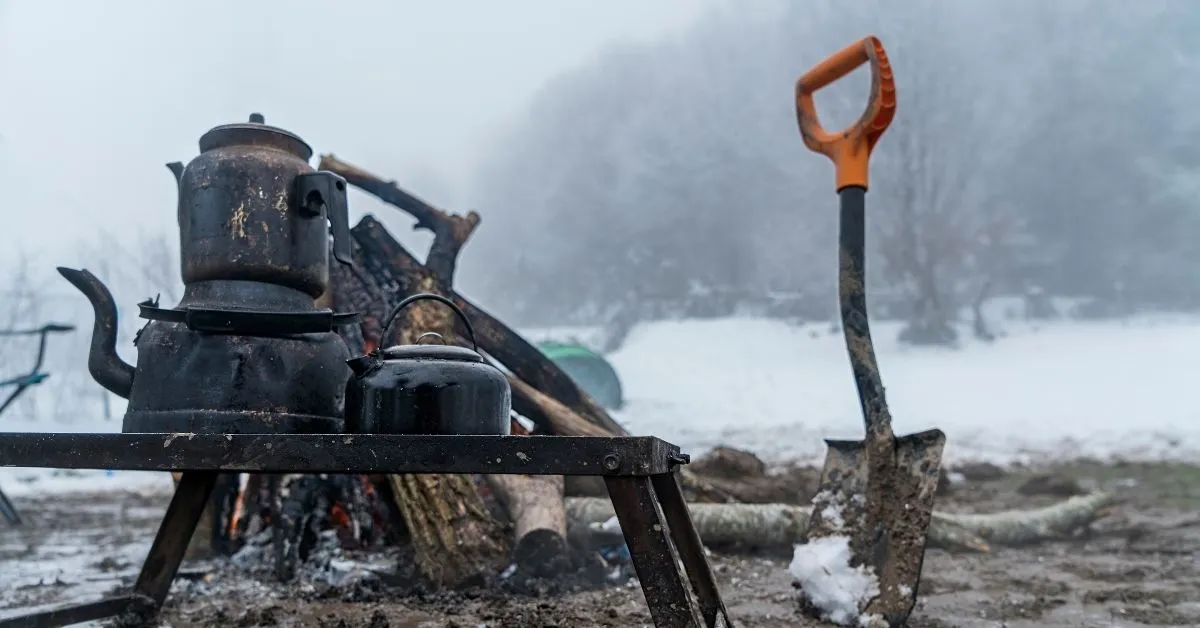 5 Best Shovels For Camping
When deciding on a shovel, you'll need to think about how, when, and where it will be used. Here are the 5 best shovels for camping or hiking adventures!
| | | |
| --- | --- | --- |
| Best folding shovel for portability | IKURAM Portable Folding Camping Shovel | SEE ON AMAZON |
| Most versatile camping shovel | LOOYUAN Multitool Tactical Shovel | SEE ON AMAZON |
| Best camping shovel for strength and durability | OKOOLCAMP Survival Camping Shovel | SEE ON AMAZON |
| Best multi-length camping shovel | aiGear Folding Military Shovel | SEE ON AMAZON |
| Best budget camping shovel | Overmont Military Folding Camping Shovel | SEE ON AMAZON |
1.

IKURAM Portable Folding Camping Shovel
The IKURAM portable camping shovel is one of the lightest on the market, weighing just 1.54 Pounds. It folds up to a mere 7.37 inches x 4.53 inches, equivalent to the size of a hand.
It also comes in a compact carry pouch, so it's ideal to fit in the side pocket of your backpack for easy transportation and access.
Despite its small size, this backpacking shovel is surprisingly strong. The blade features a high-carbon steel construction that is heat-treated to increase strength.
This makes it suitable for digging in complex terrain and breaking through ice. Another great benefit of this shovel is the three-angle rotation.
You can set it at different angles to use for various purposes. For example, as well as shoveling, you can use it to hoe weeds or to saw small tree branches, should you need to clear ground to set up camp.
Although many people will find this to be the best folding shovel, the only downside is that when unfolded, it's still pretty short.
Therefore, when using, you'll need to bend or crouch down. Because of this, it may not be the most suitable option if you have existing back problems.
Apart from this, the IKURAM shovel is a reliable and trustworthy tool to take on a camping trip.
2.

LOOYUAN Multitool Tactical Shovel
PSSST. Your travel medical insurance can now cover COVID-19!
If you grab SafetyWing Nomad Insurance, it'll be covered just like other illnesses. I've been using it since 2019 and I can assure you it's the perfect solution for nomads like you and me.
If you're looking for an all-in-one multi-tool that can assist you in any camping situation, this LOOYUAN shovel is it.
In addition to shoveling, this tool can serve as a saw, wrench, hunting knife, fire starter, and ice piton.
There is also a bottle opener cut out on the knife head and an emergency whistle and compass attached.
Another reason many people find this LOOYUAN shovel to be the best shovel for camping is because of its ergonomic design.
Despite having so many additional features, the shovel remains lightweight and compact.
It can be folded and taken apart and is easy to adjust ​​with three different length options. Furthermore, the unique screw locking device holds it securely in place.
The LOOYUAN shovel is made of high-strength manganese steel alloy and has a surface oxidation finish for rust prevention.
The shovel board is pretty thick too, so it feels robust rather than flimsy, even when used against the hard ground.
Overall, this is the best camping shovel if you want to take multiple tools on your camping trips yet keep your load light.
3.

OKOOLCAMP Survival Camping Shovel
The OKOOLCAMP heavy-duty entrench shovel is perhaps the toughest backpacking shovel you can find.
This is due to its Alloy Steel construction, which has superior strength and wear-resistance than similar Carbon Steel models.
In addition, the steel boasts a 48-55 HRC hardness thanks to the cold and hot forging process it undertook. This results in a heat-resistant tooth and an anti-blunting blade.
It's not just the blade that is impressive. The super secure handle adds to this shovel's reliable performance.
It also has an enhanced O-ring seal that keeps out mud and water and provides a secure grip even in wet conditions.
As well as being robust and reliable, it's multi-functional. It can be used as a saw or ax and features many small handy tools such as a rescue whistle, fish knife, hammer, nail pullover, and wrench.
While it's not the cheapest shovel you can find, it will last for years and won't let you down in an emergency, so it is well worth its cost!
4.

aiGear Folding Military Shovel
I love the aiGear folding shovel because of its length adjustability.
Instead of the traditional unfolding method, this shovel has extension tubes that you can add or remove to find the height you want.
You can adjust the length to 63cm/24.8inch, 79cm/31.1inch or 95cm/37.4 inch. The latter is much longer than most other folding shovels on the market.
Therefore, I find this to be the best camping shovel for anyone who has back problems because the long length minimizes the amount you have to bend or crouch while digging.
You can also adjust the angle of the spade to 30°, 90°, and 180° to use it as a hook, hoe, and shovel.
It comes with some great extra features, including a saw, firestarter with a whistle, bottle opener, glass breaker, and screwdriver.
Furthermore, the spade has a military-grade solid carbon steel construction for strength and rust protection. Meanwhile, the extension tubes are made from aerospace-grade anodized aluminum.
5.

Overmont Military Folding Camping Shovel
Not every camper needs a shovel with lots of impressive features and extras. Suppose you are looking for an affordable shovel that is strong and high-quality.
In that case, you'll find the Overmont Military Shovel to be the best shovel for camping.
Despite costing just $12, this shovel is sturdy and durable. It has a 50# High-Carbon steel construction, and the head is heat-treated at 42-46° for maximum strength and hardness.
It's also lightweight at 2.5 lbs and can be tri-folded into a compact shape, measuring 15x24cm.
What's more, it comes in a portable storage bag, which you can hang on your backpack or your waist or store in the corner of your car boot.
Lastly, its 90°angle rotation means you can use it to dig, hammer, or saw, and the 1.5mm thick blade can easily crush gravel or ice.
Final Thoughts
These five backpacking shovels are all high-quality, reliable tools that will make for a smoother and less stressful outdoor adventure.
While camping is an exhilarating experience, no camping trip is without its challenges.
Therefore, it's essential to have the right gear to help you out in times of need. Check out these 5 amazing chairs for camping and backpacking!