Best Camping Chairs For Heavy People
Are you frustrated by the low weight capacities of many folding camping chairs on the market? Then this guide on the best camping chairs for heavy people is for you!
Here I've put together a list of the five best camping chairs for heavy people. Where the capacity of standard camping chairs tends to max out at around 250 pounds (113 kilograms), all of these chairs range from a capacity of 400 to 600 pounds (181 to 272 kilograms).
PSSST. Your travel medical insurance can now cover COVID-19!
If you grab SafetyWing Nomad Insurance, it'll be covered just like other illnesses. I've been using it since 2019 and I can assure you it's the perfect solution for nomads like you and me.
Each is perfectly designed for comfort and durability, with plenty of practical features that make them easy to pack up and take with you on your trip.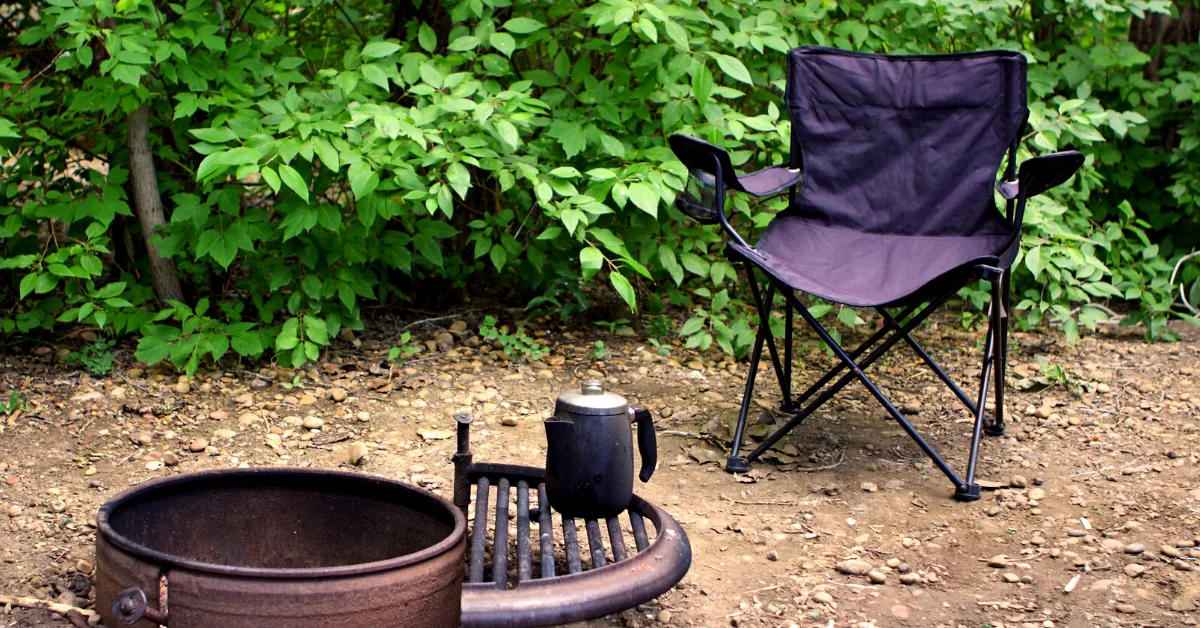 LivingXL Heavy-Duty Portable Chair
This camping chair has a generous weight capacity of up to 500 pounds (227 kilograms). It comes in three different colors – black, blue, or charcoal – and has a heavy-duty 22 mm tubed frame that feels exceptionally strong and sturdy.
It is also very spacious, with a comfortable 24″ x 22″ seat providing plenty of wiggle room and a large 23.5″ x 19″ back.
As a heavier or taller person, you may often find that inferior camping chairs have a tendency to sag. This model, however, has been thoughtfully designed with extra support in the center of the alloy steel frame.
This doesn't just increase the stability of the chair, but it actually makes it a whole lot more comfortable too.
The chair's fabric is made from 600 denier polyester, which is high-quality, durable, and padded for comfort. It distributes your weight evenly across the frame, ensuring there are no painful pressure points.
The four feet are oversized and shatter-proof, providing plenty of traction for even better stability.
There are some useful bonus features with this model. These include the oversized holders in the arms, both ideal for drinks and with enough room for phones too.
On the left side, you also get a lower mesh pocket, which is useful for anything from storing your sunglasses to your bug spray.
Included with this durable and weatherproof camping chair is a storage tote with a shoulder sling.
ALPHA CAMP Oversized Camping Folding Chair
Capable of supporting up to 450 pounds (204 kilograms) in weight, these camping chairs for heavy people are made with reinforced tubes for safety. Rather than the usual leg tube size of 0.62″ to 0.7″ you'll find 0.9″ diameter tubes on these, giving a high quality feel and no risk of bending.
The steel frame has a hammer tone powder coating, which prevents it from corroding and helps it maintain its depth of color.
There are lots of nice added extras for your comfort, including a padded back and armrests. These and the large, padded seat area are covered with 600x 300D oxford fabric, which is both comfortable and durable.
On one arm you'll find a mesh drinks holder, and just below that a useful side pocket. This is the perfect place to store your magazines, glasses, sunscreen, and more.
On the opposite arm is a cooler bag, making it easy to settle back for a while with a few drinks lined up! From a name you can trust when it comes to camping gear, this chair is very user-friendly.
It takes just seconds to fold or unfold and collapses down to a compact 9.05″ x 38.58″. Weighing just over 13 pounds (6 kilograms), it is relatively lightweight too, making it easy to carry when you are on the move, and easy to store when you're not.
Coastrail Outdoor XXL Oversized Director Chair
When it comes to outdoor chairs for heavy people, this chair from Coastrail is one of the most robust and comfortable you can get.
It has an exceptionally strong steel frame, enabling it to support up to 600 pounds (272 kilograms) in weight, and non-slip feet that are designed for stability. What's more, the tubing is powder-coated, so it won't corrode and will stay looking good!
Perfect for relaxing, the padded seat of this chair is 28 inches wide. That makes it wider than most standard camping chairs and better suited to larger people.
Available in either black or blue, this model has some great, unique features. One is the detachable padded armrests which are designed to protect you from burning your arm on hot metal on sunny days.
And rather than just a simple mesh cup holder, this chair has its own side table with the cup holder built-in and plenty of room for some snacks! When you are finished with the table it folds neatly out of the way.
The side pocket storage organizer is great, with several different pockets to keep things separated and neatly organized. I also love the hand straps on either side of the seat.
These make it easy to pick up and carry the chair once it's folded!
Guide Gear Oversized Club Camp Chair
Possibly the comfiest chairs for heavy people for camping, the Oversized Club Chairs from Guide Gear have a unique shape that just invites you to sit down!
The padding is extra plush and the 600-denier polyester fabric is available in either red plaid or tan brown. It is coated with polyurethane, making it extra durable and resistant to the weather.
Capable of supporting up to 500 pounds (227 kilograms) in weight, these extra-large camping chairs have a handy drinks holder on one side and a mesh pocket, ideal for small items like your phone and glasses. The frame is made from durable steel and folds easily when it's time to pack up for the day.
At just over 18 pounds (8 kilograms), the weight when folded is a little heavier than most camping chairs but the size is still compact. This makes it ideal for car or RV camping – and the high level of comfort it provides more than compensates for the increase in weight!
Included with each chair is a storage bag that holds it comfortably with a little room to spare. Unlike some camping chair bags that tend to wear through very quickly, this one is zippered and durable, with two handles that make it easy to carry.
Realead Adjustable Oversized Folding Chair
These heavy-duty camping chairs are perfectly suited to anyone who suffers from back pain. Realead Chairs can support up to 400 pounds (181 kilograms) in weight and have a high seat back, which makes it easier to sit with better posture and provides additional support for the shoulders and neck.
Also supportive in the lumbar region, this chair can be used in two positions – either upright or laid back. Better still, you don't need to make the adjustment manually – the chair will automatically recline or reset as you move.
At 25.6″, the seat is wider than usual, too, making it a lot more comfortable for those who need a bit more space. The padded armrests are set at just the right height for total relaxation!
Set-up is quick and easy. You simply untie the strap that holds the frame together when not in use, then open it up fully and unfold it.
Once unfolded, you will see you have a few different storage options. These include a handy mesh cup holder in the armrest, plus a side storage pocket with space for mobile phones or a tablet.
There is even a storage pocket in the back of the chair that zips tightly for security.
Although it weighs only 12.5 pounds (5.8 kilograms), this chair is highly durable and uses a steel frame for stability.
Covered with Oxford fabric, it is comfortable whilst being resistant to the weather and easy to clean. A convenient carrying bag is included.
Final Thoughts On The Best Heavy Duty Camping Chairs
I hope you have found this guide to the best heavy-duty camping chairs useful. Made with high-quality materials, any of these chairs will give you a comfortable place in which to rest beside the campfire at the end of the day.
Have back problems? Take a look at those great camping chairs with good back support too.
Need help with camping gear? Read one of the following guides: