Cape Cod is known for being an excellent summertime escape. Its towns and beaches make it the perfect destination to relax and unwind for a couple of months. They are considered to be some of the best beaches in the United States. Cape Cod is a paradise with over 130 beaches, so there's a beach for every beachgoer.
Hotels.com has asked me to share my top picks for beaches in Cape Cod, MA. If you haven't been yet, you're going to want to add it to your list when you see all it offers.
Beaches are a great way to spend time outdoors while keeping to social distancing.
If you're looking for the best area where to stay, we suggest you stay by the beach. We recommend the Upper Cape area for the perfect stay in Cape Cod.
Where is Cape Cod?
Cape Cod is situated in the east of Massachusetts and is divided into four regions: the Upper Cape, the Mid Cape, the Lower Cape, and the Outer Cape.
Keep reading to find where to travel in Cape Cod to find the perfect beach for your summer vacation.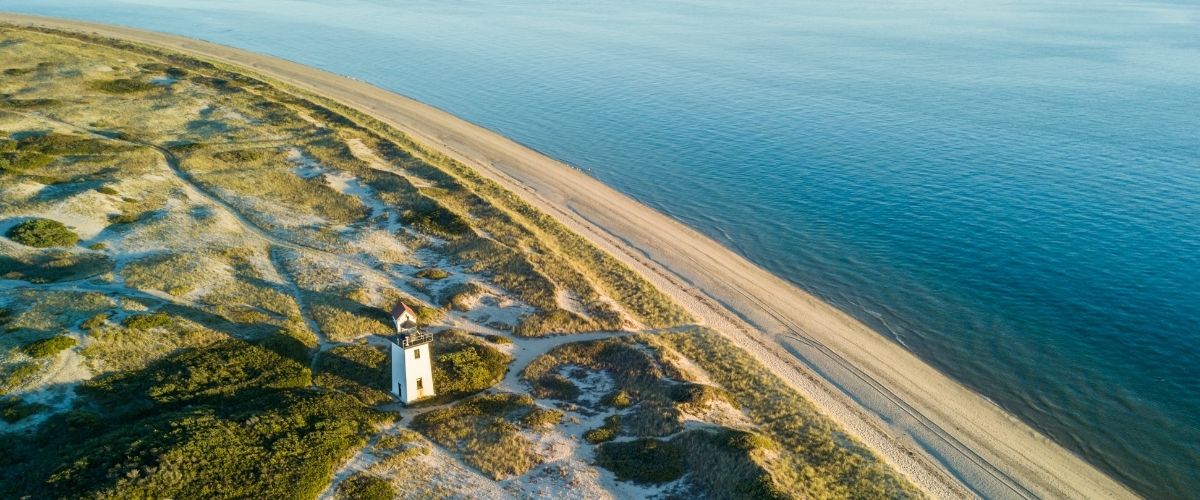 Upper Cape
The Upper Cape has charming beaches with warm waters. The Upper Cape consists of Bourne, Falmouth, Sandwich, and Mashpee.
Old Silver Beach
Old Silver Beach is located close to downtown Falmouth. It is a serene beach with activities and calm waters. Old Silver Beach offers a tropical vibe through its' white sand and clear waters, which are exceptional for swimming. The beach is on the smaller side, so it's recommended to get there early, as it's a (not-so-hidden) gem that fills up quickly!
The sunsets from the beach are magnificent and worth staying to watch.
Mid Cape
The Mid Cape is home to some of the most pleasant towns in Cape Cod. It also has lovely beaches with warm and calm waters. The Mid Cape consists of Barnstable, Yarmouth, and Dennis,
Mayflower Beach
Mayflower Beach is located in Dennis and is one of the more popular beaches in the town. Dennis has about 15 beaches in the area, so it's a great destination to explore various beaches! If you decide to stay in this area, you will have your choice of where to go.
Mayflower Beach is an impressive beach with soft sand. During low tide, visitors can walk miles out into the sea. As mentioned before, there are calmer waters, so it's perfect for swimming and families. There is even a picnic area you can use. Like most Cape Cod destinations, the sunsets are gorgeous and a peaceful end to a fun-filled day.
Corporation Beach
You will have more fun at Corporation Beach than its' name might imply. Located in Dennis, it's the perfect beach for a day of family fun. It's a great alternative to Mayflower Beach, as you might find it less crowded.
You will find tidal pools along the coast, which are great for kids to play in and search for sand crabs and other marine life. The long stretches of sand make it the perfect scenery for a long romantic walk down the beach. The beach is also a photographer's paradise, with gorgeous sunrises and picture-perfect sand and water.
Seagull Beach
Despite its name, there are not too many seagulls at Seagull Beach. However, it's still a great spot to do bird watching. Located in Yarmouth, it is the town's largest beach. Seagull Beach has relaxed waves that are ideal for families with children. It's a large space that allows for sunbathers and families to enjoy together. You'll find various shells here, so if shell collecting is your thing, this is the place to do it.
It's also an attractive beach for adventure seekers. Steady winds make it the perfect spot for windsurfing and kite surfing.
---
Want to connect with fellow long-term travelers? Join our Facebook group and the conversation.
---
PSSST. SafetyWing finally covers COVID. I've been using their Nomad Insurance since 2019. It's the perfect solution for nomads like me. Don't leave without your travel insurance.
---
Lower Cape
All the towns in the Lower Cape have excellent beaches. The beaches tend to have warmer water and strong tides, which keeps the landscape exciting. The Lower Cape consists of Harwich, Brewster, Chatham, and Orleans.
Breakwater Beach
Breakwater Beach is a picturesque beach located in Brewster. It is the perfect place to spend your beach day, relaxing and exploring. It's a smaller beach so that you get the feeling that you are on a private beach. Likewise, you won't find the large crowds you do at many other beaches, so it can feel nicely secluded.
During low tide, you'll find tidal pools filled with sea creatures to explore, and the sand extends almost a mile out into the water so that you can walk into the sea.
Harding Beach
Harding Beach is found in Chatham. If you want a day filled with activities, Harding Beach is the perfect place for you. You can find beach activities, including volleyball, frisbee, whiffle ball, beach tennis, kayaking, sailboats, and even beach bocce, a local specialty.
There is also a nice trail you can walk along, which leads to the Stage Harbor Lighthouse, which is one of the most prominent landmarks in the area. If you rather stay put on the shore, you can also get a nice view of the lighthouse from Harding Beach.
Nauset Beach
Nauset Beach offers 10 miles of gorgeous, flat sand. Nauset Beach is in Orleans but stretches all the way down to Chatham. This is a perfect beach to walk down and explore since it extends for miles and miles. There are reliable waves for surfing. If you're lucky, you might have a few seal sightings, as they like to come onto shore from time to time.
If you're an early riser, the sunrise on Nauset Beach is fantastic and worth waking up for.
Bonus: The sand is perfect for sandcastle building.
Outer Cape
The Outer Cape, which is on the ocean side, is suitable for surfing and has colder waters. It is also recognized for its' massive, beautiful sand dunes. The Outer Cape consists of Eastham, Wellfleet, Truro, and Provincetown. Shark warnings have become more frequent in the Outer Cape, so check for shark warnings before heading down to the beach!
Cahoon Hollow Beach
Cahoon Hollow Beach is found in Wellfleet and is one of the most popular beaches in the area. It's a gorgeous white sand beach, and getting there can be exciting.
To access the beach, you need to walk down a giant dune, measuring at 75 feet. The way down is a lot easier than the way back, but once down the dune, you're met with the Atlantic Ocean on the other side, and it is quite a sight.
Wellfleet Beachcomber is a favorite bar and restaurant on the beach. It is famous in the area and mostly known among younger crowds, but it's great for anyone to hang out and enjoy the day there. This is one of the few beaches in Cape Cod where you can find a delicious and high standard restaurant, right on the beach!
Race Point Beach
Race Point Beach is located close to the quaint town of Provincetown. Race Point Beach can have rougher waters, which makes it a perfect spot for surfers. There can be calmer areas to swim and enjoy the water if surfing is not your thing.
If you are lucky, you can sometimes spot dolphins, seals, or whales right from the beach!
Ready to head to Cape Cod?
These are a few of the best beaches you can find in Cape Cod. However, this article is just an introduction, and there are numerous more beaches and other activities to discover.
Disclaimer: Traveling these days remains uncertain, so make sure to stay safe to protect yourself and others at all times. Many hotels offer free cancelations at the moment, so you should book a hotel that allows you to change your plans if you need to. Remember that traveling right now is at your own risk.