Best Backpacking Backpacks
This guide to the best backpacking backpacks has everything from lightweight packs that you can easily store in your luggage, to more robust packs that are ideal for a longer trek.
Discover how to choose the backpack most suitable for you, in terms of comfort, capacity, and durability.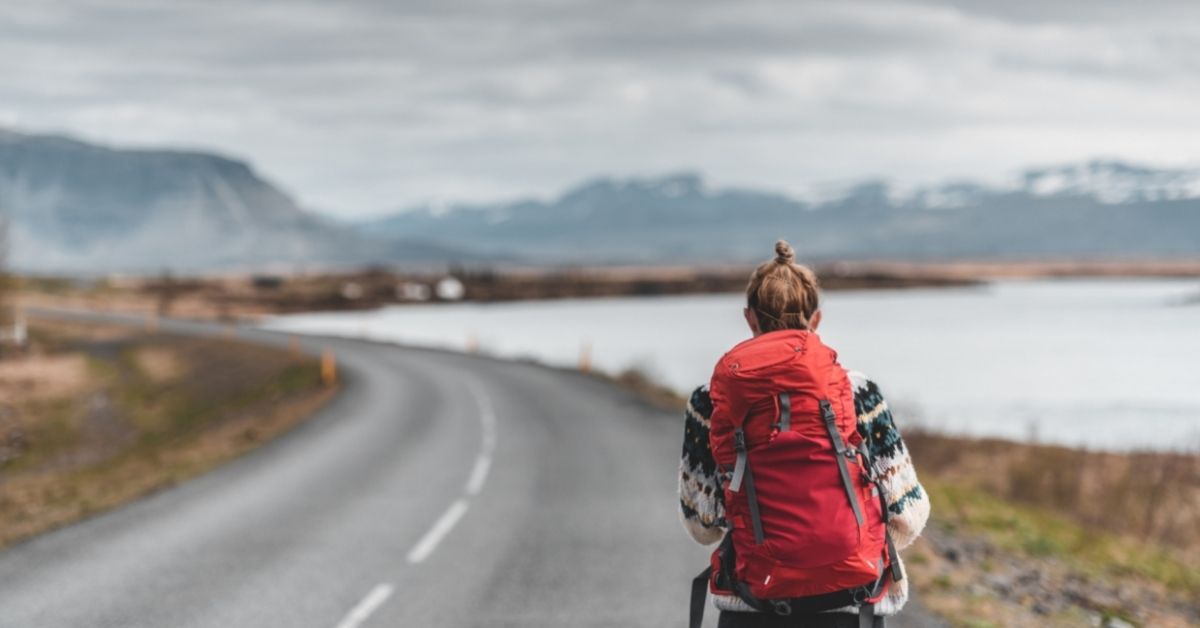 What to Look for When Buying a Backpack
Capacity
One of the most important considerations when choosing a backpack for backpackers is deciding how much gear you will need to carry and ensuring you will have enough room for everything.
Fortunately, modern-day camping equipment like tents and sleeping bags are designed with weight in mind, so you can fit a lot into a small space! In general, a 30 to 40L backpack will be best for overnight, a 45 to 55 L backpack would be best for carry-on-only travelers and a 55L+ backpack would be ideal for long-term trips.
Over the years, I had a lot of different backpacks. I started with the 70L (and I was carrying too much stuff including things I didn't really need). Eventually, I downsized to a 45L and it was perfect for backpacking in Southeast Asia. This way, I didn't have to pay for extra luggage, and I had a second backpack (30L) for daily usage. In the end, it's like having a bigger backpack – but with only essentials. I was able to fold the smaller one and put it in my bigger backpack. Finally, a few years ago, I decided to get a backpack with wheels and a suitcase. (Because we live abroad for many years now and we have full office equipment with us.
Comfort
Choose a backpack with padding at the shoulders, back and hips if you will be carrying it for some time.
The best backpacking backpacks are adjustable in several places, ensuring a good fit and also allowing for growth if the pack is for a teenager.
Water resistance
It is important to protect your gear from the elements, so check that the backpack you choose is made from water-resistant fabric.
Some models will include a rainfly or waterproof cover to provide extra protection in, particularly rainy conditions.
Convenience
Look at the placing of things like the pockets for your water bottles to determine if they will be easy to access without removing the pack. For longer treks, you might want to check that your pack has a sleeve for your water bladder or some other way of attaching it.
You may also want to opt for a backpack that has a sleeping bag compartment at the bottom, as these are usually designed to be accessed separately from the main compartment.
Durability
You want your backpack to last for as long as possible, so check that it is well stitched and has strong, reliable zippers.
Make sure that you choose the right kind of pack to suit your adventures – a lightweight backpacking backpack, for example, may not stand up well to a very rugged trek.
TETON Sports Scout 3400 Internal Frame Backpack
55L
Despite its narrow design – which can actually be very useful on some trails – this is an excellent backpack for backpackers with all the features you need for your outdoor adventures.
With plenty of storage for trips of up to 4 days, it has a main compartment, a separate compartment for your sleeping bag, and multiple external storage options, including expandable loops for trekking poles and bungee storage for a jacket or anything else that you need quick and easy access to.
Soft padding at the lumbar region, shoulders, and waist keeps you comfortable and the backpack can be adjusted at the torso, waist, chest, and shoulders, so it can be used by any family member. The rainfly is sewn in and tucked away, but easy to access quickly in a sudden downpour.
The entire backpack is durable and well made, with strong stitching, good quality zippers that open smoothly, and sturdy straps at the bottom to attach additional items such as a tent or sleeping pad, saving room in the interior compartment.

ZOMAKE 30L Packable Backpack
30L
---
Want to connect with fellow long-term travelers? Join our exclusive Facebook group and take part in the conversation.
---
PSSST. Your travel medical insurance can now cover COVID-19! If you grab SafetyWing's Nomad Insurance, it'll be covered just like other illnesses. I've been using it since 2019 and I can assure you it's the perfect solution for nomads like you and me.
If you are looking for a lightweight backpacking backpack that folds to an extremely small size, check out this packable bag from Zomake. It folds up into its own small pocket and weighs under a pound, so it is very easy to just pop it into your luggage ready to use when needed.
Despite how light it is, this is a sturdy backpack, more than capable of holding a surprising amount of weight.
Available in a range of bright colors, it has everything you need from a backpacker's backpack, including a main compartment, two front pockets with zippers, two side pockets, and attachment points for other items, plus a chest strap with a whistle that allows you to hold it in a comfortable position.
Its 30L capacity and durability make it perfect for day hiking, daily usage, but it also works well as an overnight bag or even as a bag to take out on a family outing.
The zippers open and close smoothly and the backpack is made from waterproof nylon, so you know your belongings are protected from unexpected showers. As backpackers, it's a common thing to have a daily backpack and a "backpacking backpack". I used to wear the heavy one in the back, and the light one at the front.

FENGDONG 40L Waterproof Lightweight Backpack
40L
One of the best backpacking backpacks around, this popular pack is incredibly good value for money and has loads of great features.
Strong and durable, it is made from extra-thick polyester fiber, resistant to tears, water, and abrasion, with reinforced stress points for extra security. The shoulders and back have ventilated mesh padding to keep you cool and comfortable, whilst the ergonomic design balances the load perfectly so that you don't feel the strain.
This lightweight backpacking backpack weighs under a pound, so it is easy to fold down and pack into your luggage, yet its large capacity and multiple storage compartments mean that you will have everything you need when hiking or camping.
The main compartment features a divider which is great for keeping your gear well organized and the backpack passed a 40L load test with ease, thanks to the impressive double strap reinforcement.
Combining the benefits of an expensive look with a low price, this backpack is available in eight different colors and features high-quality SBS zippers and bottom straps to add extra gear when you need it.

Amazon Basics Internal Frame Hiking Backpack with Rainfly
60L + 5 L extension collar
This large-capacity backpack for backpackers will ensure you are fully equipped for your outdoor adventures.
It has multiple storage compartments, including a large main compartment with an elastic pocket sewn in as a divider, a Velcro hanger loop for your bladder, and a hole on the right-hand side for your hose. There are also plenty of external pockets, with a separate one for your sleeping bag at the bottom, plus multiple lashing straps, loops, and webbing.
High-density foam padding on the shoulder and hip straps make the backpack extremely comfortable to carry, whilst the open-cell foam lumbar pad provides plenty of support for your lower back along with the airflow needed to keep you cool.
The exterior of the pack has a water-resistant coating and the integrated rainfly will protect your items from light rain, but there is also a waterproof cover if you get stuck in a real downpour.
The straps are adjustable so it is easy to customize this backpack to your body shape and preferences and they hold their position well so you stay comfortable all day.

MOUNTAINTOP 70L/75L Internal Frame Hiking Backpack
70L + 5 L extension collar
Offering all the features you would expect from a high-end backpacker's backpack but at a very affordable price, this model can easily hold a ton of gear but remains comfortable to use.
An extension collar at the top allows you to increase its already generous capacity of 70 L by a further 5 L and there is a convenient drawstring divider inside the main compartment that creates a separate compartment for items like your sleeping mat or clothes.
You can access this compartment from the bottom of the bag, so there's no need to take out everything to get to what you need. An adjustable hip belt, plenty of sponge padding, and an 8-height torso length adjuster all work together to keep you comfortable on your travels.
The sternum strap features a loop through which you can slide the mouthpiece of your hydration bladder so that it always accessible and the full-width hydration bladder sleeve can easily hold a 3L bladder.
Multiple compression straps keep all your gear securely in place and the integrated rain cover keeps everything protected from the elements.
Final Thoughts
Choosing the right pack is an essential part of your trip, so I hope that you have found this backpacking backpacks guide useful.
A good backpack should be a pleasure to use and all these styles will allow you to carry everything from overnight essentials to a heavy load in comfort.