Best 4 Person Camping Tents
If you are planning a night under the stars with your family – or a visit with friends to a festival – this selection of 4 person tent reviews should help you find just the right model for you!
Whilst all provide the protection from the elements that you need for a fun and comfortable trip, each has its own special features, whether it is the speed of assembly, the best option to suit a low budget or even a 4 person tent you can stand up in!
Read on to discover the perfect home-from-home for your next camping adventure.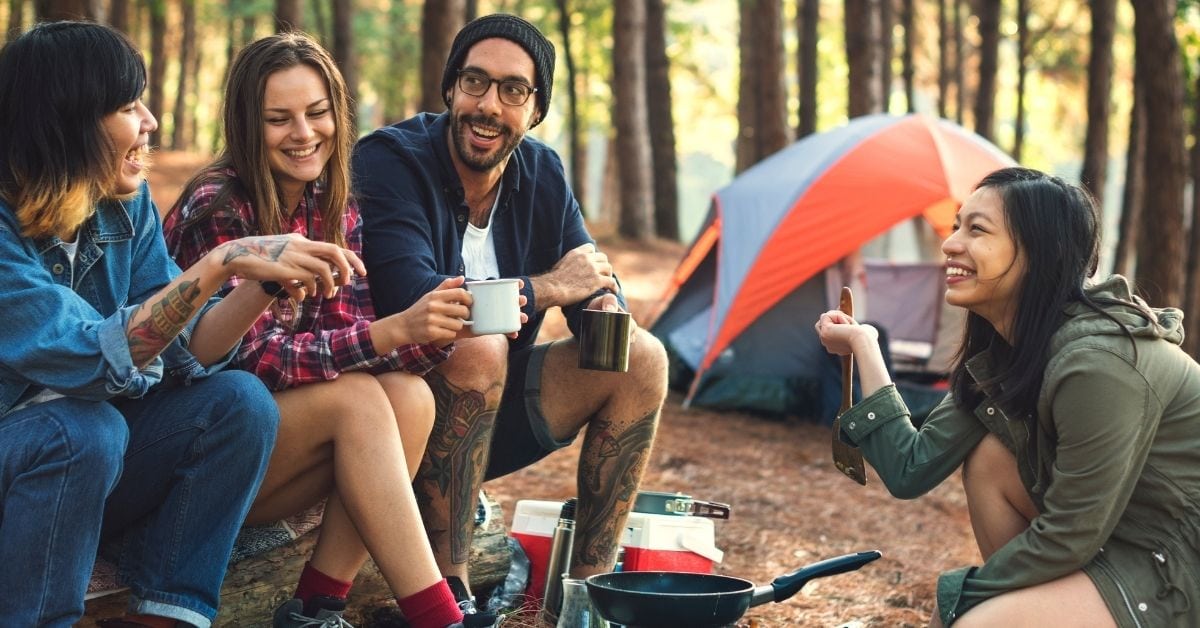 What to Look for When Choosing the Best 4 Person Camping Tent
Ease of Set-Up
The last thing you want to do when you arrive at your destination is to spend hours putting up your tent! Modern tents are designed to be put up quickly and easily, although there is still some variation from one model to another.
For absolute simplicity, look for a tent with a pop-up design – one of the styles in our 4 person tent reviews below is ready to use in mere seconds! But even the more complex designs should take you no longer than around 20 minutes to assemble, so you can start enjoying yourself sooner!
Resistance to the Weather
One of the main considerations here is – of course – how waterproof the tent is. Nothing can ruin a camping trip quicker than being rained upon during the night! All top-rated 4 person tents should be built to withstand water to a certain degree. Check the specifications for a water resistance rating and choose the highest you can afford.
Look for extra details like inverted or reinforced seams and welded corners that will provide an added layer of protection. Also check if the tent you are interested in is UV resistant, and how well it can stand up to the wind. The maximum wind speed it can cope with is usually expressed in the description.
Ventilation
The need for good ventilation is twofold – it prevents the build-up of condensation during cold mornings, but also keeps everyone cool and comfortable during warm nights.
Many tents have multiple windows that allow for good ventilation, but some models offer extra features like ground vents or additional vents in the roof.
Space
In addition to making sure there will be enough room for your camping party and gear, you also need to think about whether or not you need a 4 person tent you can stand up in.
Whilst it's still easy enough to move around in a dome tent, that extra head space can make things a lot more comfortable, particularly if you are planning to use your tent often, or for extended periods.
OT QOMOTOP 4 Person Pop up Tent
If you are looking for something that you can set up quickly and easily, then the best 4 person camping tent for you is this model from Ot Qomotop. Because the poles are pre-assembled, it takes just 10 seconds to pop up into shape (yes, you read that right!).
It's equally easy to take down afterwards – just watch the instruction video for tips and you can have it packed away in under a minute, giving you more time to relax and have fun. This is a tent that you can trust to keep you dry and cozy. The sewing lines are fully taped, so no rainwater will seep in – even in the heaviest downpour, and once fixed with the included guy ropes and pegs it can easily withstand winds up to 35 MPH.
This tent offers 9.5' X 7' X 50″ of space, with plenty of room for one queen airbed and all your gear. The two roof vents provide the airflow you need to help prevent overheating at night and condensation, and there are doors at both the front and back.
You can zip and unzip the windows from outside or inside the tent, which is ideal if it starts to rain as you won't need to leave the tent to close them.

---
Want to connect with fellow long-term travelers? Join our exclusive Facebook group and take part in the conversation.
---
PSSST. Your travel medical insurance can now cover COVID-19! If you grab SafetyWing's Nomad Insurance, it'll be covered just like other illnesses. I've been using it since 2019 and I can assure you it's the perfect solution for nomads like you and me.
MOON LENCE Instant Pop Up Tent
Super spacious and with room for up to 4 to 5 adults, this is one of the best 4 person tents for camping if you have a large family or a lot of gear! At just over 10 pounds, the Moon Lence Instant Pop Up is also one of the most lightweights and comes with a carry bag for storage.
Easy to assemble, it has an instant pop-up mechanism that allows you to set up the inner tent in less than a minute, and it is fast and simple to take down too.
Made from high-quality waterproof fabric and with a 210D Oxford Ground Sheet, this sturdy tent provides 2000mm water resistance and can also protect you from the sun's UV rays. Well-made SBS zippers ensure that the door and windows close tightly when you need them to and the included alloy pegs and guy ropes provide plenty of stability on a windy day.
You can easily maintain a comfortable temperature in the tent thanks to the 5 mesh windows and door, and each window comes with a roll-up shade and tabs to secure it in place when not in use.

Coleman Cabin Camping Tent
If you need a 4 person tent you can stand up in, then check out the Coleman Cabin Camping Tent with its vertical walls and 6 ft ceiling that gives all the height you need.
Offering an average of 35% more space than a typical dome tent, this model has lots of great features, including a screened porch with an optional front cover, which you can opt to use as extra sleeping space, a bug-free lounging area, or somewhere to store your gear.
Panoramic windows provide great all-around views plus better ventilation, and there are also ground vents to maximize airflow. A 3 pole design with color-coded continuous pole sleeves makes it easy to set the tent up in under 10 minutes, and it takes around the same amount of time to fit it easily back into its carrying bag.
This model is designed for all weathers and uses a WeatherTec System to keep water out, which includes a tub-like floor, inverted seams, and welded corners. Able to withstand winds of up to 35 MPH, this great family tent also includes a detachable rainfly and pockets in the rear corners to store everything you need.
MOON LENCE Camping Tent
Undoubtedly the best 4 person camping tent in the budget range is this roomy model from Moon Lence that offers 83.8″ x 83.8″ x 51.9″ of space. It weighs just 7.5 pounds and packs down into a very compact bag so it is easy to carry with you, yet it has all the strength and durability you need.
UV and wind-resistant – and with 1000 mm water resistance – this double layer tent comes with sealed seams, breathable mesh and a removable rainfly for excellent ventilation. Setup is simple and takes less than 15 minutes, with clear instructions that are stitched into the carrying bag so you don't need to worry about losing them.
It comes with 9 lightweight iron pegs and 4 guy ropes to secure it in place and keep it stable on windy days. There is one door and several windows with high-quality zipper closures that can be opened or closed from either inside or outside the tent, along with some handy little extras to make life comfortable. These include mesh storage pockets sewn into the tent walls and even a built-in hook for hanging your lantern at night.

Coleman Sundome Tent
The best 4 person tents for camping in warm weather are the Sundomes from Coleman, which are designed with snag-free continuous pole sleeves to be easy to set up in only 10 minutes!
The WeatherTec System protects you from the rain, with Polyguard double-thick fabric, a rainfly with integrated door awning, inverted seams, and patented welded floors. And if the weather is particularly warm, the ground vent helps push air up and out, so you stay cool.
The tent is sturdy, too, featuring a frame with Insta-Clip pole attachments that keep it stable in winds up to 35 MPH. With one door and plenty of space for a queen size mattress, you also have storage pockets built into the interior so it is easy to stay organized.
There is even an electrical access port to make it easy to use electrically powered devices inside the tent. Large ceiling panels provide you with a great view when the rainfly is not in use, plus there is an additional window and a screen on the door.
The tent also comes with a handy hook to hand your lantern at night, plus a durable bag with sewn-in instructions and separate storage bags for the tent, poles, and stakes.

Final Thoughts
Having chosen the best 4 person camping tent for your needs, you are now ready to enjoy your outdoor escapes in comfort!
The right tent will give you plenty of service, keep you cozy and dry, and – best of all – ensure that all memories of your camping trips are good ones!