Backpacking Jordan | Budget Travel In Jordan
Jordan might not be the first place that comes to mind when planning your next backpacking trip but you'll be surprised how much this beautiful country has to offer.
Visit breathtaking destinations such as Petra or the Dead Sea or explore lesser-known areas of Jordan to escape the tourist crowds.
Still, somewhat of a secret tip among backpackers, Jordan is the perfect destination for those wanting to experience authentic culture and venture off the beaten track.
With incredible landscapes and welcoming locals, backpacking Jordan will be a trip of a lifetime.
Just keep in mind that Jordan might not be as budget-friendly as you would expect.
Setting aside sufficient funds for your trip to Jordan is highly recommended even if you're planning to backpack.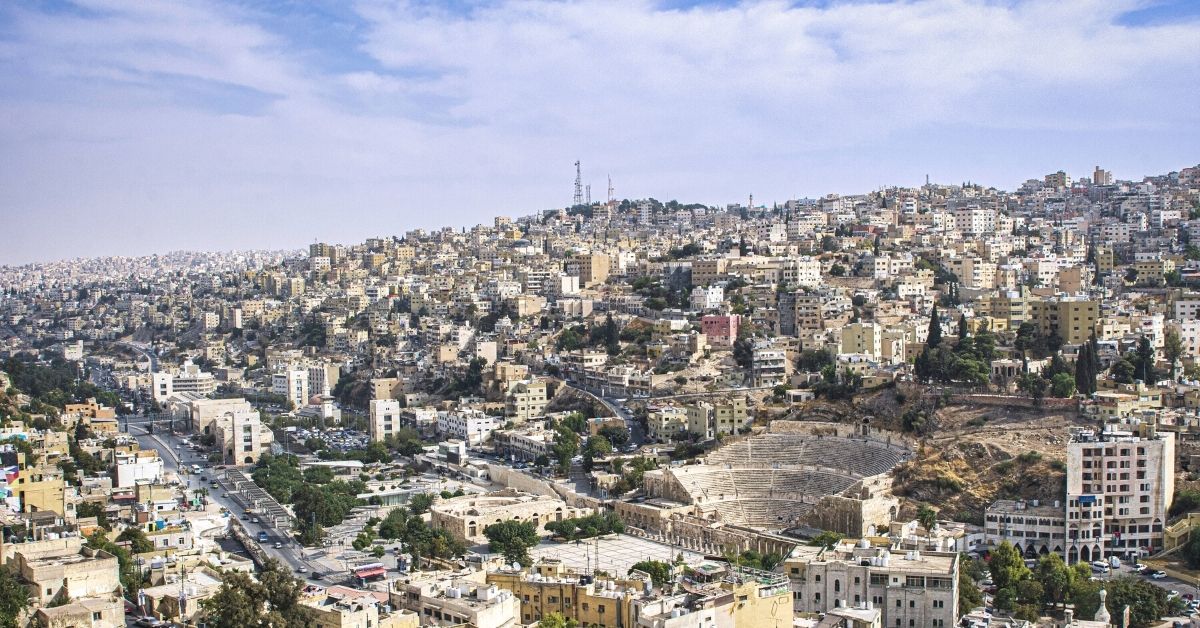 Jordan Budget Travel Itinerary
If you're planning to backpack in Jordan, but have no idea where to begin, then this itinerary is a great place to start.
Take a week to see the most exciting parts of Jordan, including the capital Amman, the mesmerizing Petra, the Dead Sea, and the city of Aqaba.
Day 1: Fall In Love With Amman
Your backpacking trip through Jordan starts in Amman, which is the capital city and where most travelers will land when they first arrive.
Try to find a place to stay near the Roman Amphitheatre so you can explore the city on foot and will be close to all the action.
Walk around the local streets to find different market stalls selling souvenirs, clothes, and anything you can imagine.
Take a taxi and ride to the Amman Citadel, from where you'll have an incredible view of the city. This is one of Amman's most beautiful sightseeing spots and cannot be missed.
While you are in the area make sure to explore the nearby Hercules temple and other historic architecture.
Another 10-minute taxi ride will get you to the King Abdulla Mosque, another must-see if you're planning to backpack in Jordan.
If you start getting hungry and tired of walking around, head to Rainbow Street which has a fantastic selection of rooftop restaurants as well as coffee shops and small pubs.
Enjoy your evening watching the hustle and bustle of the streets while the sun slowly sets.
Days 2 & 3: Be Amazed By The Beauty Of Petra
On the second day of your budget travel trip to Jordan, you should leave the city of Amman behind and make your way to Petra early in the morning.
Petra is one of the most impressive archeological sites in the world and has even been named a UNESCO World Heritage Site.
While Petra is by no means a secret or off-the-beaten-track attraction no backpacking trip to Jordan can be complete without seeing this incredible place.
A bus ticket from Amman to Petra costs only around 15$ and the journey takes four hours.
However, it costs another 70$ to buy an entry ticket to Petra so keep in mind that this trip won't come cheap. You can also book a day trip too, but some of the tours don't include the entry ticket to Petra.
Ask anyone who's been there, it's absolutely worth it though.
Most people visiting Petra will stay in the little town of Wadi Musa, which lies just a quick drive from the archeological site.
The town itself has some nice restaurants and interesting spots to explore, so make sure to wander around a bit in the evening.
Keep in mind that Petra is arguably the most famous and popular place in all of Jordan so expect there to be busloads of other tourists visiting at the same time as you.
The earlier in the morning you visit the less crowded it will be.
Make sure to wear comfortable shoes and bring enough water for the day as it will most likely be very hot.
For dinner, head to the city center of Wadi Musa and enjoy some delicious local food including the best hummus and falafel.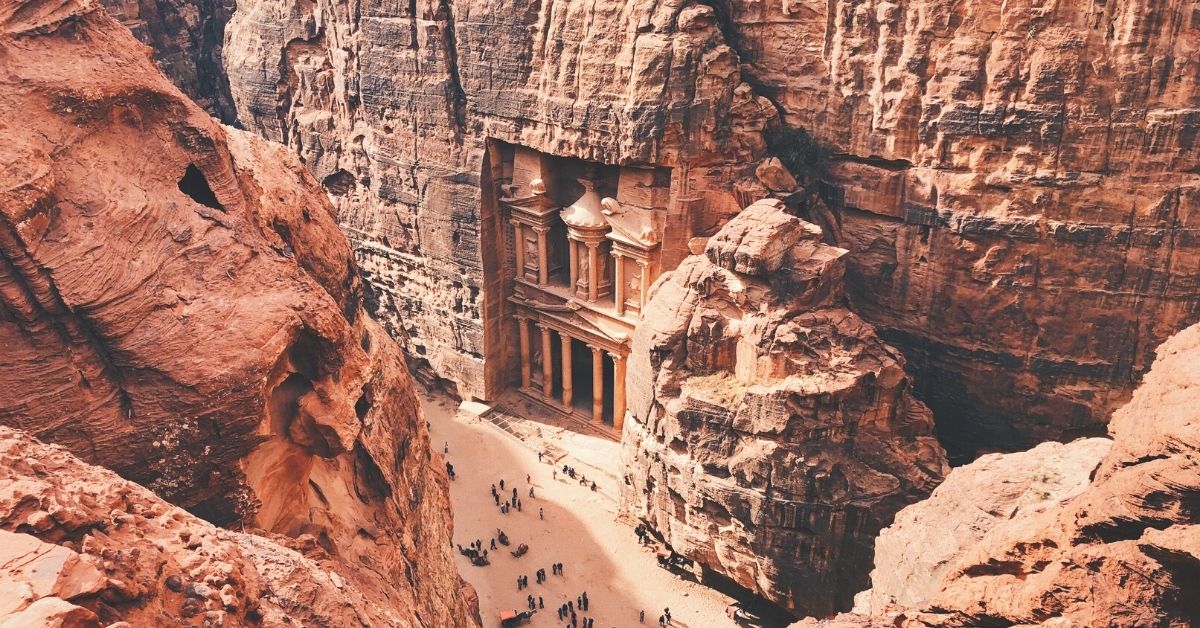 Day 4: Get To Know The Desert Of Jordan
The next day, make your way down to Wadi Rum, a small village that was featured heavily in Matt Damon's 2015 movie "The Martian".
The trip takes approximately two hours and there are public buses available which will cost less than 10$ per person. That said, you can also organize a day trip there.
If your budget allows you absolutely need to stay in an authentic Bedouin camp which is one of the most exciting experiences you can have in Jordan.
Prices range from 30$ to well over 100$ per night depending on how luxurious the camp is. You can browse your options here.
Breakfast and dinner are often included though and you'll get to experience the beauty of Jordan's incredible desert landscape.
You can also take a guided 4×4 tour through the desert to see historical sites such as the famous Burdah Rock Bridge.
If you're not up for spending more money you can simply spend the rest of your evening in the camp by the campfire while enjoying traditional tea and a water pipe.
This experience will truly make your backpacking trip in Jordan unforgettable.
Day 5: Enjoy Aqaba's Crystal-Clear Waters
Start your day bright and early by hopping on a bus that will take you from Wadi Rum to the city of Aqaba.
The ride takes around an hour and shouldn't cost more than a few dollars.
The town lies right on the shore of the Red Sea and has the only seaport in all of Jordan.
It is also the only scuba diving location on the red sea, so it's become quite popular among people backpacking through Jordan.
If you're interested in getting your PADI certification you could stay here for a while to get to know the incredible underwater world of Jordan and see famous places like a sunken plane wreck and military tank.
If you're looking for a more budget-friendly activity, you can rent snorkeling equipment on the beach and explore the underwater world yourself or join a guided tour that will take you to the best snorkeling spots.
After a long day at the beach, you can have dinner at one of the many seaside restaurants in Aqaba and enjoy the view over the Red Sea.
If the weather is nice you might even be able to see the shores of Egypt.
Day 6 & 7: Relax & Unwind At The Dead Sea
PSSST. Your travel medical insurance can now cover COVID-19!
If you grab SafetyWing Nomad Insurance, it'll be covered just like other illnesses. I've been using it since 2019 and I can assure you it's the perfect solution for nomads like you and me.
Buy yet another bus ticket and leave the city of Aqaba behind as you head north, back towards Amman.
The drive will take just under four hours and should be fairly comfortable in an air-conditioned bus.
However, before you return to the capital make one last detour and stop at the Dead Sea.
Unfortunately, accommodation prices can be very high in this area as most travelers will stay at inexpensive resorts. You can check your options here.
However, if you stay somewhere a little further away from the water you'll find much more affordable options.
Of course, you need to go for a swim or rather a float in the salty water.
The experience will be the perfect way to conclude your backpacking trip to Jordan and a great way to relax and unwind after a busy week.
Keep an eye out for free beach showers to get the salt off before you head back to your accommodation.
If your flight from Amman leaves in the evening, you can take a bus directly from the Dead Sea back into the city.
However, there can be lots of traffic on this route, and buses can be canceled without warning so it might be a better bet to stay in Amman for one last night.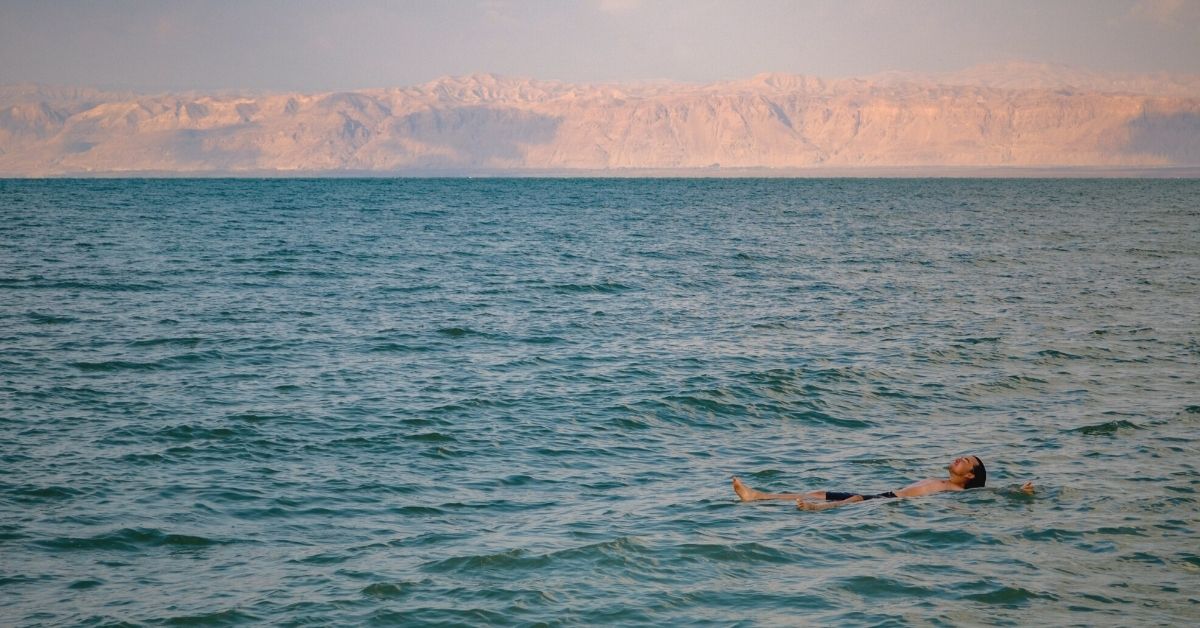 Jordan Budget Travel Tips
If you're looking to travel to Jordan on a budget, here is what you need to know about finding affordable accommodation, transport, food, and activities!
Accommodation Costs
A night in a hostel in Amman will cost around 13$ if you're okay with very basic amenities and a shared room.
A private room or a cheap hotel will set you back between 30$ and 35$ per night.
Wadi Musa will most likely be even more affordable with prices for hostels starting as low as 7$.
In Aqaba, however, it's a lot trickier to find budget-friendly accommodation so expect to pay at least 30$ per night for a room.
As you can tell, accommodation costs in Jordan are somewhat unpredictable and not always the cheapest.
Make sure to factor this into your budget if you want to backpack in Jordan and keep in mind that the most budget-friendly places will be sold out during popular travel times if you don't book in advance.
Very cheap hostels can also sometimes have safety issues so keep your belongings close by, or lock them with a locker. Alternatively, consider choosing a private room instead if you're a solo female traveler. Read our best tips for staying in hostels.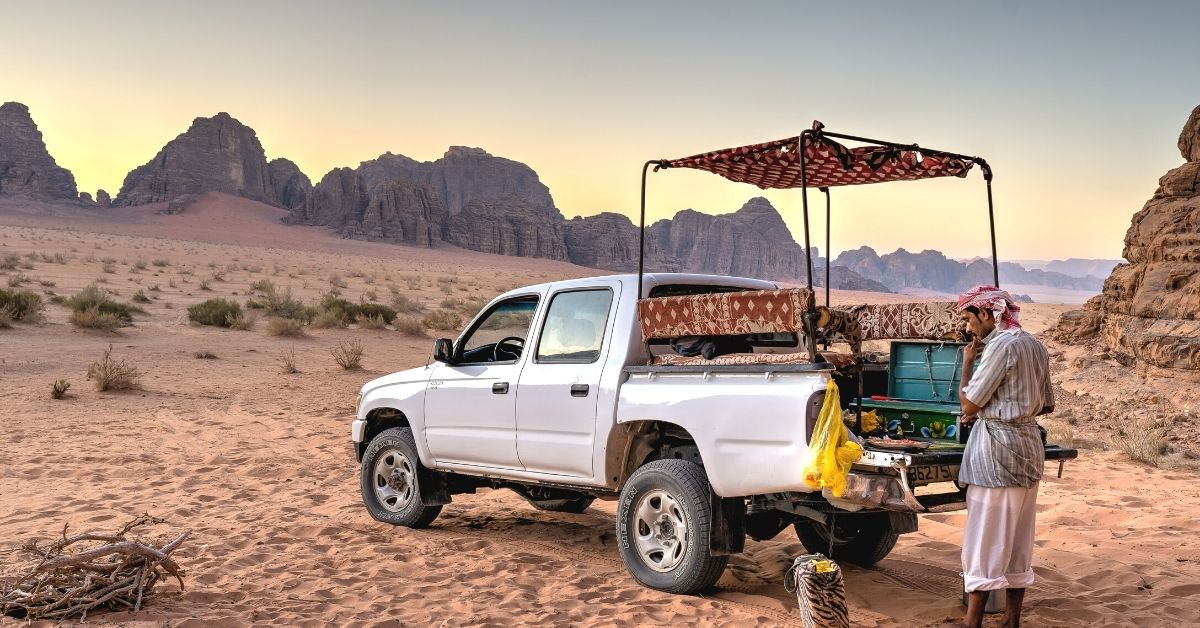 Transport
Jordan has a decent network of buses and most will have air conditioning and plenty of space for your backpack or luggage.
However, they can be unreliable and only really connect popular tourist destinations so as soon as you venture off the beaten path you might have issues finding comfortable options.
For anyone wanting to backpack solo in Jordan the buses will be the best option for budget travel.
If you're traveling in a group of 3 to 5 people you might want to consider renting a car instead which will cost around 30-50$ per day depending on how long you rent it for.
A liter of gasoline will cost an average price of 1,50$ which needs to be factored in as well.
You'll have a lot more freedom though and it might actually be more affordable than bus tickets when divided by several people.
If you wish to book your bus tickets in advance, browse your options on 12GO.
Food & Drinks
If you want to backpack through Jordan you should stick to local restaurants where you'll be paying around 6$ per meal plus 0.60$ for a soft drink.
Since Jordan is a predominantly Muslim country alcohol isn't super common and will be expensive.
Expect to pay around 5$ for a draft beer in a restaurant and even more for wine or mixed drinks.
Look for hotels or hostels that offer complimentary breakfast to save yourself some time and money in the mornings.
Some other popular tourist activities in Jordan include:
A two-hour 4×4 tour through the desert of Wadi Rum for 50$ per person

A one-hour camel ride through the desert of Wadi Rum for 20$ per person

A guided scuba dive in Aqaba for 35$ per person

A guided snorkeling boat trip for 30$ per person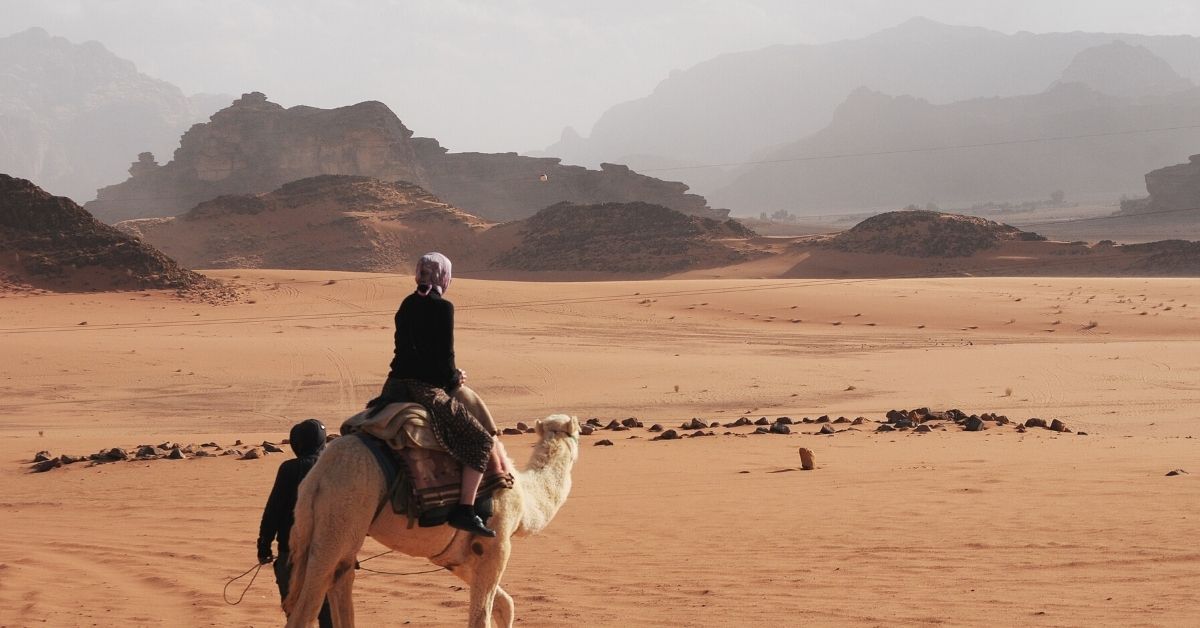 Do You Need A Visa To Visit Jordan?
Before you book your backpacking trip to Jordan you should make sure you'll be able to obtain a visa on arrival.
Ask your embassy or check the tourism board of Jordan to get the latest update on which nationalities need to apply for visas before they come to Jordan.
If your nationality is not on the list for pre-approved countries you'll have to head to a Jordanian embassy close to you to apply.
The requirements to apply for a single entry visa include one biometric photo, your original passport which has to be valid for at least 6 months from the expected date of travel, the filled-in application form, and a copy of the transfer order of paid fees.
The application should be sent to the embassy at least two weeks before you're planning to go.
Sometimes the application process can take time so make sure to do this sooner rather than later to be on the safe side.
If you're eligible for the visa on arrival you won't have to worry about this though and can simply fly to Jordan.
You'll have to pay 40 Jordanian Dinar which is equal to 57$ directly at the airport to obtain your visa on arrival.
Final Thoughts
Jordan is an incredible and underrated country and you should plan to backpack here at least once.
While it might not be the most affordable country to visit you can still keep travel costs low if you know where to go and what to avoid.
With so much natural beauty and exciting cities to choose from you'll be remembering this once-in-a-lifetime trip for years to come.
Since the country is quite small it's easy to navigate and you won't have trouble getting around.
Save money on transport and accommodation costs and splurge on incredible experiences such as seeing Petra or swimming in the Dead Sea.
You'll find yourself wanting to return to Jordan again and again for years to come.