75 Inspiring and Funny Travel Captions for Instagram
Looking for inspiration for travel captions for Instagram? The list below includes a max of inspiring and funny Instagram travel caption, so you should get lots of ideas.
To save time, make sure to bookmark this page so you can come back to this list easily. You can use a platform like Planoly or Later to schedule your Instagram posts. Without further ado, let's take a look at the best travel captions for Instagram.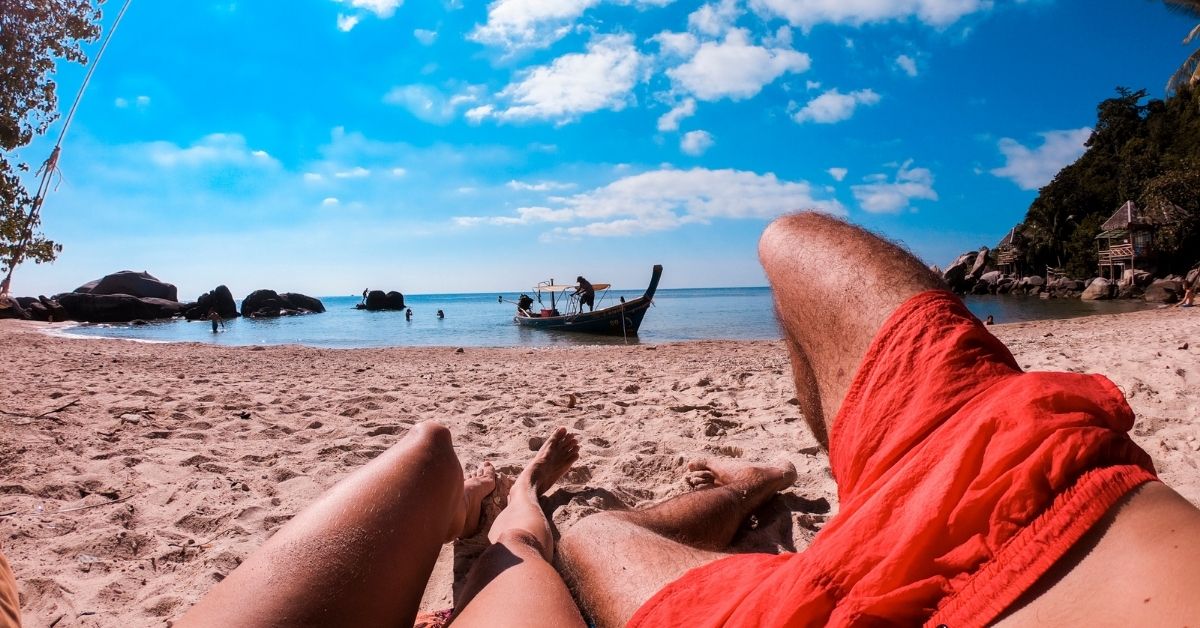 ---
Want to connect with fellow long-term travelers? Join our exclusive Facebook group and take part in the conversation.
---
PSSST. Your travel medical insurance can now cover COVID-19! If you grab SafetyWing's Nomad Insurance, it'll be covered just like other illnesses. I've been using it since 2019 and I can assure you it's the perfect solution for nomads like you and me.
We travel not to escape life but for life not to escape us.

Life is either a daring adventure or nothing at all.

Collect memories, not things.

Life is dangerous if you take risks but meaningless if you don't. So chase your dreams, conquer your fears, and climb that goddamn mountain!

Travel is the only thing you can buy that makes you richer.

The greatest adventure is what lies ahead.

She never felt ready, but she was brave, and the universe responds to brave.

Zero limitations, infinite opportunities.

Of all the books in the world, the best stories are found between the pages of a passport.

Own a little, see a lot.

I don't know about you, but I like my planet blue.

We have nothing to lose and a world to see.

You will never be completely at home again because part of your heart always will be elsewhere. That is the price you pay for the richness of loving and knowing people in more than one place.

Wherever your heart is, you will find your treasure. Follow your heart always.

An adventure a day keeps the doctor away.

Adventure awaits once you leave your comfort zone behind.

The goal is to die with memories, not dreams.

Because when you stop and look around, this life is pretty amazing.

Let's wander where the WiFi is weak.

In the end, we only regret the chances we didn't take.

I follow my heart, and it usually leads me to the airport.

Wherever you go becomes a part of you somehow.

Life is not meant to be lived in one place.

The world is a book, and those who do not travel read only one page.

I will look back at it and smile because it was life, and I decided to live it.

Add life to your days, not days to your life.

Travel is never a matter of money but of courage.

Sunsets are proof that no matter what happens, every day can end beautifully.

We spend a lot of time looking for happiness when the world around us is full of wonder.

Don't let your dreams be dreams.

Sometimes the most scenic roads in life are the detours you didn't mean to take.

We take photographs as a return ticket to a moment otherwise gone.

Catch flights, not feelings.

What if I fall? Oh, but my darling, what if you fly?

Twenty years from now, you will be more disappointed by the things you didn't do than by the ones you did.

Then there is the most dangerous risk of all – the risk of spending your life not doing what you want on the bet that you can buy yourself the freedom to do it later.

I believe in the ocean curing all bad moods. I believe in the waves wiping away worries. I believe in seashells bringing good luck. I believe in toes in the sand grounding my soul.

If we were meant to stay in one place, we'd have roots instead of feet.

Exploring the world is the best way to explore the mind.

Jobs fill your pocket, but adventures fill your soul.

Life moves on, but these memories are forever.

Sky above, sand below, peace within.

Life is better in flip-flops.

It's better to look back on life and say, "I can't believe I did that", than to look back and say, "I wish I did that".

Friends who travel together slay together.

Travel not to find yourself, but to remember where you have been all along.

There's no WiFi out here, but I found a better connection.

Only those who will risk going too far can possibly find out how far one can go.

The mountains are calling, and I must go.

Travel far enough you meet yourself.

Take only memories, leave only footprints.

Why do you go away? So that you can come back. So that you can see the place you came from with new eyes and extra colors. And the people there see you differently, too. Coming back to where you started is not the same as never leaving.

Your wings already exist. All you have to do is fly.

Sandy toes. Sun-kissed nose.

Woke up in paradise.

Look deep into nature, and suddenly you will understand everything better.

Time flies until you're counting down the days to your next vacay.

You'll find me chasing the sun.

The best trips, like the best love affairs, never really end.

Dare to live the life you've always wanted.

Live your life by a compass, not a clock.

So much of who we are is where we have been.

I wandered everywhere, through cities and countries wide. And everywhere I went, the world was on my side.

The ocean breeze puts your mind at ease.

Only those who open their eyes to the world around them will see its beauty.

The road is there; it will always be there. You just have to decide when to take it.

Some beautiful paths can't be discovered without first getting lost.

There is no time to be bored in a world as beautiful as this.

Do not go where the path may lead, go instead where there is no path and leave a trail.

I am not the same, having seen the moon shine on the other side of the world.

A comfort zone is a beautiful place, but nothing ever grows there.

Travel because money returns. Time doesn't.

Travel isn't always pretty. It isn't always comfortable. Sometimes it hurts. It even breaks your heart. But that's okay. The journey changes you; it should change you. It leaves marks on your memory, on your consciousness, on your heart, and on your body. You take something with you. Hopefully, you leave something good behind.

The best things in life are the people we love, the places we've been, and the memories we've made along the way.

If we wait until we are ready, we will be waiting for the rest of our life!
Final Thoughts
This list of Instagram travel captions should give you all the inspiration you need to create travel content and catchy captions. If you need more inspiration. Take a look at this list of funny travel quotes.