Looking for inspirational hiking quotes? We created a list featuring the best quotes about hiking and trekking so that you can have your daily dose of mountain inspiration.
Whether you're creating a travel video, searching for inspiring captions for hiking, or simply looking for ideas – you're in the right place.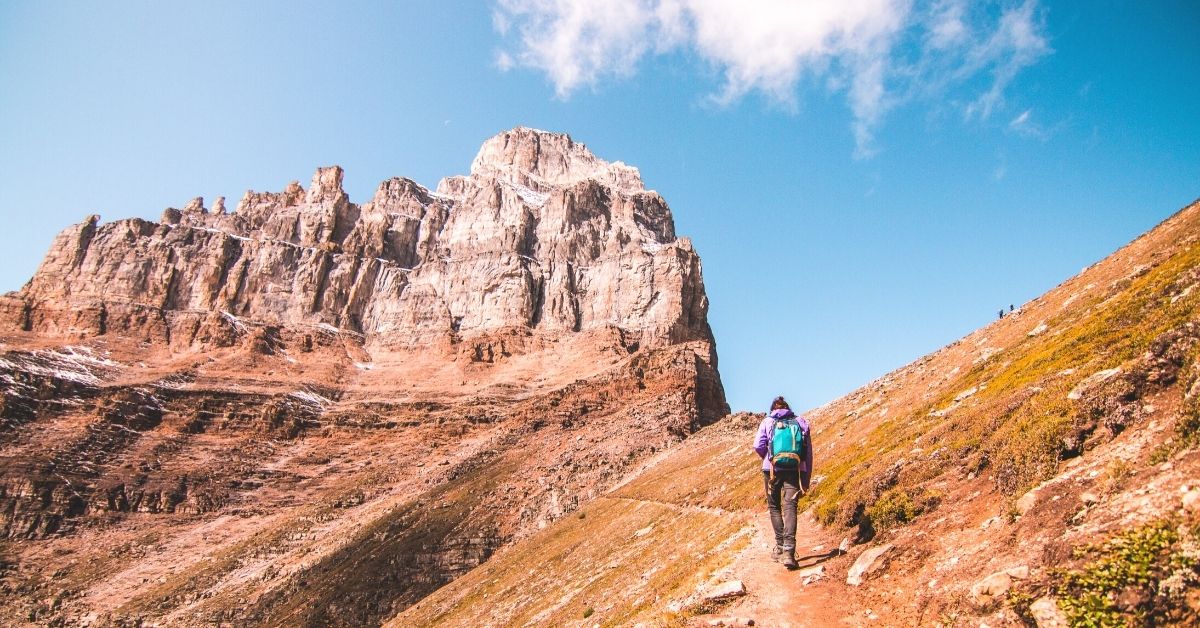 How To Use And Display Hiking Quotes
Hiking and trekking quotes can be used and displayed everywhere. Here are some examples of ways you can use them:
Instagram or image caption

Video caption

Home decoration

Mobile background

Tattoo

Sticker

Journal

Diary

Planner
Many hikers and outdoor enthusiasts love to display inspiring quotes in frames, doormats, pillows or blankets. That said, you can find plenty of inspiring ideas on websites like Etsy.
Best Quotes About Hiking
---
Want to connect with fellow long-term travelers? Join our exclusive Facebook group and take part in the conversation.
---
PSSST. Your travel medical insurance can now cover COVID-19! If you grab SafetyWing's Nomad Insurance, it'll be covered just like other illnesses. I've been using it since 2019 and I can assure you it's the perfect solution for nomads like you and me.
Without further ado, let's take a look at the most inspiring and beautiful hiking quotes.
Some of the best memories are made in hiking shoes. –

Unknown

A walk in nature walks the soul back home. –

Mary Davis

It feels good to be lost in the right direction. –

Unknown

Because in the end you won't remember the time you spent working in the office or mowing the lawn, climb that goddamn mountain. –

Jack Kerouac

On a hike you're less a job title, and more a human being. –

Ken Ilgunas

Returning home is the most difficult part of long-distance hiking; You have grown outside the puzzle and your piece no longer fits. –

Cindy Ross

Now I see the secret of making the best person, it is to grow in the open air and to eat and sleep with the earth. –

Walt Whitman

None of your knowledge, your reading, your connections will be of any use here: two legs suffice, and big eyes to see with. Walk alone, across mountains or through forests. You are nobody to the hills or the thick boughs heavy with greenery. You are no longer a role, or a status, not even an individual, but a body, a body that feels sharp stones on the paths, the caress of long grass and the freshness of the wind. When you walk, the world has neither present nor future: nothing but the cycle of mornings and evenings. Always the same thing to do all day: walk. But the walker who marvels while walking (the blue of the rocks in a July evening light, the silvery green of olive leaves at noon, the violet morning hills) has no past, no plans, no experience. He has within him the eternal child. While walking I am but a simple gaze. –

Frédéric Gros

I like being near the top of a mountain, one can't get lost here. –

Wislawa Szymborska

The long distance hiker, a breed set apart from the likes of the usual pack. He'll shoulder his gear, be hittin' the trail; Long gone, long 'fore he'll be back. –

M.J. Eberhart

Hiking is just walking, where it's okay to pee. –

Demetri Martin

Walking; the most ancient exercise, and still the best modern exercise. –

Carrie Latet

A journey of a thousand miles begins with a single step. –

Lao Tzu

The world reveals itself to those who travel on foot. –

Werner Herzog

We live in a fast-paced society. Walking slows us down. –

Robert Sweetgall

Perhaps there is no thrill so great as that which comes with a walk in the freshness of morning air. –

Hellen Keller

I love writing in the sunshine 'till my head throbs and hiking in the woods 'till my feet hurt. –

Kaylee Stepkoski

All that is required of you is a willingness to trudge. There is no point in hurrying because you are not actually going anywhere. However far or long you trod you are always in the same place – in the woods. It's where you were yesterday, where you will be tomorrow. –

Bill Bryson

Hike your own hike. –

Ben Crawford

Hiking is not escapism; it's realism. The people who choose to spend time outdoors are not running away from anything; we are returning to where we belong. –

Jennifer Pharr Davis

I slow down when hiking. The rhythm of nature is more leisurely. The sun comes up, it moves across the sky, and you begin to synchronize to that rhythm. –

John Mackey

If everyone in the world took care of each other the way folks do out on the trail, and if everyone approached each day with as much hope and optimism as hikers do, the world would be a better place. –

Jon Tullis

I love walking in the woods, along the trails, by the beaches. I love being part of nature. I love walking alone. It is therapy. One needs to be alone, to recharge one's batteries. –

Grace Kelly

The trail was designed to have no end, a wild place on which to be comfortably lost for as long as one desired. –

Ben Montgomery

The woods are lovely, dark and deep. But I have promises to keep, and miles to go before I sleep. –

Robert Frost

There really is no correct way to hike the trail, and anyone who insists that there is ought not to worry so much about other people's experiences.… –

Adrienne Hall

Hiking is the only slightly less ugly stepsister of running. –

Lindy Hughes

Trails are like that: you're floating along in a Shakespearean Arden paradise and expect to see nymphs and flute boys, then suddenly you're struggling in a hot broiling sun of hell in dust and nettles and poison oak…just like life. –

Jack Kerouac

Hiking and happiness go hand in hand (or foot in boot). –

Diane Spicer

You, who know that all the bruises and scrapes from scrambling and rambling are the best because they remind you of being alive. –

Madison Perrins

Trekking means a travelling experience with a thrilling excitement. –

Amit Kalantri

I was no longer following a trail. I was learning to follow myself. –

Aspen Matis

On a hike, the days pass with the wind, the sun, the stars; movement is powered by a belly full of food and water, not a noxious tankful of fossil fuels. –

Ken Ilguna

Hiking's not for everyone. Notice the wilderness is mostly empty. –

Sonja Yoerg

My most memorable hikes can be classified as 'Shortcuts that Backfired'. –

Edward Abbey

Do not follow where the path may lead. Go instead where there is no path and leave a trail. –

Ralph Waldo Emerson

Most of the time I am sunk in thought, but at some point on each walk there comes a moment when I look up and notice, with a kind of first-time astonishment, the amazing complex delicacy of the words, the casual ease with which elemental things come together to form a composition that is–whatever the season, wherever I put my besotted gaze–perfect. –

Bill Bryson

Carry as little as possible, but choose that little with care. –

Earl Shaffer

After a day's walk, everything has twice its usual value. –

G.M Trevelyan

If you are seeking creative ideas, go out walking. Angels whisper to a man when he goes for a walk. –

Raymond Inmon

There are no shortcuts to any place worth going. –

Beverly Sills

For hiking is one of those things that you can only do when you have the determination in you. –

Unknown

I took a walk in the woods and came out taller than trees. –

Henry David Thoreau

You need special shoes for hiking—and a bit of a special soul as well. –

Terry Guillemets

The trail leads not merely north and south, but up to the body, mind, and soul of man. –

Harold Allen \

In every walk with nature, one receives far more than he seeks. –

John Muir

Not all those who wander are lost. –

J.R.R. Tolkein

We don't stop hiking because we grow old — we grow old because we stop hiking –

Finis Mitchell

Go out, go out I beg of you And taste the beauty of the wild. Behold the miracle of the earth with all the wonder of a child. –

Edna Jaques

Walk away quietly in any direction and taste the freedom of the mountaineer. Camp out among the grasses and gentians of glacial meadows, in craggy garden nooks full of nature's darlings. –

John Muir

Hiking is the answer. Who cares what the question is. –

Unknown

I found far more answers in the woods than I ever did in the city. –

Mary Davis

Walking is a man's best medicine –

Hippocrates

For those who climb, the answer is both obvious and impossible to explain – the everyday concerns of livelihood, of social standing, overdue bills, and futureless romance all fall away before the vast and overwhelming absolute of the mountain. –

Paul Watkins

Between every two pines there is a doorway to a new world. –

John Muir

Anywhere is 'within walking distance'. –

Unknown

We must get beyond textbooks, go out into bypaths and untrodden depths of the wilderness of truth and explore and tell the world of our glorious journey –

John Hope

Oh, how can I put into words the joys of a walk over country such as this; the scenes that delight the eyes, the blessed peace of mind, the sheer exuberance which fills your soul as you tread the firm turf? This is something to be lived, not read about. –

Alfred Wainwright

If the winter is too cold and the summer is too hot, you are not a hiker. – A Bitter Hiker

Leave the road, take the trails. –

Pythagoras

Me thinks that the moment my legs begin to move, my thoughts begin to flow. –

Henry David Thoreau

If you can find a path with no obstacles, it probably doesn't lead anywhere. –

Frank A. Clark

Hiking is the best workout! You can hike for three hours and not even realize you're working out. And, hiking alone lets me have some time to myself. –

Jamie Luner

An early morning walk is a blessing for the whole day. –

Henry David Thoreau

I see my path, but I don't know where it leads. Not knowing where I'm going is what inspires me to travel it. –

Rosalia de Castro

Without new experiences, something inside of us sleeps. The sleeper must awaken. –

Frank Herbert

Cover the earth before it covers you. –

Dagobert D. Runes

I have two doctors, my left leg and my right. –

G.M. Trevelyan

Take only memories, leave only footprints. –

Chief Seattle

Of all the paths you take in life, make sure a few of them are dirt. –

John Muir

Hiking is a bit like life: The journey only requires you to put one foot in front of the other…again and again and again. And if you allow yourself the opportunity to be present throughout the entirety of the trek, you will witness beauty every step of the way, not just at the summit. –

Unknown

It's not how many miles you walk, it's how many smiles you share. –

Unknown

The experienced mountain climber is not intimidated by a mountain, he is inspired by it. –

William Artur Ward

Great things are done when men and mountains meet; This is not done by jostling in the street. –

William Blake

When everything feels like an uphill struggle, Just think of the view from the top. –

Anonymous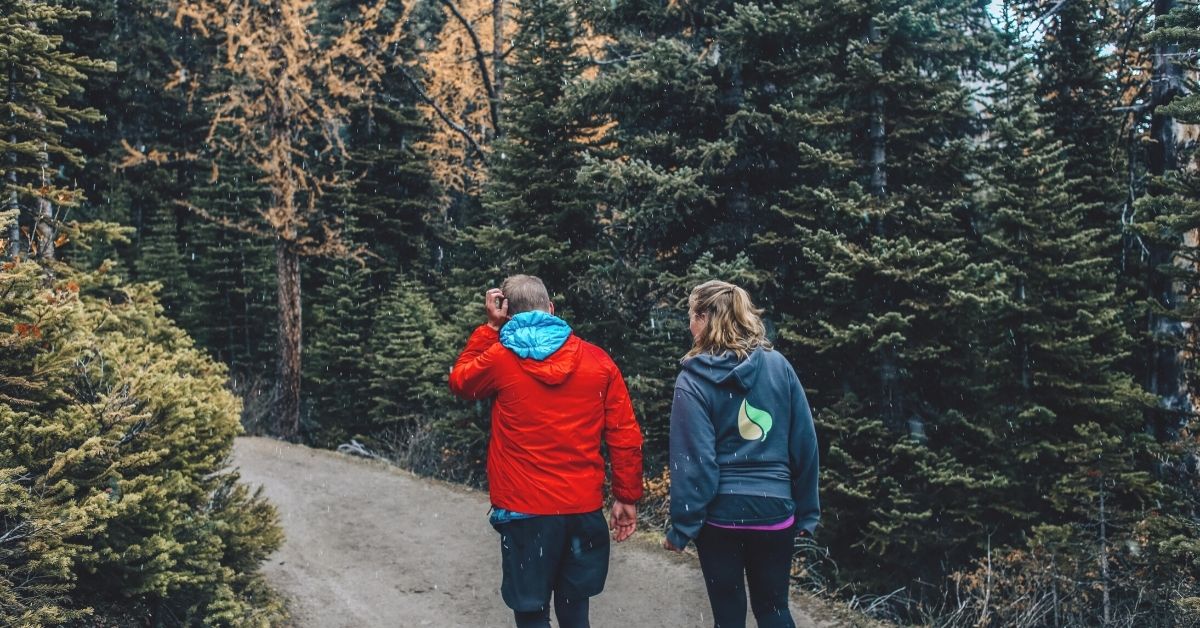 Final Thoughts On Hiking Quotes
We hope our list of beautiful quotes about hiking triggers your need for hiking adventures and the outdoors.
Need more hiking inspiration? Take a look at our list of the best hiking songs so that you can make the most of your next hike.